Best College Dining Halls
Of the many joys of independence that come with college, you're probably looking forward to, or at least aware of, the fact that you're going to be in charge of all your meals. And if you've seen quite literally any movie or tv show that takes place on a college campus, you know that the dining hall is the place to be.
But what are meal plans? What's to know about eating on campus, and what does it cost to have a buffet at your fingertips every day? This guide covers the ins and outs of a meal plan, how college cafeterias function, and what features you might want to look for as you decide which colleges to apply to. We've also dug up some hidden gems from among our Colleges of Distinction to get an idea of the great options that are out there for you!
How Do Dining Halls Work?
It's true, dining halls essentially are buffets on campus! Most dining halls operate the same way. Students with a meal plan are typically allotted a set number of "swipes" per week, meaning that they are able to enter the dining hall as many times as their weekly budget allows. Once a student swipes into the dining hall, then they are able to stay there for as long as they'd like. If they leave the dining hall, then they have to use up another one of their swipes. 
Most dining halls are stocked with a variety of self-serve food as well as various cook-to-order stations. There are usually common staples available every day, such as cereal and granola, a sandwich station, a salad bar, etc. Meanwhile, some specialty dishes may rotate in and out depending on the day of the week.
Different schools have different rules when it comes to whether you are allowed to take any food out of the dining hall. It almost comes naturally for college students to see an endless array of food and then get the idea to stock up with tupperware for their dorm. This can sometimes be seen as an abuse of the dining hall, as each swipe that a student has is intended only to pay for the food they eat in one meal, not what they plunder for future snacks. 
Are Meal Plans Worth It?
Deciding whether getting a meal plan is worth it depends on every individual student. If you are living at home or in an apartment off campus, there might not be too much of a reason to invest in a meal plan, which can amount to a few thousand dollars per semester. If you are living on campus, however, it is a good idea more often than not. Traditional on-campus housing, particularly freshman dorms, rarely have kitchen areas, meaning that the most that a student might have in their dorm is a mini fridge and microwave. With a meal plan, you have access to the wider variety of fresh meals. It's also a more social option, as most undergrad students do use a meal plan and will often hang out in the dining hall.
Schools offer a variety of meal plan options to suit a student's schedule, appetite, and needs. Take Siena Heights University, for example, which has a 19-meal plan (that allows for three meals a day throughout the week, with two meals over the weekend) and a 14-meal plan (that allows for two meals a day). It also offers a more flexible option for students who want to be able to go to the dining hall, but not as often as twice a day or more. The Block 75 plan allots 75 meals total per semester, ideal for those living in apartment style residences that do have a kitchen. Most schools' meal plans also offer what SHU calls 'flex dollars' that can be used to purchase meals and snacks in the campus convenience stores. Whether they're called flex dollars, convenience points, or something else, these essentially work as cash.
How Can I Stay Healthy?
Sadly, the concept of the Freshman 15 has been so pervasive for so long, usually placing blame on dining halls for having unlimited food and students for having "no impulse control." Allow me to get up on my soapbox to say that gaining weight as a freshman is a normal thing that often happens regardless of what you eat. Believe it or not, you're not fully grown at 18 yet; in fact, 18 is precisely the age at which your body is due for another change in hormones. The truth is that some freshmen gain weight, some don't, and neither is definitively good or bad, healthy or unhealthy. 
Your transition to college is a big life change, so there's no need to add onto the stress by adding a hardcore diet to your workload. The National Eating Disorders Association found that 18 to 21 is the most prevalent age at which people develop eating disorders, which can often be set off by major life transitions, stress, and anxiety. All of this is to say that it is good of you to want to be healthy for your first year of a rigorous academic experience, but it is harmful to associate the infamous Freshman 15 as a failure or sign of getting unhealthy. If you're ever uncertain or nervous about your diet while at college, chances are your school has a dietitian or counselor available to help give you balanced guidance. If not, you may be able to get a referral from your school's student health services. 
What's important about your diet is not perfection, but variety (which is exactly what the dining hall provides!).
How Are Dining Halls Operating During COVID?
While navigating the pandemic, colleges have to put a lot of effort into keeping students safe and socially distant. In states where quarantine restrictions are tighter, students are encouraged to order a grab-n-go option that is pre-packaged by the dining hall staff. One bagged to-go meal is paid for with one swipe as if the student were to be eating inside the dining hall itself. 
At Siena Heights University, located in Adrian, MI, the dining hall is open for dine-in with social distancing guidelines. That said, the school wants to ensure the safety and comfort of students and thus continues to offer grab-n-go meals to about 50% of students. Its campus convenience stores also carry packaged meals available for purchase with money or flex dollars. While students were quarantined due to possible COVID exposure, dining hall staff hand-delivered boxed meals to their dorms.
Great College Cafeterias
Check out the awesome dining halls available at our Colleges of Distinction!
SHU knows that student success is directly tied to their emotional and nutritional needs. With a diverse, appetizing menu, as well as meal support for students facing food insecurity, all Siena Heights students are happily nourished! 
SHU Dining also coordinates its menu for special occasions like Black History Month, Hispanic Heritage Month, and Thanksgiving. It has also helped host and sponsor a chili cookoff on campus during football season and annually provides a picnic lunch for volunteers during the university's Sister Carmie Campus Cleanup Day. One of SHU Dining's longtime employees, Sandy Vanderlaan, recently received an Honorary Alumni Award for her personalized service to students, faculty and staff over her 35-year-plus career. The dining room comes equipped with a unique, made-to-order Mongolian grill, where people can have their food prepared right in front of them. And its buffet during Commencement Weekend in May isn't to be missed.
2. Oklahoma Christian University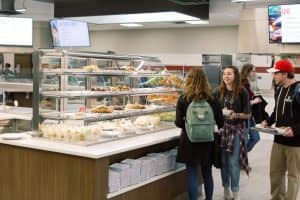 Oklahoma Christian University recently opened the doors to The Branch, a new cafeteria that elevates the quality of food served and features an all-new menu in a space flooded with natural light. 
OC's brand new cafeteria is an all-encompassing, community-oriented place for OC students, faculty, staff, and guests to eat. The Branch has such meals that range from a quick sandwich or cereal to the main meal lines where a different entree, salad, and gluten-free meal are served everyday. 
At Catholic University, students have easy  access to foods that are as delicious as they are nutritious. With a variety of meal plans and 12 dining locations, including big names like Which Wich and Starbucks, there is something for everyone. And if you're struggling with finding the right balance, you can find expert help from the Catholic Dining's Registered Dietitian Nutritionist, Sarah Goff, RDN, LD. Sarah is available to meet one-on-one with students to provide guidance on navigating dining, whether that's due to an allergy or an interest in eating healthier.  Students can also be sure that their food choices are not only beneficial for them but the environment as well. Catholic Dining is committed to upholding sustainable food practices and ethical purchasing initiatives. Yum! 
Adelphi Dining is committed to serving delicious and nutritious options to meet the needs of students, faculty, and staff. From ingredient sourcing to menu preparation, Adelphi's chefs provide healthy meals that respect all dietary needs.  Students have access to various options at the UC dining Hall, Paws Cafe, or Eatery Express. Adelphi's Registered Dietitian, Jessica Jaeger, believes that the whole person must be taken into consideration in nutrition counseling. Her keen understanding that food and eating are closely intertwined with personal, emotional and social aspects of a person's life helps her advise students to make the choices that are right for them. 
The 49er Shops Dining Services are proud to serve the campus community with a large selection of healthy, sustainable, and culturally diverse dining options across campus. Whether you're in the mood to relax and hang out, or buckle down and study, every dining location provides you with a unique atmosphere to fit your needs. The University Dining Plaza features national and local brands, such as Starbucks and Panda Express, with a variety of food and drink options to satisfy every craving. Cal State Long Beach has numerous meal plans designed to fit the unique needs of all students, residents, and commuters alike. 
Florida Southern College is proud to partner with many national brands to give students an exciting array of choices, Wynee's Bistro is the main dining hall on campus. Students can use their meal plan at Wynee's Bistro for an affordable variety of nutritious cuisine options including a salad bar with over 40 items, sushi, pizza, pasta, and home cooked favorites. Florida Southern is conscious of student's dietary needs and enjoys offering students an exciting plant-based experience. The college was even awarded an "A" rating by PETA for its exceptional vegan food! 
Kean offers great food for every budget and lifestyle – from coffee to full meals. And Kean knows how important that cup of coffee is. According to GrubHub, Kean University is the fifth most caffeinated college in the nation. From the Dining Hall to Kean's very own steakhouse, there are plenty of options for every student. And if they decide to venture off campus, they can use your Cougar Cash at eateries like Applebee's Tropicana Restaurant, and Rockin' Joes. 
Shenandoah strives to make the dining experience throughout college as fun and healthy as possible. The dining team works hard to provide students with delicious, nutritious and satisfying meals, snacks and desserts by highlighting well-balanced menu choices and providing nutritional information. Shenandoah's Registered Dietician, Veronica Hayes, helps each student make the best choices to fuel their mind, body, and spirit! 
Portland State's mission is to make dining on campus a fun and exciting experience before, between, and after classes. With the right meal plan, students can access a wide variety of healthy and delicious dining options. Sustainability is important to the university and its students. To fight food waste and support local farmers, Portland State has utilized a  groundbreaking program, Imperfectly Delicious Produce, to rescue and incorporate "imperfect" fruits and vegetables into recipes served throughout campus. Other sustainability initiatives include Victor's Market Produce, which allows students to buy fresh produce directly from local farms! 
From omnivore or vegan, gluten-free or Paleo—the selections in Mills College's dining facilities include healthy and hearty options for every diet. The main dining hall, Founders Commons, serves all-you-can-eat buffet meals seven days a week, and the Tea Shop offers café-style dining. There's even a roll-your-own sushi bar! The food prepared at Mills is not only delicious, but also environmentally sustainable. Much of the food is made with seasonal ingredients from local farms (including its very own Mills Community Farm). 
11. Roanoke College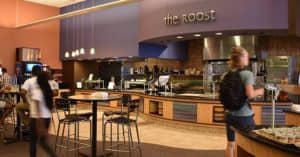 Roanoke's dining experience is an exciting and delicious way to fuel up for classes. Sutton Commons offers an extensive, ever-changing buffet served , plus a selection of "grab and go" favorites in the Cavern, Fruitions, and Rooney's Brews. For those that want a change of pace, fun places to eat are just a few blocks away in Salem or a short drive away in downtown Roanoke.
12. Rider University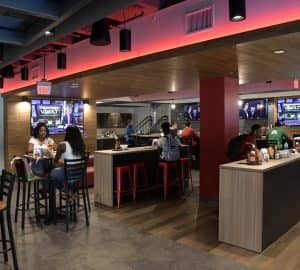 Rider's food service venues provide students with virtually unlimited access to a wide variety of food choices seven days a week! Having a meal plan allows students to grab a meal with friends and in between classes. There is a variety of meal plans that fit into every schedule and provide an assortment of high-quality choices, with something for everyone! Students can choose from national brands they love, and even have it delivered on campus through GrubHub! Led by Gourmet Dining's in-house dietitian, Rider's nutrition programs and services are designed to broaden the community's knowledge of health and nutrition.
13. Kennesaw State University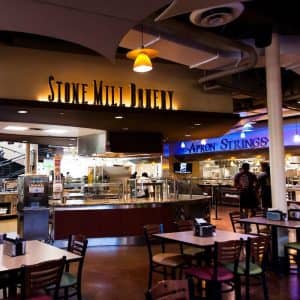 KSU not only has a student union crowded with such popular options as Panda Express, Starbucks, Chick-fil-A, and Moe's Southwest Grill, but its traditional dining hall also has themed stations that cater to a variety of cravings. Options include Southern comfort food, burgers and fries, salads and fresh veggies, and pizza.