Florida Southern College
Lakeland, Florida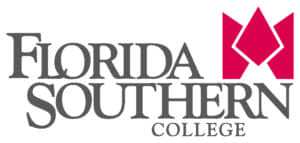 Florida Southern College is a rapidly rising star among the nation's best private colleges. Located along Central Florida's high-tech corridor, the College enrolls undergraduate students from 43 states and 39 countries on its scenic, 113-acre campus. Recognized for its focus on "engaged learning," FSC guarantees every student an internship. An innovative new program, the Junior Journey, guarantees all entering students the opportunity to study abroad during their junior or senior year at no cost as part of one of their courses. The College has a student-faculty ratio of 13:1, offers more than 50 majors, and is known for its vibrant student life culture and extraordinarily beautiful campus.
SHOW MORE
Get to know Florida Southern College
2,598
Degree-Seeking Undergraduates
Full-time to Part-time Ratio
-
0%
1%
2%
3%
4%
5%
6%
7%
8%
9%
10%
11%
12%
13%
14%
15%
16%
17%
18%
19%
20%
21%
22%
23%
24%
25%
26%
27%
28%
29%
30%
31%
32%
33%
34%
35%
36%
37%
38%
39%
40%
41%
42%
43%
44%
45%
46%
47%
48%
49%
50%
51%
52%
53%
54%
55%
56%
57%
58%
59%
60%
61%
62%
63%
64%
65%
66%
67%
68%
69%
70%
71%
72%
73%
74%
75%
76%
77%
78%
79%
80%
81%
82%
83%
84%
85%
86%
87%
88%
89%
90%
91%
92%
93%
94%
95%
96%
97%
98%
99%
100%
Retention rate
15:1
Student/teacher ratio
$32,450
Full-time tuition cost
-
0%
1%
2%
3%
4%
5%
6%
7%
8%
9%
10%
11%
12%
13%
14%
15%
16%
17%
18%
19%
20%
21%
22%
23%
24%
25%
26%
27%
28%
29%
30%
31%
32%
33%
34%
35%
36%
37%
38%
39%
40%
41%
42%
43%
44%
45%
46%
47%
48%
49%
50%
51%
52%
53%
54%
55%
56%
57%
58%
59%
60%
61%
62%
63%
64%
65%
66%
67%
68%
69%
70%
71%
72%
73%
74%
75%
76%
77%
78%
79%
80%
81%
82%
83%
84%
85%
86%
87%
88%
89%
90%
91%
92%
93%
94%
95%
96%
97%
98%
99%
100%
Out-of-state students
High-Impact Practices
High-Impact Practices
First-Year Seminars and Experiences
Common Intellectual Experiences
Learning Communities
Writing-Intensive Courses

Collaborative Assignments and Projects
Undergraduate Research
Diversity/Global Learning
Service-Learning, Community-Based Learning
Internships/Coops/Practicums
Capstone Courses and Projects/Senior Experience
Campus Resources
Campus Resources
Career Services
Writing Center
Academic Advisors
Library Services

Academic Tutors
Financial Aid Advisors
SHOW MORE
College Highlights
Engaged Students
Great Teaching
Vibrant Community
Successful Outcomes
Admission & Aid
Engaged Students
At Florida Southern, students put their education into action every day. The College is recognized nationally for its commitment to engaged learning by the National Association of Experiential Education.
STUDENTS WHO EXCEL
Students conduct real-world research alongside their professors in all disciplines; take master classes and perform on stage with internationally recognized musicians, and showcase their artistic talents in art galleries.
Those seeking an added dimension to their studies enroll in the popular and prestigious Honors Program, which includes field studies in a variety of artistic, business, and scientific enterprises.
JUNIOR JOURNEY PROGRAM
Through an innovative Junior Journey program, all incoming first-year students are guaranteed an international travel experience in their junior or senior year, which is included in their tuition. Florida Southern students pursue their interests around the world in exciting locations such as Australia, China, Costa Rica, Ireland, Italy, New Zealand, Spain, and the United Kingdom.
SERVICE TO THE COMMUNITY
FSC students have a passion for public service, building leadership skills while logging 30,000 hours annually in support of such organizations as Big Brothers/Big Sisters, Habitat for Humanity, and the Salvation Army, to name a few. FSC has been named to the President's Community Service Honor Roll for the past five years.
ENROLLMENT BY ETHNICITY
Nonresident aliens: 4%
Hispanic/Latino: 11%
Black or African American, non-Hispanic: 5%
White, non-Hispanic: 74%
American Indian or Alaska Native, non-Hispanic: 1%
Asian, non-Hispanic: 2%
Native Hawaiian or other Pacific Islander, non-Hispanic: 0%
Two or more races, non-Hispanic: 2%
Race and/or ethnicity unknown: 1%
Great Teaching
INDIVIDUAL ATTENTION
Florida Southern's dynamic professors are not only noted experts in their fields, they are dedicated — first and foremost — to their students' success. FSC's student-faculty ratio is 13:1, and there are no teaching assistants. Students find the small classes enable them to get to know their professors well and allow time for personal attention. Professors are dynamic and creative, and they constantly introduce innovative concepts both in and out of the classroom. With fewer students in each class, it is that much easier to access the tools, technology, and resources that foster learning.
ADVISORS AND ACADEMIC RESOURCES
All first-year students adjust quickly to academic life through a unique program pairing each student with a faculty advisor for regular meetings during the first semester. In addition, Florida Southern is one of the few colleges in the country with a dedicated Dean of Student Success who helps students make the most of the College's many academic resources.
ACADEMIC PROGRAMS
FSC students can choose from 50 programs of study including business, nursing, communication, psychology, biology, art, education, environmental studies, music and theater performance. Pre-professional programs include pre-medicine, pre-pharmacy, pre-dentistry, pre-law, and pre-engineering. Students who elect to design their own major work independently with professors, who are eager to provide the direction they need to succeed in their chosen fields.
Vibrant Community
STUDENT LIFE
FSC student life can be summed up in a word: Involved! With more than 80+ organizations to choose from, students enjoy great opportunities to discover new interests, make lifelong friends, and develop leadership skills. First-year students bond in their residence halls and enjoy intramural sports, movie nights, concerts, cookouts, trips to the beach, and service projects. One-third of students go Greek.
GET IN THE WATER!
With sunshine 330 days per year and beautiful Lake Hollingsworth just steps away, water sports are popular. FSC students enjoy water skiing, kayaking, and sailing. The College also sponsors getaways to nearby beaches, canoe trips on local rivers, and hiking and horseback riding trips.
STAY HEALTHY
Florida Southern makes it easy to live a healthy lifestyle. The Nina B. Hollis Wellness Center offers fitness classes from aerobics to yoga, and the 8-lane competition pool is great for laps, water polo, and parties. The food — served in three new or newly renovated dining venues — gets rave reviews, thanks to our awesome executive chef.
ATHLETICS
Florida Southern competes in NCAA Division II athletics and offers 19 varsity programs. The Moccasins have won 27 national championship titles and are included in the nation's top Division II programs. Intramural teams compete in basketball, tennis, flag football, soccer, softball, Ultimate Frisbee, and volleyball to name a few.
Successful Outcomes
INTERNSHIPS
Every FSC student is guaranteed an internship, thanks to the College's location in the heart of Central Florida's high-tech corridor and to FSC's established partnerships with nationally and internationally recognized corporations. AAA, Chevrolet, Coca-Cola, Disney, ESPN, Fox News, GEICO, Lakeland Regional Medical Center, Merrill Lynch, NASA, National Institutes of Health, Publix Super Markets, and SeaWorld rave about FSC students' impressive educational preparation during their internships.

READY FOR SUCCESS
Because FSC students have leadership experience, complete meaningful internships, study abroad, and participate in real-world research and professional performances, they are ready to experience career success right away. In fact, most recent graduates report landing great jobs in their fields or enrolling in prestigious professional and graduate schools.
GRADUATE SCHOOL
Nearly 26% of FSC students attend graduate school within one year of graduation, earning advanced degrees at major institutions such as Columbia University, Duke University, Eastman School of Music, Emory University, Princeton University, the University of Virginia, Vanderbilt University, Wake Forest University, and Yale University. Florida Southern's medical school acceptance rate is 100%, and the University of South Florida School of Medicine offers priority admittance to select FSC science graduates.
Admission & Aid
Admission
FRESHMAN PROFILE
SAT Critical Reading
25th Percentile: 520 | 75th Percentile: 610
SAT Math
25th Percentile: 520 | 75th Percentile: 620
ACT Composite
25th Percentile: 24 | 75th Percentile: 29
ACT Math
25th Percentile: 22 | 75th Percentile: 27
ACT English
25th Percentile: 23 | 75th Percentile: 30
Tuition & Cost
Tuition: $32,450
Fees: $700
Room: $6,330
Board: $4,350
Contact Florida Southern College