Shenandoah University
Winchester, Virginia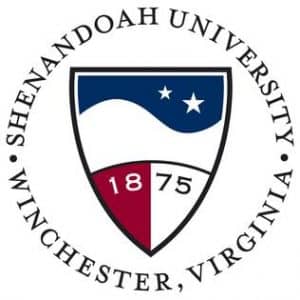 Established in 1875, Shenandoah has always embraced the future. Programs across its seven schools provide deep learning and encourage critical thinking as they provide students with the skills essential for the careers of today and necessary to adapt to the changing needs of tomorrow. The private university is home to Virginia's first virtual reality design program, a world-class conservatory, highly regarded programs in nursing and the health professions (including pre-health), and Virginia's most well-established undergraduate program in the growing field of music therapy. It is also working within the vanguard of esports and virtual reality education. 
SHOW MORE
More than half of Shenandoah's 4,000+ students are undergraduates (56%), and undergraduates study in five of Shenandoah's six schools: the College of Arts & Sciences (including the divisions of education and leadership and applied technology); Eleanor Custer Wade School of Nursing; School of Business; and Shenandoah Conservatory. The School of Health Professions and the Bernard J. Dunn School of Pharmacy are graduate-only programs. 
While at Shenandoah, students learn from faculty dedicated to teaching excellence and innovation, and they can take advantage of extraordinary hands-on learning opportunities that range from working on feature films to volunteering at a Winter Olympics. 
Shenandoah, which is affiliated with the United Methodist Church, is accredited by the Southern Association of Colleges and Schools Commission on Colleges. Various individual programs are also accredited by applicable accrediting bodies.
Get to know Shenandoah University
2,122
Degree-Seeking Undergraduates
Full-time to Part-time Ratio
-
0%
1%
2%
3%
4%
5%
6%
7%
8%
9%
10%
11%
12%
13%
14%
15%
16%
17%
18%
19%
20%
21%
22%
23%
24%
25%
26%
27%
28%
29%
30%
31%
32%
33%
34%
35%
36%
37%
38%
39%
40%
41%
42%
43%
44%
45%
46%
47%
48%
49%
50%
51%
52%
53%
54%
55%
56%
57%
58%
59%
60%
61%
62%
63%
64%
65%
66%
67%
68%
69%
70%
71%
72%
73%
74%
75%
76%
77%
78%
79%
80%
81%
82%
83%
84%
85%
86%
87%
88%
89%
90%
91%
92%
93%
94%
95%
96%
97%
98%
99%
100%
Retention rate
10:1
Student/teacher ratio
$33,790
Full-time tuition cost
-
0%
1%
2%
3%
4%
5%
6%
7%
8%
9%
10%
11%
12%
13%
14%
15%
16%
17%
18%
19%
20%
21%
22%
23%
24%
25%
26%
27%
28%
29%
30%
31%
32%
33%
34%
35%
36%
37%
38%
39%
40%
41%
42%
43%
44%
45%
46%
47%
48%
49%
50%
51%
52%
53%
54%
55%
56%
57%
58%
59%
60%
61%
62%
63%
64%
65%
66%
67%
68%
69%
70%
71%
72%
73%
74%
75%
76%
77%
78%
79%
80%
81%
82%
83%
84%
85%
86%
87%
88%
89%
90%
91%
92%
93%
94%
95%
96%
97%
98%
99%
100%
6-year graduation rate
Aug. 1
Application deadline
-
0%
1%
2%
3%
4%
5%
6%
7%
8%
9%
10%
11%
12%
13%
14%
15%
16%
17%
18%
19%
20%
21%
22%
23%
24%
25%
26%
27%
28%
29%
30%
31%
32%
33%
34%
35%
36%
37%
38%
39%
40%
41%
42%
43%
44%
45%
46%
47%
48%
49%
50%
51%
52%
53%
54%
55%
56%
57%
58%
59%
60%
61%
62%
63%
64%
65%
66%
67%
68%
69%
70%
71%
72%
73%
74%
75%
76%
77%
78%
79%
80%
81%
82%
83%
84%
85%
86%
87%
88%
89%
90%
91%
92%
93%
94%
95%
96%
97%
98%
99%
100%
Acceptance rate
-
0%
1%
2%
3%
4%
5%
6%
7%
8%
9%
10%
11%
12%
13%
14%
15%
16%
17%
18%
19%
20%
21%
22%
23%
24%
25%
26%
27%
28%
29%
30%
31%
32%
33%
34%
35%
36%
37%
38%
39%
40%
41%
42%
43%
44%
45%
46%
47%
48%
49%
50%
51%
52%
53%
54%
55%
56%
57%
58%
59%
60%
61%
62%
63%
64%
65%
66%
67%
68%
69%
70%
71%
72%
73%
74%
75%
76%
77%
78%
79%
80%
81%
82%
83%
84%
85%
86%
87%
88%
89%
90%
91%
92%
93%
94%
95%
96%
97%
98%
99%
100%
Out-of-state students
-
0%
1%
2%
3%
4%
5%
6%
7%
8%
9%
10%
11%
12%
13%
14%
15%
16%
17%
18%
19%
20%
21%
22%
23%
24%
25%
26%
27%
28%
29%
30%
31%
32%
33%
34%
35%
36%
37%
38%
39%
40%
41%
42%
43%
44%
45%
46%
47%
48%
49%
50%
51%
52%
53%
54%
55%
56%
57%
58%
59%
60%
61%
62%
63%
64%
65%
66%
67%
68%
69%
70%
71%
72%
73%
74%
75%
76%
77%
78%
79%
80%
81%
82%
83%
84%
85%
86%
87%
88%
89%
90%
91%
92%
93%
94%
95%
96%
97%
98%
99%
100%
Full-time faculty w/ terminal degree
College Highlights
Engaged Students
Great Teaching
Vibrant Communities
Successful Outcomes
Admission & Aid
Engaged Students
GLOBAL CITIZENSHIP PROJECT
Since its inception in 2005, the Global Citizenship Project (GCP) has sent more than 900 members of the Shenandoah University community to more than 60 locations around the world at no extra charge. Each year, several small groups travel to different individual locations over spring break, with many student participants traveling internationally for the first time. Oftentimes, GCP participants are inspired to become avid travelers who enrich their lives with each new journey, some of which are taken while still Shenandoah students, through credit-bearing Global Experiential Learning trips or longer-term study abroad programs. 
SHENANDOAH CONVERSATIONS
Shenandoah Conversations is an effort through which the entire university community is encouraged to engage in civil discourse by being both understood and understanding. Faculty members guide civil conversations, as do students trained in the principles of Reflective Structured Dialogue who serve as mentors to other students new to the process. Through Shenandoah Conversations, members of the campus community add layers of depth and understanding to their learning as well as to their experiences in the world outside of campus. 
SUMMER SCHOLARS
Alongside their professors, students studying a range of disciplines in the College of Arts & Sciences can conduct research during the summer break. Those who participate continue on to present the research conducted with faculty, at both university and community sites, before the season's conclusion. Recent research that has been conducted has studied participants in a senior center program, the history of the university's Cool Spring site, potentially beneficial chemical compounds in the black gum tree, uses of a 360-degree virtual reality treadmill, bluegill sunfish parasites, antibiotic resistance, American and Chinese chestnut trees, Spanish theatre, preconception health, coding, and nanoscience. 
WIDE-RANGING, HANDS-ON LEARNING
Students in an array of Shenandoah programs complement their classroom education with extensive hands-on experience that includes internships and work-study opportunities. They have volunteered extensively at the 2018 Winter Olympic Games in South Korea, learned through volunteer work at the Super Bowl and College Football Playoff National Championship games, and conducted research for established regional, national, and international business concerns. Health professions students receive clinical training and practice their skills both in a state-of-the-art simulation lab and on patients portrayed by students in various conservatory programs. In addition, students and programs are tapping the university's virtual reality resources to create new learning experiences. 
Conservatory students get excellent experiential education as well, performing as soon as they step on campus in their first year. They also have further opportunities to explore creative concepts or conduct research within the groundbreaking ShenCoLAB. The Conservatory even suspends a week of classes so that these students may devote time to intensive study, rehearsal, and preparation for different performances and presentations.
SHENANDOAH UNIVERSITY RESEARCH EXPO (SURE)
The annual Shenandoah University Research Expo (SURE) provides both undergraduate and graduate students with an opportunity to present completed research, works in progress, and other creative work via posters, digital media, fine art, audio, and video. Prizes are also presented for the top presentations by individuals and groups at the undergraduate and graduate levels. 
CONSERVATORY PERFORMANCES
Shenandoah Conservatory presents more than 300 performances yearly, providing students with access to a wide variety of performing arts programming from musical theatre (Shenandoah has presented the college and university premieres of both Green Day's American Idiot and Something Rotten) to new music, opera, symphony orchestra, jazz, and dance performances. The conservatory also draws to its stage renowned performers, many of whom then also provide masterclasses for conservatory students, and some of whom also number among the conservatory faculty. 
MOSAIC CENTER FOR DIVERSITY & INCLUSION
The Mosaic Center for Diversity & Inclusion is an inclusive space where all Shenandoah students are welcome and heard. Through it, students can hang out with students from a variety of backgrounds, host workshops and engage in dinner dialogues on difficult-to-address topics, participate in a wide variety of diversity awareness efforts, and learn about and become part of multicultural organizations.
CLASS SIZE
The number of sections of each class size.
2-9: 127 | 10-19: 238 | 20-29: 124
30-39: 15 | 40-49: 8 | 50-99: 3 | 100+: 1
ENROLLMENT BY ETHNICITY
Non-U.S. Citizen: 1%
Hispanic/Latinx: 9%
Black or African American, non-Hispanic: 9%
White, non-Hispanic: 61%
Native/Indigenous American or Alaska Native, non-Hispanic: 2%
Asian, non-Hispanic: 3%
Native Hawaiian or other Pacific Islander, non-Hispanic: 0%
Two or more races, non-Hispanic: 1%
Race and/or ethnicity unknown: 13%
Great Teaching
With small classes and a low student-teacher ratio, Shenandoah University faculty members and students get to know each other well. Faculty members become friends and mentors who help students develop satisfying careers and futures. 
FIRST-YEAR SEMINAR (FYS)
All first-year Shenandoah students begin their university experience by taking one of approximately two dozen Going Global First-Year Seminar offerings. These small, challenging, and highly interactive classes approach a global theme in their own unique ways, with recent class sections including Global Frankenstein; Seeking After the Iron Throne: Narratives of Empire, Power, and Community; Sports as a Political Tool; Skin Deep: The Walking Dead and the Human Experience; and Landscapes of Encounter: Borderlands, Race, and the Gulf Coast. Upper-level students also serve as FYS mentors who help first-year students transition into university life and create a community within their class cohort. 
SHENED TOWN HALL
Certain Shenandoah University general education (ShenEd) courses carry the Town Hall designation, meaning that signature course assignments address one of a series of social issues. These issues are then explored from the differing perspectives and academic disciplines of each class at a Town Hall event held at the conclusion of the semester. 
HONORS PROGRAM
The College of Arts & Sciences and School of Business honors program provides students with unique course experiences that inspire excellence, support the spirit of inquiry, and help them develop advanced expertise in their field. Those accepted into the program must take 15 credits of honors coursework, including three honors seminar credits. Incoming first-year College of Arts & Sciences and School of Business students are invited to the program based on their honors program application, their honors admissions essay, prior academic performance, interview with the honors program, and letters of recommendation. Pathways into the program are also available for transfer, current, and part-time students. 
"Small classes let you know your professors well, and allow each student so much one-on-one time with faculty. It's amazing, so incredibly amazing… and they're so open minded. I literally wrote up a grant proposal once for how we could do drone-based 360 videography, and it got accepted!" – John Michael Ulbrich '22
PRE-HEALTH PROGRAM
Shenandoah students interested in the health professions can receive additional support on their path to careers in fields such as athletic training, dentistry, medicine, occupational therapy, pharmacy, physical therapy, physician assistant, public health, and veterinary medicine through the university's pre-health program. Here, students take health professions foundation courses together as a cohort, have the option to earn pre-health professional and health humanities certificates, and receive additional support through in-person advising from both faculty and peers. 
SPECIAL STUDY OPTIONS
Programs available at this institution.
Accelerated program
Distance/online learning
Double major
Dual enrollment
English as a Second Language (ESL)
Honors program
Independent study
Internships
Study abroad
Teacher certification program
Weekend college
Vibrant Communities
MARTIN LUTHER KING, JR. DAY
Each year, Shenandoah begins the spring semester with a day of reflection and service on the holiday marking the birthday of late civil rights leader Dr. Martin Luther King, Jr. A wide variety of service opportunities are offered not only on the holiday itself, but also throughout the week. Students explore activism and how to engage in civil and thoughtful debate, delve into history, and participate in projects that benefit people around the world (Rise Against Hunger) and the local community (Socks of Love – socks stuffed with personal care products for homeless women and children). 
CENTER FOR CIVIC ENGAGEMENT
Shenandoah University's Center for Civic Engagement encourages service-learning within and outside the classroom, connecting students with a wide variety of service opportunities throughout the campus and surrounding communities. Service organizations include those related to hunger, homelessness, voter registration, health, education, and more. The center also helps develop empathetic leaders devoted to service.  
SPIRITUAL LIFE TRIPS
Shenandoah, a United Methodist-affiliated university, welcomes and celebrates people of all faiths, including those with no faith tradition. It also, both on its own and in conjunction with academic programs, offers students unique opportunities to assist people around the nation and the world through a variety of mission trips, including hurricane relief/rebuilding efforts in the United States as well as service-learning in Guatemala for music therapy students and along the Amazon River in Brazil for nursing students. Spiritual Life engages students within the regions served by Shenandoah and sponsors events like gleaning produce at local farms to supply hunger relief efforts. 
THE VILLAGE
The Village provides apartment-style living for junior and senior students who are selected based on a review of an application, grade point average, conduct history, and faculty and staff recommendation letters. Village residents must also agree to mentor other students and document their approved mentorship plan. The Village will feature five apartment buildings upon its completion; three buildings are currently occupied as of January 2020, while the remaining two buildings will be complete for the fall 2020 semester.
SCHOOL LOCATION
Shenandoah locations include the main campus in Winchester, Virginia; Scholar Plaza – Loudoun, in Loudoun County, Virginia; the Inova Center for Personalized Health in Fairfax, Virginia; the Health Professions Building on the campus of Winchester Medical Center; and the River Campus at Cool Spring Battlefield, which is a unique, 195-acre, natural, historical, and recreational site, located along the Shenandoah River in Clarke County, Virginia, that serves as a living laboratory for a variety of students.
With all of Shenandoah University's multiple locations across Northern Virginia situated within an hour and a half of the nation's capital of Washington, D.C., and within comfortable driving distance to a variety of East Coast metropolitan areas, Shenandoah combines access to areas of great natural beauty, including the famed Shenandoah Valley and multiple hubs of cultural and technological activity.
ATHLETICS
Shenandoah has 22 Division III athletics teams and holds membership in the Old Dominion Athletic Conference, one of the top DIII leagues in the nation. The newest team, men's wrestling, debuts in fall 2020. Shenandoah athletes are true student-athletes; the university's history includes more than 20 Academic All-Americans, and its teams have made more than 20 NCAA tournament appearances. Shenandoah student-athletes volunteer a total of 5,000 hours per year, on average, and have started ongoing projects such as Buzzy's Book Club with the local elementary schools.
RESIDENCE LIFE
Percent of students living on campus.
First-time, first-year (freshman) students: 89%
Undergraduates: 52%
Campus housing options.
Coed dorms
Special housing for students with disabilities
Successful Outcomes
Shenandoah University Career Services provides a comprehensive range of services and resources to support career exploration and the professional growth of Shenandoah students and alumni. Career Services works with students and alumni in all aspects of the career development process, from choosing a major to making career changes. Career development, influenced by all aspects of life, is a lifelong process with an end result of a high quality of life and overall personal satisfaction. Services offered include career exploration, experiential learning through internships, résumé building, interview skills workshops, graduate school search assistance, job search assistance, professional headshots, and volunteer, summer, and part-time opportunities.
Shenandoah's Class of 2019 entered the workforce with a median salary of $54,000. Before graduating, 83% of surveyed students had completed an experiential learning opportunity, such as an internship, clinical experience, practicum, student teaching, field experience, or assistantship. And 93% are employed, furthering their education, or completing volunteer/service work. The results are based on six months after graduation.
HANDSHAKE
Handshake, Shenandoah's online job posting site, connects students and alumni with listings for both full- and part-time work as well as volunteer and internship opportunities. Shenandoah alumni  receive lifetime assistance from Shenandoah Career & Professional Development. 
"I found my internship at Weis through Career Services and they were by my side through every step of the process!" – Brianna Turner '21

"Career Services helped me find relevant work experience and figure out how to highlight out-of-class experiences on my resume to make me the most attractive candidate possible." – Cameron Graves '20

"The tailored assistance from Career Services exceeded my expectations for preparing for graduate school interviews." – Olivia Poholchuk '19 & '21

"Career Services reassured me when I was making a shift from vocal performance to speech pathology. They also gave me resources to find my own insight and feel 100% comfortable with my decision." – Madeline Funke '19

"Career Services helped me realize I'm not alone in 'adulting!'" – Shamyra Wilkerson '19
NOTABLE FORMER SHENANDOAH STUDENTS
Actor Kate Flannery, known for her work on

The Office

Justin Wright '95, Global Head of Innovation, Novartis 

Carter Beauford, drummer and vocalist for the Dave Matthews Band

Operatic tenor Carl Tanner '85

Risa Imai Cox '92, Kaizen Institute

Actor Harold Perrineau, known for his work in the American television shows

Lost

and

Oz

as well as in

The Matrix

film series

Broadway performers past and present, J. Robert Spencer '91, Kathy Voytko '94, Laura Woyasz '98, Peter J. Herber, Aaron Galligan-Stierle '02, Richard F. Costa '86, Garrett Elise Long '91, and Jessie Hooker Bailey '10
Admission & Aid
Admission
ADMISSIONS FACTORS
Very Important
Academic GPA
Important
Rigor of secondary school record | Extracurricular activities | Talent/ability
Considered
Application Essay | Recommendation(s) | Interview | Character/personal qualities
First generation | Volunteer work | Work experience | Level of applicant's interest
TEST SCORES
Optional
FRESHMAN PROFILE
SAT Composite
25th Percentile: 1080 | 75th Percentile: 1250
SAT Evidence-Based Reading and Writing
25th Percentile: 540 | 75th Percentile: 630
SAT Math
25th Percentile: 520 | 75th Percentile: 630
ACT Composite
25th Percentile: 21 | 75th Percentile: 27
ACT Math
25th Percentile: 20 | 75th Percentile: 25
ACT English
25th Percentile: 21 | 75th Percentile: 28
Tuition & Cost
Tuition: $33,790
Fees: $1,380
Room & Board: $11,230
Aid
Shenandoah University distributed over $88,000,000 in financial aid in 2016-2017.
University-sponsored scholarships and grants, totaling more than $24 million, were received by more than 2,200 students.
Undergraduate students are eligible for the $3,400 Virginia Tuition Assistance Grant, which is available to full-time students at eligible private colleges and universities in Virginia.
What Others are Saying
"I chose Shenandoah for its small student population and amazing faculty! Being a small school makes it so that students can form close relationships with professors, and can really get the most out of what they are studying. You don't feel like just another number, like you do in bigger schools."
— Josephine Saikali '23
Contact Shenandoah University