Oklahoma Christian University
Edmond, Oklahoma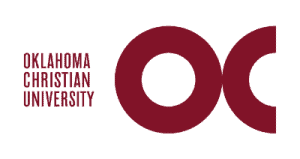 Recognized as one of the best universities in the western United States, Oklahoma Christian University features a close-knit community where students, faculty, and staff go the extra mile for each other. Its expert professors teach from a Christian worldview and are fiercely dedicated to high standards of scholarship. But their commitment to students goes beyond the classroom—their office doors are open, and they spend time side by side with students in the cafeteria, at games against the University's NCAA rivals, and in real-world ministry as part of the Ethos spiritual life program.
SHOW MORE
Oklahoma Christian opens its doors to faith-infused learning both at home and abroad. OC's location, just 10 minutes from downtown Oklahoma City, provides access to jobs and internships as well as big-city entertainment like the NBA's Oklahoma City Thunder. The university's global reach includes 20 study abroad and off-campus learning options, plus service opportunities that take students around the world to help people in need.
With more than 80 undergraduate majors and eight master's degree programs, OC is a place where students find their purpose and calling. It's a place where students are given the tools and support they need to live life to the fullest. OC is Home.
What began in 1950 as a small Christian college has grown into a comprehensive Christian university serving 2,600 students. A private, co-educational university affiliated with the churches of Christ, Oklahoma Christian welcomes all students who respect the school's commitment to academic and spiritual excellence as well as the academic and spiritual pursuits of their fellow students.
Get to know Oklahoma Christian University
1,755
Degree-Seeking Undergraduates
Full-time to Part-time Ratio
-
0%
1%
2%
3%
4%
5%
6%
7%
8%
9%
10%
11%
12%
13%
14%
15%
16%
17%
18%
19%
20%
21%
22%
23%
24%
25%
26%
27%
28%
29%
30%
31%
32%
33%
34%
35%
36%
37%
38%
39%
40%
41%
42%
43%
44%
45%
46%
47%
48%
49%
50%
51%
52%
53%
54%
55%
56%
57%
58%
59%
60%
61%
62%
63%
64%
65%
66%
67%
68%
69%
70%
71%
72%
73%
74%
75%
76%
77%
78%
79%
80%
81%
82%
83%
84%
85%
86%
87%
88%
89%
90%
91%
92%
93%
94%
95%
96%
97%
98%
99%
100%
Retention rate
15:1
Student/teacher ratio
$24,550
Full-time tuition cost
-
0%
1%
2%
3%
4%
5%
6%
7%
8%
9%
10%
11%
12%
13%
14%
15%
16%
17%
18%
19%
20%
21%
22%
23%
24%
25%
26%
27%
28%
29%
30%
31%
32%
33%
34%
35%
36%
37%
38%
39%
40%
41%
42%
43%
44%
45%
46%
47%
48%
49%
50%
51%
52%
53%
54%
55%
56%
57%
58%
59%
60%
61%
62%
63%
64%
65%
66%
67%
68%
69%
70%
71%
72%
73%
74%
75%
76%
77%
78%
79%
80%
81%
82%
83%
84%
85%
86%
87%
88%
89%
90%
91%
92%
93%
94%
95%
96%
97%
98%
99%
100%
6-year graduation rate
Rolling
Application deadline
-
0%
1%
2%
3%
4%
5%
6%
7%
8%
9%
10%
11%
12%
13%
14%
15%
16%
17%
18%
19%
20%
21%
22%
23%
24%
25%
26%
27%
28%
29%
30%
31%
32%
33%
34%
35%
36%
37%
38%
39%
40%
41%
42%
43%
44%
45%
46%
47%
48%
49%
50%
51%
52%
53%
54%
55%
56%
57%
58%
59%
60%
61%
62%
63%
64%
65%
66%
67%
68%
69%
70%
71%
72%
73%
74%
75%
76%
77%
78%
79%
80%
81%
82%
83%
84%
85%
86%
87%
88%
89%
90%
91%
92%
93%
94%
95%
96%
97%
98%
99%
100%
Acceptance rate
-
0%
1%
2%
3%
4%
5%
6%
7%
8%
9%
10%
11%
12%
13%
14%
15%
16%
17%
18%
19%
20%
21%
22%
23%
24%
25%
26%
27%
28%
29%
30%
31%
32%
33%
34%
35%
36%
37%
38%
39%
40%
41%
42%
43%
44%
45%
46%
47%
48%
49%
50%
51%
52%
53%
54%
55%
56%
57%
58%
59%
60%
61%
62%
63%
64%
65%
66%
67%
68%
69%
70%
71%
72%
73%
74%
75%
76%
77%
78%
79%
80%
81%
82%
83%
84%
85%
86%
87%
88%
89%
90%
91%
92%
93%
94%
95%
96%
97%
98%
99%
100%
Out-of-state students
College Highlights
Engaged Students
Great Teaching
Vibrant Communities
Successful Outcomes
Admission & Aid
Engaged Students
Oklahoma Christian University students embrace opportunities to live with an active engagement of their education both inside and outside the classroom.
STUDY EVERYWHERE
The mission of Oklahoma Christian University's Study Abroad program is to deepen and broaden students' intellectual, social, spiritual, and aesthetic awareness as they study, travel, and serve in other cultures. Students can choose from dozens of programs across the globe! For example, incoming freshmen can take their very first class in Europe with OC's President, while nursing students get to serve in the mountain clinics of Honduras. Summer trips to Asia include stops in Japan and China, and long-term exchange programs to Japan and Korea include cultural immersion and study at international universities. And university-owned Das Millicanhaus in Vienna, Austria, hosts students across all academic programs for fall, spring, or summer study opportunities. Students can also participate in a variety of Best Semester programs across the globe through OC's affiliation with the Council for Christian Colleges and Universities.
Students also study away from campus while remaining in the United States. Each Spring, College of Business Administration students can visit sites in New York City as a part of the Eagles on Wall Street tour. A trip during Spring Break also features the university's annual Civil Rights Tour across the American South. This collaborative program between student life and academics allows participants to earn course credits through an exploration across historical sites that were important during the civil rights era.
ENTREPRENEUR-IN-RESIDENCE AND CROSS-DISCIPLINARY STUDENT TEAMS
At OC, students can collaborate with an Entrepreneur-in-Residence to gain valuable information from a professional's perspective. Long-time entrepreneur Russ Maguire mentors individual students, teaming up to help ideas come to life. Cross-disciplinary student teams have successfully taken two products to market in the past two years (see the inspiring video about a life-changing project here). For two years in a row, students have garnered awards at the Love's Entrepreneur's Cup, a competition for student teams from colleges and universities across the state of Oklahoma. The OC team took home first place in 2017.
PRESIDENT'S LEADERSHIP CLASS
Each year, 12 to 15 members of OC's freshman class are invited (after a competitive process of interviews) to join the President's Leadership Class (PLC). PLC students meet with President John deSteiguer on a weekly basis to learn in small group settings. These students also get to participate in a variety of special university events.
UNDERGRADUATE STUDENT RESEARCH
Students at Oklahoma Christian University have the opportunity to participate in undergraduate research initiatives across many academic programs. With abundant connections to the labs and companies in Oklahoma City's medical community, students get to participate in faculty research. Engineering students, too, partner with faculty for their own projects, including current research on wind energy). Students in other disciplines present papers and posters in a variety of conference and organization settings, both regionally and nationally.
ENROLLMENT BY ETHNICITY
Non-U.S. Citizen: 0%
Hispanic/Latinx: 7%
Black or African American, non-Hispanic: 7%
White, non-Hispanic: 73%
Native/Indigenous American or Alaska Native, non-Hispanic: 2%
Asian, non-Hispanic: 2%
Native Hawaiian or other Pacific Islander, non-Hispanic: 0%
Two or more races, non-Hispanic: 7%
Race and/or ethnicity unknown: 1%
Great Teaching
Oklahoma Christian University is first and foremost a teaching institution. Students are taught directly by full-time professors in the classroom and are advised and mentored by faculty members.
FIRST-YEAR SEMINAR AND FRESHMAN EXPERIENCE
One of the University's most treasured traditions, Earn Your Wings, features a week-long introduction to OC for incoming freshmen. Led by more than 150 upperclassmen, students begin the Freshman Seminar Course, spend time in small groups with peer mentors, host local elementary students for a morning of campus kite-flying, and visit special sites across Oklahoma City. Theme days, concerts, and time for reflection ensures that Earn Your Wings features something special for every incoming student.
The Freshman Experience Office works hard to introduce and welcome new OC students to campus and academic life. The Freshman Seminar course is led by faculty who challenge students to develop with intention their own academic learning path. Support staff additionally bridge students' learning outside the classroom with exciting co-curricular experiences. OC ensures that each student's freshman year is rich and purposeful.
THE HONORS PROGRAM
The OC Honors Program is a member of the National Collegiate Honors Council (NCHC). Fitting seamlessly with every major at OC, the program hosts 160 students from all five of the University's colleges. It is the "most rigorous" NCHC model: a core-based, cohort-centered program with core seminar classes that are led by the University's teaching scholars. Honors students participate in Symposium each Monday and are eligible for Catalyst Grants that support their senior capstone projects.
The 40 exceptional freshmen who are accepted into the program get to participate in a First Year Adventure, and they have the incredible option to live in the designated first-year Honors House at Davisson Hall.
WRITING ACROSS THE ACADEMY
Strong writing is highly valued at Oklahoma Christian, and so the core curriculum courses across the institution include ample writing tasks and assignments. Students seeking to improve and grow visit The Writer's Block—a creative tutoring space and program staffed by faculty and students from Department of Language and Literature. From The Talon student newspaper and the Soundings literary journal to internships in the University's Marketing and Communications Office, students also have practical opportunities practice their craft outside of the classroom.
SPECIAL STUDY OPTIONS
Programs available at this institution.
Double major
Dual enrollment
English as a Second Language (ESL)
Honors Program
Independent study
Student-designed major
Study abroad
Teacher certification program
Vibrant Communities
For OC students, activities and events abound. Traditions run deep, and students have many opportunities to attend and participate in a variety of athletic events, concerts, speakers series, seminars, art gallery showings, music and theater productions, local Greek life, and more.  
HISTORY SPEAKS SPEAKER SERIES
Oklahoma Christian University's annual History Speaks event welcomes civil rights icons to share their experiences with the campus community. Guests join students in relevant courses and share stories of hope in OC's daily Big Chapel setting.
Speaking to sold out evening audiences, past guests include:
Dr. Terrence Roberts and Carlotta Walls LaNier—Roberts and LaNier, of the the Little Rock Nine, integrated the public high school in Little Rock, AR, with seven African-American classmates.

Claudette Colvin and civil rights attorney Fred Gray—Dr. Gray led the fight against bus segregation in Montgomery, AL, and served as attorney to Dr. Martin Luther King, Jr. Ms. Colvin was the first person arrested for refusing to give up her seat on a bus, preceding the Rosa Parks incident by nine months.

Ms. Diane Nash—As a college student, Ms. Nash led nonviolent protests and coordinated the Freedom Ride from Birmingham, AL, to Jackson, MS.

John Carlos and Tommie Smith—Heroes of the 1968 Summer Olympic Games, Smith and Carlos made the iconic decision to speak out silently against injustice, creating an iconic image as they stood with Olympic gold and bronze medals around their neck in Mexico City.
ON-CAMPUS LIVING
More than 80% of students live on campus and enjoy a rich residential experience. With twelve residence halls, four apartment phases, fitness centers, lounges, WiFi, study areas, and common outdoor spaces that include a disc golf course and campus trail, students learn, live, and play all on OC's 200-acre campus.
ETHOS SPIRITUAL LIFE EXPERIENCE
Spiritual life is at the core of the Oklahoma Christian University experience. Through the Ethos program, students use their gifts and talents to practice spiritual disciplines in five dimensions: Community, Discipleship, Discovery, Servanthood, and Worship. Students take charge of their spiritual growth and earn "kudos" (spiritual life credits) by attending Big Chapel, small group Bible studies, community service projects, speaker events, and more. Engaging in endless combinations of activities, students can track their participation and document their journey via a University-developed phone application.
SCHOOL LOCATION
OC's 200 plus-acre campus is located in Oklahoma City, the state capital of Oklahoma. The university borders the city of Edmond. Students enjoy the academic, cultural, and recreational benefits of a big city in a safe and comfortable suburban atmosphere. OC's metro area location features ties to large businesses in one of the fastest growing economies in the nation. This college home also boasts one of the lowest unemployment rates in the country as well as a flourishing cultural and social scene, highlighted by the international following for the NBA's Oklahoma City Thunder.
ATHLETICS
Oklahoma Christian is a member of NCAA Division II, with primary membership in the NCAA's Heartland Conference and sport-specific memberships in the Great American Conference (track and field) and the Rocky Mountain Athletic Conference (swimming).
More than 250 students participate in 14 sports, including baseball, basketball, cross country, golf, soccer, softball, swimming, and track and field.
OC has won 56 national championships and annually ranks at or near the top of the Heartland Conference for cumulative athletic department GPA. The "Eagles' Nest," home to OC's basketball teams, was ranked as one of the best athletic venues in Oklahoma state history for its big, rowdy crowds and tradition.
RESIDENCE LIFE
Percent of students living on campus.
First-time, first-year (freshman) students: 89%
Undergraduates: 77%
Campus housing options.
Men's dorms
Women's dorms
Apartments for married students
Apartments for single students
Special housing for disabled students
Successful Outcomes
Oklahoma Christian University prepares students for the professional world, both in the classroom and beyond. The practical experience that the University provides is especially powerful for future success.
INTERNSHIPS AND PRACTICAL EXPERIENCE
Academic departments partner with the Office of Career Services to place students in internships. Many programs (like nursing, education, communication design, ministry, and more) include practical experiences within their curricula.
Engineering students take Toastmasters classes to improve their oral communication skills, while health science and nursing students join the student-led Eagles Health Initiative to educate community members about important issues like mental health. Additionally, education students can serve as reading buddies to inner-city elementary schoolers. OC students are constantly practicing their crafts while pursuing their vocation.
CAPSTONE COURSES AND STUDENT PROJECTS
Every OC student takes a senior-year capstone course in order to complete their studies. Guided by hands-on faculty, students see their four years of work culminate in a final project. Art collectives, scientific research, published articles, life-changing engineering projects, music compilations, and annual marketing plans for local companies—the possibilities are endless!
AFTER OC JOBS AND GRADUATE AND PROFESSIONAL SCHOOLS
Programs across the University feature sky-high placement rates to postgraduate jobs at places like Niagara, ESPN, Tinker Air Force Base, Paycom, Southwest Airlines, Oklahoma City Thunder, and a range of schools, hospitals, and companies across the country.
Students seeking to further their studies in graduate school have enjoyed outstanding acceptance rate at 90 percent and above. OC alumni attend schools like Baylor, Stanford, Columbia, Vanderbilt, and other graduate and professional schools across the country.
Admission & Aid
Admission
ADMISSIONS FACTORS
Very Important
Academic GPA | Standardized test scores | Recommendation(s) | Character/personal qualities
Important
Rigor of secondary school record | Class rank | Interview | Extracurricular activities
Talent/ability | Religious affiliation/commitment | Volunteer work
Considered
First generation | Racial/ethnic status | Level of applicant's interest
FRESHMAN PROFILE
SAT Evidence-Based Reading and Writing
25th Percentile: 500 | 75th Percentile: 630
SAT Math
25th Percentile: 520 | 75th Percentile: 620
ACT Composite
25th Percentile: 20 | 75th Percentile: 27
ACT Math
25th Percentile: 18 | 75th Percentile: 26
ACT English
25th Percentile: 20 | 75th Percentile: 29
ADMISSIONS PROCESS
The Admissions process at Oklahoma Christian is simple. Students are encouraged to complete the steps below:
Apply—Visit

www.oc.edu/apply

to submit an application for admission.

Test Scores—Send OC an ACT or SAT score.

High School Transcript—Send a current high school transcript.

Admissions Decision—Admissions is determined on a rolling basis. After OC receives their scores and transcript, most students hear an official decision within two weeks.

Visit Campus—Prospective students can attend a group event or let the admissions staff tailor a day exclusively for them. See

www.oc.edu/visit

for options.

Submit the FAFSA—OC begins sending award letters in mid-November each year.
Tuition & Cost
Tuition: $24,550
Fees: $540
Room: $4,400
Board: $3,500
Contact Oklahoma Christian University