2023 Best Undergraduate Business Schools in Pennsylvania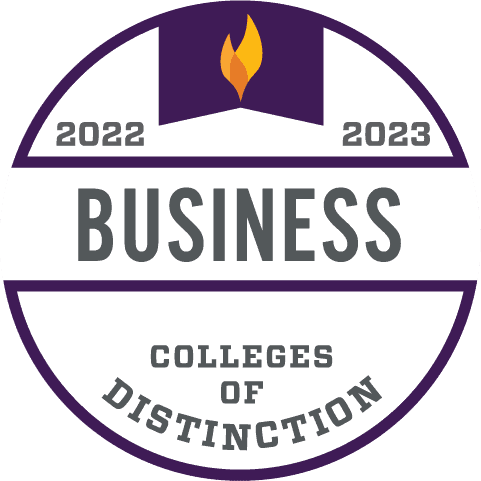 Published: September 1, 2022
By: Colleges of Distinction Staff
Every school on this list has already gotten our stamp of approval for the way they enrich every students' education through the Four Distinctions. And with the addition of the business badge, you can be sure that these institutions offer hands-on business programs that produce experienced, responsible leaders for the booming corporate world.
Jump to: Alvernia University | Bucknell University | Cabrini University | Carlow University | Chatham University | Commonwealth University of PA – Bloomsburg | Elizabethtown College | Geneva College | Grove City College | Gwynedd Mercy University | King's College | La Roche University | Lehigh University | Marywood University | Mercyhurst University | Messiah University | Mount Aloysius College | Neumann University | PennWest University | Saint Francis University | Saint Joseph's University | Seton Hill University | Slippery Rock University | University of Pittsburgh at Bradford | University of Pittsburgh at Johnstown | University of Scranton | Villanova University | Washington & Jefferson College | Waynesburg University | West Chester University of Pennsylvania | Westminster College | York College of Pennsylvania | Frequently Asked Questions
We have thoroughly researched the business programs at these Pennsylvania Colleges of Distinction and verified that they exhibit all of the following characteristics:
Multidisciplinary exposure across all aspects of business
Real-world experience through internships and other forms of engagement with actual firms
Industry connections that help students build their network and access to professional growth
Business ethics that emphasize how a firm's obligations extend beyond its shareholders
Collaborative learning, in both business and general education courses, that stress the nuances of an efficient team
Dedicated advisors and counselors who have a clear understanding of students' academic and post-graduate milestones
Student success is the primary focus of our Colleges of Distinction, and these business degree-granting CoDs are no exception. With different types of business degrees to help students pursue their desired industry, the 2022-2023 Pennsylvania Business Colleges of Distinction provide a stable foundation for entrepreneurial minds.
Cabrini University is a nonprofit, co-educational school that offers more than 40 majors, six master's degrees, and two doctoral degrees. Founded by the Missionary Sisters of the Sacred Heart of Jesus and named for St. Frances Cabrini, the patron saint of immigrants, the university embraces learners of all faiths and fosters a supportive academic community.
From their first semester, students learn how to advocate for social change and explore where they stand in the fight for human rights and dignity. They work closely with caring faculty in small classes, participating in research projects, internships, and international service groups that provide crucial hands-on experience. This dedication to action is a great contributor to the outcome of 92 percent of the university's graduates being employed or in graduate school within 10 months of graduating.
Acceptance rate 62% • Net price $21,875 • SAT Range 940-1125 • Students submitting SAT scores 59%
Total Undergrad Population 1,551 • Setting Suburb • Private 4-year
Graduation rate (6 year) 55% • Retention rate 76% • Student-to-faculty ratio 15:1
Total undergrad business degrees granted last year 85
Business Majors Offered
Business Administration, Management and Operations
Accounting and Related Services
Finance and Financial Management Services
Human Resources Management and Services
International Business
Management Information Systems and Services
Marketing
What it's like to attend business schools in Pennsylvania and other FAQ:
Texas | Florida | New York | California | Illinois | Georgia | Ohio | South Carolina
Best Pennsylvania Colleges by Award
2023 Best Engineering Schools in Pennsylvania
Top Nursing Schools in Pennsylvania
2023 Best Education Schools in Pennsylvania