Saint Francis University
Loretto, Pennsylvania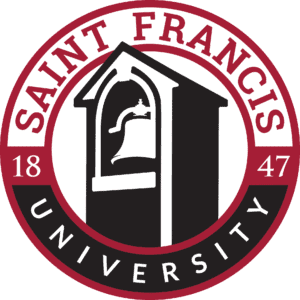 Saint Francis University offers academic study within the Franciscan tradition of using one's talents to serve others. The more than 60 offerings include highly targeted, career-focused majors grounded in the liberal arts tradition of inquiry and self-discovery. Highly regarded programs in health science, education, business, and science attract a diverse student body to the beautiful campus setting. The values of respect, faith, generosity, and joy run deep in the University culture and help to prepare ethical, knowledgeable professionals with a passion to shape the world. This holistic approach to career preparation is supported by respected faculty who work closely with students in small settings to meet individual goals.
Get to know Saint Francis University
2,279
Degree-Seeking Undergraduates
Full-time to Part-time Ratio
-
0%
1%
2%
3%
4%
5%
6%
7%
8%
9%
10%
11%
12%
13%
14%
15%
16%
17%
18%
19%
20%
21%
22%
23%
24%
25%
26%
27%
28%
29%
30%
31%
32%
33%
34%
35%
36%
37%
38%
39%
40%
41%
42%
43%
44%
45%
46%
47%
48%
49%
50%
51%
52%
53%
54%
55%
56%
57%
58%
59%
60%
61%
62%
63%
64%
65%
66%
67%
68%
69%
70%
71%
72%
73%
74%
75%
76%
77%
78%
79%
80%
81%
82%
83%
84%
85%
86%
87%
88%
89%
90%
91%
92%
93%
94%
95%
96%
97%
98%
99%
100%
Retention rate
14:1
Student/teacher ratio
$38,078
Full-time tuition cost
-
0%
1%
2%
3%
4%
5%
6%
7%
8%
9%
10%
11%
12%
13%
14%
15%
16%
17%
18%
19%
20%
21%
22%
23%
24%
25%
26%
27%
28%
29%
30%
31%
32%
33%
34%
35%
36%
37%
38%
39%
40%
41%
42%
43%
44%
45%
46%
47%
48%
49%
50%
51%
52%
53%
54%
55%
56%
57%
58%
59%
60%
61%
62%
63%
64%
65%
66%
67%
68%
69%
70%
71%
72%
73%
74%
75%
76%
77%
78%
79%
80%
81%
82%
83%
84%
85%
86%
87%
88%
89%
90%
91%
92%
93%
94%
95%
96%
97%
98%
99%
100%
6-year graduation rate
-
0%
1%
2%
3%
4%
5%
6%
7%
8%
9%
10%
11%
12%
13%
14%
15%
16%
17%
18%
19%
20%
21%
22%
23%
24%
25%
26%
27%
28%
29%
30%
31%
32%
33%
34%
35%
36%
37%
38%
39%
40%
41%
42%
43%
44%
45%
46%
47%
48%
49%
50%
51%
52%
53%
54%
55%
56%
57%
58%
59%
60%
61%
62%
63%
64%
65%
66%
67%
68%
69%
70%
71%
72%
73%
74%
75%
76%
77%
78%
79%
80%
81%
82%
83%
84%
85%
86%
87%
88%
89%
90%
91%
92%
93%
94%
95%
96%
97%
98%
99%
100%
Acceptance rate
-
0%
1%
2%
3%
4%
5%
6%
7%
8%
9%
10%
11%
12%
13%
14%
15%
16%
17%
18%
19%
20%
21%
22%
23%
24%
25%
26%
27%
28%
29%
30%
31%
32%
33%
34%
35%
36%
37%
38%
39%
40%
41%
42%
43%
44%
45%
46%
47%
48%
49%
50%
51%
52%
53%
54%
55%
56%
57%
58%
59%
60%
61%
62%
63%
64%
65%
66%
67%
68%
69%
70%
71%
72%
73%
74%
75%
76%
77%
78%
79%
80%
81%
82%
83%
84%
85%
86%
87%
88%
89%
90%
91%
92%
93%
94%
95%
96%
97%
98%
99%
100%
Out-of-state students
College Highlights
Engaged Students
Great Teaching
Vibrant Communities
Successful Outcomes
Admission & Aid
Engaged Students
Saint Francis University has a strong commitment to transformational experiences for its students. Embedded in the strategic plan of the institution is a firm commitment to ensuring high-impact, transformational experiences as a means for students to deepen their educational career. Saint Francis University aims to have all students complete and document a minimum number of experiences via a co-curricular transcript. The six areas of emphasis that Saint Francis University identifies as transformational experiences include internships, research, study abroad, leadership, community service, and campus ministry. Strategic investments have been made by the institution in an effort to diversify learning opportunities, enhance marketability of students, and provide mechanisms for self-discovery. More information may be found at www.francis.edu/student-success-services.
DIVERSITY/GLOBAL EXPERIENCES
"A Global Vision" is one of the key tenets of the University's "Goals of Franciscan Education." To foster understanding of other cultures, the university encourages study abroad through semester-long study at the university-operated facility in Ambialet, France, as well as shorter excursions such as Engineering in Bolivia and Sign Language Immersion in Jamaica. On campus, students participate in diversity programming throughout the year, with one of the larger events being "Multicultural Week." Each day throughout Multicultural Week is packed with vibrant cultural activities, all culminating in a large Multicultural Festival on the final day, featuring music, art, poetry, and food that represent countries from all over the world.
UNDERGRADUATE RESEARCH AND SERVICE
Saint Francis students enhance the theoretical knowledge gained through classroom experiences with faculty-guided research and service projects. As a core element of the University's Franciscan mission, every student is required to participate in some form of research and service, and many start as early as their freshman year. As part of their class curricula, undergraduate and graduate students can work alongside Ph.D. faculty members in research and service projects. They can also enjoy unique experiences through specialized outreach centers such as the Center for Watershed Research and Service, The Keirn Family World War II Museum, the Center for the Study of Occupational Regulation, and the Center for Rural Cancer Survivorship.
COMMON INTELLECTUAL EXPERIENCES
At Saint Francis University, every student completes a carefully designed General Education experience. This experience starts the first year when students take common core courses, including English, First-Year Seminar, Writing for a Discipline, Franciscan Goals for Today, and Community Enrichment Series. Students progress through their academic careers while pursuing advanced integrative studies along with a variety of curricular and cocurricular options.
"The opportunities I had to develop public speaking skills and mentoring from professors are a few of the experiences I credit in shaping my future." – Dennis R.
IMPACTING THE RURAL COMMUNITY
Students are engaged in University centers and programs that offer support to Saint Francis University's greater rural community. Some of those opportunities include the Rural Education Alliance for Leadership (REAL) Institute; Center for Rural Cancer Survivorship and additional resources within the DiSepio Institute; Dorothy Day Outreach Center; the Uwork workforce opportunity program, and The Knee Center for the Study of Occupational Regulation (CSOR).
ENROLLMENT BY ETHNICITY
Non-U.S. Citizen: 1%
Hispanic/Latinx: 1%
Black or African American, non-Hispanic: 5%
White, non-Hispanic: 84%
Native/Indigenous American or Alaska Native, non-Hispanic: 0%
Asian, non-Hispanic: 2%
Native Hawaiian or other Pacific Islander, non-Hispanic: 0%
Two or more races, non-Hispanic: 2%
Race and/or ethnicity unknown: 4%
Great Teaching
CARING, PROFESSIONAL FACULTY
Saint Francis University's faculty place a special emphasis on enthusiasm and motivation in the classroom, all while helping students to develop as compassionate, ethical professionals. On a practical level, this means one-on-one interaction in small classes as well as collaborative experiences outside of the classroom.
"Everyone actually cares about you. You're not just like another number in the classroom, they actually know your name and care if you do well." – Mackenzie W.
While teaching is their number-one priority, Saint Francis faculty actively contribute to their field of specialization by conducting service projects as well as researching and publishing in their field. They routinely involve both their undergraduate and graduate students in their work. Because of this close working relationship with Ph.D.-level faculty, students have the opportunity to have work published as well as to present at national conferences.  
CENTERS OF LEARNING
The University provides a rich tapestry of hands-on service and research opportunities through its centers and institutes. Just a few of these include the Disepio Institute for Rural Health and Wellness, The Wolf-Kuhn Ethics Institute, Center for Community Engagement, The Keirn Family World War II Museum, and The Small Business Development Center. These entities provide practical internship experience, thus allowing students to delve deeply into a subject area. In addition to these formal centers, there are several clubs and organizations dedicated to certain areas of study. These groups build upon the concepts taught in the classroom and, in some cases, allow students to network with industry leaders. Many majors also have discipline-specific study zones to enhance collaboration.
GENERAL EDUCATION PROGRAM
Through the General Education program, students build a solid academic base while establishing critical thinking skills, a love for learning, and a strong moral foundation. The program extends beyond the classroom to include lectures, presentations, performances, service projects, and other educational activities. Such an educational experience is diverse and practical while also being highly integrated and focused. Core components of this program include the community enrichment series, a writing competency exam, wellness initiatives, the summer reading program, study abroad, and service-learning.
"As an undergrad, these courses inspired in me a true heart of service and taught me how to be empathetic in patient interactions. These are skills I could not have gleaned from a medical textbook and continue to shape not only the care provider, but also the person I am today." – Lisa B.
HONORS PROGRAM
The SFU Honors Program is designed to challenge highly motivated students by making them part of a community of learners, all while affording them the opportunity to devise their own personal program of study. Students are introduced to the Honors Program through a year-long learning community experience that consists of a four-course sequence with intense critical thinking, writing, and speaking components. Based upon the Franciscan ideal of concern for others above self, service-learning activities are built into all upper-level Honors seminars. An original research project serves as the program's culminating capstone requirement. Those participating in the Honors Program are the only students granted priority registration at the University.
The Honors House includes a conference room with state-of-the-art audio visual equipment; a residence for eight Honors students per year; a 24-hour study space for all Honors students; and a meeting, lecture, and movie space. Founded in 1984, the program currently enrolls 100 students.
SPECIAL STUDY OPTIONS
Programs available at this institution.
Accelerated program
Distance learning
Double major
Dual enrollment
English as a Second Language (ESL)
Honors Program
Independent study
Internships
Liberal arts/career combination
Student-designed major
Study abroad
Teacher certification program

Vibrant Communities
CLUBS & ACTIVITIES
The University's campus capitalizes greatly on its beautifully natural rural setting, standing as a comfortable environment in which student activities can thrive. There are more than 60 official clubs and organizations, including Campus Ministry, club sports, Greek Life, the Literary Guild, and marching band. Athletics also plays a major role in the student life, with twenty-three NCAA Division I sports for men and women, ranging from football to water polo.
RESIDENCE LIFE
Saint Francis University has 11 residence halls, including Christian Hall, which has a spectacular view of the central Pennsylvania mountains. Living options include traditional residential dorms, study floors, single suites, apartments, townhouses, and rooms with private bathrooms.
GREEK LIFE
Greek Life at Saint Francis University is a character-building leadership development experience. First established by the Franciscan Friars in the 1940s, SFU's Greek Life community stands as the oldest Greek system at any Catholic college in the US. The average GPA of a Greek student at SFU is 3.47, rising above national averages in the Greek Life community. Saint Francis Greek Life focuses on academics, leadership, and community engagement.
COMMUNITY ENRICHMENT SERIES
The University sponsors a wide range of cultural events that are integrated into the curriculum as "CES" credits. By attending lectures, concerts, theatrical performances, or other select events on campus, students can receive community enrichment credits toward the completion of their degree. For example, students can earn CES credits attending an American Sign Language / English theatre performance or by visiting the Southern Alleghenies Museum of Art located right on campus. Outside groups, such as the American Shakespeare Center, are invited to host a variety of activities, while the University's staff collaborate to host events like the "International Coffee House" sessions.
COMMUNITY ENGAGEMENT
Students grow personally and professionally through service and engagement opportunities as well as community-engaged courses that pair classroom teachings with community partners to address societal needs. The Center for Community Engagement (CCE) at Saint Francis University is one of the great catalysts for impactful community engagement experiences at the University. Domestic and international service mission trips take students throughout or outside of the country, while Saint Francis University also organizes local events like Reaching Every Door (R.E.D.), an annual event during which students disperse into the local community and give back to their neighbors.
FRANCISCAN ENDOWMENT SERIES
As a way to encourage scholarly research and promote activities that reflect the works of St. Francis, St. Clare, and Dorothy Day, the University began the The Rev. Gabriel J. Zeis, T.O.R. Endowment in Franciscan Studies and Roman Catholic Theology. This endowment has enabled the University to host such speakers as Cardinal Dolan, the Archbishop of New York, and Fr. Dan Horan, OFM, who presented on the topic of the Franciscan Response to Racism.
GREAT OUTDOORS
Saint Francis University isn't just near the great outdoors; it is the great outdoors. High in the Laurel Highlands of Pennsylvania, students find a rare combination of vibrant campus life within a close-knit campus community setting. Recreational activities abound for all four seasons both on campus and at nearby state and national parks. Many academic programs take advantage of the natural setting to promote environmental advocacy and conduct research.
WHAT MAKES SFU DIFFERENT
Simulation labs, Esports, SCUBA diving, Aviation, experiential learning, two public museums, Canine Learning and Behavior class, and a snow tubing park are some of the opportunities unique to Saint Francis University. Students enhance their academic and campus experiences with programs that fit their personalities.
"Everyone here is so nice and personable." – Sadee L.
SCHOOL LOCATION
Saint Francis University is located in Loretto, a quaint town in Cambria County, Pennsylvania, about two hours east of Pittsburgh. Ebensburg, the county seat, is located 6 miles from campus. Altoona and Johnstown, located approximately 20 minutes from campus, offer a wide variety of shopping and dining options. The residential 600-acre campus is located in a scenic portion of the Allegheny Mountains centrally located between New York and Washington, D.C., making day trips to urban experiences possible for students.
ATHLETICS
Saint Francis University boasts one of the smallest NCAA Division I athletic programs in the country. Over 20 successful athletic teams compete in the Northeast Conference.     
20+ varsity teams
Men's: basketball, cross-country, football, golf, soccer, tennis, track & field, and volleyball
Women's: basketball, bowling, cross country, field hockey, golf, lacrosse, soccer, softball, swimming, tennis, track & field, volleyball, and water polo

Club Sports: baseball, fishing, golf, ice hockey, rugby, soccer, table tennis, weightlifting, wrestling, and more.
RESIDENCE LIFE
Campus housing options.
Coed dorms
Men's dorms
Women's dorms
Apartments for single students
Fraternity/sorority housing
Successful Outcomes
Saint Francis University students go on to become accountants, biologists, business owners, chemists, doctors, environmental engineers, lawyers, nurses, occupational therapists, physician assistants, and physical therapists—and they all carry their Franciscan values with them.
TRANSFORMATIONAL EXPERIENCES
Saint Francis University highly values the extra steps students take to become professionally engaged in the world beyond college. Because of that, the University now issues two separate transcripts to its graduates in order to highlight every effort. In addition to a standard academic transcript, students receive a transcript that acknowledges accomplishments within six categories of Transformational Experiences: internship, study abroad, community service, leadership experiences, and campus ministry. This is known as a student's L.I.S.T (Leadership, Involvement, & Service Transcript).
SERVICE-LEARNING
While service-learning has always been a part of the fabric of the Franciscan tradition, the University has strengthened the goal of connecting service activities and career preparation even further. The Center for Community Engagement was formed in the fall of 2015 to engage students, faculty, staff, and community partners in ways that would help direct academic programming toward a benefit to the greater community. Students participate in Community-Engaged Courses, addressing societal, community needs through a partnership between the classroom and community partners.
INTERNSHIPS AND CAREER SERVICES
The University's Career Services office has a dedicated staff member who assists academic departments in procuring internship opportunities for students by building relationships with businesses and organizations. Saint Francis students have interned with The Cleveland Clinic, the National Aquarium (Washington DC), British House of Commons, Republican and Democratic National Conventions, and many more outstanding organizations.
FIRST DESTINATION REPORT
The Class of 2018 First Destination Report features data collected from the Class of 2018 about their post-graduation outcomes, filled with information on alumni's job locations, employment and salary outcomes, career snapshots, and much more. The University's overall employment/graduate school rate for the Class of 2018 remains competitive at 99% employed or attending graduate school within 9 months of graduation (96% employed or attending graduate school within 6 months).
Admission & Aid
Admission
ADMISSIONS FACTORS
Very Important
Academic GPA | Standardized test scores
Important
Application Essay | Recommendation(s)
Interview | Extracurricular activities
Considered
Rigor of secondary school record | Class rank
Talent/ability | Character/personal qualities
Volunteer work | Work experience
TEST SCORES
Required
FRESHMAN PROFILE
SAT Evidence-Based Reading and Writing
25th Percentile: 510 | 75th Percentile: 620
SAT Math
25th Percentile: 500 | 75th Percentile: 600
ACT Composite
25th Percentile: 22 | 75th Percentile: 26
ACT Math
25th Percentile: 19 | 75th Percentile: 26
ACT English
25th Percentile: 21 | 75th Percentile: 26
Tuition & Cost
Tuition: $38,078
Fees: $1,200
Room: $6,148
Board: $6,936
Aid
SCHOLARSHIPS & GRANTS
Saint Francis University encourages students to explore the many financial aid opportunities available including scholarships, grants, loans, and work-study options. Saint Francis University offers merit-based scholarships that depend entirely on academic performance. 98% of new students receive scholarships or grants.
Founders Scholarship
Up to $18,000 each year for all four undergraduate years.
Minimum requirements: 3.8 GPA | 1320 SAT | 28 ACT
Presidential Scholarship
Up to $16,000 each year for all four undergraduate years.
Minimum requirements: 3.6 GPA | 1270 SAT | 26 ACT
Assisi Scholarship
Up to $12,000 each year for all four undergraduate years.
Minimum requirements: 3.4 GPA | 1170 SAT | 24 ACT
Dorothy Day Scholarship
Up to $10,000 each year for all four undergraduate years.
Minimum requirements: 3.2 GPA | 1080 SAT | 21 ACT
Captain McGuire Scholarship
Up to $8,000 each year for all four undergraduate years.
Minimum requirements: 3.0 GPA | 980 SAT | 19 ACT
Legacy Award: $4,000
$1,000 each year for all four undergraduate years. Children and grandchildren of SFU alumni are eligible for the award.
Franciscan Award: $8,000
$2,000 each year for all four undergraduate years. Available to graduates of Catholic high school.
What Others are Saying
"I chose Saint Francis University because of the Catholic foundation and the excellent academic majors."
— Bailey M.
Contact Saint Francis University
Campus Location
117 Evergreen Drive
Loretto, PA 15940
(814) 472-3100
Visit Saint Francis Online