Mount Aloysius College
Cresson, Pennsylvania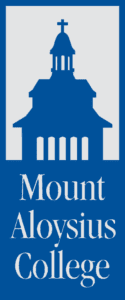 Established in 1853, Mount Aloysius is a liberal arts and science-based institution with a commitment to career-directed study. Rooted in Catholic tradition, Mount Aloysius is one of the nation's 17 Mercy-sponsored colleges. MAC began as an Academy and has since evolved into a comprehensive college that provides undergraduate and graduate education.
Get to know Mount Aloysius College
2,770
Degree-Seeking Undergraduates
Full-time to Part-time Ratio
-
0%
1%
2%
3%
4%
5%
6%
7%
8%
9%
10%
11%
12%
13%
14%
15%
16%
17%
18%
19%
20%
21%
22%
23%
24%
25%
26%
27%
28%
29%
30%
31%
32%
33%
34%
35%
36%
37%
38%
39%
40%
41%
42%
43%
44%
45%
46%
47%
48%
49%
50%
51%
52%
53%
54%
55%
56%
57%
58%
59%
60%
61%
62%
63%
64%
65%
66%
67%
68%
69%
70%
71%
72%
73%
74%
75%
76%
77%
78%
79%
80%
81%
82%
83%
84%
85%
86%
87%
88%
89%
90%
91%
92%
93%
94%
95%
96%
97%
98%
99%
100%
Retention rate
11:1
Student/teacher ratio
$23,090
Full-time tuition cost
Rolling
Application deadline
-
0%
1%
2%
3%
4%
5%
6%
7%
8%
9%
10%
11%
12%
13%
14%
15%
16%
17%
18%
19%
20%
21%
22%
23%
24%
25%
26%
27%
28%
29%
30%
31%
32%
33%
34%
35%
36%
37%
38%
39%
40%
41%
42%
43%
44%
45%
46%
47%
48%
49%
50%
51%
52%
53%
54%
55%
56%
57%
58%
59%
60%
61%
62%
63%
64%
65%
66%
67%
68%
69%
70%
71%
72%
73%
74%
75%
76%
77%
78%
79%
80%
81%
82%
83%
84%
85%
86%
87%
88%
89%
90%
91%
92%
93%
94%
95%
96%
97%
98%
99%
100%
Out-of-state students
College Highlights
Engaged Students
Great Teaching
Vibrant Communities
Successful Outcomes
Admission & Aid
Engaged Students
"Mount Aloysius College holds four core values, which are mercy, hospitality, service, and justice—and those four values build into everything that you do around the campus, whether it's through community service, campus ministry, or learning through academics." – Amanda
MERCY SERVICE
The spirit of service is alive at Mount Aloysius. Not only have students supported the community by donating and collecting money, but they have also shared their time and talents to the world.
Many student organizations use the Mercy heritage as a stepping stone to helping others. In the past, students have traveled to Honduras to build an orphanage and volunteered at a school for deaf children in Jamaica. Along with faculty and staff, MAC students have also made annual trips to Camp Coast Care in Mississippi to help rebuild the gulf coast after hurricane Katrina.
Students have collected food donations for regional food banks, involved themselves in Earth Day, practiced the UN Day of Peace, and contributed to Coaches vs. Cancer. The Mountie athletic teams have volunteered at a local soup kitchen, worked with Project Bundle Up to get winter coats for children in need, and have gone above and beyond at many different Salvation Army kettle locations during the holidays.
ENROLLMENT BY ETHNICITY
Non-U.S. Citizen: 2%
Hispanic/Latinx: 1%
Black or African American, non-Hispanic: 2%
White, non-Hispanic: 50%
Native/Indigenous American or Alaska Native, non-Hispanic: 0%
Asian, non-Hispanic: 1%
Native Hawaiian or other Pacific Islander, non-Hispanic: 0%
Two or more races, non-Hispanic: 0%
Race and/or ethnicity unknown: 45%
Great Teaching
At Mount Aloysius, students enjoy the company of nationally known, experienced faculty. With most professors holding terminal or doctorate degrees, faculty bring to the classroom both academic and real-world experience.
"The faculty here at Mount Aloysius have been incredibly helpful. They help you every step of the way. They do anything that they can to help you." – Bryan Jordan, Federal Bureau of Investigation, MAC Class of 2017
MARKET DRIVEN; CAREER FOCUSED
Mount Aloysius College continually researches employment trends and market demands, adding to or changing programs to address the world's emerging needs.
A WELL-ESTABLISHED FOUNDATION
MAC's core curriculum helps students become analytical and reflective with considerable emphasis placed on writing. Students learn to approach their work within the context of the larger world beyond MAC's borders. It's a "classic" college curriculum, reinvented for today's career-centric students.
HONORS PROGRAM
An even higher level of intellectual inquiry awaits within the MAC Honors Program. Throughout honors students' four years, they get to interact with professors and other peers to hone their skills in critical thinking, persuasive writing, and group leadership.
SPECIAL STUDY OPTIONS
Programs available at this institution.
Accelerated program
Cooperative education program
Distance learning
Double major
Dual enrollment
Honors Program
Internships
Liberal arts/career combination
Study abroad
Vibrant Communities
"That's what I think is different about Mount Aloysius—where everybody supports each other. The reputation here is success." – Tommy
NESTLED IN THE ALLEGHENY MOUNTAINS
Recreational opportunities include cross-country skiing, mountain biking, and intramural sports. On campus, a traditional, multi-day competition called the "Mini-Olympics" involves seasoned athletes and bookworms alike.
CATERING TO THE ARTS
The Vox Nova Choral Ensemble, comprised of non-music majors, is renowned for its Baroque and Renaissance selections. Under the direction of Nancy Rosenteel Way, Vox Nova made a live recording at the invitation of Pittsburgh radio station WQED, which aired the performance.
SAFE CAMPUS, CENTRALLY LOCATED
MAC's secure campus is in a safe community with one of the lowest crime rates in the country. Off campus, students can also access Altoona, Johnstown, Pittsburgh, and Washington D.C. Altoona is only 15 minutes away, while DC is 2.5 hours away.
SCHOOL LOCATION
Mount Aloysius College's 193-acre campus is located in the mountains of Cresson, Pennsylvania. The closest town is Altoona, which is ten miles away. The college is on a mountaintop adjacent to US Highway 22.
ATHLETICS
The Mounties varsity sports teams compete in the NCAA Division III in the Allegheny Mountain Collegiate Conference. 
15 athletic programs.
Women's: basketball, bowling, cross country, golf, lacrosse, soccer, softball, tennis, and volleyball
Men's: baseball, basketball, cross country, golf, soccer, and tennis.
RESIDENCE LIFE
Campus housing options.
Coed Dorms
Successful Outcomes
"The small class sizes here really helped me a ton because it gave me that sense of a one-on-one learning experience. Mount Aloysius has definitely evolved since I graduated. The campus has been continuing to grow with new buildings additional resources to make this place even greater." – Patrick McKee, Sustainability Program Manager in the Office of Environmental Policy, University of Connecticut, MAC Class of 2011
97 percent of Mount Aloysius graduates report having jobs within six months of graduating and, in some fields, the placement rate has been 100 percent.
CONTINUING LIVES OF LEARNING
Many Mount Aloysius alumni have continued their educations at such graduate or law schools as: Berklee College of Music, Boston College, Bucknell University, Catholic University, Dickinson School of Law, Drexel University, Duquesne School of Law, Georgetown University, Notre Dame University, Princeton University, Temple University, The University of Pennsylvania, Thomas Cooley School of Law, Villanova University, and Xavier University.
INTERNSHIPS
MAC student interns build practical experience in a wide range of professional settings. Some have served as clinical interns in a physical therapy practice, while others have been assistants to the Watershed Manager in the Pennsylvania Department of Environmental Protection. For those who are more competitive, Mount Aloysius offers students the opportunity to compete for highly coveted internship positions. For instance, the College has had a pre-med student attend a 10-week internship with the Pittsburgh Tissue Engineering Initiative at McGowan Institute for Regenerative medicine.
CAREER SERVICES
The practical career assistance at Mount Aloysius prepares students for real-world careers in their fields of study. MAC goes beyond the classroom to help students gain practical experience. The career services department offers résumé-building assistance, mock interview opportunities, career workshops, job fairs, and referrals to prospective employers.
Admission & Aid
Admission
APPLICATION DEADLINES
Application closing date (fall): Rolling
Priority date: May 1
ADMISSIONS FACTORS
Important
Rigor of secondary school record | Academic GPA | Standardized test scores
Interview | Extracurricular activities | Character/personal qualities | First generation
Alumni/ae relation | Volunteer work | Level of applicant's interest
Considered
Class rank | Recommendation(s) | Talent/ability | Work experience
HOW TO APPLY
For freshman applications, Mount Aloysius needs to receive:
Application for admission and $30 fee.

Official high school transcript or GED diploma.
Mount Aloysius College is a Test-Optional College, and students are not required to submit scores for the majority of academic programs. Students are required to submit SAT/ACT scores if they wish to be considered for cooperative academic programs in Dental, Occupational Therapy, Pharmacy, Osteopathic Medicine, Physician Assistant, and Physical Therapy. Nursing applicants are required to take the Test of Essential Academic Skills (TEAS) and submit scores for consideration for direct acceptance into the program. 
As part of the application for an individual whose native language is not English, a certificate of completion from an English-medium education system or TOEFL, IELTS, PTE Academic, or Duolingo test score is required. For the TOEFL, minimum score is a 61. For the IELTS, a 5.5 is required as the minimum score. The PTE Academic is 42, and Duolingo is 85. Nevertheless, everyone is reviewed on a case-by-case basis.
Tuition & Cost
Tuition: $23,090
Fees: $1,280
Room: $5,682
Board: $5,614
Aid
More than 400 financial awards are given each fall. They range in size from $2,000 to $14,000 a year and are renewable for up to four years. The College offers more than $2 million each year in scholarships as well as more than 50 endowed scholarships, which include:
Belltower Fellowships

Biology Fellowships

Commuter Student Grant

Heritage Scholarships

History/Political Science Fellowships

Honors Scholarships

International Student Grants

Residential Student Grant

Service Grants

Out-of-State Grants

Theatre Scholarships

Vox Nova (Choir) Scholarships
Mercy Presidential Scholarships – The most prestigious Mount Aloysius Scholarship, the Mercy Presidential Scholarship is rewarded based on commitment to home, school, and community and academic achievement.
Mount Aloysius College Academic Scholarships – This scholarship is offered to all students based on academic criteria.
To be considered for financial aid at Mount Aloysius College, you must be sure to complete and submit your Free Application for Federal Student Aid (FAFSA) as early as possible after October first of each year. The FAFSA code is 003302.
What Others are Saying
"Our promise to all our students is unmatched support for personal fulfillment and career success."
— John N. McKeegan, President
Contact Mount Aloysius College