Alvernia University
Reading, Pennsylvania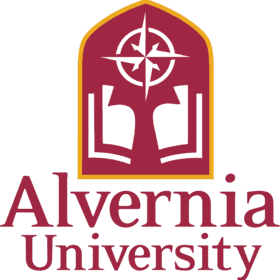 Alvernia offers a unique blend of rigorous liberal arts core education for development of the mind, strong technical training in many high demand majors, experiential learning through study abroad and internship experiences, and engagement with the community through a Franciscan-based community service model. The university calls this model of transformational education the Alvernia Advantage, a style of education that transforms students into ethical leaders with moral courage.
SHOW MORE
Alvernia offers more than 50 undergraduate majors and minors that are uniquely combined with a strong liberal arts foundation to develop critical thinking, communication, and an understanding of human behavior. Master's degrees are awarded in athletic training, business administration, clinical counseling, education, leadership, nursing, occupational therapy, physician assistant, and social work. Alvernia also offers a Doctor of Physical Therapy (DPT) program as well as Doctor of Philosophy in Leadership (Ph.D.) and Doctor of Nursing Practice (DNP) programs.
Alvernia has a longstanding commitment to helping students develop their innate talents, discover their passions, and lead successful lives with deep meaning and purpose. Through experiential learning, students graduate well prepared for success in the workplace. The Alvernia Advantage results in a superior track record of career placements and quality graduate school opportunities, with 95% of students either employed or enrolled in a graduate program within six months of graduation.
Experiential learning opportunities and the courses at Alvernia prepared Brittany Millard for employment beyond graduation. She credits her undergraduate advisor for giving her the ambition to reach higher. 

"I always say the best decision I've made in my life so far has been coming to Alvernia. And that's because of how much I have grown and changed. My advisor pushed me to come out of my comfort one and set bigger goals. I went from not being able to speak in class to presenting at a national conference." – Brittany Millard, Psychology '18
Get to know Alvernia University
2,045
Degree-Seeking Undergraduates
Full-time to Part-time Ratio
-
0%
1%
2%
3%
4%
5%
6%
7%
8%
9%
10%
11%
12%
13%
14%
15%
16%
17%
18%
19%
20%
21%
22%
23%
24%
25%
26%
27%
28%
29%
30%
31%
32%
33%
34%
35%
36%
37%
38%
39%
40%
41%
42%
43%
44%
45%
46%
47%
48%
49%
50%
51%
52%
53%
54%
55%
56%
57%
58%
59%
60%
61%
62%
63%
64%
65%
66%
67%
68%
69%
70%
71%
72%
73%
74%
75%
76%
77%
78%
79%
80%
81%
82%
83%
84%
85%
86%
87%
88%
89%
90%
91%
92%
93%
94%
95%
96%
97%
98%
99%
100%
Retention rate
14:1
Student/teacher ratio
$36,680
Full-time tuition cost
-
0%
1%
2%
3%
4%
5%
6%
7%
8%
9%
10%
11%
12%
13%
14%
15%
16%
17%
18%
19%
20%
21%
22%
23%
24%
25%
26%
27%
28%
29%
30%
31%
32%
33%
34%
35%
36%
37%
38%
39%
40%
41%
42%
43%
44%
45%
46%
47%
48%
49%
50%
51%
52%
53%
54%
55%
56%
57%
58%
59%
60%
61%
62%
63%
64%
65%
66%
67%
68%
69%
70%
71%
72%
73%
74%
75%
76%
77%
78%
79%
80%
81%
82%
83%
84%
85%
86%
87%
88%
89%
90%
91%
92%
93%
94%
95%
96%
97%
98%
99%
100%
6-year graduation rate
Rolling
Application deadline
-
0%
1%
2%
3%
4%
5%
6%
7%
8%
9%
10%
11%
12%
13%
14%
15%
16%
17%
18%
19%
20%
21%
22%
23%
24%
25%
26%
27%
28%
29%
30%
31%
32%
33%
34%
35%
36%
37%
38%
39%
40%
41%
42%
43%
44%
45%
46%
47%
48%
49%
50%
51%
52%
53%
54%
55%
56%
57%
58%
59%
60%
61%
62%
63%
64%
65%
66%
67%
68%
69%
70%
71%
72%
73%
74%
75%
76%
77%
78%
79%
80%
81%
82%
83%
84%
85%
86%
87%
88%
89%
90%
91%
92%
93%
94%
95%
96%
97%
98%
99%
100%
Acceptance rate
-
0%
1%
2%
3%
4%
5%
6%
7%
8%
9%
10%
11%
12%
13%
14%
15%
16%
17%
18%
19%
20%
21%
22%
23%
24%
25%
26%
27%
28%
29%
30%
31%
32%
33%
34%
35%
36%
37%
38%
39%
40%
41%
42%
43%
44%
45%
46%
47%
48%
49%
50%
51%
52%
53%
54%
55%
56%
57%
58%
59%
60%
61%
62%
63%
64%
65%
66%
67%
68%
69%
70%
71%
72%
73%
74%
75%
76%
77%
78%
79%
80%
81%
82%
83%
84%
85%
86%
87%
88%
89%
90%
91%
92%
93%
94%
95%
96%
97%
98%
99%
100%
Out-of-state students
College Highlights
Engaged Students
Great Teaching
Vibrant Communities
Successful Outcomes
Admission & Aid
Engaged Students
READING COLLEGETOWNE FUELS ECONOMIC DEVELOPMENT & STUDENT OUTCOMES
The John R. Post Center at Reading CollegeTowne is Alvernia's new downtown Reading facility. The dynamic extension of Reading campus features a trading lab, tv studio, esports arena, podcasting stations, engineering labs, and community and gathering space. The five-story complex brings hundreds students, faculty, and staff to downtown Reading every day. Students have the unique opportunity to partner with local industry partners for internships, volunteer programs, and research activities  nurturing economic development in the city and bringing a thriving new energy to the Penn Street corridor.
Students can expect to reap the rich benefits of experiential learning led by the O'Pake Institute for Economic Development and Entrepreneurship in partnership with local community startups. 

"Alvernia's collaboration with its external partners empowers students, also known as fellows, who will receive distinctive training and certification through this process. Another key initiative in the CollegeTowne strategy is Powered by O'Pake. This initiative is a behind-the-scenes catalyst to empower local economic development and entrepreneurship. Our fellows and faculty will be key drivers in this process, enriching the student experience." – Dr, Rodney Ridley, Vice President, Associate Provost and Chief Operating Officer for the O'Pake Institute
SURF PROGRAM PROVIDES UNDERGRADUATE RESEARCH OPPORTUNITIES
Alvernia's Student Undergraduate Research Fellows (S.U.R.F.) is an opportunity for Student Fellows to experience scholarship, research, or other creative processes in collaboration and as modeled by Faculty Scholars. The funding consists of a stipend and free housing with a kitchen during a 10-week, May-August summer program. Successful completion of the summer program will result in faculty recognition for scholarly mentorship. SURF Program participants often co-author and publish scholarly research and regularly present at academic conferences around the globe. 
EXPERIENTIAL LEARNING CLOSE TO HOME AND AROUND THE GLOBE
Global Learning service trips are popular with students who want to combine their desire to help those in need with an interest in exploring cultures different from their own. Recent trips have included travel to Ecuador, the Dominican Republic, New Orleans, Ireland, China, and Appalachia.
The Holleran Center for Global and Community Engagement is the hub for many other student-centric activities, including Sustainability Initiatives and local outreach programs in the nearby community. Students can learn about sustainability through the Bog Turtle Creek Farm, a program designed to make healthy, fresh produce available to families in the City of Reading, or through Environmental Education Programs which help facilitate hands-on learning for children of all ages with events, such as the Earth Day Festival and EcoFun Day. 
Students also have opportunities to work with today's youth, helping to influence a better outcome of learning through the Reading Youth Initiative and Reading Collegiate Scholars Programs. Both programs rely heavily on Alvernia student participation, helping to promote continued education, mentoring, and support to youths in the Reading School District area. This work includes increasing high school graduation and college attendance rates in Reading while also ensuring the success of those Reading students attending Alvernia.
ENROLLMENT BY ETHNICITY
Non-U.S. Citizen: 2%
Hispanic/Latinx: 13%
Black or African American, non-Hispanic: 11%
White, non-Hispanic: 65%
Native/Indigenous American or Alaska Native, non-Hispanic: 0%
Asian, non-Hispanic: 2%
Native Hawaiian or other Pacific Islander, non-Hispanic: 0%
Two or more races, non-Hispanic: 4%
Race and/or ethnicity unknown: 3%
Great Teaching
FRESHMAN YEAR EXPERIENCE
Alvernia's Freshman Year Experience offers many unique opportunities for participation to help students make a successful transition to college life and learning while engaging in the mission and traditions of the university. There are common courses and academic experiences, residential experiences and living-learning communities, and a series of events and programs throughout the first year.
Designed specifically for new college students, Search Seminar promotes academic success, personal growth, and community engagement by emphasizing the expectations and values of Alvernia's academic community. This three-credit course, required for graduation, focuses on five key areas: enduring questions, self-reflection, liberal arts tradition, academic advising, and educational planning. With these five areas serving as points of reference, students are supported through their transitional semester to help them become aware, active, and intentional learners. Students are also given opportunities to explore and experience college life through a wide variety of co-curricular activities.
The Academic Success Center provides first-year students with advising and support services as well as many university policies and procedures. Services available to the student include individual tutoring, group study sessions, supplemental instruction, writing support, and skills workshops to assist with time management, note taking, test taking, and academic anxiety. Tutoring services are also available seven days a week.
VIRTUAL DISSECTION LABS PREPARE HEALTHCARE MAJORS
Alvernia's new Virtual Dissection Laboratory is equipped with four Anatomage Virtual Dissection Tables. The state-of-the-art tables are meant to supplement cadaveric dissection for students taking anatomy and physiology classes and make it really easy to learn anatomy, with students able to complete dissections of cadavers based on real humans with just a swipe of a finger. 
O'PAKE POWERS EXPERIENTIAL LEARNING
The O'Pake Fellows Program provides elite undergraduate and graduate students with hands-on distinctive experiential learning opportunities. Students of high academic standing from diverse majors and backgrounds can work directly with regional entrepreneurs, small business owners, faculty researchers, and industry leaders.
While fellows can grow both personally and professionally, they are also put in an environment where they can think outside the box, experiment, fail, grow, and succeed. By creating this type of environment, students can transition into their desired professions while being creative and ethical leaders.
PASSIONATE PROFESSORS
Alvernia professors are accomplished scholars, experts in their fields, and supportive mentors who are committed foremost to their students' success. Outside the classroom, many regularly publish books and articles, present scholarly works at national and international conferences, and serve as experts to the news media. Above all, Alvernia professors love to teach, thriving on student curiosity, enthusiasm, and accomplishment. They spend time with their students as instructors, advisors, and mentors, altogether helping them acquire the knowledge and skills needed after graduation.
The professors at Alvernia work with students to secure experiential learning opportunities to suit their major, providing real-world experience for future employment. Securing an internship with one of the top children's hospitals in the world at Children's Hospital of Philadelphia (CHOP) was a golden opportunity for Spencer Matthews. 

"I was responsible for assisting with the live broadcast of television programming for children. Patient involvement was essential in everything that we did. I learned skills at CHOP that I think will translate well to my future career. Smaller classes allowed me to form personal relationships with many professors. Professors at Alvernia genuinely care about their students and want to help." – Spencer Matthews, Communications '20
SPECIAL STUDY OPTIONS
Programs available at this institution.
Accelerated program
Cross-registration
Distance learning
Double major
Dual enrollment
Honors Program
Independent study
Internships
Student-designed major
Study abroad
Teacher certification program
Vibrant Communities
SERVE THE COMMUNITY
The Holleran Center for Community and Global Engagement identifies, cultivates, and sustains strategic partnerships to strengthen both campus and community life. By making these community partnerships an essential part of the curriculum, the Holleran Center strives to foster the university mission and improve the quality of life in the community and to develop in its students a lifelong commitment to service as engaged citizens. All graduating Alvernia students participate in some form of community service activity for a combined total of 60,000 hours each year!
At Alvernia, students are encouraged to "Do well and do good" with service-learning and volunteer opportunities. Students are inspired to help those in need through community service activities that will expose them to environmental, cultural, and social justice issues, as well as a variety of programs and activities.
DEVELOP MEANINGFUL RELATIONSHIPS
Alvernia students build self-confidence as they learn to solve problems, make important decisions, and develop critical thinking and leadership skills. All the while, they make lifetime friendships and enduring relationships with faculty.
Alvernia presents endless opportunities for students to learn and grow far beyond the classroom. There are more than 50 campus clubs and organizations to fuel the interest of each and every student, providing lifetime-relevant skills for any industry or interest. There are also opportunities for intramural sports, research projects, academic societies, and so much more!
Beyond student organizations, the university features dozens of events throughout the year, including art exhibits in the Miller Gallery, insightful lectures in historic Francis Hall, student performances, and theatre and concert productions featuring local and regional artists. Many of the offerings have no admittance fee and allow for advance registration.
The Office of Student Activities ensures there are a variety of events and programs for students to attend every Friday through Sunday. There is something to do every day, helping freshmen and upperclassmen alike immerse themselves in the Alvernia experience.
PEER LEADERSHIP
There are a number of leadership positions for which students can apply, such as a resident assistant, community facilitator, orientation weekend leader, or peer mentor, to name a few. 
Through participation with student activities, Alvernia students gain real-world experience and make real-world change; in fact, they have contributed more than 60,000 hours of community service each year, solidifying their deeply anchored connection with local communities. The benefits of this service are supported by national research that identifies community service as the best means available to gain essential skills and experience. It's no wonder all graduating Alvernia students participate in community service before earning their degree.
Alvernia offers opportunities for students to engage in activities that are meaningful to them both personally and professionally. For Chloe Gletow, college provided a springboard for new experiences. "I don't feel like I got involved enough in high school. So, my goal in college was to experience everything, and just try it," said Gletow. 

As a senior, Gletow is paying it forward as a resident assistant and Office of Residence Life work-study student, encouraging experiences with her first-year residents, "I tell them that if they are bored, then they aren't doing enough!" – Chloe Gletow, MSOT, '20
SCHOOL LOCATION
Alvernia's main campus operates on 191 acres in Berks County, three miles from the heart of historic Reading, Pa., and an easy car ride from Philadelphia, New York, Baltimore, and Washington, D.C. With about 3,000 students, a 12:1 student-faculty ratio, and an average class size of less than 20, Alvernia is the perfect size for students to develop and thrive.
Alvernia also has two additional centers in Pottsville and Philadelphia, centered on the advancement of adult education with both undergraduate and graduate program choices.
ATHLETICS
Alvernia supports 30 athletic programs, with most competing at the NCAA Division III level. The university has been a member of the Commonwealth Conference of the Middle Atlantic Conference, commonly known as the MAC, for the past 14 years. 
The Golden Wolves have made 35 appearances in NCAA Championship tournaments, with Men's Basketball making nine appearances. Other teams with tournament appearances include Baseball, Women's Basketball, Men's Golf, Women's Golf, Field Hockey, Men's Tennis, Women's Tennis, and Softball. 
Alvernia also participates with many other varsity sports for both men and women.
Men's varsity sports: Baseball, Basketball, Cross Country, esports, Football, Golf, Ice Hockey, Lacrosse, Soccer, Tennis, Track & Field, Volleyball, and Wrestling
Women's varsity sports: Basketball, Bowling, Cross Country, Equestrian, esports, Field Hockey, Golf, Ice Hockey, Lacrosse, Soccer, Softball, Track & Field, Triathlon, Volleyball, and Wrestling.
RESIDENCE LIFE
Percent of students living on campus.
First-time, first-year (freshman) students: 75%
Undergraduates: 64%
Campus housing options.
Coed dorms
Apartments for single students
Special housing for students with disabilities
Theme housing
Townhouses for up to 8 same-gender students
Suites with up to 12 same-gender students
Successful Outcomes
EVER-EXPANDING EXPERIENTIAL LEARNING OPPORTUNITIES
Through real-world learning, students discover their passions and turn what they love into lifetimes of career success and personal fulfillment, making a positive difference in the world and the lives of others. Every Alvernia student is engaged in at least one form of real-world learning, whether that be through internships, research work, practicums, or service projects. Experiential learning ensures that each student graduates well prepared for success in the workplace. In the last five years, 95% of students are employed or in graduate school within six months of graduation. 
Alvernia's approach to real-world learning combines hands-on educational opportunities through internships, field experiences, co-ops, clinical assignments, research projects, community service, study abroad programs, roles in student organizations, and other creative and relevant campus experiences. 
Alvernia internships make the difference in a student's experience, providing hands-on learning and a ladder for success in securing a job after graduation. Lauren Callueng reflects on the opportunity an internship in Washington, D.C., provided: "I love being challenged. You learn more when you leave your comfort zone. I didn't know anyone in D.C, and it was the first time I was on my own without my sister. I had to learn quickly how the government budgeting system works because it's different from the GAAP methods we learned about in class." The D.C. internship ignited her desire to explore other career avenues, leading to a financial analyst internship with Wells Fargo Bank. She was selected for the Wells Fargo Analyst Program, a three-year training program, moving her closer to her ultimate goal in leadership as a CEO or president. 

"I want to be the leader people need. I want people to feel comfortable coming to me rather than feeling intimidated. I want to be able to explain that hard work pays off." – Lauren Callueng, Finance & Management, '19
RECOGNIZED FOR COMMUNITY SERVICE
Deeply embedded in Alvernia University's Franciscan heritage, service continues to be an important part of its educational mission today. Alvernia's goal is to develop not just educated citizens, but engaged citizens actively involved in work to better their communities and the larger world.
Alvernia students have the chance to serve with local partner organizations, helping to operate food banks, run mentoring programs, improve the environment, promote social justice, and support other important causes.
These projects not only benefit the community, but they can also enrich the lives of the students who serve. Projects help draw meaningful connections between classroom learning and the world beyond campus. And, most importantly, service-learning teaches the responsibilities of being a citizen in a complex world.
PROFESSIONAL KICKSTART WITH CUSTOMIZED CAREER SERVICES
Alvernia's Office of Career Development helps students prepare and achieve career goals as they approach graduation. The staff offer individual career counseling and coaching as well as career assessment tools that explore interests, abilities, skills, and values as they relate to their majors or occupational interests. 
All students can receive evaluation and feedback for their cover letters and résumés, preparation for employer interviews, and assistance in their job search. Students can discover careers through the online job marketplace, Handshake, or by attending one of the many career fairs and other employer events held throughout the year. 
This assistance doesn't stop at graduation. The Office of Career Development provides career assistance to Alvernia University alumni by assisting in a job search or career change, helping research graduate schools, reviewing résumé and cover letters, training in preparation for interviews, and more.
Admission & Aid
Admission
Alvernia staff provide personalized attention for each student and family to ensure they are fully engaged, aware, and understanding of the best options for college success. Alvernia's approach and process to admissions and financial aid help change a daunting process to one of support and understanding, identifying the best options that work for unique situations.
Through a rolling admissions process, prospective students may apply to Alvernia at any time. Multiple start dates throughout the year allow accepted students to begin a program of study at an accommodating time. Gaining admission to Alvernia is based on a detailed review of each applicant, with consideration given to their accomplishments, goals, and potential impact within the university community.
ADMISSIONS FACTORS
Very Important
Academic GPA | Standardized test scores
Important
Rigor of secondary school record | Class rank | Application Essay
Extracurricular activities | Character/personal qualities | Alumni/ae relation
Volunteer work | Work experience | Level of applicant's interest
Considered
Recommendation(s) | Interview | Talent/ability | First generation
FRESHMAN PROFILE
SAT Composite
25th Percentile: 950 | 75th Percentile: 1130
SAT Evidence-Based Reading and Writing
25th Percentile: 480 | 75th Percentile: 570
SAT Math
25th Percentile: 463 | 75th Percentile: 560
ACT Composite
25th Percentile: 18 | 75th Percentile: 24
Tuition & Cost
Tuition: $36,680
Fees: $1,350
Room: $6,730
Board: $6,550
Aid
Investing in an Alvernia education is affordable, as tuition costs are below the national average for private liberal arts institutions. Applying for financial aid is easy, and all prospective Alvernia students are encouraged to apply. Nearly 100% of undergraduates receive some type of financial aid, including scholarships, grants, loans, and work-study. There are a number of ways that Alvernia can assist in making tuition more affordable.
Contact Alvernia University