Mercyhurst University
Erie, Pennsylvania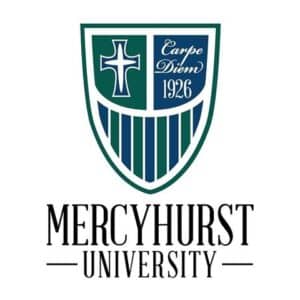 Mercyhurst University, founded in 1926 by the Sisters of Mercy, is a fully accredited, four-year, Catholic comprehensive institution for men and women in Erie, Pennsylvania. The university offers more than 60 undergraduate majors, nine graduate programs, and a variety of post-baccalaureate and advanced certificates. Additionally, Mercyhurst provides certificate and associate degree offerings at branch campuses in North East, Corry, and the Booker T. Washington Center. It also maintains an academic center in Dungarvan, Ireland. Learn more at www.mercyhurst.edu.

Mercyhurst's motto—Carpe Diem, Latin for "Seize the Day"—is at the heart of everything the university does. At Mercyhurst, students find a community that celebrates experiences both inside and outside the classroom, experiences that challenge them to write more, practice harder, dig deeper, and see the world from an unconventional perspective. College isn't about reveling in what you've done in the past; it's about uncovering who you are and who you want to become.
Get to know Mercyhurst University
2,370
Degree-Seeking Undergraduates
Full-time to Part-time Ratio
-
0%
1%
2%
3%
4%
5%
6%
7%
8%
9%
10%
11%
12%
13%
14%
15%
16%
17%
18%
19%
20%
21%
22%
23%
24%
25%
26%
27%
28%
29%
30%
31%
32%
33%
34%
35%
36%
37%
38%
39%
40%
41%
42%
43%
44%
45%
46%
47%
48%
49%
50%
51%
52%
53%
54%
55%
56%
57%
58%
59%
60%
61%
62%
63%
64%
65%
66%
67%
68%
69%
70%
71%
72%
73%
74%
75%
76%
77%
78%
79%
80%
81%
82%
83%
84%
85%
86%
87%
88%
89%
90%
91%
92%
93%
94%
95%
96%
97%
98%
99%
100%
Retention rate
15:1
Student/teacher ratio
$38,580
Full-time tuition cost
-
0%
1%
2%
3%
4%
5%
6%
7%
8%
9%
10%
11%
12%
13%
14%
15%
16%
17%
18%
19%
20%
21%
22%
23%
24%
25%
26%
27%
28%
29%
30%
31%
32%
33%
34%
35%
36%
37%
38%
39%
40%
41%
42%
43%
44%
45%
46%
47%
48%
49%
50%
51%
52%
53%
54%
55%
56%
57%
58%
59%
60%
61%
62%
63%
64%
65%
66%
67%
68%
69%
70%
71%
72%
73%
74%
75%
76%
77%
78%
79%
80%
81%
82%
83%
84%
85%
86%
87%
88%
89%
90%
91%
92%
93%
94%
95%
96%
97%
98%
99%
100%
Acceptance rate
-
0%
1%
2%
3%
4%
5%
6%
7%
8%
9%
10%
11%
12%
13%
14%
15%
16%
17%
18%
19%
20%
21%
22%
23%
24%
25%
26%
27%
28%
29%
30%
31%
32%
33%
34%
35%
36%
37%
38%
39%
40%
41%
42%
43%
44%
45%
46%
47%
48%
49%
50%
51%
52%
53%
54%
55%
56%
57%
58%
59%
60%
61%
62%
63%
64%
65%
66%
67%
68%
69%
70%
71%
72%
73%
74%
75%
76%
77%
78%
79%
80%
81%
82%
83%
84%
85%
86%
87%
88%
89%
90%
91%
92%
93%
94%
95%
96%
97%
98%
99%
100%
Out-of-state students
College Highlights
Engaged Students
Great Teaching
Vibrant Communities
Successful Outcomes
Admission & Aid
Engaged Students
GOALS WITHIN REACH
It's not uncommon for students to apply to and enroll in a college or university without knowing what he or she is going to study. For many, college actually provides the perfect opportunity to explore their passions, skills, and talents—interests that can easily translate into a future career.

According to The Mentor, an academic advising journal, an estimated 20-50 percent of incoming college freshmen do not declare a major right away, and an estimated 75 percent of students change their major at least once before graduation. At Mercyhurst, each student enjoys a curriculum that is designed to help them explore different academic disciplines, supported every step of the way with helpful academic advising.

A Mercyhurst education prepares students to succeed in graduate school and the high-demand workforce, providing them with the knowledge, skills, and attitudes to live better, richer lives. Students learn to appreciate art and culture, to value the interconnectedness of the human experience, to serve others to improve the wellbeing of communities, and to be resilient in the face of adversity.

See more engaged Mercyhurst students here.

CORE CURRICULUM
To achieve its school-wide goals, the REACH Curriculum acts as a foundational core that supplements every major.. The REACH Curriculum, adopted in 2016, includes special experiences in the freshman and senior years as well as coursework from a wide variety of the liberal arts and sciences throughout their time at school.

These courses foster curiosity and enhance interdisciplinary collaboration across departments. The REACH Curriculum also includes a specialized introductory course for freshmen (iMU 101), a senior capstone experience, and a unique service learning and civic engagement component.

All the courses in the REACH Curriculum are designed to:
Challenge mindsets and assumptions

Develop critical thinking and problem-solving skills

Encourage curiosity and creative inquiry

Cultivate an appreciation of arts and culture

Ignite community awareness and engagement

Help students learn to become resilient in the face of challenges
The REACH Curriculum consists of 10 courses in 10 different disciplines, concluding with an ethics-based capstone course. Students are to take two courses each from the following five areas:
R Reason and Faith (Catholic studies, philosophy, religious studies)

E Expression and Creativity (one in English, and one in art, dance, music, or theatre)

A Analytical Thought (biology, chemistry, geology, mathematics, physics, science—including at least one science with a lab component)

C Contexts and Systems (economics, history, political science)

H Humans in Connection (anthropology, psychology, sociology, world languages)
OUTREACH
Sometime after students' freshman year, they participate in at least one single-credit experience in service learning or civic engagement. Many of these experiences involve travel abroad or around the country combined with a significant service component.

STUDY ABROAD
In the recent past, 75% of students have chosen to take a single intensive course or study abroad through Mercyhurst's flexible scheduling. Among the most popular study abroad programs are the Faculty-Student Academic Travel (FSAT) opportunities, which have taken students and professors to study narrative and film in Spain; aquatic ecology in Belize; video storytelling in Peru; and dance appreciation in France and Israel. Students have also studied in Ireland, Portugal, Germany, Italy, Switzerland, England, Vietnam, Japan, Costa Rica, Guyana, Haiti, Mexico, South Africa, Nigeria, and China.

The options for international travel are endless, as students can even pursue external study through such recognized programs as Academic Programs International and Semester at Sea.
ENROLLMENT BY ETHNICITY
Non-U.S. Citizen: 4%
Hispanic/Latinx: 4%
Black or African American, non-Hispanic: 4%
White, non-Hispanic: 81%
Native/Indigenous American or Alaska Native, non-Hispanic: 1%
Asian, non-Hispanic: 1%
Native Hawaiian or other Pacific Islander, non-Hispanic: 0%
Two or more races, non-Hispanic: 1%
Race and/or ethnicity unknown: 3%
Great Teaching
INVESTED PROFESSORS
Students have access to more than 165 faculty members who are eager to share years of invaluable training and field experience. In many cases, they work side-by-side with students on exciting research projects. Not only does Mercyhurst employ some of the nation's brightest academic minds, but professors are also approachable and dependable. Even as freshmen, students take advantage of unique opportunities to collaborate with notable faculty who act as mentors and advocates on the path to knowledge, growth, and success.

At Mercyhurst, a liberal arts education is about studying what one loves and applying it to real-world circumstances. What unites Mercyhurst graduates is their ability to ask faculty questions, spark discussion, engage in critical and creative thinking, research complex issues, and write effectively. These are essential skills that employers prize in today's idea- and service-driven economy.

THE FRESHMAN EXPERIENCE
Mercyhurst primes its students with an introduction to academic writing and thought as well as to the college lifestyle. COMP120 (Writing and Research), along with two one-credit courses (iMU10: Introduction to Mercyhurst and iMU102: Involvement at Mercyhurst), help ease the transition from high school to college. These courses sharpen students' skills while introducing them to their new peers.

FACULTY-STUDENT ENGAGEMENT BY MAJOR
Chemistry students begin research projects as freshmen, design one individualized course of lab experiments, collect data, and analyze their results. This is all designed to replicate what scientists actually do in lab.

Under faculty supervision, strategic communication students work in teams to solve business problems for real clients through the development of strategic marketing plans.

Senior criminal justice majors act out the roles of witness, prosecutor, and defender during mock trials while a faculty member acting as judge presides over the simulation.

Education majors log hours of student teaching before they graduate, tracking their performance and progress under the supervision of faculty.

From organizing an annual fashion show to traveling to a world capital of fashion (i.e. New York City, Paris, or Milan), fashion merchandising faculty work closely with students from day one.

Both students and faculty in the music department collaborate to perform student-composed music with one another. The department presents over 70 performances each year.

Every philosophy major completes a senior thesis by working closely with a thesis advisor, culminating in a thesis defense of an independent research project before a committee of readers.

In 2015, the U.S. Environmental Protection Agency (EPA) selected Mercyhurst and public health majors to research the waste management of toxins. Dr. Thomas Cook expressed his excitement for getting to work in collaboration with students and help them gain hands-on experience.

Each social work student is required to complete a 500-hour internship in an agency under the supervision of an agency social worker as well as their faculty field coordinator.

The Sports Medicine Department at Mercyhurst requires students to conduct a two-year research project. In 2015, lead researcher and faculty chair Bradley Jacobson and now-graduate Jacob Gdovin were honored with an industry award for research on spine injuries.

FACILITIES FOR REAL-WORLD EXPERIENCE
Hospitality management students work alongside real chefs and managers in Mercyhurst's commercially equipped foodservice and dining facility.

Students work closely with faculty to conduct real-life public opinion polling through the Mercyhurst Center for Applied Politics state-of-the art computer-assisted telephone interviewing (CATI) facility. There are 31 stations staffed by well-trained student research associates.

The applied forensics program is one of the only programs in the country that allows students to work with real evidence and human remains. Some undergraduate students even participate in fieldwork with faculty and graduate students.

Biology majors work with faculty using cutting-edge equipment to conduct original research and often present their findings at regional and national conferences.

For the past decade, intelligence majors have worked for real clients under faculty supervision to produce high-quality, affordable products through the Center for Intelligence Research Analysis and Training (CIRAT), which is a part of the Ridge College of Intelligence Studies and Applied Sciences at Mercyhurst.
SPECIAL STUDY OPTIONS
Programs available at this institution.
Distance learning
Double major
Dual enrollment
Honors Program
Internships
Study abroad
Teacher certification program
Vibrant Communities
LAKER FOR LIFE
Students' four years at Mercyhurst shape who they become personally, professionally, and socially. Generation after generation of Lakers, students graduate carrying a deepened self-awareness, a wealth of knowledge and experience, and an abundance of friendships. Through everything that the Mercyhurst community does to help its students preserve and evolve their individuality, students and alumni are bonded together by the university's Mercy values and the lifelong search for what is true, good, and beautiful. The Laker community extends beyond the university's iconic iron gates to every corner of the world—a community of individuals pursuing their passions for the common good. Mercyhurst students are not simply Lakers for the four years they're here; they're Lakers for the rest of their lives.

RESIDENCE LIFE
Currently, there are 1,700 full-time undergraduate students living in three freshman-designated residence halls. The newest residence hall is Warde Hall, built in 2009. After their freshman year, students get to move into college-operated apartments and townhomes.

Mercyhurst has constructed a new sophomore residence hall that houses 350 sophomore students.

LEADERS IN SERVICE
Mercyhurst has been honored with distinction for its university-wide commitment to community service, providing a platform that enables students to log more than 40,000 hours of community service each year. The Freshman Day of Service introduces new students to the Mercy tradition and values of service, having them set aside time in order to make a phenomenal impact to the surrounding community.

Opportunities for service abound far beyond students' first year, too; some may choose to raise funds for a service trip abroad to Honduras, participate in the Pioneering House of Mercy Ambassadors, and so much more.

CAMPUS LIFE
Campus life is thriving with year-round events and active student activities. For example, the annual SpringFest brings such artists to campus as T-Pain, Reel Big Fish, MKTO, Plain White T's, Andy Grammer, Daya, and Cassio Monroe. And Hurst Dat, a fairly new annual tradition in the fall, is jam-packed with games, contests, live entertainment, good food, and Mercyhurst spirit. Students can also get access to free student tickets to most visiting artists and touring group performances through the Mercyhurst Institute for Arts & Culture.

With more than 80 student clubs and organizations available for students, there is something for everyone. And if there's not, students have the freedom to create a club around their interests. Check out all of Mercyhurst's clubs here.

LAKER ATHLETICS
Nearly 25 percent of Mercyhurst's student population is a member of a Mercyhurst athletic team, taking part in athletic opportunities like intramural teams, instructional classes, recreational classes, or one of the 24 varsity sports teams.

Mercyhurst is a member of NCAA Division I in men and women's ice hockey and Division II in basketball (M/W), baseball (M), cross country (M/W), golf (M/W), soccer (M/W), softball (W), tennis (M/W), volleyball (W), rowing (M/W), field Hockey (W), lacrosse (M/W), football (M), wrestling (M), and water polo (M/W).

PERFORMING ARTS
Mercyhurst's performing arts programs—including dance. theatre, and music—average 140+ performances a year, providing an enormous array of opportunities for students who want to perform on stage, work behind the scenes, or sit and watch in the front row.

Students may audition for the Mercyhurst Theatre Program and the D'Angelo Opera Theater, where there are several theatrical and musical performances each year. Past performances have included 'Dracula,' 'The Mystery of Edwin Drood' and 'Carmen.' During the 2017-18 season, productions include 'Guys and Dolls,' 'Rigoletto,' and 'Forbidden Broadway's Greatest Hits.' The university also frequently hosts master classes with renowned guests such as Emanuel Ax, Chita Rivera, Dancing Wheels, and Elizabeth Ashley.

During the 2017-18 Mercyhurst Institute for Arts & Culture Season, MIAC Live performers include Broadway legend Bernadette Peters, iconic comedienne Lily Tomlin and master storyteller Garrison Keillor, in addition to Met Opera: Live in HD and National Theatre Live broadcasts.
SCHOOL LOCATION
Mercyhurst University is located in Erie, Pennsylvania. Its 75 acres host approximately 81 buildings nestled in the safe suburban area of the City of Erie. It is about a 15-minute drive to downtown Erie, a 10-minute drive to the interstate, and a 25-minute drive to Presque Isle State Park.

FEEL THE LAKE EFFECT
Mercyhurst enjoys a close relationship with the Erie region, a place with small-town personality and big-city opportunities. There's plenty to do in Erie and the surrounding area every season of the year; its vibrant spirit and abundance of culture are sure to enrich the college experience. Activities in the town of Erie include:
Skiing at Peek'n Peak

Visiting downtown gallery nights

Visiting Presque Isle State Park

Going for a wild ride at Waldameer Park and Water World

Having fun at the Splash Lagoon water park

Checking out a basketball game with the Erie BayHawks, a hockey game with the Erie Otters, or a baseball game with the Erie Seawolves

Visiting with the wildlife at the Erie Zoo

Shopping at the Millcreek Mall

Taking in the most breathtaking sunsets and sunrises

Getting a tan at one of over a dozen lakeside beaches

Taking a quick day trip to Cleveland, Ohio; Buffalo, New York; or Pittsburgh, Pennsylvania
RESIDENCE LIFE
Campus housing options.
Coed dorms
Men's dorms
Women's dorms
Apartments for married students
Successful Outcomes
REAL-WORLD PREPARATION
100% of students have the opportunity for hands-on experience in their field of study via internships, work studies, contracted services, service work, group projects, and/or the Senior Capstone Project. Their applied work serves them well, leading to a 95% success rate in securing a job for enrolling in graduate school within one year of graduation.

Among Mercyhurst's accomplished alumni are Fortune 500 CEOs, teachers, lawyers, musicians, FBI agents, counselors, film producers, dancers, CIA analysts, doctors, public servants, and fashion buyers.

ON-TIME GRADUATION
Graduating on time is the best way to avoid any unnecessary tuition costs in one's college education, so Mercyhurst makes earning a degree within four years a priority. In fact, the university's four-year graduation rate is the highest in Erie County and one of the highest in the region. Mercyhurst's 15-to-Finish program encourages students to take 15 credits every semester, helping them make wise decisions with their academic advisors as they schedule their courses.

RATES OF SUCCESS
More than 20 programs of study on campus have reported a 100% placement rate in a job or graduate school. 85% of pre-professional students have even been accepted into health professional programs, including prestigious medical and dental schools. And, in recent years, the university's pre-law grads have gone on to more than 20 law schools across the country, including Boston College, Michigan, and California-Davis.
Admission & Aid
Admission
ADMISSIONS FACTORS
Important
Rigor of secondary school record | Academic GPA | Application Essay | Recommendation(s)
Character/personal qualities | First generation | Volunteer work
Considered
Class rank | Standardized test scores | Interview | Extracurricular activities
Talent/ability | Alumni/ae relation | Work experience
TEST SCORES
Optional
Tuition & Cost
Tuition: $38,580
Fees: $2,770
Room: $8,318
Board: $6,650
Aid
Mercyhurst helps students reach their academic goals without incurring significant financial burden. Last year, 100% of freshmen qualified for financial assistance from Mercyhurst, with the average four-year scholarship totaling more than $70,000—and that's in addition to any scholarship or grant from state, federal, or external sources.
Contact Mercyhurst University