2023 Best Colleges in Ohio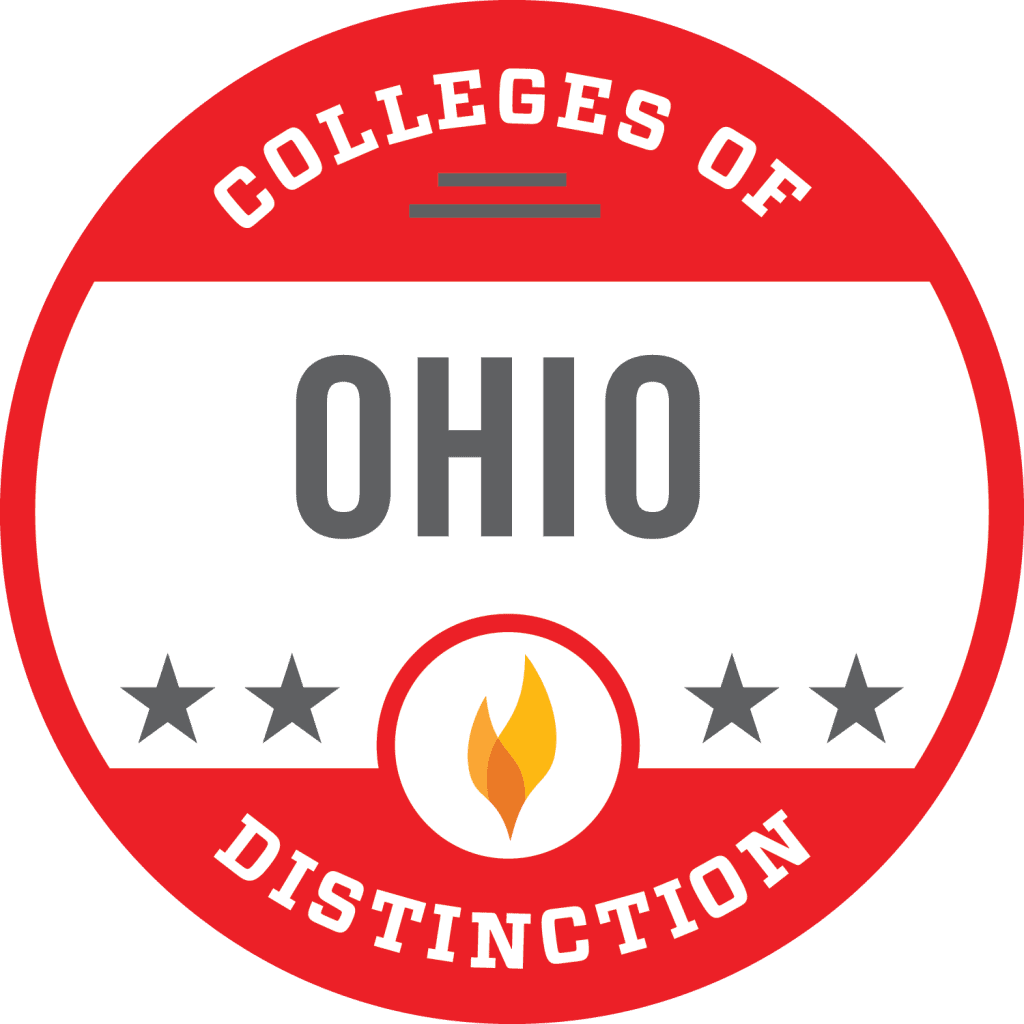 Published: September 1, 2022
By: Colleges of Distinction Staff
Jump to: Bluffton University | Case Western Reserve University | Defiance College | Denison University | Hiram College | Kenyon College | Miami University—Oxford | Otterbein University | The College of Wooster | University of Cincinnati | University of Dayton | Walsh University | Wilmington College | Xavier University | Frequently Asked Questions
Colleges of Distinction has hand-picked a selection of top schools that are well equipped to provide a personalized education catered to students' interests. Through a rigorous vetting and interview process for the 2022-2023 academic year, we have refreshed and reaffirmed that these institutions strive for excellence in line with the four overarching distinctions—Student Engagement, Teaching, Community, and Outcomes.
These schools vary in size, cost, location, academic offerings, and more, but they are all distinguished by their commitment to the undergraduate experience. The diversity of the college list is intentional, giving students and parents a variety of public and private universities to consider. No matter what, they all exhibit the foundational qualities of a fulfilling undergraduate education.
---

Bluffton, OH ‧ Christian ‧ 4-year
At Bluffton University, faculty and staff believe nothing should stand in the way of the people their students are meant to become. This is why 98 percent of Bluffton graduates are employed, in graduate school, or in long-term service within six months of graduation.
Located on a 65-acre campus in northwest Ohio and lined with natural beauty, a rambling creek, and a Nature Preserve to explore, Bluffton University is a place that inspires. With nationally accredited programs in dietetics, education, music, and social work, as well as with champion volleyball and women's basketball teams, students are pushed to greatness and challenged in this changing world.
BLUFFTON BLUEPRINT
How do students prepare for a future that will be different than anyone can imagine? At Bluffton University, the answer is through the Bluffton Blueprint—four foundational courses, one for each year of college, which altogether create a core of resiliency.
Featuring both traditional classroom learning and experiential components, each course relates to one of Bluffton's enduring values of Discovery, Community, Respect, and Service.
Acceptance rate 61% • Net price $22,125
Total Undergrad Population 750 • Setting Town • Private 4-year
Graduation rate (6 year) 55% • Retention rate 72% • Student-to-faculty ratio 12:1
---

Cleveland, OH ‧ Private ‧ 4-year
Start your journey at Case Western Reserve University. The private university in Cleveland, Ohio, has over 90 undergraduate degree choices to explore. A community of innovators, knowledge-seekers and groundbreakers, Case Western Reserve University is a leading national research university that is also within walking distance of three major hospitals—a great benefit for those looking to study medicine!
With programs spanning the arts and sciences, engineering, health sciences, law, management, and social work, the University's research and educational opportunities allow students, faculty, staff, and alumni to tackle today's toughest problems—and transform the future.
Acceptance rate 30% • Net price $36,002 • SAT Range 1340-1520 • Students submitting SAT scores 69%
Total Undergrad Population 11,465 • Setting City: Large • Private 4-year
Graduation rate (6 year) 85% • Retention rate 93% • Student-to-faculty ratio 11:1
---

Defiance, OH ‧ Private ‧ 4-year
Defiance College emphasizes learning on the basis of its mission's four pillars: to know, to understand, to lead, to serve. The liberal arts-based institution offers 40+ majors and pre-professional programs designed to prepare students to live in the world and change it for the better.
Defiance College is a comprehensive, private, coeducational college affiliated with the United Church of Christ. Founded in 1850, the 150-acre campus is located in Northwest Ohio, an area of picturesque farmland at the confluence of the Auglaize and Maumee rivers.
SERVICE-LEARNING AND LEADERSHIP
DC is home to the McMaster School for Advancing Humanity: an innovative research program devoted to teaching, service, scholarship, and action to improve the human condition. Distinctive among colleges and universities across the U.S., the McMaster School utilizes Defiance College's nationally recognized model of service and civic engagement. Through its program, students and faculty make a lasting impact as they apply their academic expertise to real-world contexts. In recent years, participants have developed projects and established partnerships in Belize, Cambodia, Tanzania, and Panama. Much of the success of the projects can be credited to learning communities—groups of peers who meet on a regular basis to strategize and prepare for their research and travel.
Acceptance rate 55% • Net price $25,251 • SAT Range 890-1050 • Students submitting SAT scores 35%
Total Undergrad Population 607 • Setting Town • Private 4-year
Graduation rate (6 year) 45% • Retention rate 60% • Student-to-faculty ratio 12:1
---

Granville, OH ‧ Private ‧ 4-year
Denison's academic mission is to educate students to become independent thinkers and active citizens of a democratic society. Students enjoy the University's dynamic learning environment 24 hours a day.
STUDENT RESEARCH
Undergraduate Denison students are afforded countless opportunities to involve themselves in research initiatives, no matter their field of study. And, with the additional offering of the Gilpatrick House, student researchers can enhance and support their efforts with unique residential resources. Both summer-term and senior researchers are able to live in this House so that their groundbreaking work is given all the attention it deserves.
GREEN CAMPUS
Denison embraces sustainability, aiming to protect and maintain economic, social, and environmental resources throughout the University and beyond. Through research initiatives, investments, and a campus-wide commitment, Denison's conscious efforts are met with the utmost respect.
Acceptance rate 28% • Net price $39,808 • SAT Range 1220-1430 • Students submitting SAT scores 42%
Total Undergrad Population 2,258 • Setting Suburb • Private 4-year
Graduation rate (6 year) 80% • Retention rate 85% • Student-to-faculty ratio 9:1
---

Hiram, OH ‧ Private ‧ 4-year
Hiram College prepares students to answer tough questions, solve complex problems, and communicate their ideas through a broad, interdisciplinary curriculum rooted in liberal arts. Recognizing that learning doesn't just take place in the classroom, 100 percent of Hiram students complete an internship, research, or study-away experience as they connect classroom learning with the "real world."
TECH AND TREK
Introduced in fall 2017, Hiram's Tech and Trek program puts an iPad Pro, Apple pencil, and keyboard bundle in the hands of every full-time traditional student. This is all part of Hiram's New Liberal Arts: integrated study, high-impact experiences, and mindful technology. Truly transformational, the 1:1 mobile technology program (which is the first in an Ohio four-year college or university), enables students to capture, connect, and reflect upon life-changing ideas.
HIRAM PLAN
In addition, Hiram's small, close-knit campus community is often described as a "family," and faculty are praised for their guidance not only through students' classes and majors, but also through their future plans and career paths. Hiram's unique semester format, the Hiram Plan, consists of a 12-week session followed by an intensive 3-week session during which students focus on a single subject (often through internships, faculty-guided research, or study-away trips).
Acceptance rate 93% • Net price $20,072 • SAT Range 890-1100 • Students submitting SAT scores 13%
Total Undergrad Population 1,110 • Setting Town • Private 4-year
Graduation rate (6 year) 50% • Retention rate 75% • Student-to-faculty ratio 11:1
---


Gambier, OH ‧ Private ‧ 4-year
Kenyon College seeks talented, driven individuals to join its academic community. Students enrolled at Kenyon collaborate with other students and dedicated faculty members, fostering an environment that promotes academic and personal success.
ADVISING
Academic advising begins during orientation and continues throughout the entire undergraduate experience. Advisors assist and support students in their academic and personal endeavors. They can also facilitate decisions regarding career choice and post-graduate plans. As students move through college, their coursework becomes increasingly more difficult, and academic advisors are great for keeping student goals in check.
Acceptance rate 37% • Net price $40,862 • SAT Range 1280-1460 • Students submitting SAT scores 53%
Total Undergrad Population 1,615 • Setting Town • Private 4-year
Graduation rate (6 year) 89% • Retention rate 89% • Student-to-faculty ratio 9:1
---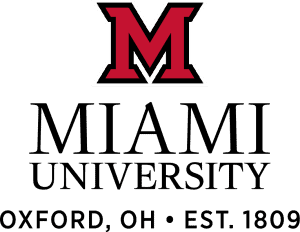 Oxford, OH ‧ Public ‧ 4-year
Miami University provides a rigorous collegiate curriculum. Students are given the opportunities of a large university while experiencing the personalized teaching and attention found at small colleges.
UNDERGRADUATE RESEARCH
Miami has a longstanding commitment to undergraduate research. It has always encouraged its students to pursue research opportunities, whether they be within their specific fields of study or come as an extension of a professor's work. of a professor's work. Through research, students gain skills that are valued by both employers and graduate schools alike; not only do they learn about the research process itself, but they gain hands-on practice with inquiry-based learning. Miami research extends beyond the laboratory and into such areas as the humanities, engineering, and business. Essentially, this means that there are opportunities applicable to all students' interests.
COMMUNITY ENGAGEMENT AND SERVICE
One of the most complex and effective forms of community engagement is service-learning, an academic course that draws connections between what is learned in class and what is needed in the community. This type of learning is dynamically charged as it pushes students to apply academic theory to real-world application. Most often, service-learning courses involve some degree of reflection, allowing faculty and students to assess their impact and learn how best to utilize their drives to serve in the future.
Acceptance rate 92% • Net price $24,345 • SAT Range 1160-1370 • Students submitting SAT scores 29%
Total Undergrad Population 18,880 • Setting Town • Public 4-year
Graduation rate (6 year) 82% • Retention rate 88% • Student-to-faculty ratio 16:1
---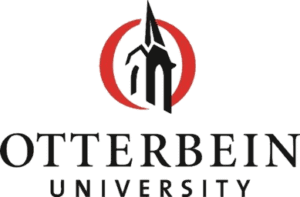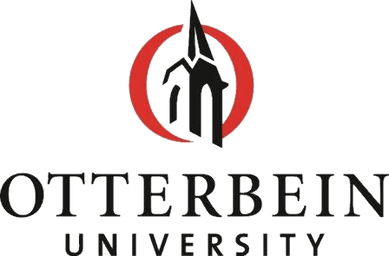 Westerville, OH ‧ Private ‧ 4-year
Otterbein University is an innovative and inclusive university populated by whole-brained thinkers. Otterbein students and faculty are advocates, champions, and problem-solvers who believe in doing what's right for the right reasons. A community of scholars, artists, scientists, nurses, writers, musicians, athletes, and friends alike, Otterbein is full of opportunity.
SOCIAL JUSTICE
The Office of Social Justice & Activism oversees a group of students called the Social Justice Ambassadors. These student ambassadors serve as an extension of OSJA by facilitating monthly programs, gauging campus climate, and connecting Otterbein to community partners. Their work primarily involves such topics as inclusion, social equity, and community engagement.
CUTTING-EDGE EDUCATIONAL OPPORTUNITIES
The Point, Otterbein's STEAM innovation Center, gives students the chance to work side-by-side with active researchers and startup companies in a space equipped with sophisticated tools, labs, and special manufacturing and engineering equipment.
Acceptance rate 76% • Net price $23,229 • SAT Range 990-1225 • Students submitting SAT scores 22%
Total Undergrad Population 2,652 • Setting Suburb • Private 4-year
Graduation rate (6 year) 66% • Retention rate 78% • Student-to-faculty ratio 11:1
---

Wooster, OH ‧ Private ‧ 4-year
The College of Wooster is the nation's premier college for mentored undergraduate research and the most internationalized campus in Ohio. Located just 45 minutes from Cleveland, Wooster offers an excellent, comprehensive liberal arts education in a spirited residential setting, culminating in every student creating new knowledge through a rigorous, in-depth project of inquiry or creative expression.
Working in partnership with a faculty mentor to conceive, organize, and complete a significant project on a topic of the student's own choosing, every Wooster graduate develops abilities valued by employers and graduate schools alike: initiative, collaboration, self-confidence, independent judgment, creative problem solving, and strong written and oral communication skills.
Acceptance rate 65% • Net price $27,923
Total Undergrad Population 1,924 • Setting Town • Private 4-year
Graduation rate (6 year) 74% • Retention rate 87% • Student-to-faculty ratio 11:1
---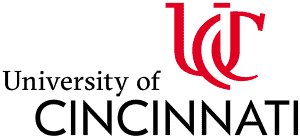 Cincinnati, OH ‧ Public ‧ 4-year
Located in the bustling city of Cincinnati, UC offers students an unparalleled academic experience, the difference of which lies in the community, people, and ideas it fosters. Committed to serving the people of Ohio and beyond, UC equips students with the tools and experience to think critically about the world around them. The University of Cincinnati prides itself on its commitment to diversity and inclusion of students, faculty, and staff to create an environment where innovation and freedom of intellectual inquiry flourish.
LEARNING COMMUNITIES
Nearly 65% of undergraduate students participate in UC's learning communities, which enrolls small groups of students into a common set of courses so that they can foster a strong academic and social network of peers. Such tight-knit communities connect students to faculty, peer mentors, campus resources, and special insights into their program of study.
Acceptance rate 76% • Net price $22,767 • SAT Range 1120-1330 • Students submitting SAT scores 21%
Total Undergrad Population 40,826 • Setting City: Large • Public 4-year
Graduation rate (6 year) 72% • Retention rate 88% • Student-to-faculty ratio 19:1
---

Dayton, OH ‧ Catholic ‧ 4-year
INTERACTIVE AND PERSONAL EDUCATION
With more than 70 challenging academic programs in four accredited divisions (arts and sciences, business administration, education and allied professions, and engineering), University of Dayton has countless ways to explore your interests and prepare for your career. And no matter what your interests are, you'll find plenty of opportunities for hands-on learning.
JUST YOUR SIZE
At the University of Dayton, learning doesn't happen just for the sake of learning. It's about making a difference right now, as an undergraduate. Recently, UD students have created solar-powered equipment to sterilize medical devices, designed cost-effective cargo planes using new composites, developed fitness programs for grade-schoolers, explored the complexities of urban education, and managed and invested nearly $11 million of the University's endowment.
INTERNSHIPS AND RESEARCH OPPORTUNITIES
With a vast array of internships and cooperative education opportunities, UD students earn a professional foothold in the world well before earning their diploma. Fortune 500 companies regularly recruit students on campus, and the University also hires undergrads to work on cutting-edge projects at one of the best research organizations in the world — the University of Dayton Research Institute.
Acceptance rate 81% • Net price $32,768 • SAT Range 1080-1300 • Students submitting SAT scores 34%
Total Undergrad Population 11,650 • Setting City: Midsize • Private 4-year
Graduation rate (6 year) 81% • Retention rate 91% • Student-to-faculty ratio 15:1
---

North Canton, OH ‧ Catholic ‧ 4-year
Walsh University is a fully accredited, Catholic liberal arts and sciences university in North Canton, Ohio. The school offers nearly 100 programs, including eight graduate programs and an accelerated-degree program for working adults. As a Catholic university welcoming students of all faiths, Walsh's ultimate mission is to develop leaders in service to others.
Walsh University believes in a small university setting that promotes academic excellence, a diverse exchange of ideas, and close student-teacher interactions. It provides its students an education that fosters critical thinking, effective communication, spiritual growth, and personal, professional, and cultural development.
STUDENT COLLABORATION
At Walsh University, students' own personal values and interests help shape their educational experiences. Walsh supports their passions by providing the framework and resources to help them excel. For instance, "The Garage" is a student-directed business incubator in which students have the opportunity to develop enterprising skills and collaborate on business ideas. And through the living-learning communities, students come together with faculty and staff outside the classroom for a deeper level of learning and collaboration. Walsh also launched several institutes to focus on such areas as food insecurity, civic engagement, and community health as well as economic development and quality-of-life issues.
Acceptance rate 77% • Net price $19,792 • SAT Range 978-1170 • Students submitting SAT scores 15%
Total Undergrad Population 2,651 • Setting Suburb • Private 4-year
Graduation rate (6 year) 60% • Retention rate 71% • Student-to-faculty ratio 15:1
---

Wilmington, OH ‧ Private ‧ 4-year
Wilmington College knows that within each of its students is a remarkable ability to change the world. This truth is exactly why WC emphasizes experiential learning across all of its programs; a curriculum with hands-on learning prepares and inspires a student to enact change with hands-on living.
WC is a community of action—one that graduates students with hundreds of hours of practical application under their belt. It provides the launching pad for promising futures through more than 25 majors, the most popular of which are agriculture, athletic training, business, sport management, and education.
A WORLD OF KNOWLEDGE
Wilmington College may have a small-town feel, but its curriculum guarantees exposure to the world at large. Ingrained in WC's core curriculum is a Global Education program through which every student is introduced to a variety of cultural perspectives as well as how to be a leader within a broad, intercultural context.
At the beginning of their first year, students are given a Global Competency survey to gauge their own understanding of the world. By the time they graduate, they are then able to see how their perspectives have evolved and developed through WC's Global Education. The Junior/Senior Global Seminar course immerses them in international exposure, challenging students to apply their skills and analysis to a contemporary global issue. It's through the various Global Education experiences that Wilmington Quakers develop into citizens prepared for the complexities of today's interconnected world.
Acceptance rate 73% • Net price $21,768 • SAT Range 950-1170 • Students submitting SAT scores 8%
Total Undergrad Population 1,165 • Setting Town • Private 4-year
Graduation rate (6 year) 52% • Retention rate 65% • Student-to-faculty ratio 14:1
---

Cincinnati, OH ‧ Catholic ‧ 4-year
Rich history and traditions, great opportunities for academic and social growth, and the promise of a rewarding future come with a Xavier degree. Xavier University provides a holistic education. Over 145 academic clubs, student organizations, campus activities, international study opportunities in six continents, small student to faculty ratio, and an excellent reputation with employers offer Xavier students unlimited potential.
AN INCREDIBLE FUTURE
The Xavier name earns graduates the respect of both graduate schools and employers. More than 1,100 jobs and internships are posted to the XU Career Services Center's online job board each year to help students easily identify internships and postgraduate, degree-required positions. In addition, initiatives such as on-campus recruiting and alumni networking, the Business Professions Program and formal professional mentoring programs help prepare students for successful transitions to graduate schools and careers after graduation. Finally, each student at Xavier has an assigned career counselor who specializes in a subset of academic offerings at Xavier.
Acceptance rate 81% • Net price $34,945 • SAT Range 1060-1250 • Students submitting SAT scores 33%
Total Undergrad Population 7,061 • Setting City: Large • Private 4-year
Graduation rate (6 year) 69% • Retention rate 85% • Student-to-faculty ratio 11:1
---
What it's like to attend schools in Ohio and other FAQ:
What are average tuition costs in Ohio?
The average undergraduate tuition & fees for colleges in Ohio is $7,991 for in-state students at public institutions, $17,634 for out-of-state students at public institutions, and $20,904 for students at private institutions.
Cheapest degree program in Ohio
Walsh University has an average net price of $19,792, making it the least expensive bachelor's degree program in Ohio that made our list.
Easiest degree program to get into in Ohio
Hiram College has an acceptance rate of 93%, with an SAT range of 890-1100, making it the least exclusive college with a business program on our list.
Degree program with lowest student debt in Ohio
Kenyon College has a median total debt after graduation of $19,000. This is the typical debt for a student who completed their undergraduate degree.
Best Ohio Colleges
2023 Best Colleges in Ohio
2023 Best Public Colleges in Ohio
2023 Best Private Colleges in Ohio
2023 Best Engineering Schools in Ohio
2023 Best Nursing Schools in Ohio
2023 Best Education Schools in Ohio
2023 Best Business Schools in Ohio
Best Colleges by State
California | Texas | Florida | New York | Pennsylvania | Illinois | Georgia | Alabama | Colorado | Connecticut | Massachusetts | Indiana | Iowa | Kansas | Kentucky | Louisiana | Maryland | Michigan | Minnesota | Missouri | New Jersey | North Carolina | Oklahoma |Oregon | Tennessee | Virginia | Washington | Wisconsin