Walsh University
North Canton, Ohio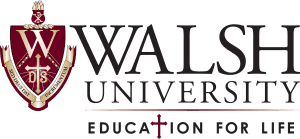 Walsh University is a fully accredited, Catholic liberal arts and sciences university in North Canton, Ohio. The school offers nearly 100 programs, including eight graduate programs and an accelerated-degree program for working adults. As a Catholic university welcoming students of all faiths, Walsh's ultimate mission is to develop leaders in service to others.
Walsh University believes in a small university setting that promotes academic excellence, a diverse exchange of ideas, and close student-teacher interactions. It provides its students an education that fosters critical thinking, effective communication, spiritual growth, and personal, professional, and cultural development. Ultimately, it encourages individuals to act in accordance with reason, guided by the example and teachings of Jesus Christ.
Get to know Walsh University
1,850
Degree-Seeking Undergraduates
Full-time to Part-time Ratio
-
0%
1%
2%
3%
4%
5%
6%
7%
8%
9%
10%
11%
12%
13%
14%
15%
16%
17%
18%
19%
20%
21%
22%
23%
24%
25%
26%
27%
28%
29%
30%
31%
32%
33%
34%
35%
36%
37%
38%
39%
40%
41%
42%
43%
44%
45%
46%
47%
48%
49%
50%
51%
52%
53%
54%
55%
56%
57%
58%
59%
60%
61%
62%
63%
64%
65%
66%
67%
68%
69%
70%
71%
72%
73%
74%
75%
76%
77%
78%
79%
80%
81%
82%
83%
84%
85%
86%
87%
88%
89%
90%
91%
92%
93%
94%
95%
96%
97%
98%
99%
100%
Retention rate
15:1
Student/teacher ratio
$29,910
Full-time tuition cost
Rolling
Application deadline
-
0%
1%
2%
3%
4%
5%
6%
7%
8%
9%
10%
11%
12%
13%
14%
15%
16%
17%
18%
19%
20%
21%
22%
23%
24%
25%
26%
27%
28%
29%
30%
31%
32%
33%
34%
35%
36%
37%
38%
39%
40%
41%
42%
43%
44%
45%
46%
47%
48%
49%
50%
51%
52%
53%
54%
55%
56%
57%
58%
59%
60%
61%
62%
63%
64%
65%
66%
67%
68%
69%
70%
71%
72%
73%
74%
75%
76%
77%
78%
79%
80%
81%
82%
83%
84%
85%
86%
87%
88%
89%
90%
91%
92%
93%
94%
95%
96%
97%
98%
99%
100%
Acceptance rate
-
0%
1%
2%
3%
4%
5%
6%
7%
8%
9%
10%
11%
12%
13%
14%
15%
16%
17%
18%
19%
20%
21%
22%
23%
24%
25%
26%
27%
28%
29%
30%
31%
32%
33%
34%
35%
36%
37%
38%
39%
40%
41%
42%
43%
44%
45%
46%
47%
48%
49%
50%
51%
52%
53%
54%
55%
56%
57%
58%
59%
60%
61%
62%
63%
64%
65%
66%
67%
68%
69%
70%
71%
72%
73%
74%
75%
76%
77%
78%
79%
80%
81%
82%
83%
84%
85%
86%
87%
88%
89%
90%
91%
92%
93%
94%
95%
96%
97%
98%
99%
100%
Out-of-state students
College Highlights
Engaged Students
Great Teaching
Vibrant Communities
Successful Outcomes
Admission & Aid
Engaged Students
According to the National Survey for Student Engagement, Walsh continually ranks significantly higher than its peer institutions in all areas of student engagement. Numerous experiential learning, community service, and study abroad opportunities, combined with an extremely supportive campus environment, are all essential components of creating this engaging atmosphere at Walsh.
"Throughout my time, I have been encouraged and supported to spread my wings here at Walsh. The number of things I have learned both in the classroom and outside in the community have truly been life altering. I would tell anyone looking at Walsh, the opportunities here are limitless if you are willing to try." – Madeline Weisburn '23
SERVICE
Volunteer work is not simply encouraged at Walsh; it is required as part of the core curriculum. Walsh students build homes for Habitat for Humanity, tutor and mentor school children, prepare taxes for low-income families, distribute meals, and perform service work all around the world.
STUDY ABROAD
Students actively participate in the global society through the University's Global Learning program. Walsh provides education experiences abroad in places like Austria, Ireland, Italy, Tanzania and Uganda, just to name a few.
STUDENT COLLABORATION
At Walsh University, students' own personal values and interests help shape their educational experiences. Walsh supports their passions by providing the framework and resources to help them excel. For instance, "The Garage" is a student-directed business incubator in which students have the opportunity to develop enterprising skills and collaborate on business ideas. And through the living-learning communities, students come together with faculty and staff outside the classroom for a deeper level of learning and collaboration. Walsh also launched several institutes to focus on such areas as food insecurity, civic engagement, and community health as well as economic development and quality-of-life issues.
ENROLLMENT BY ETHNICITY
Non-U.S. Citizen: 7%
Hispanic/Latinx: 2%
Black or African American, non-Hispanic: 5%
White, non-Hispanic: 42%
Native/Indigenous American or Alaska Native, non-Hispanic: 0%
Asian, non-Hispanic: 1%
Native Hawaiian or other Pacific Islander, non-Hispanic: 0%
Two or more races, non-Hispanic: 2%
Race and/or ethnicity unknown: 40%
Great Teaching
One of the hallmarks of a Walsh University education is close faculty-student interaction. Walsh's faculty members bring strong professional and real-world experiences to the classroom. They understand what is necessary to prepare students for today's competitive marketplace, taking sincere interest in the academic success and social involvement of their students. Walsh faculty understand the value of collaboration and, as a result, their students receive experiential learning and study abroad opportunities that cannot be matched.
"Attending Walsh University prepared me for my top-choice medical school. Academically, my science courses challenged me and confirmed my desire to enter into a health profession. Now as a medical student, I find myself applying so many of the leadership skills I developed throughout my time at Walsh both in the classroom and in the clinic." – Mary Hyland '22
STUDENT AND FACULTY RESEARCH
Cutting-edge research opportunities aren't limited to Ph.D. candidates. At Walsh University, undergraduate students collaborate with Walsh faculty as well as graduate students from other universities to research viable solutions to real-world problems such as cancer, heart disease, and soil and water quality.
ACADEMIC SUPPORT
Walsh University's First-Year Experience aids incoming freshmen with their transition from high school to college. In addition, Walsh's Academic Support Center provides such  valuable resources as academic accommodations, tutoring, and assistance with writing college papers.
SPECIAL STUDY OPTIONS
Programs available at this institution.
Accelerated program
Internships
Study abroad
Teacher certification program
Weekend college
Vibrant Communities
Active and involved in campus and community life, more than 60 percent of Walsh students participate in extracurricular programs. The University offers many options for students to get involved, have fun, and grow as active members of the Walsh community.
STUDENT ACTIVITIES
Students can select from more than 50 clubs and organizations (or start one of their own) or play sports in Walsh's NCAA Division II varsity teams or intramural leagues. Additionally, Walsh's Campus Ministry encourages students to grow their faith. No matter a student's interest, he or she may participate in numerous activities and programs designed to enrich his or her personal, physical, spiritual, and academic life.
STUDENT RETREATS
Student retreats, such as the Discover Retreat for freshmen and the Shape Retreat for sophomores, challenge students to make new friends, reflect on changes within their lives, and enhance their leadership potential. These non-denominational retreats offer students some time away from the daily grind to focus on their personal enrichment.
CULTURAL EVENTS
Walsh hosts several cultural events, including the International Dinner, World Week, theater performances by the Walsh Genesius Players, and music by the Walsh University Chorale. In addition, campus groups and academic units bring world-renowned singers, musicians, artists, and speakers to campus throughout the year.
COMMUNITY-BASED LEARNING
Walsh's on-campus housing communities are designed to bring students, faculty, and staff together outside the classroom to provide a deeper level of learning and collaboration. Each one features specialized programming, study groups, and engaging activities that provide a unique residence hall experience geared toward increasing overall student success. Opportunities at Walsh include living-learning communities for student-athletes, pre-nursing majors, leaders in social justice, and global scholars. 
LEARNING NETWORKS
Walsh's Cavs Cor Cordium personal learning network provides an opportunity for students to connect and learn, advancing their ability to prepare for the ethical and moral dimensions of professional practice and good citizenship. Studies have shown that students who develop a strong sense of community are more involved in programs on and off campus and have an increased academic performance. Cavs Cor Cordium provides students the opportunity to connect with peers, creating robust engagement experiences that extend through a student's life.
SCHOOL LOCATION
Walsh University is located in North Canton, Ohio, five miles north of Canton. Akon is just 20 miles away, and both Cleveland and Youngstown are within an hour's drive. Canton is an urban and diversified industrial center with a population of about 84,000. The city offers a variety of opportunities for cultural and recreational activities, entertainment, sports, dining, and shopping. Cultural opportunities in the Canton area include a symphony orchestra, art gallery, theater, ballet, civic opera, and lecture series. Canton also is home to the Pro Football Hall of Fame.
"The sports teams are a big family here. A lot of times, I'll invite my teammates over to my house to have a home cooked meal. My family opens up. My house is your house. We are a close-knit group and we have a bond that you can't break. It's great." – Benito Salazar '21
ATHLETICS
The Walsh University Cavaliers compete in the NCAA Division II. The Cavaliers are a member of the Great Midwest Athletic Conference (G-MAC) and continue to build on a winning tradition. Walsh features 22  intercollegiate athletic teams (Football, Men's and Women's Bowling, Men's and Women's Cross Country, Men's and Women's Soccer, Women's Volleyball, Men's and Women's Basketball, Men's and Women's Lacrosse, Baseball, Men's and Women's Golf, Softball, Men's and Women's Tennis, Outdoor Men's and Women's Track, and Indoor Men's and Women's Track) as well as a cheerleading squad and numerous intramural sports.
Mascot: Cavaliers
Colors: Maroon and Gold
Successful Outcomes
Walsh University has always believed that learning transcends the classroom, that caring faculty help students aim higher, and that leadership requires more than intellect. Walsh's distinguished tradition is to develop students' minds, bodies, and spirits.
"Walsh has allowed me to create personal connections that led to multiple internships as well as my job post-graduation as Marketing Coordinator for the Stark County Minority Business Association. My role is to utilize my marketing skills to foster the development and success of minority businesses in Stark County. My future goal is to pursue a master's degree in nonprofit management and marketing analytics." – Juanita Gray '22
INTERNSHIPS
Students are encouraged to work in their fields of study during their time at Walsh through practica, internships, and other opportunities. In fact, internships are a mandatory component of every academic program. Walsh's on-campus Career Center assists students in finding their placement, both during college and after graduation. Many students participate in numerous experiential learning projects each year.
SERVICE-LEARNING
Walsh's emphasis on service-learning prepares students to become engaged members of their community. Walsh graduates understand the importance of giving back, and every service experience imparts life lessons that build character and leadership.
ALUMNI ACHIEVEMENTS
On average, 76% of Walsh students who completed an internship received a job offer and 94% of graduates are employed or attending grad school within six months of graduation. Walsh has more than 17,000 alumni worldwide, many of whom are employed at high-profile companies such as the Cleveland Clinic, Disney, Rolls-Royce, Diebold, Inc., Goodyear, the Timken Company, Aultman Hospital, J.M. Smucker Company, FedEx Custom Critical, American Greetings, Twitter, and the Cleveland Cavaliers.
Admission & Aid
Admission
TEST SCORES
Optional
FRESHMAN PROFILE
SAT Evidence-Based Reading and Writing
25th Percentile: 478 | 75th Percentile: 590
SAT Math
25th Percentile: 500 | 75th Percentile: 580
ACT Composite
25th Percentile: 19 | 75th Percentile: 26
ACT Math
25th Percentile: 18 | 75th Percentile: 26
ACT English
25th Percentile: 17 | 75th Percentile: 25
ADMISSIONS POLICIES
Though Walsh University operates under a rolling admissions policy, early application is still recommended. The completed admissions application and a high school transcript are required for admission. Walsh adopted a test-optional admissions policy that allows students to apply without submitting SAT or ACT scores. (Note: Recruited NCAA Division II athletes, homeschooled students, and international students without U.S. transcripts and with at least two years of U.S. high school education are not eligible for the test-optional policy.) A personal essay is recommended for general requirements and is required for students applying under the test-optional policy. Transfer students must also submit transcripts from all colleges and universities attended.
For incoming freshmen, the applicant's high school achievement record is the single most important factor considered. A college preparatory program in high school is generally required. Candidates are strongly encouraged to distribute their high school work over as many of the academic areas as possible.
Tuition & Cost
Tuition: $29,910
Fees: $1,815
Room: $5,740
Board: $5,400
Aid
FINANCIAL ASSISTANCE
Walsh University does the utmost to make a college degree affordable for all students. Each year, Walsh students receive more than $30 million in grants and scholarships. In fact, 99% of Walsh students receive some form of financial assistance. The average Walsh student receives a $13,000 scholarship, based on individual eligibility.
In addition to the generous academic awards offered to entering students, federal and state financial aid programs are also available to those that are eligible. To determine which, if any, of the federal and state grant, loan, and work programs, students must complete the Free Application for Federal Student Aid (FAFSA). The FAFSA is available online at www.fafsa.ed.gov/.
Any students or parents who have concerns about financing their educational costs can discuss this with the staff during their campus visit.
What Others are Saying
"At Walsh, there are an abundance of clubs and groups that unite based on a common interest or goal. Through these organizations, I have gained real life knowledge on how to give back to my community, purse my passions, bring resolutions for change, raise awareness for a cause, and serve as a voice for the underrepresented, etc. while creating lifelong friendships/progressional relationships. The skills I have gained continually help me be a better advocate, friend, mentor, teammate, and person."
— Skyler Stewart '22