I'm a College Athlete, but a Student First
I've spent most of my first three years at Eastern Connecticut State University doing a lot of things at once.
I'm a communication major and music minor. I'm a member of the Honors Program at Eastern, a rigorous scholarship program that includes a thesis and several challenging courses. I've been a straight-A student most of college. I am also a musician involved with several ensembles, bands, and instructional programs on and off campus.
My passions have opened new doors for me over the last few semesters: I completed an internship as a writer at Eastern's department of sports information, took a part-time job as a student writer for University Relations, and became music director at WECS FM Radio. Oh, and I've been a member of Eastern's men's golf team since my first year.
I've been very fortunate to be on this team. We have won three consecutive conference titles, and in May, five of my teammates will travel to Nicholasville, KY, for the NCAA Division III National Championship. I have had the privilege of watching, learning from, and competing with many excellent players as well as working with quality coaches. I have been even luckier to become friends with my teammates.
Juggling Passions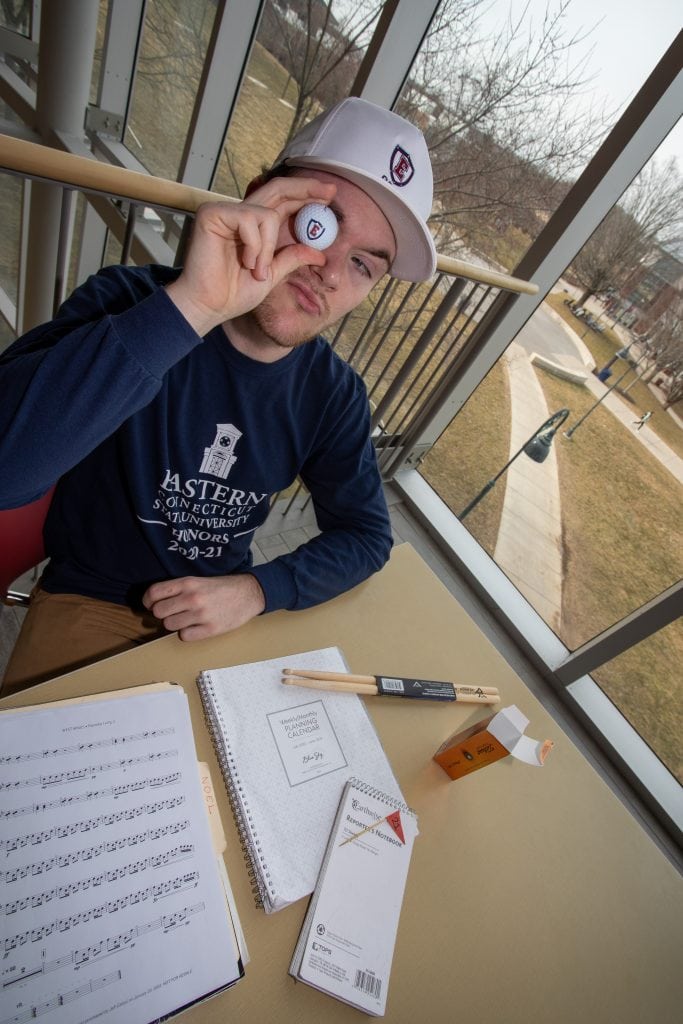 In the fall 2022 semester, I was busier than ever. I was taking a heavier-than-ever courseload while writing a thesis proposal and starting an on-campus job for the first time. Additionally, I remained involved with music; I took private lessons and performed with Eastern's percussion ensemble as well as bands off campus. My time and energy were becoming scarce, and my schedule required more of both than before.
Of course, there was also the golf season. Our roster was as strong as ever, and I was close to being in the starting five. I entered the season excited, as I had barely played the previous spring and summer with a lingering hip/back issue. My game looked good going into the fall. However, as the semester progressed, my practice schedule became more difficult than ever to balance with my other commitments. I had less time to practice than most teammates, and my A-game, which I had yet to find in competition, remained elusive.
Something I appreciate about the NCAA Division III experience is the freedom to have other commitments. I have found outlets for my passions for golf, music, and writing at the collegiate level while remaining dedicated to academics. However, this has caught up with me; during the last few semesters, I have burnt out quickly due to the stress of balancing many responsibilities.
A Difficult Choice
Because DIII athletes cannot earn athletic scholarships, I have additional freedom to step back from my sport, which is exactly what I'm doing with golf this semester.
It was one of the hardest decisions I've ever made. After our season-ending team meeting, I walked with our head coach, Marc Senia, to his office and told him I wouldn't be playing the following spring. He was understanding from the beginning; he even told me that he had no idea how I balanced everything on my schedule to begin with. He was also kind enough to leave the door open for me to return to the team in the fall if I want to. When I told teammates about my decision, they gave me nothing but support.
The evening I told Coach Senia about my plans, I also performed with Eastern's percussion ensemble in our semester concert. One of our directors, Matt Bronson, also teaches private drum lessons to Coach's son. Small world, right? Sure enough, Coach was in the audience, along with a few teammates who had come to see me play. Coach even sent a video of the performance to our team's group chat.
Learning to Thrive
Still, since making my decision, I've dealt with a lot of guilt. I've been hard on myself for failing to reach what I believe to be my potential as a college golfer. For years, I had competed for the purpose of proving to myself that I could play at a high level, often forgetting the importance of enjoying the game.
However, this change has taught me two lessons about perspective. First, sometimes when you close one door, another one opens. As much as I love golf, I might be even more passionate about music. Since stepping back from the team, I have taken several opportunities to study with excellent instructors and perform with groups of musicians, old and new. I also accepted my position at WECS after removing the time commitment to golf. In addition, I have been able to work more hours, gaining valuable writing experience and making connections.
Second, I couldn't forget all the amazing experiences that I'd had with the team already. I haven't seen as much competitive action as some of my teammates, but that's not my most important memory from playing college golf. In fact, two of my best memories with the team came in that jam-packed fall of 2022.
Always Part of the Team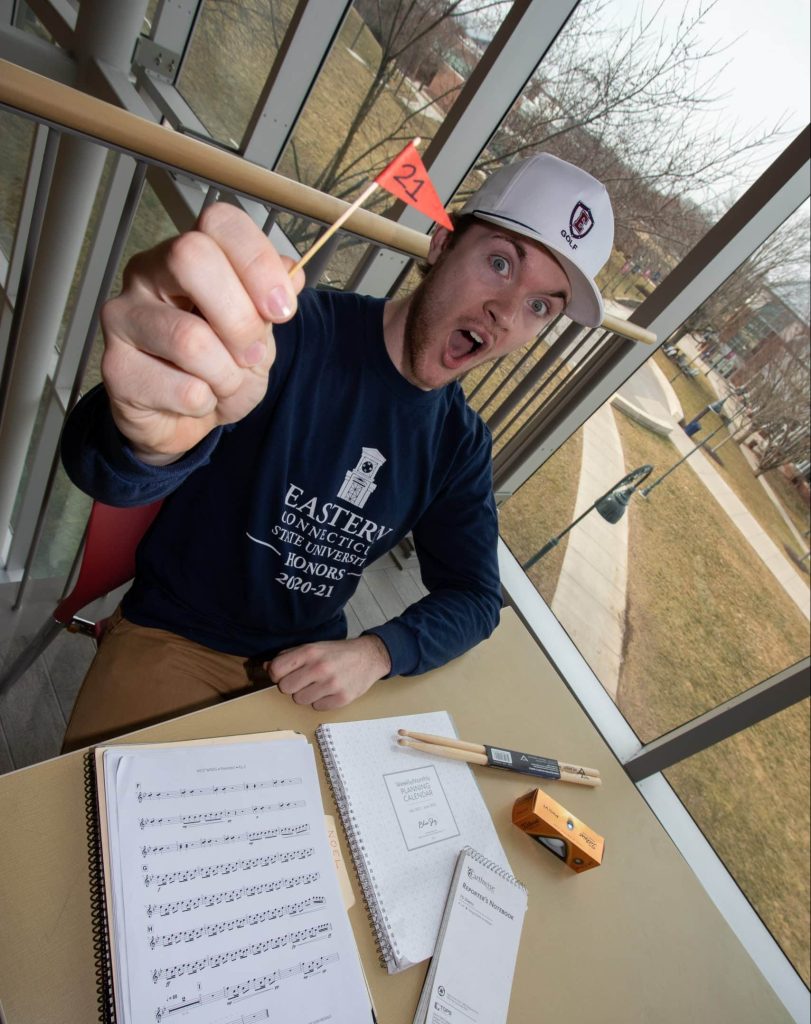 During our first week of practice that September, I hit my first hole-in-one. I've never been so excited on a golf course, and to my knowledge, I'm the only member of the team who has hit a hole-in-one during team activities. What made it more special was that I did it in front of Ben, Ethan, and Ryan, three of my good friends on the team. That's my second-favorite memory of Eastern golf.
My favorite happened a few weeks later. On what golf course? Funny you should ask… actually, it happened in a dorm. It was my 21st birthday, and the team threw me a surprise party. Ben arranged it with the help of Ashton, another good friend on the team. They even brought in friends from off campus, including Mike, a former teammate, and Sierra, my girlfriend who is a former Eastern student-athlete in her own right.
Seeing the team come together to make my birthday special showed me how lucky I am to be a part of this group. No matter what I do on a golf course, I'll have those memories and friends. I still hang out with my friends on the team often. This spring, when I have a free afternoon, I hope to still get out on the course with them. Time will tell whether I will compete alongside them again.
Of course, this is only my experience. Everyone is different in their situations and the way they handle them. I do have advice if you end up in a situation like mine, though: no matter what decisions you make, don't worry that you're going about it the wrong way, because the truth is that there is no right or wrong way. There's only your way.