My College Life: What It's Like to Attend a Catholic University in 2020
Question of the Day
During my time as a student ambassador and student coordinator at Newman University, I have had the privilege of working with prospective students during campus visits and admissions events. I had the ability to share my love of Newman with those who were visiting. Through this experience, I have noticed that there has always been one question that students asked frequently. "Do you have to be Catholic to attend a Catholic university like Newman?" My answer to this question was always, "No," because there are many different factors that make a Catholic university distinguishable for all students.
Why a Catholic Institution?
Catholic universities are distinct in the sense that they have a foundation built upon faith. In this environment, students are more aware of the importance of faith and have more opportunities to discover their values and beliefs. 
Catholic universities often struggle with finding a balance between having a strong presence of faith and inclusivity of all faiths. Many students, like myself and my peers, were hesitant to look into attending a Catholic university because of fears of being forced to conform to the beliefs of the institution, not being able to express our own beliefs, or "not being Catholic enough."
I can tell you from personal experience that it will depend on which university you decide to go to, but at Newman, this is not the case AT ALL. With the diversity in beliefs, our approach to faith is one of solidarity and appreciation. There is beauty in diversity and pride in everyone's journey to discovering their own religious beliefs. I always look forward to our annual "All-Faiths Prayer Service" at Newman, which highlights how the different religions have more in common than not. At Newman University, the term "not being Catholic enough" does not exist. Rather, we are all encouraged to discover our relationship with God at our own pace. God does not keep track of how long it takes us to meet him; he's just ecstatic when we finally do.
Why Newman?
Newman University is unique in the sense that only 41% of our student body is Catholic. With the Catholic foundation and the diversity in each student's religious beliefs, you have the opportunity to learn about different religions while also growing a deeper love for the Catholic faith. When you are able to express your beliefs with those who do not share them with you, you grow a deeper understanding of the Catholic faith. It is evident that the community at Newman respects everyone's differences and strives to help build a sense of unity through our openness and willingness to discuss faith. 
Newman's core components are our Catholic identity, academic excellence, culture of service, and critical consciousness. Every student is called to transform society upon graduation, and this is evident in the activities we participate in. In every aspect of our college life, we are called to excel academically and be critically conscious of those in need. 
St. Maria De Mattias founded the Adorers of the Blood of Christ, also known as the ASC sisters, who founded Newman. The ASC sisters have dedicated their lives to being servant leaders and have sponsored a prestigious scholarship program for students who are passionate about helping the community. I am honored to be an ASC Community Leaders Scholar and have grown a love for volunteering and serving those in our community. Our Catholic identity defines who we are as an institution and gives us a purpose to fulfill.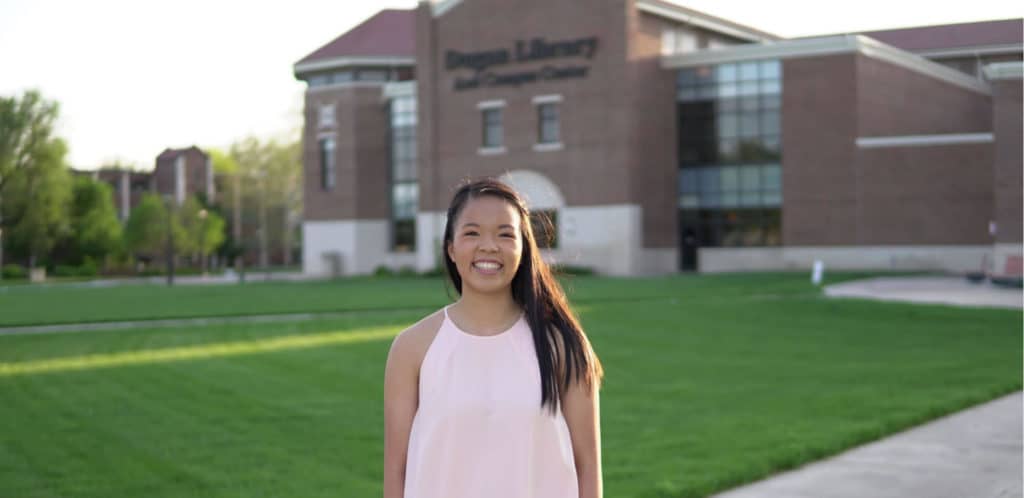 I was born and raised in a Catholic family, and while I learned about the faith throughout my life, I believe that I did not develop my Catholic identity until I came to Newman. I had chosen to participate in the opportunities to discover my faith and, in doing so, I have become the person I am today, and I would never trade that for anything in the whole world.
I believe in the statement that you find yourself in college. I am happy to have discovered myself in my academic courses, volunteer experiences, and extracurricular activities. I am grateful to be surrounded by my supportive Newman family who motivate me to do more for our community. If I were to go back in time to the moment when I made my decision to come to Newman, I would never change the decision I made. Newman University helped me discover my values and Catholic identity.
"Growth Is the Only Evidence of Life" (St. John Henry Cardinal Newman)
In the words of our namesake, St. John Henry Cardinal Newman, I am reminded that our lives are constantly moving and changing. We must determine whether or not these changes are positive or negative and the best decision you can make for yourself is to choose an institution that will help you experience positive changes in your life.
If you are looking for a university that will inspire you to help those in need while also focusing on self-growth, a Catholic university is a great place to start. As we all venture through this year and our "new normal," I pray that you will be able to discover the best college for yourself as I did for myself with Newman University.
If you are interested in getting involved in our Student Ambassador program, contact Erin Pettus at erin@collegesofdistinction.com.
Newman University empowers graduates to transform society. Newman strives to embody the core values of its namesake St. John Newman by educating the whole person academically, spiritually, and socially. The University's rigorous undergraduate programs are rooted in a strong liberal arts foundation, challenging students to achieve their personal and professional goals by thinking big in a small college atmosphere.