University of Indianapolis
Indianapolis, Indiana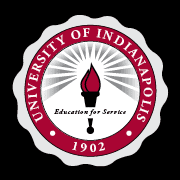 The University of Indianapolis, founded in 1902, is a private institution offering 100+ undergraduate degree programs, 40+ master's degree programs, five doctoral programs, and a variety of certificate programs. Personalized attention, experiential learning, and a student-to-faculty ratio of 13:1 are just the beginning of what makes University of Indianapolis unique.
SHOW MORE
Hands-on, engaged faculty help students build their career around what matters to them. Unparalleled support allows students to take on the challenges that will help them define their futures in their own terms.
The University's motto, "Education for Service," is central to the institution's identity and purpose. This philosophy is integrated into the curriculum of every academic program. Students and faculty alike participate in international and domestic service-learning trips, volunteer opportunities, and community involvement projects, often in the context of their own careers.
Students and graduates of UIndy's distinguished programs are continually driving positive change within Indianapolis and around the world. Students aren't just educated, they're activated. Here, potential becomes purpose as students are challenged to push forward, inspired to expand their worldview, and trained to overcome obstacles. Graduates from the University of Indianapolis don't just enter the real world; they lead the way.
Get to know University of Indianapolis
4,271
Degree-Seeking Undergraduates
Full-time to Part-time Ratio
-
0%
1%
2%
3%
4%
5%
6%
7%
8%
9%
10%
11%
12%
13%
14%
15%
16%
17%
18%
19%
20%
21%
22%
23%
24%
25%
26%
27%
28%
29%
30%
31%
32%
33%
34%
35%
36%
37%
38%
39%
40%
41%
42%
43%
44%
45%
46%
47%
48%
49%
50%
51%
52%
53%
54%
55%
56%
57%
58%
59%
60%
61%
62%
63%
64%
65%
66%
67%
68%
69%
70%
71%
72%
73%
74%
75%
76%
77%
78%
79%
80%
81%
82%
83%
84%
85%
86%
87%
88%
89%
90%
91%
92%
93%
94%
95%
96%
97%
98%
99%
100%
Retention rate
13:1
Student/teacher ratio
$30,888
Full-time tuition cost
-
0%
1%
2%
3%
4%
5%
6%
7%
8%
9%
10%
11%
12%
13%
14%
15%
16%
17%
18%
19%
20%
21%
22%
23%
24%
25%
26%
27%
28%
29%
30%
31%
32%
33%
34%
35%
36%
37%
38%
39%
40%
41%
42%
43%
44%
45%
46%
47%
48%
49%
50%
51%
52%
53%
54%
55%
56%
57%
58%
59%
60%
61%
62%
63%
64%
65%
66%
67%
68%
69%
70%
71%
72%
73%
74%
75%
76%
77%
78%
79%
80%
81%
82%
83%
84%
85%
86%
87%
88%
89%
90%
91%
92%
93%
94%
95%
96%
97%
98%
99%
100%
6-year graduation rate
Rolling
Application deadline
-
0%
1%
2%
3%
4%
5%
6%
7%
8%
9%
10%
11%
12%
13%
14%
15%
16%
17%
18%
19%
20%
21%
22%
23%
24%
25%
26%
27%
28%
29%
30%
31%
32%
33%
34%
35%
36%
37%
38%
39%
40%
41%
42%
43%
44%
45%
46%
47%
48%
49%
50%
51%
52%
53%
54%
55%
56%
57%
58%
59%
60%
61%
62%
63%
64%
65%
66%
67%
68%
69%
70%
71%
72%
73%
74%
75%
76%
77%
78%
79%
80%
81%
82%
83%
84%
85%
86%
87%
88%
89%
90%
91%
92%
93%
94%
95%
96%
97%
98%
99%
100%
Acceptance rate
-
0%
1%
2%
3%
4%
5%
6%
7%
8%
9%
10%
11%
12%
13%
14%
15%
16%
17%
18%
19%
20%
21%
22%
23%
24%
25%
26%
27%
28%
29%
30%
31%
32%
33%
34%
35%
36%
37%
38%
39%
40%
41%
42%
43%
44%
45%
46%
47%
48%
49%
50%
51%
52%
53%
54%
55%
56%
57%
58%
59%
60%
61%
62%
63%
64%
65%
66%
67%
68%
69%
70%
71%
72%
73%
74%
75%
76%
77%
78%
79%
80%
81%
82%
83%
84%
85%
86%
87%
88%
89%
90%
91%
92%
93%
94%
95%
96%
97%
98%
99%
100%
Out-of-state students
-
0%
1%
2%
3%
4%
5%
6%
7%
8%
9%
10%
11%
12%
13%
14%
15%
16%
17%
18%
19%
20%
21%
22%
23%
24%
25%
26%
27%
28%
29%
30%
31%
32%
33%
34%
35%
36%
37%
38%
39%
40%
41%
42%
43%
44%
45%
46%
47%
48%
49%
50%
51%
52%
53%
54%
55%
56%
57%
58%
59%
60%
61%
62%
63%
64%
65%
66%
67%
68%
69%
70%
71%
72%
73%
74%
75%
76%
77%
78%
79%
80%
81%
82%
83%
84%
85%
86%
87%
88%
89%
90%
91%
92%
93%
94%
95%
96%
97%
98%
99%
100%
Full-time faculty w/ terminal degree
College Highlights
Engaged Students
Great Teaching
Vibrant Communities
Successful Outcomes
Admission & Aid
Engaged Students
UNDERGRADUATE RESEARCH
University of Indianapolis actively promotes research and scholarly activity by providing unique, in-depth research opportunities for students in a variety of fields. Research at the University is collaborative, allowing students to participate in research groups with fellow classmates and a faculty advisor. Student research at the University of Indianapolis has culminated in published research articles in peer-reviewed scientific journals. Most Schools and Colleges within the University also provide financial support for undergraduate student research expenses as well as travel for professional meetings and conferences at which to present their research.
DIVERSITY & GLOBAL LEARNING
University of Indianapolis serves an inclusive student body and promotes cross-cultural and global understanding through its academic curriculum, scholarly lectures and programs, performances, travel and study abroad programs, international student programs, and student organizations. 
The Office of Inclusion & Equity governs the University's commitment to inclusive excellence by building upon a comprehensive strategy to ensure equal access to educational quality, benefits and resources, workforce development and leadership opportunities, intellectual and social development, and a welcoming environment for all members of the campus community. It is continually pertinent to make sure that everyone at the University is able to thrive and succeed.
The University's dedication to cultural diversity and international exchange has made the campus a welcoming environment for students from more than 55 countries. Its partnerships around the world also provide numerous opportunities for U.S. students to study abroad.
"The campus promotes cultural diversity and emphasizes the importance of respecting every culture, which makes me feel welcomed at UIndy. The faculty understands the language barrier and they are willing to help international students." – Cassie Ge, nursing, Class of 2018
STUDENT GROUPS
University of Indianapolis is home to more than 70 student organizations, including academic, common interest, community service, leadership, recreational, religious, and cultural organizations to promote unity, collaboration, community, academic achievement, and social responsibility among all students on campus.
"You don't just come in, learn, and leave. It's more of a family atmosphere; we all help each other. The University of Indianapolis brought me out of my comfort zone and helped me define my future and career." – DeAndre Grayson, pre-athletic training, Class of 2017 
Organizations like the Black Student Association, Chinese Student Union, Indian Student Association, Student Organization of Latinos, and UIndy PRIDE all foster education and awareness of various cultures on campus, create a community of support for international students, and celebrate the University's diversity.
Through the University's organizations and societies, students can bring their passions beyond the classroom, work toward a common cause, give back through service, or reinforce their goals. The range of activities, clubs, and organizations on campus reflects a balance of rigorous academics, social life, and service. Getting involved brings students opportunities to network and test their skills in their chosen field.
"I went from being a timid freshman in 2014 to a junior who was acting as the vice president of Indiana's Student Program of the National Education Association in only two short years. This shows the influence that UIndy can have on a future professional." – Lyndsy Eslinger, elementary education, Class of 2018
ENROLLMENT BY ETHNICITY
Non-U.S. Citizen: 6%
Hispanic/Latinx: 8%
Black or African American, non-Hispanic: 12%
White, non-Hispanic: 63%
Native/Indigenous American or Alaska Native, non-Hispanic: 0%
Asian, non-Hispanic: 3%
Native Hawaiian or other Pacific Islander, non-Hispanic: 0%
Two or more races, non-Hispanic: 4%
Race and/or ethnicity unknown: 4%
Great Teaching
The National Survey of Student Engagement places University of Indianapolis significantly higher in the student/faculty interaction category than all other Great Lakes private schools.
"One of my favorite things about UIndy was the guidance I received from all my professors. They all really cared about me. They really helped me find who I was while I was there and that sculpted me into what I am today." – Daniel Del Real, visual communication design, Class of 2005
FIRST-YEAR SEMINAR
As part of the liberal arts core, all freshmen at the University of Indianapolis are required to choose a First-Year Seminar course. First-Year Seminar courses provide in-depth focus in various disciplines to spark intellectual curiosity and introduce students to academic life.
"Starting my first year in the program, I was immediately exposed to the clinical setting, allowing me to directly interact with patients. UIndy provides an incredible hands-on learning experience that instills confidence and affirms your true passion and calling." – Dawson Harris, nursing, Class of 2019
SHAHEEN COLLEGE OF ARTS AND SCIENCES
Students learn critical thinking skills that allow them to think on their feet and meet challenges with ease. With programs in the humanities, fine arts, and sciences, the Shaheen College of Arts & Sciences helps students develop this intellectual ability through applied learning experiences that prepare them for just about anything.
R.B. ANNIS SCHOOL OF ENGINEERING
The R.B. Annis School of Engineering helps students harness the momentum of fast-growing fields through innovative programs that pair authentic design opportunities with a firm foundation in engineering principles. Students will learn to break down complex issues, solve problems, and improve society with a well-rounded liberal arts approach.
COLLEGE OF APPLIED BEHAVIORAL SCIENCES
Through the College of Applied Behavioral Sciences, students have the opportunity to bring their behavioral science studies outside of the classroom through clinical experiences, improving the mental health of patients, and strengthening Indiana communities while they learn the ropes.
COLLEGE OF HEALTH SCIENCES
The College of Health Sciences offers nationally ranked programs in physical therapy and occupational therapy as well as highly regarded programs in kinesiology, gerontology, athletic training, and other health professions, preparing students for a wide variety of health and sports-related professions. The College is distinguished through rigorous academics, research, applied learning in clinical settings, and highly competitive internships. 
KRANNERT SCHOOL OF PHYSICAL THERAPY
The Krannert School of Physical Therapy trains students to make a big impact in the lives of others in new ways, working through innovative learning in state-of-the-art facilities and alongside truly outstanding faculty mentors. 
SCHOOL OF OCCUPATIONAL THERAPY
The School of Occupational Therapy at the University of Indianapolis is ranked among the best graduate schools in the nation by by U.S. News & World Report and is fully accredited. Students get the opportunity to work with outstanding faculty and earn a degree from a school with an excellent reputation.
SCHOOL OF NURSING 
Students in the School of Nursing have the opportunity to integrate service-learning, volunteer, and mission opportunities into their courses each year. The faculty bring decades of clinical experience and active leadership in healthcare communities locally, nationally, and internationally to the students' education.
The University of Indianapolis, in collaboration with the Indiana University School of Medicine and Riley Hospital for Children, offers Indiana's only Neonatal Nurse Practitioner (NNP) program.
COMMUNITY HEALTH NETWORK PARTNERSHIP
Through a partnership between Community Health Network and the University of Indianapolis, students and faculty are able to work in a professional environment to gain experience while working with patients and bringing resources to the underserved. This partnership embodies the philosophy behind the University of Indianapolis Health Pavilion, which houses programs in nursing, physical therapy, occupational therapy, psychology, gerontology, kinesiology, athletic training, addictions counseling, and social work.
ACADEMIC SUCCESS CENTER
The Academic Success Center (ASC) offers the following collection of programs and services to help students achieve academic success and realize their full potential during their undergraduate years:
Individualized academic assistance:

The ASC works with students individually to develop a customized success plan based on the student's academic needs.

Secrets of Success (SOS) Workshops:

In partnership with the ASC, The Center for Advising & Student Achievement offers workshops throughout the academic year on various topics such as time management and study tips and tricks to help students be successful in college.

Peer Tutoring:

Peer tutors provide academic support and guidance and study strategies for students.

Bridge Scholars Program:

The Bridge Scholars Program provides additional support services and assistance to at-risk students as they make the transition from high school to college as well as throughout their undergraduate years.

Services for Students with Disabilities:

The Services for Students with Disabilities Office ensures that students with disabilities are given equal access to necessary accommodations for their education, according to the Americans with Disabilities Act.

BUILD Program:

The BUILD Program, or Baccalaureate for University of Indianapolis Learning Disabled, provides additional services, including special accommodations professional tutoring for students with learning disabilities to earn a degree.
THE WRITING LAB
The Writing Lab has two goals: to produce better writers and to serve as writing coaches throughout the writing process. Consultants who serve in the writing lab can help teach writing techniques and provide helpful resources on how to develop a thesis, support the thesis, and provide clear organization for any kind of writing projects, whether that be in an essay, research paper, journal article, lab report, or job or graduate school application. The Writing Lab welcomes writers at all levels who wish to develop confidence in their work and further refine their skills.
SPECIAL STUDY OPTIONS
Programs available at this institution.
Accelerated program
Double major
Honors Program
Internships
Liberal arts/career combination
Study abroad
Teacher certification program
Vibrant Communities
University of Indianapolis is one of fewer than 200 universities nationwide to receive a Community Engagement Classification from the Carnegie Foundation for the Advancement of Teaching.
In an academic ecosystem interconnected with the city of Indianapolis, students are surrounded with myriad opportunities to grow, including internships, experiential learning, museums, music, culture, service, and more. Indianapolis is the perfect place for students to cultivate their passions and enhance their education.
"UIndy has meant becoming a part of a new family (the UIndy community as well as the UIndy golf community), finding life long friends and teammates and having the opportunity to get a great education studying what I love, finance." – Annika Hayes, women's golf team/finance major, Class of 2018
THE ARTS
On campus, students can enjoy more than 100 arts-related events each year, including a variety of vocal and instrumental music performances, theatre productions, art exhibitions, readings, and scholarly programs and lectures. The University also provides mentorship to 60 high schools each year through faculty visits and performances.
The University offers a variety of vocal and instrumental musical performances of faculty and students and guest performers each season, including the Faculty Artist Concert Series and Jazz Concert Series, international guest performers, and the Indianapolis Quartet, the professional string quartet residency program. These performances and programs serve as catalysts for bringing together diverse audiences from across regions by increasing engagement with world-class conductors, musicians, and artists.
GUEST LECTURES
Incorporated in the University's cultural calendar are both the Allen & Helen Kellogg Writers Series, which brings writers of distinction to campus for public readings and discussions, and a series of lectures and performances that focus on four learning goals: creativity, critical thinking, performance, and social responsibility.
SURROUNDING AREA
The University of Indianapolis is located in the heart of Indianapolis, Indiana. The 90-acre campus is situated in a thriving metropolitan city of about 900,000 people. Home to the NCAA, various sport governing bodies, exceptional health care facilities, and a variety of industrial, commercial, and social institutions, Indianapolis provides a wealth of internship and employment opportunities.
Located within a 10-minute drive of the University are a world-class art museum and symphony orchestra, several theaters and performing arts venues, and historical sites. Indianapolis also is home to the world's largest children's museum. 
Downtown features the White River State Park, which includes the beautiful Canal Walk, the Medal of Honor Memorial, the NCAA Headquarters and Hall of Champions, White River Gardens, the Eiteljorg Museum of American Indian and Western Art, and the Indianapolis Zoo. The Massachusetts Avenue cultural district downtown—well known for its fun and funky feel—is rich in art, architecture, food, and shopping. The city also boasts an award-winning $50-million cultural trail in the downtown area that provides miles of walking and biking space lined with landscaping and public art.
Another one of the city's cultural havens, Fountain Square—a five-minute drive from the University—is more than a neighborhood; it's a hub for creativity, music, restaurants, and art and has become one of the most popular spots to spend a night out. Fountain Square is home to one of Indy's most popular music venues, Hi-Fi, which has recently expanded and to host everything from local artists to national performers.
In the fall of 2019 the IndyGo Red Line rapid transit bus system began service in Indianapolis. This affordable and easily accessible bus line begins right on UIndy's campus and can take students north through many well-known Indianapolis neighborhoods, parks and cultural hotspots along the way.
See the 2018 Forbes article: "6 Great Reasons to Visit America's Most Underrated City Right Now"
ATHLETICS
Meeting a challenge takes more than muscle. It takes not giving up, turning back, or bringing any less than one's all. Student athletes at the University of Indianapolis are prepared for all that lies ahead, because they play for love and train for life. And that means always going the distance.
"I was a varsity member of both the cross country and track and field teams for all four years. Athletics at UIndy really teaches discipline, dedication, teamwork and time management; all aspects that I believe will be essential for success in medical school and as a physician." – Samantha Holmes, molecular/cellular biology, pre-med concentration, Class of 2017
NCAA Division II School
12 varsity men's sports: baseball, basketball, cross country, football, golf, lacrosse, soccer, swimming & diving, tennis, indoor and outdoor track & field, and wrestling
11 varsity women's sports: basketball, cross country, golf, lacrosse, soccer, softball, swimming & diving, tennis, indoor and outdoor track & field, and volleyball
The mascot is the Greyhound, and the colors are crimson and gray.
The Greyhounds brought home 41 individual All-American honors last year, and 10 teams were ranked in the top 20 nationally. As one of the best athletic programs in the country, the University has won eight consecutive Great Lakes Valley Conference All-Sports Trophies and has finished in the top 20 in the Division II in the Learfield Sports Directors' Cup 13 times in the last 13 years.
University student-athletes are equally committed to excelling in the classroom, with an overall athletic department GPA of 3.3. And, last year, 334 student-athletes were named to academic all-conference honors, including seven Academic All-Americans and five GLVC Scholar-Athletes of the Year.
RESIDENCE LIFE
Percent of students living on campus.
First-time, first-year (freshman) students: 80%
Undergraduates: 45%
Campus housing options.
Coed dorms
Apartments for married students
Apartments for single students
Successful Outcomes
"The smaller school environment and personalized attention I received from everyone – including professors, coaches, guidance counselors and administrative staff – helped me develop as a person and gain confidence in myself. [They] could see more potential in me than I could see in myself at that time and actively developed that. For that, I will be ever grateful." – Dr. Katherine Welch, Class of 1993
SERVICE-LEARNING
The University's Center for Service-Learning and Community Engagement connects students with volunteer opportunities that align with their education and career goals. Service-learning is woven throughout the course curriculum as a key component of academic life at the University of Indianapolis. This integration of service-learning mutually transforms both the academic landscape as well as the community, resulting in benefits that include increased civic engagement, enriched student learning, an enhanced sense of purpose, a greater feeling of fulfillment, nurtured creativity, and the promotion of problem-solving skills and social responsibility.
The University's motto, "Education for Service," is put into practice through service-learning classes that involve hands-on service projects as well as student organizations that contribute thousands of collective volunteer hours all around the world. Each year, students log more than 215,000 community service hours. The University of Indianapolis has been nationally recognized through the Carnegie Foundation for the Advancement of Teaching's Community Engagement Classification, and it was awarded the President's Higher Education Community Service Honor Roll through the Corporation for National & Community Service.
INTERNSHIPS & CAREER PLACEMENTS
The University's Professional Edge Center guides ongoing exposure to working professionals, connecting students and new graduates to internships, employment opportunities, and mentorships by drawing from the University's professional relationships, including industry faculty, the Indianapolis Chamber of Commerce, business and professional organizations, and an alumni base of more than 35,000.
From day one, the Professional Edge Center helps students—even those who haven't decided on a major—identify career pathways, interact with business professionals, and develop professional and interpersonal skills. The Professional Edge Center team is organized into sector experts, giving students the opportunity to work one-on-one with a career advisor dedicated to their field. This gives students a critical advantage over the competition, arming them with everything from field experience and job interview skills to ways to build their network while discovering more about themselves and the world around them. According to a student survey, 94 percent of grads said that the Professional Edge Center gave them an advantage in their careers.
Located in the 16th largest city in the U.S., students have a wealth of internship and career possibilities awaiting them. Students from University of Indianapolis have gained prestigious internship experiences and jobs at organizations, such as NCAA, Google, Indiana Pacers, Ernst & Young, Rolls-Royce, Indianapolis Colts, Dow AgroSciences, and more.
NOTABLE ALUMNI
Cole Varga '10 is the executive director of Exodus Refugee Immigration Inc., an Indianapolis-based, non-profit refugee resettlement agency.
Joel Zawacki '06 serves as director of corporate sales and marketing for the Indianapolis Indians. The team's sponsorship revenue has tripled since Zawacki joined the organization in 2007.
Nichole Wilson '02 '06 is the executive director of sports medicine, physical therapy, and rehabilitation for Community Health Network in Indiana. She was named among the Indianapolis Business Journal's Women of Influence in 2015 as well as IBJ's Forty Under 40 in 2011.
Faustin N'Tala '02 is the president and founder of Waza Alliance for Quality Education, an organization that trains teachers, sponsors students and provides other educational support for children living in the Democratic Republic of Congo. He also serves as a French teacher and soccer coach at the International School of Indiana.
Katherine Welch '93 is the founder of Relentless, a Thailand-based global consulting agency that trains organizations to assist and provide medical services to populations that are often subject to abuse, exploitation, and trafficking. She is a global leader in the fight against human trafficking.
Jim Hurrell '84 is director of the National Center for Atmospheric Research (NCAR) in Boulder, Colo., where he also works as a senior scientist in the climate and global dynamics division. Jim is recognized internationally for his research on climate, climate variability, and climate change. In 2001, he was honored with the prestigious Clarence Leroy Meisinger Award by the American Meteorological Society (AMS). He is a fellow of the Royal Meteorological Society (2000), the AMS (2006), and the American Geophysical Union (2010). In 2011, he was honored with the Nansen Medal by the Norwegian Academy of Science and Letters for his contributions to climate science.
Linda Dillman '76 is the chief information officer for multimedia retailer QVC from 2012-16. Previously, she has served as Senior Vice President for global information technology at HP as well as executive VP and CIO for Wal-Mart.
Admission & Aid
Admission
ADMISSIONS FACTORS
Important
Rigor of secondary school record | Class rank
Academic GPA | Standardized test scores
Considered
Application Essay | Recommendation(s)
TEST SCORES
Optional
FRESHMAN PROFILE
SAT Evidence-Based Reading and Writing
25th Percentile: 480 | 75th Percentile: 590
SAT Math
25th Percentile: 480 | 75th Percentile: 580
ACT Composite
25th Percentile: 18 | 75th Percentile: 25
ACT Math
25th Percentile: 17 | 75th Percentile: 25
ACT English
25th Percentile: 16 | 75th Percentile: 24
ADMISSIONS PROCESS
University of Indianapolis accepts applications year-round for upcoming semesters. As part of the application process for incoming freshmen, the University requires an official high school transcript, SAT and/or ACT standardized test scores, and a completed free online application for admission. Recommendation letters and essays are not required for general admission, hough essays may be required for consideration of scholarships or grants. In addition to meeting general University admission requirements, admission to such specific academic programs as undergraduate nursing or health science may require satisfactory completion of designated prerequisites prior to admission to the individual school or department.
The first and most important areas that the University considers when evaluating prospective students for full-time admission are strength of academic preparation for college and high school grade point average. Other factors considered in admission include test scores and class rank. At a minimum, students should achieve an above-average grade point average, have above-average standardized test scores, and rank in the top half of their class.
Tuition & Cost
Tuition: $30,888
Fees: $1,380
Room: $5,656
Board: $6,324
Aid
University of Indianapolis is committed to helping students navigate the financial aid process from understanding costs to applying for scholarships, grants, loans, and other funding. In the last year, the University awarded $6.6 million in need-based aid, $55 million in scholarships and grants, and a total of $129 million in financial aid from all sources. The average financial aid package awarded for full-time freshmen with need was $24,063, with 95% of incoming freshmen receiving some form of financial aid.
The University encourages students to apply for need-based federal and state assistance by completing the FAFSA and the University of Indianapolis Financial Aid Application. University of Indianapolis offers merit scholarships; departmental scholarships; service, legacy, and alumni scholarships; and scholarships for transfer students. All students who apply to UIndy are automatically considered for a merit scholarship.
UIndy's scholarship programs include:
Presidential Scholarships

Dean's Scholarships

Richard G. Lugar Academic Recognition Award

Art Scholarships

School of Business Scholarships

Bohn Chemistry Scholarships

School of Education Scholarships

Greyhound Teaching Scholarships

Diversity in Education Teaching Scholarships

Engineering Scholarships

Speech Team Scholarships

Music Scholarships

LeAlice Briggs Nursing Scholarships

Theatre Scholarships

United Methodist Youth Leaders Scholarship

United Methodist Award

Alumni Scholarship

Community Service Leadership Award

Full Tuition 21st Century Discovery Award

University of Indianapolis Freedom Award

Legacy Award

Full Tuition Ivy Tech Community College 21st Century Achievement

Transfer Academic Award

Phi Theta Kappa Academic Honors

Ivy Tech Community College Graduate
What Others are Saying
"UIndy means home for me. UIndy has been a place for me to reach my potential and accept challenges with no doubt that my University would have my back, as any home would."
— Iman Tucker, master of business administration, Class of 2018; business/marketing, Class of 2016
Contact University of Indianapolis