2023 Top Colleges in North Carolina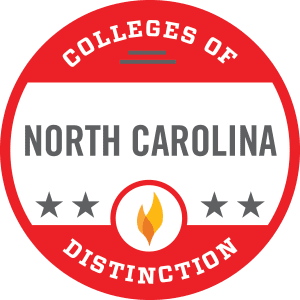 Published: September 1, 2022
By: Colleges of Distinction Staff
Jump to: Appalachian State University | Barton College | Belmont Abbey College | Catawba College | Davidson College | Elon University | Gardner-Webb University | High Point University | Lees-McRae College | Meredith College | North Carolina A&T State University | University of Mount Olive | University of North Carolina at Asheville | University of North Carolina at Chapel Hill | University of North Carolina at Wilmington | Wake Forest University | William Peace University | Frequently Asked Questions
Colleges of Distinction has hand-picked a selection of top schools that are well equipped to provide a personalized education catered to students' interests. Through a rigorous vetting and interview process for the 2022-2023 academic year, we have refreshed and reaffirmed that these institutions strive for excellence in line with the four overarching distinctions—Student Engagement, Teaching, Community, and Outcomes.
These schools vary in size, cost, location, academic offerings, and more, but they are all distinguished by their commitment to the undergraduate experience. The diversity of the college list is intentional, giving students and parents a variety of public and private universities to consider. No matter what, they all exhibit the foundational qualities of a fulfilling undergraduate education.
---
Raleigh, NC ‧ Private ‧ 4-year
William Peace University, located in the vibrant city of Raleigh, North Carolina, ensures that learning is hands-on, adaptive, and nimble—with career preparation built in from start to finish. Students learn in a supportive, close-knit community from dedicated faculty who challenge and mentor them. And with an experiential curriculum that meets them where they are, WPU Pacers are aptly prepared for inspiring careers in the organizations of today and tomorrow.
IMMERSIVE LEARNING
​​Immersive Learning is a pillar of the WPU Strategic Plan, Believe in Peace. Through the Center for Immersive Learning, located in the library, students can meet in small meeting spaces designed to support collaborative projects, small group work, and enhanced use of technology in support of teaching and learning activities. The Center provides students with the ability to collaborate with corporate and community partners focusing on transformational educational opportunities.
CULMINATING CAPSTONE
As part of the "Ethical Reasoning" learning outcome in the Lib Ed core, all students complete PHL 400: Senior Interdisciplinary Ethics Seminar. This course serves as a general education capstone that supports WPU's mission to provide students with skills for ethical citizenship.
In addition to the general education capstone, most majors also test students' breadth of knowledge with a culminating capstone related to their field of study. This is a great opportunity to synthesize all that they have learned throughout their college career, reflect on their growth, and dive deeply into a project of interest. Just a few examples of senior capstone courses include a Global Studies Senior Seminar, Senior Capstone in Criminal Justice, Evolutionary Biology, Business Policy, and Communication Agency.
Acceptance rate 61% • Net price $25,841 • SAT Range 945-1135 • Students submitting SAT scores 50%
Total Undergrad Population 830 • Setting City: Large • Private 4-year
Graduation rate (6 year) 38% • Retention rate 74% • Student-to-faculty ratio 12:1
Best North Carolina Colleges by Award
2023 Best Business Schools in North Carolina
Best Colleges by State
California | Texas | Florida | New York | Pennsylvania | Illinois | Georgia | Ohio | Alabama | Colorado | Connecticut | Massachusetts | Indiana | Iowa | Kansas | Kentucky | Louisiana | Maryland | Michigan | Minnesota | Missouri | New Jersey | Oklahoma |Oregon | Tennessee | Virginia | Washington | Wisconsin