2023 Best Colleges in Kansas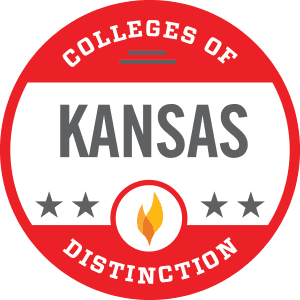 Published: September 1, 2022
By: Colleges of Distinction Staff
Jump to: Baker University | Emporia State University | Friends University | Newman University | Ottawa University | University of Kansas | Frequently Asked Questions
Colleges of Distinction has hand-picked a selection of top schools that are well equipped to provide a personalized education catered to students' interests. Through a rigorous vetting and interview process for the 2022-2023 academic year, we have refreshed and reaffirmed that these institutions strive for excellence in line with the four overarching distinctions—Student Engagement, Teaching, Community, and Outcomes.
These schools vary in size, cost, location, academic offerings, and more, but they are all distinguished by their commitment to the undergraduate experience. The diversity of the college list is intentional, giving students and parents a variety of public and private universities to consider. No matter what, they all exhibit the foundational qualities of a fulfilling undergraduate education.
---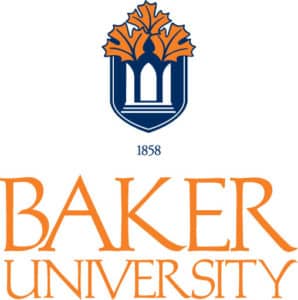 Baldwin City, KS ‧ Private ‧ 4-year
Baker University's academic reputation is built on its liberal arts tradition. Its professors challenge students while giving them the tools to rise to new heights. Baker offers more than 40 areas of study and encourages students to explore unique educational experiences through internships, study abroad, and research.
With more than 75 student activities and organizations from which to choose, students have no trouble finding their niche. At Baker, every person matters and everyone is connected. Students either learn together, play together, or live together—in many cases, it's all three.
HONING COMMUNICATION SKILLS
"In a world today that is moving faster than ever before, the ability to communicate effectively has never been in higher demand. At Baker, we want to graduate students who can clearly articulate the ideas they fostered during their years here," says the assistant professor of communication who developed the Speech Center to fill this need. "Whether students are giving their first individual presentation on campus or are interviewing for internships or job opportunities, we want to be there every step of the way so they can competently articulate their ideas."
Acceptance rate 93%      •      Net price $23,243      •      SAT Range 950-1130      •      Students submitting SAT scores 5%
Total Undergrad Population 1,335      •      Setting Town      •      Private 4-year
Graduation rate (6 year) 62%      •      Retention rate 79%      •      Student-to-faculty ratio 10:1
---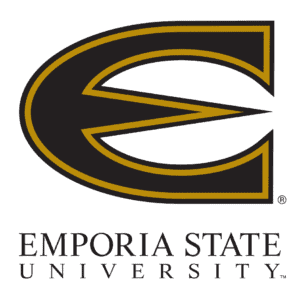 Emporia, KS ‧ Public ‧ 4-year
Focused on the mission of "preparing students for lifelong learning, rewarding careers, and adaptive leadership," Emporia State provides high-impact, real-world learning opportunities, internships, and research projects for students with faculty mentors. This approach provides graduates with a competitive advantage as a result of the experience gained and tangible outputs to include on résumés and in portfolios.
PHILANTHROPIC SPIRIT
ESU students are serious about giving back to the Emporia community. They donated more than 17,000 service hours in the recent academic year. Service projects range from packing food bags for schoolchildren in food-insecure homes to painting a mural at a local law enforcement agency.
INTERNSHIPS
70 percent of ESU students participate in internships from Emporia Main Street to the Mayo Clinic, Smithsonian Institution and Broadway. ESU encourages students to take part in internships to gain valuable insights and experience in preparation for their future careers. Many times, internships lead to jobs upon graduation. Emporia State ensures students have access to a wide variety of internship opportunities.
Acceptance rate 86%      •      Net price $14,437
Total Undergrad Population 3,181      •      Setting Town      •      Public 4-year
Graduation rate (6 year) 46%      •      Retention rate 78%      •      Student-to-faculty ratio 17:1
---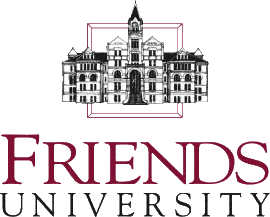 Wichita, KS ‧ Christian ‧ 4-year
Friends University, a Christian university of Quaker heritage, equips students to honor God and serve others by integrating their intellectual, spiritual, and professional lives.
Friends is located in Wichita, the largest city in Kansas. It is a small, close-knit college community with the access and proximity for great internship and networking opportunities. Fine Arts students have access to the Wichita Symphony, Wichita Music Theater, and the Wichita Grand Opera, among other great cultural opportunities.
INTERNSHIPS
Students have many opportunities to obtain real-life work experience through internships at local, regional, national. and global levels that can lead to full-time jobs after graduation. Wichita and the surrounding metro area provide plenty of internship opportunities with local businesses, nonprofits, school districts, churches, and more.
Acceptance rate 58%      •      Net price $21,609      •      SAT Range 960-1140      •      Students submitting SAT scores 9%
Total Undergrad Population 1,089      •      Setting City: Large      •      Private 4-year
Graduation rate (6 year) 42%      •      Retention rate 67%      •      Student-to-faculty ratio 12:1
---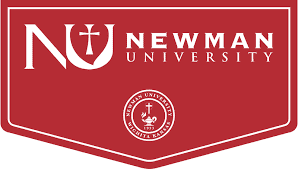 Wichita, KS ‧ Catholic ‧ 4-year
Newman strives to embody the core values of its namesake St. John Newman by educating the whole person academically, spiritually, and socially. The University's rigorous undergraduate programs are rooted in a strong liberal arts foundation, challenging students to achieve their personal and professional goals by thinking big in a small college atmosphere.
At Newman University, students are prepared for more than their first job. They are equipped with the skills and experience to navigate an ever-changing job market. The Career Service Center at Newman has a team of dedicated advisors who are trained in all areas of career planning and guidance, offering a variety of services and resources to help them identify a career plan, secure an internship, and work toward a successful post-graduation transition. 
FIRST-YEAR EXPERIENCE
As soon as new students step onto Newman's campus, they are supported by a vast network of faculty, staff, and advisors. Designed to address the academic, social, and personal obstacles new students face, Newman's FYE partners with various campus departments, making resources easily available through a comprehensive student experience.
Acceptance rate 83%      •      Net price $18,545      •      Students submitting SAT scores 12%
Total Undergrad Population 1,577      •      Setting City: Large      •      Private 4-year
Graduation rate (6 year) 47%      •      Retention rate 72%      •      Student-to-faculty ratio 12:1
---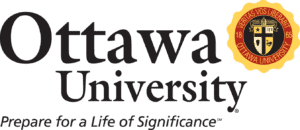 Ottawa, KS ‧ Christian ‧ 4-year
The University's vision grew directly from its mission: to provide the highest-quality liberal arts and professional education in a caring, Christ-centered community of grace, which integrates faith, learning and life skills. Imbued by the spirit of the Ottawa Indian Tribe, and in tandem with Baptist missionaries, Ottawa University is blessed by a rich heritage and an unquenchable commitment to educate increasing numbers of students for lifetimes of significance. This quintessence, from which OU was born, permeates the University and its graduates to this day.
The picturesque, 65-acre campus consists of several original limestone buildings – three of which are on the National Register of Historic Places – and is anchored by the newly built, state-of-the-art Gibson Student Center adjacent to Braves Field. OU boasts 29 men's and women's athletic teams—the Ottawa Braves—competing in the National Association of Intercollegiate Athletics (NAIA).
Ottawa University is student-centered, value-priced, and technology-enabled. From its founding in 1865 in Ottawa, Kan., Ottawa University has grown to an institution that serves more than 4,000 students through its residential campuses in Ottawa, Kan., and Surprise, Ariz. (OUAZ); burgeoning online programs; and adult and professional studies campuses in the Phoenix, Milwaukee, and Kansas City areas.
Acceptance rate 70%      •      Net price $27,504      •      SAT Range 750-990      •      Students submitting SAT scores 15%
Total Undergrad Population 720      •      Setting Town      •      Private 4-year
Graduation rate (6 year) 37%      •      Retention rate 60%      •      Student-to-faculty ratio 10:1
---

Lawrence, KS ‧ Public ‧ 4-year
The University of Kansas (KU) is a leading public research university located in Lawrence, Kansas. KU offers a wide range of undergraduate, graduate, and doctoral programs across fields such as business, engineering, humanities, social sciences, and more. KU's faculty members are highly respected experts in their fields, and their research programs are at the forefront of innovation and discovery.
With a diverse community of more than 28,000 students from all over the world, KU provides a welcoming and inclusive environment that supports academic and personal growth. Students have the opportunity to participate in experiential learning through internships, service, leadership programs, research, and study abroad experiences. Join a vibrant community of learners and discover why the University of Kansas is a highly respected institution of higher learning.
Acceptance rate 91%       •       Net price $20,054       •       SAT Range 1070-1320       •       Students submitting SAT scores 21%
Total Undergrad Population 19,135       •       Setting City: Small       •       Public 4-year
Graduation rate (6 year) 63%       •       Retention rate 86%       •       Student-to-faculty ratio 17:1
---
What it's like to attend schools in Kansas and other FAQ:
What are average tuition costs in Kansas?
The average undergraduate tuition & fees for colleges in Kansas is $5,465 for in-state students at public institutions, $15,290 for out-of-state students at public institutions, and $20,686 for students at private institutions.
Cheapest degree program in Kansas
Emporia State University has an average net price of $14,437, making it the least expensive institution in Kansas that made our list.
Easiest degree program to get into in Kansas
Baker University has an acceptance rate of 93%, with an SAT range of 950-1130, making it the least exclusive college in Kansas on our list.
Degree program with lowest student debt in Kansas
Emporia State University has a median total debt after graduation of $19,500. This is the typical debt for a student who completed their undergraduate degree.
Best Kansas Colleges by Award
2023 Best Business Schools in Kansas
Best Colleges by State
California | Texas | Florida | New York | Pennsylvania | Illinois | Georgia | Ohio | Alabama | Colorado | Connecticut | Massachusetts | Indiana | Iowa | Kentucky | Louisiana | Maryland | Michigan | Minnesota | Missouri | New Jersey | North Carolina | Oklahoma |Oregon | Tennessee | Virginia | Washington | Wisconsin