Emporia State University
Emporia, Kansas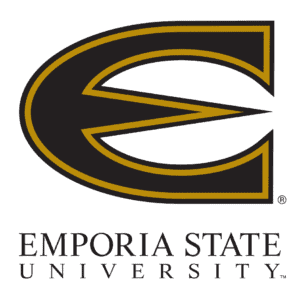 Founded in 1863, Emporia State University has a long tradition of excellence. ESU is home to 5,900 students and more than 250 faculty members.
SHOW MORE
Emporia State offers over 200 academic programs—many are nationally recognized—across liberal arts and sciences, business, education and library and information management. Focused on the mission of "preparing students for lifelong learning, rewarding careers, and adaptive leadership," Emporia State provides high-impact, real-world learning opportunities, internships, and research projects for students with faculty mentors. This approach provides graduates with a competitive advantage as a result of the experience gained and tangible outputs to include on résumés and in portfolios.
ESU offers a tremendous student life experience with more than 100 recognized student organizations including fraternity and sorority life, Associated Student Government and 15 NCAA Division II athletics teams. The welcoming city of Emporia offers block parties, parades, dining, nightlife, and shopping.
Get to know Emporia State University
2,859
Degree-Seeking Undergraduates
Full-time to Part-time Ratio
-
0%
1%
2%
3%
4%
5%
6%
7%
8%
9%
10%
11%
12%
13%
14%
15%
16%
17%
18%
19%
20%
21%
22%
23%
24%
25%
26%
27%
28%
29%
30%
31%
32%
33%
34%
35%
36%
37%
38%
39%
40%
41%
42%
43%
44%
45%
46%
47%
48%
49%
50%
51%
52%
53%
54%
55%
56%
57%
58%
59%
60%
61%
62%
63%
64%
65%
66%
67%
68%
69%
70%
71%
72%
73%
74%
75%
76%
77%
78%
79%
80%
81%
82%
83%
84%
85%
86%
87%
88%
89%
90%
91%
92%
93%
94%
95%
96%
97%
98%
99%
100%
Retention rate
17:1
Student/teacher ratio
$5,278
In-state tuition cost
$13,195
Out-of-state tuition cost
Rolling
Application deadline
-
0%
1%
2%
3%
4%
5%
6%
7%
8%
9%
10%
11%
12%
13%
14%
15%
16%
17%
18%
19%
20%
21%
22%
23%
24%
25%
26%
27%
28%
29%
30%
31%
32%
33%
34%
35%
36%
37%
38%
39%
40%
41%
42%
43%
44%
45%
46%
47%
48%
49%
50%
51%
52%
53%
54%
55%
56%
57%
58%
59%
60%
61%
62%
63%
64%
65%
66%
67%
68%
69%
70%
71%
72%
73%
74%
75%
76%
77%
78%
79%
80%
81%
82%
83%
84%
85%
86%
87%
88%
89%
90%
91%
92%
93%
94%
95%
96%
97%
98%
99%
100%
Acceptance rate
-
0%
1%
2%
3%
4%
5%
6%
7%
8%
9%
10%
11%
12%
13%
14%
15%
16%
17%
18%
19%
20%
21%
22%
23%
24%
25%
26%
27%
28%
29%
30%
31%
32%
33%
34%
35%
36%
37%
38%
39%
40%
41%
42%
43%
44%
45%
46%
47%
48%
49%
50%
51%
52%
53%
54%
55%
56%
57%
58%
59%
60%
61%
62%
63%
64%
65%
66%
67%
68%
69%
70%
71%
72%
73%
74%
75%
76%
77%
78%
79%
80%
81%
82%
83%
84%
85%
86%
87%
88%
89%
90%
91%
92%
93%
94%
95%
96%
97%
98%
99%
100%
Out-of-state students
-
0%
1%
2%
3%
4%
5%
6%
7%
8%
9%
10%
11%
12%
13%
14%
15%
16%
17%
18%
19%
20%
21%
22%
23%
24%
25%
26%
27%
28%
29%
30%
31%
32%
33%
34%
35%
36%
37%
38%
39%
40%
41%
42%
43%
44%
45%
46%
47%
48%
49%
50%
51%
52%
53%
54%
55%
56%
57%
58%
59%
60%
61%
62%
63%
64%
65%
66%
67%
68%
69%
70%
71%
72%
73%
74%
75%
76%
77%
78%
79%
80%
81%
82%
83%
84%
85%
86%
87%
88%
89%
90%
91%
92%
93%
94%
95%
96%
97%
98%
99%
100%
Full-time faculty w/ terminal degree
College Highlights
Engaged Students
Great Teaching
Vibrant Community
Successful Outcomes
Admissions and Aid
Engaged Students
HIGH-IMPACT LEARNING
Emporia State takes student learning a giant leap further with high-impact learning experiences. Every student participates in activities that provide tangible outputs for their future resume and career. Students find numerous opportunities to learn outside the Emporia State campus. A few examples include a trip in Wyoming throughout winter break to tag mule deer for research, a summer month working in an orphanage in Uganda, student teaching in places like Paraguay and Indonesia, and winter break studying marine biology in the Bahamas. No matter the program, there's a high-impact, immersive experience for every student that will set them apart upon graduation.
UNDERGRADUATE RESEARCH
At Emporia State, students don't have to wait to perform research alongside a professor — they can start the moment they set foot on campus. One example of the research opportunities available as Emporia is the ESU Summer Undergraduate Research Program. This program supports research projects in all disciplines that pair students with faculty mentors. In 2018, 20 projects were funded in English, nursing, social sciences, biological sciences, physical sciences, business, music, mathematics and elementary education. The program, which includes grants up to $7,000, is supported by the Kansas IDeA Network of Biomedical Research Excellence, the ESU Honors College, ESU Research and Grants Center, Office of the Provost, College of Liberal Arts & Sciences, School of Business and The Teachers College.
HONORS COLLEGE
Emporia State's Honors College provides unique, leadership-focused learning opportunities for students that will enrich and change their lives. Honors College students engage in civic leadership training and community engagement. In addition, the Honors College offers students learning cohorts, enhanced curriculum and living and learning spaces. Scholarships also are available to Honors College students.
STUDY ABROAD
Students at Emporia State have many options to study abroad and can choose from over 60 countries in which to study for a semester, year, or in shorter sponsored trips with faculty. Study abroad programs include student teaching opportunities in Paraguay, field study in England, applied sociology and service learning in Uganda, a Japanese Language immerse course and more!
RESEARCH & CREATIVITY DAY
Emporia State understands the hard work students put into their research, which is why each year both undergraduate and graduate students have the opportunity to showcase their research during Research & Creativity Day. Students present research orally, through poster presentations, or through 3-minute thesis presentations. Winning research presentations receive cash prizes.
DEVELOPING TOMORROW'S LEADERS TODAY
Emporia State works closely with the Kansas Leadership Center to incorporate leadership practices into the curricula campuswide. The School of Business takes the mission one step further through the Koch Center for Leadership and Ethics, which has a mission of "engaging students, faculty and others in an open and ongoing discussion about ethical leadership in the life of an individual, in business and other organizations and in communities." Emporia State's Honors College also provides civic leadership training to students.
STUDENT TUTORING SERVICES
ACES, ESU's Academic Center for Excellence and Success, provides tutoring in several academic areas, assistance with writing and research and both individual and group workshops to enhance students' academic success. All services at ACES are free to ESU students and are located in ESU's William Allen White Library.
E-TEAM
Many students at Emporia State are highly engaged through the E-Team program. E-Team members are mentors, facilitators and leaders for How2ESU, an orientation program held for new students.
STUDENT AMBASSADORS
Emporia State has a dedicated group of Student Ambassadors who direct campus tours, organize Senior Week and promote and support ESU's Alumni Association and Foundation. These Ambassadors love to represent ESU on campus, in the community and nationally at a variety of events.
CENTER FOR STUDENT INVOLVEMENT
ESU has over 100 recognized student organizations, and the Center for Student involvement is the starting point for all activities and organizations, fraternity and sorority life and the Associated Student Government.
CLASS SIZE
The number of sections of each class size.
2-9: 179 | 10-19: 187 | 20-29: 113
30-39: 52 | 40-49: 24 | 50-99: 14 | 100+: 0
ENROLLMENT BY ETHNICITY
Non-U.S. Citizen: 3%
Hispanic/Latinx: 8%
Black or African American, non-Hispanic: 4%
White, non-Hispanic: 69%
Native/Indigenous American or Alaska Native, non-Hispanic: 0%
Asian, non-Hispanic: 1%
Native Hawaiian or other Pacific Islander, non-Hispanic: 0%
Two or more races, non-Hispanic: 12%
Race and/or ethnicity unknown: 3%
Great Teaching
At Emporia State, professors deeply care about student success, taking the time to ensure that each student has the tools needed to be successful in their respective programs. Professors are highly accessible to students. In addition, students can participate in undergraduate research right alongside their professors.
E-EXPERIENCE
ESU offers a peer-led summer experience for incoming freshmen, giving them an early introduction to college life. During the two-day, one-night experience, students live in the residence halls, explore the campus and the Emporia community and develop relationships with other new students as well as current students serving as E-Team leaders.
FIRST-YEAR SEMINAR AND MENTORING PROGRAM
Emporia State knows the first year at college is critical. Emporia State helps orient students through two first-year programs: First-Year Seminar and First-Year Mentoring Program.
First-Year Seminar is a one-credit, eight-week course designed to help students learn to succeed in college. Some seminars are offered in specific majors; others combine students from across campus in sections.
First-Year Mentoring provides personalized guidance during the first year through one-on-one peer mentoring with a member of E-Team.
HONORS COLLEGE FIRST-YEAR SEMINAR
ESU's Honors College First-Year Seminar is open to any student but required for Honors College students. The course enriches students' first-year experience and sets them up for success in the honors program. The course integrates adaptive leadership principles that give students the skills to mobilize others to take on challenges in relationships, communities, the nation, and the world.
SPECIAL STUDY OPTIONS
Programs available at this institution.
Distance learning
Double major
Dual enrollment
Exchange student program (domestic)
Honors Program
Independent study
Internships
Liberal arts/career combination
Student-designed major
Study abroad
Teacher certification program

Vibrant Community
RESIDENTIAL LIFE
Freshman live on campus in newly renovated residence halls at Emporia State University. Living on campus has a number of educational benefits provided by living and learning communities. Students also have easy access to all of the benefits provided on campus including classes and resources. Additionally, students are able to forge new relationships that come with living with other first-year students, helping create a community and support a successful first year at college.
Emporia State is opening a brand new residence hall in Fall 2019.
LEARNING COMMUNITIES IN RESIDENCE HALLS
Emporia State has multiple residential learning communities in the residence halls. The learning communities are focused on students' specific interests and passions. One of many is the residential learning area for the Honors College, which has its own floor in which other students in the Honors College live and share common learning spaces.
ART FORUM
During the fall and spring semesters, the Department of Art hosts a visiting artist every two weeks. Artists showcase their work, work with students and share their career paths and experiences. One example of these visits is the annual weeklong Glass Blowout (ESU offers the only bachelor's in Glass Blowing in the state of Kansas) in which the visiting artist shows students different techniques throughout the week. The week culminates in a public event, which includes hot glass demonstrations, live music, and a glass auction.
LECTURE SERIES
The Bonner and Bonner Diversity Lecture: Civic Leadership for the Common Good was created to honor Drs. Thomas and Mary Bonner, ESU's first and second African-American faculty members. The Bonner lecture series focuses on diversity, tolerance and understanding on the ESU campus. ESU's Honors College organizes the lecture series as part of its civic leadership for the university's Common Good initiative.
The Sam E. and Jeannene Hayes Lecture Series, established by Dr. Sam Hayes and his wife, Jeannene, highlights alumni success by featuring a distinguished alumnus with a strong set of leadership qualities, skills, and accomplishments.
Both the Bonner and Hayes lectures are open to the university and the public.
MAIN STREET FESTIVALS
ESU has a strong partnership with Emporia Main Street. Each August, Emporia Main Street organizes the Welcome Back Students Block Party featuring games, prizes, food and activities for students and the community. Other festivals occur during the year, including a Cinco De Mayo celebration of Hispanic heritage; the Glass Blown Open, the largest disc golf tournament in the world; and the Dirty Kanza 200, a 200-mile bike gravel race through the Flint Hills of Kansas. Each of these events ends in a block party, held only steps from ESU.
SCHOOL LOCATION
Located in the heart of the United States, the city of Emporia boasts a vibrant main street just steps away from Emporia State University offering restaurants, shopping, and nightlife. Emporia is the front door to the Flint Hills, which provide a number of outdoor activities like cycling, hiking, hunting, and fishing. Host to the world's largest disc golf tournament, residents enjoy five of the best professional 18-hole disc golf courses in the country. The campus is also in close proximity to major metropolitan areas of Wichita, Topeka and Kansas City.
ATHLETICS
Emporia State University student-athletes compete in 15 men's and women's sports at the Division II level in the MIAA or Mid-America Intercollegiate Athletics Association.
Mascot: Corky the Hornet
Colors: Black and Gold

RESIDENCE LIFE
Percent of students living on campus.
First-time, first-year (freshman) students: 67%
Undergraduates: 19%
Campus housing options.
Coed dorms
Special housing for disabled students
Special housing for international students
Fraternity/sorority housing
Cooperative housing
Theme housing
Wellness housing
Successful Outcomes
Emporia State University operates under the vision of changing lives for the common good by preparing students for lifelong learning, rewarding careers and adaptive leadership. To ensure that ESU students receive a well-rounded education and valuable experience that prepares them for lifelong success, ESU is committed to:
Developing and pursuing distinctive initiatives in curricula and programs that foster vibrant communities.
Enriching the student experience with opportunities for leadership development and practice.
Creating a culture of adaptive change as the foundation for innovation and growth.
Becoming a model for diversity, equity, and inclusion.
PHILANTHROPIC SPIRIT
ESU students are serious about giving back to the Emporia community. They donated more than 17,000 service hours in the recent academic year. Service projects range from packing food bags for schoolchildren in food-insecure homes to painting a mural at a local law enforcement agency.
INTERNSHIPS
70 percent of ESU students participate in internships from Emporia Main Street to the Mayo Clinic, Smithsonian Institution and Broadway. ESU encourages students to take part in internships to gain valuable insights and experience in preparation for their future careers. Many times, internships lead to jobs upon graduation. Emporia State ensures students have access to a wide variety of internship opportunities.
STUDENT–PROFESSOR RESEARCH PROJECTS
From day one at Emporia State, students have the opportunity to work alongside professors to conduct research.
Every other year, students also dip their toes in the water of the Bahamas while conducting research in the Tropical Field Ecology Course. Students conduct research for 10 days at a field station run by the Bahamian government on the San Salvador Islands, all while learning about 200 marine life species, corals, and sea turtles.
During spring break 2017, students experienced the Santa Fe Trail firsthand through a high-impact class called "Footpaths Through Mexico: Immigration Then and Now." The course took students on a six-day road trip from Council Grove, Kansas, to Santa Fe, New Mexico, giving them a look at living history.
CAREER SERVICES
ESU's Career Services department helps students with a variety of aspects of starting a career including internships, employment, applying to graduate or professional school, or deciding on a major.
JOB PLACEMENT
ESU students graduating from the Class of 2017 reported a 98 percent placement rate in either a job or continued education.
Admissions and Aid
Admission
ADMISSIONS FACTORS
Very Important
Class rank | Academic GPA | Standardized test scores
Important
Talent/ability
Considered
Application Essay | Extracurricular activities
TEST SCORES
Optional
FRESHMAN PROFILE
ACT Composite
25th Percentile: 18 | 75th Percentile: 24
ACT Math
25th Percentile: 17 | 75th Percentile: 24
ACT English
25th Percentile: 14 | 75th Percentile: 23
Tuition & Cost
Tuition (in-state): $5,278
Tuition (out-of-state): $13,195
Fees: $1,693
Room: $5,700
Board: $3,852
Aid
SCHOLARSHIP INFORMATION
ESU invests in its students by offering many presidential academic and departmental scholarships to students both in the state of Kansas and non-Kansas residents. No. 1 bestselling author James Patterson funds 16 full-ride scholarships for Emporia State elementary and secondary education majors.
ESU also offers the Sunflower Scholarship, a renewable $5,000 scholarship to out-of-state students who do not qualify for other special rates such as in-state tuition.
Contact Emporia State University