Friends University
Wichita, Kansas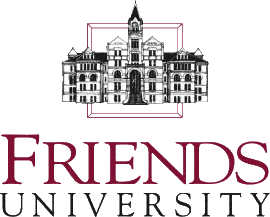 Friends University, a Christian university of Quaker heritage, equips students to honor God and serve others by integrating their intellectual, spiritual, and professional lives.
SHOW MORE
Friends University believes learning happens everywhere throughout life. No matter which of the more than 70 areas of study a student chooses, the classroom is only the beginning. From competing in athletic competitions to performing in fine arts productions, Friends' students engage in a wide variety of campus activities. On average, more than 70 percent of Friends' undergraduate students participate in off-campus service projects both in the U.S. and abroad.
Friends is located in Wichita, the largest city in Kansas. It is a small, close-knit college community with the access and proximity for great internship and networking opportunities. Fine Arts students have access to the Wichita Symphony, Wichita Music Theater, and the Wichita Grand Opera, among other great cultural opportunities.
Friends' 24 athletic teams compete in Division II of the NAIA and are part of the Kansas Collegiate Athletic Conference (KCAC). Sixty percent of Friends University student-athletes maintain a 3.0 GPA or higher. Friends' Falcon Intramurals also host 33 different intramural activities, including Fantasy Football, softball, and everything in between.
Friends University is an independent university of approximately 2,000 traditional and adult undergraduate and graduate students. It is accredited by The Higher Learning Commission and is a member of the North Central Association of Colleges and Schools. The University was founded in 1898 by the Society of Friends (better known as the Quakers). Friends operated as a Quaker institution until the 1930s when its governance changed to an independent board of trustees. The university's culture, however, continues to reflect the vision and values held by its founders.
Get to know Friends University
1,089
Degree-Seeking Undergraduates
Full-time to Part-time Ratio
-
0%
1%
2%
3%
4%
5%
6%
7%
8%
9%
10%
11%
12%
13%
14%
15%
16%
17%
18%
19%
20%
21%
22%
23%
24%
25%
26%
27%
28%
29%
30%
31%
32%
33%
34%
35%
36%
37%
38%
39%
40%
41%
42%
43%
44%
45%
46%
47%
48%
49%
50%
51%
52%
53%
54%
55%
56%
57%
58%
59%
60%
61%
62%
63%
64%
65%
66%
67%
68%
69%
70%
71%
72%
73%
74%
75%
76%
77%
78%
79%
80%
81%
82%
83%
84%
85%
86%
87%
88%
89%
90%
91%
92%
93%
94%
95%
96%
97%
98%
99%
100%
Retention rate
12:1
Student/teacher ratio
$29,670
Full-time tuition cost
Rolling
Application deadline
-
0%
1%
2%
3%
4%
5%
6%
7%
8%
9%
10%
11%
12%
13%
14%
15%
16%
17%
18%
19%
20%
21%
22%
23%
24%
25%
26%
27%
28%
29%
30%
31%
32%
33%
34%
35%
36%
37%
38%
39%
40%
41%
42%
43%
44%
45%
46%
47%
48%
49%
50%
51%
52%
53%
54%
55%
56%
57%
58%
59%
60%
61%
62%
63%
64%
65%
66%
67%
68%
69%
70%
71%
72%
73%
74%
75%
76%
77%
78%
79%
80%
81%
82%
83%
84%
85%
86%
87%
88%
89%
90%
91%
92%
93%
94%
95%
96%
97%
98%
99%
100%
Acceptance rate
-
0%
1%
2%
3%
4%
5%
6%
7%
8%
9%
10%
11%
12%
13%
14%
15%
16%
17%
18%
19%
20%
21%
22%
23%
24%
25%
26%
27%
28%
29%
30%
31%
32%
33%
34%
35%
36%
37%
38%
39%
40%
41%
42%
43%
44%
45%
46%
47%
48%
49%
50%
51%
52%
53%
54%
55%
56%
57%
58%
59%
60%
61%
62%
63%
64%
65%
66%
67%
68%
69%
70%
71%
72%
73%
74%
75%
76%
77%
78%
79%
80%
81%
82%
83%
84%
85%
86%
87%
88%
89%
90%
91%
92%
93%
94%
95%
96%
97%
98%
99%
100%
Out-of-state students
College Highlights
Engaged Students
Great Teaching
Vibrant Communities
Successful Outcomes
Admission & Aid
Engaged Students
STUDENT ENGAGEMENT
As with any institution, student engagement is vital throughout the educational experience—not only in the classroom, but beyond the smartboard as well. Helping students to apply their classroom lectures and lessons to the real world allows them to see the value in continuing their education. Students are encouraged to join Campus Ministries on mission trips in larger urban communities in which they work with and help needy, impoverished, and homeless people.
STUDY ABROAD
Friends students have the chance to take their education on the road with dozens of study abroad opportunities throughout the year. Cultural immersion experiences allow students to dig deep and embrace their sense of adventure. Both undergraduate and graduate opportunities are available and include locations such as Mexico, China, Cuba, Africa, Europe, and South America. These may range from a few days to several weeks with experiences that include setting up computer systems for third-world hospitals, performing jazz music in Cuba, or discussing spirituality in Brazil.
COMMON INTELLECTUAL EXPERIENCE
All students complete a general education program that builds essential skills and prepares them for a diverse and constantly changing work environment. The courses provide a strong foundation for future coursework and develop skills in such areas as critical thinking, analysis, verbal and written communication, and peer collaboration.
COLLABORATIVE ASSIGNMENTS AND PROJECTS
Friends University students have many opportunities to partner with outside organizations on assignments and projects. Computer Science students obtain real-life experience by building databases or other data-based systems for nonprofit organizations or local businesses. Graphic arts students design logos or communication materials for local organizations, and marketing students develop and implement marketing plans that give them hands-on experience working with external clients.
RESEARCH AND SPECIAL STUDY OPPORTUNITIES
Students have opportunities to pursue research work and take short-term learning trips with faculty members in various departments. Sociology students have worked with faculty to conduct research for Big Brothers and Big Sisters. Psychology students regularly present research they have conducted at several conferences throughout the academic year. Students from a Marine Ecology class have traveled to the Gulf of Mexico to study beach organisms, and General Ecology class students have traveled to the Missouri Ozarks to learn about caves and cave animals.
"While at Friends University, I participated in a major research project, where I synthesized chloroquine, the drug most commonly used to treat malaria. I also have great memories of winning the homecoming float contest and performing with the drama club." – Eric Whetmore, biology graduate
HONOR SOCIETIES
Top students are honored with membership into several academic honor societies. Such organizations include:
The Alpha Chi Honor Society:

Promotes academic excellence and exemplary character in the arts, sciences, and education

Alpha Sigma Lambda:

Recognizes special achievement for nontraditional adult learners

Delta Kappa:

Mentors individuals in leadership positions in the marriage and family therapy professions

Mu Phi Epsilon:

Music Fraternity

Psi Chi:

National Honor Society in Psychology

Sigma Delta Pi:

National Collegiate Spanish Honor Society

Sigma Tau Delta: International English Honor Society
ENROLLMENT BY ETHNICITY
Non-U.S. Citizen: 0%
Hispanic/Latinx: 16%
Black or African American, non-Hispanic: 14%
White, non-Hispanic: 56%
Native/Indigenous American or Alaska Native, non-Hispanic: 3%
Asian, non-Hispanic: 3%
Native Hawaiian or other Pacific Islander, non-Hispanic: 1%
Two or more races, non-Hispanic: 0%
Race and/or ethnicity unknown: 8%
Great Teaching
"Professor Pendleton's sheer passion for her career shone through each and every day. Her passion combined with a wealth of intellectual knowledge in the field of accounting led me to undertake a second degree in the subject. I speak with people across the city each week who continuously sing her praises." – Daniel Littler, finance graduate
EXPERIENCED FACULTY
Friends University attracts top minds to its faculty. Not only are they academic intellectuals who have spent lifetimes studying and researching, but also leaders of their industries with years of practical experience. Students learn through traditional classroom lectures, group projects, thoughtful discussion, one-to-one tutoring, in-depth research, and opportunities beyond the brick and mortar of the institution.
Nichole Pendleton, assistant professor in accounting, has often been a subject of student praise. One student who nominated Pendleton for a teaching award noted that "Friends professors treat students better than any other school I've attended, and they focus on creating real relationships with students. Pendleton is a perfect example of this kind of professor."
Bassam Jaradat, adjunct professor in business, is not only a teacher at Friends University, but an alumnus as well. "His class wasn't just about the book. It was about life experience and making learning meaningful," said one student who commented about Jaradat.
UNIQUE PROGRAMS
Not only does Friends University offer traditional liberal arts fields of study, but it also has several unique academic niches. The University's Zoo Science degree program is one of the only of its kind in the country. Students in this program benefit from a 20-plus-year relationship with the Sedgwick County Zoo that allows them to obtain practical experience working with zoo animals and personnel. On the other end of the liberal-arts spectrum, Friends University's dance program is among the top in the region. Additionally, dancers from New York, Chicago, and Dallas have graced the stage in Sebits Auditorium with their extraordinary talents and expertise.
FRIENDS EXPERIENCE
The "Friends Experience" seminar course helps first-year and new transfer students learn how to be successful in their new lives on campus, both socially and academically. It connects students with campus resources and provides them with information on topics such as academic success skills, four-year graduation plans, managing financial matters, and developing positive relationships.
SPECIAL STUDY OPTIONS
Programs available at this institution.
Cross-registration
Distance learning
Double major
Dual enrollment
Honors Program
Independent study
Internships
Study abroad
Teacher certification program
Vibrant Communities
A BEAUTIFUL CAMPUS
Walking onto the Friends University campus in Wichita, students notice lush gardens, scents of flowers and freshly cut grass, beautiful and well-maintained buildings, and plenty of woodland creatures that skitter throughout centuries-old trees.
But Friends University is so much more than just a pretty face. It's a place where tradition flourishes even more persistently than the blooms that decorate Rose Window Plaza. Homecoming, the spring Cherry Carnival, and the Christmas clock-tower lighting are just a few of the age-old traditions that keep the Friends University community thriving and connected throughout the years.
SERVICE OPPORTUNITIES
As an institution founded on Quaker values, Friends University prides itself on its service opportunities—engaging students, faculty, staff, and alumni in projects that benefit not only the Wichita community, but other communities as well. Each December, the University closes its doors for an entire day for Salvation Army Service Day. The University community helps the Salvation Army prepare Christmas gifts for thousands of needy families throughout the Wichita area. Students have volunteered their time to serve children with life-threatening illnesses at theme parks in Orlando, FL, through the Give Kids the World program. Others frequently work with college-aged adults with disabilities through the Friendship Fields program. Other service opportunities include participating in the Race for Freedom 5K for ICT S.O.S., Bread of Life Thanksgiving distribution, Sole Hope service project, Go Zone Latch Key Lunch, and many more. Regular mission trips that are sponsored by Campus Ministries have allowed students to volunteer at a variety of nonprofit agencies in Kansas City and other larger urban cities as well.
CLUBS AND ORGANIZATIONS
Friends students connect with each other through an array of organizations, clubs, and honor societies. Dozens of groups cover a variety of interests, whether that be through Acts of Faith, University Band, or the Arabesque Society for performance artists; the Art and Design Society; the English Club, or the Drama Club; or, for the athletically minded, varsity and intramural sports. Additionally, several academic honor societies honor students' academic achievements.
SCHOOL LOCATION
Friends University is located in Kansas' largest city, Wichita. Wichita has been named an All-American City four times as well as among the Top 10 Best Places to Live by Money magazine.
ATHLETICS
National Association of Intercollegiate Athletics (NAIA); Kansas Collegiate Athletics Conference (KCAC)
23 Varsity sports teams
Men: Football, soccer, cross country, basketball, baseball, indoor track and field, outdoor track and field, tennis, powerlifting, golf, wrestling
Women: Volleyball, soccer, cross country, basketball, softball, indoor track and field, outdoor track and field, tennis, golf, powerlifting, wrestling
Coed: Competitive cheer
Mascot: Freddy Falcon
Colors: Crimson and gray
RESIDENCE LIFE
Percent of students living on campus.
First-time, first-year (freshman) students: 64%
Undergraduates: 25%
Campus housing options.
Coed dorms
Apartments for married students
Apartments for single students

Successful Outcomes
"It's safe to say were it not for Friends University, and most importantly the people at Friends University, I would certainly not be a physician here in Wichita." – Chris Cassidy, 2004 graduate and emergency physician at Wesley Medical Center
THE WHOLE PICTURE
With a rich history of being one of the region's top liberal-arts institutions, Friends University doesn't just teach students facts, figures, and statistics. Their top-notch faculty teach students how to think and learn through a rigorous curriculum that produces well-rounded, thoughtful graduates who are capable of not only seeing the big picture, but also the smaller parts that make up the whole.
Many graduates leave the walls of Friends University knowing that they have a greater chance of success. More than 90 percent of Friends University Health Sciences students go on to study at their graduate school of choice. In the last seven years, 85 percent of Computer Science and Information Systems and Management Information Systems graduates maintained employment in their field. The University has the highest number of alumni and adult students named to the Wichita Business Journal's "40 Under 40," as opposed to other Kansas private institutions. This program recognizes young professionals who have excelled in their career and contributed to their community.
INTERNSHIPS
Students have many opportunities to obtain real-life work experience through internships at local, regional, national. and global levels that can lead to full-time jobs after graduation. Wichita and the surrounding metro area provide plenty of internship opportunities with local businesses, nonprofits, school districts, churches, and more. Some recent graduates have found full-time jobs with the following companies after completing an internship at the company or elsewhere: Koch, Wichita Community Foundation, NetApp, Wichita Downtown Development Corporation, USD 259, and many more.
CAPSTONE COURSES AND PROJECTS
Many majors offer a final capstone course or project that requires students to integrate the knowledge and skills they have learned throughout their studies into one complete product. These courses and projects help prepare and advance students further toward employment. Examples include: contributions to a senior art exhibition in the community; computer science work with real-life clients for data-related projects; forensic practice in real cases and mock trials; and student teaching experiences within an actual school district. Nicole Ensminger, a 2014 graduate of the Master of Health Care Leadership degree program, used her capstone project to establish protocols that hospitals could use to identify human trafficking victims. As a result, she was put in charge of this new program at Via Christi Health. Her protocols are being implemented in other hospitals across the nation as well.
SUCCESSFUL ALUMNI
Students are in good company with former Friends University alumni, some of whom include: Vernon Smith, a 2002 recipient of the Nobel Prize in Economics; Kansas state senator Carolyn McGinn; Ken Canfield, founder of the National Center for Fathering; opera singer Beverly Hoch; R.C. Buford, general manager of the San Antonio Spurs; and Rich Mullins, Christian music singer and songwriter.
Admission & Aid
Admission
ADMISSIONS FACTORS
Very Important
Academic GPA | Standardized test scores
FRESHMAN PROFILE
SAT Evidence-Based Reading and Writing
25th Percentile: 500 | 75th Percentile: 560
SAT Math
25th Percentile: 460 | 75th Percentile: 580
ACT Composite
25th Percentile: 18 | 75th Percentile: 24
ACT Math
25th Percentile: 18 | 75th Percentile: 24
ACT English
25th Percentile: 19 | 75th Percentile: 26
Tuition & Cost
Tuition: $29,670
Fees: $450
Room: $3,914
Board: $4,436
Aid
A Friends University education is more affordable than may be assumed, with 100 percent of students receiving financial aid or scholarships. Friends offers robust institutional scholarships to students, including awards for academic performance, athletics, fine arts, leadership, church matches, and many others. More information about scholarships and a financial aid calculator for freshman and transfer students can be found here.
What Others are Saying
"The positive Christian environment and role models at Friends University make for a great education experience and exhibit a family and caring atmosphere that have helped me throughout my career."
— Ardith Rooney Dunn, health and physical education and math graduate
Contact Friends University