2023 Best Colleges in Indiana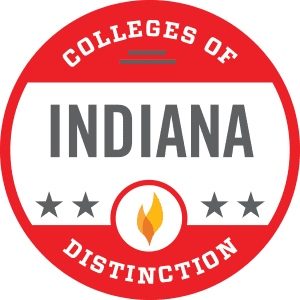 Published: September 1, 2022
By: Colleges of Distinction Staff
Jump to: Anderson University | Ball State University | Butler University | DePauw University | University of Evansville | University of Indianapolis | Frequently Asked Questions
Colleges of Distinction has hand-picked a selection of top schools that are well equipped to provide a personalized education catered to students' interests. Through a rigorous vetting and interview process for the 2022-2023 academic year, we have refreshed and reaffirmed that these institutions strive for excellence in line with the four overarching distinctions—Student Engagement, Teaching, Community, and Outcomes.
These schools vary in size, cost, location, academic offerings, and more, but they are all distinguished by their commitment to the undergraduate experience. The diversity of the college list is intentional, giving students and parents a variety of public and private universities to consider. No matter what, they all exhibit the foundational qualities of a fulfilling undergraduate education.
---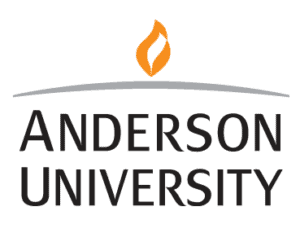 Anderson, IN ‧ Christian ‧ 4-year
Anderson University is a private liberal arts institution in Anderson, Indiana, founded in 1917 by the Church of God. AU seeks to educate students for lives of faith and service in the church and society. It offers more than 50 majors with experiential and service-learning experiences. Notably unique majors include engineering, national security studies, and sport marketing.
SCHOOL LOCATION
Anderson University's location presents the best of small-town living as well as big-city opportunities just minutes away in Indianapolis. Indy is the second-largest city in the midwest and the fifteenth-largest city in the United States. Within the city of Anderson, there is a beautiful state park for hammocking or hiking; chain and local restaurants; a frisbee golf course blocks away from campus; trails along the river for walking and biking; and more. Within an hour, students have access to an international airport, major and minor sports arenas, multiple museums and historical sites, and all the internship and networking opportunities in downtown Indy.
Acceptance rate 67%      •      Net price $23,792      •      SAT Range 950-1160      •      Students submitting SAT scores 72%
Total Undergrad Population 1,205      •      Setting City: Small      •      Private 4-year
Graduation rate (6 year) 64%      •      Retention rate 71%      •      Student-to-faculty ratio 8:1
---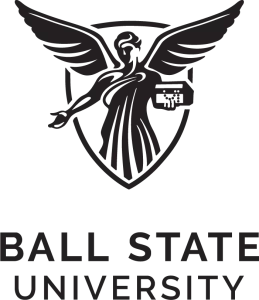 Muncie, IN ‧ Public ‧ 4-year
Ball State is committed to education with an innovative approach. Students are given a wide range of opportunities to explore their passions through immersive and experiential learning methods. Ball State's unique entrepreneurship program, as well as its many impact and service initiatives, make the University an ideal environment in which to learn and grow.
IMMERSIVE LEARNING
Immersive learning is a unique characteristic of Ball State's education, ensuring that every student engages in faculty-led projects and programs that put academic theories to practice. Students are given the chance to apply their knowledge to real-world situations, an approach to education that yields great results. Nearly 1,500 immersive experiences are completed each year.
THE LEARNING CENTER
Students who need extra help with their coursework are welcome to stop by North Quad for free tutoring. Services include free tutoring in such areas as math, writing, and other general courses. Students also have access to online workshops and group exercises.
Acceptance rate 87%      •      Net price $13,195
Total Undergrad Population 15,780      •      Setting City: Small      •      Public 4-year
Graduation rate (6 year) 67%      •      Retention rate 80%      •      Student-to-faculty ratio 14:1
---

Indianapolis, IN ‧ Private ‧ 4-year
Butler's liberal arts courses exercise students' ability to nurture and employ the skills that are essential for a job in any field. The University graduates lifelong learners who are able not only to make a living, but to make a life of purpose.
ENRICHED OFFERINGS
Butler has been lauded for such beneficial academic and campus resources as the first-year experience, study abroad, internships, service-learning, and research projects. These resources ensure that every student digs deeply into their education with hands-on approaches to learning.
PROGRAMS FOR LEADERSHIP AND SERVICE EDUCATION
The Programs for Leadership and Service Education (PULSE) is a resource available to assist any club or group, supporting students with the means to carry out the goals of their organizations. It is also the place to go to seek information regarding upcoming events and activities, serving as a great tool for getting involved. Staff members are happy to help students find their niche in the campus community.
Acceptance rate 76%      •      Net price $42,627      •      SAT Range 1150-1320      •      Students submitting SAT scores 70%
Total Undergrad Population 4,492      •      Setting City: Large      •      Private 4-year
Graduation rate (6 year) 81%      •      Retention rate 86%      •      Student-to-faculty ratio 12:1
---

Greencastle, IN ‧ Private ‧ 4-year
DePauw University is a premier institution of higher education at which students have endless opportunities to succeed both academically and personally.
The Kathryn F. Hubbard Center for Student Engagement
When it comes down to it, an education has to be about more than rote memorization and textbooks. In order for students to be truly successful, they need hands-on experience. The Hubbard Center recognizes this fact and works hard to provide those meaningful experiences to students. Through student engagement activities, students gain hands-on experience that enhances the liberal arts experience and allows it to extend beyond the classroom. The Center provides information and advice on topics like study abroad, Winter Term, service, and internships.
Student Leadership & Involvement
The Hubbard Center offers students the chance to gain leadership experience around campus. Students are employed as Coquillette Peer Consultants and work to identify others who are interested in studying abroad, finding an internship, or pursuing any other kind of engaging learning experience. Consultants are responsible for raising awareness for students who aren't aware of the many opportunities available.
CAREER SERVICES
Career Services is available to assist students with questions regarding school, internships, and careers. The center hosts a series of useful workshops and fairs throughout the year to help students develop networking and interviewing skills. 
Acceptance rate 68%      •      Net price $30,183      •      SAT Range 1110-1360      •      Students submitting SAT scores 60%
Total Undergrad Population 1,752      •      Setting Town      •      Private 4-year
Graduation rate (6 year) 87%      •      Retention rate 89%      •      Student-to-faculty ratio 8:1
---

Evansville, IN ‧ Private ‧ 4-year
The University of Evansville is a private, comprehensive university that is affiliated with The United Methodist Church. Their mission is to empower each student to think critically, act bravely, serve responsibly, and live meaningfully in a changing world.
UE is part of the Ashoka U Changemaker Campus Network, which includes leading colleges and universities who set the bar for social innovation and changemaking in higher education. At UE, the changemaking spirit encourages employees and students to find effective ways to solve the challenges they see in their communities and around the world to enact positive change.
University of Evansville graduates truly stand out above the crowd as they prepare to enter the workforce. This is made possible through real-life experiences that can start happening freshman year in many cases. The Center for Career Development works with students to prepare resumes, practice with mock interviews, and network through on-campus job fairs – and that's just the beginning. Students can get real-world experience unlike anything else through ChangeLab courses as they solve problems for businesses, community challenges, and other projects. 
Acceptance rate 64%      •      Net price $23,212
Total Undergrad Population 2,041      •      Setting City: Midsize      •      Private 4-year
Graduation rate (6 year) 67%      •      Retention rate 87%      •      Student-to-faculty ratio 10:1
---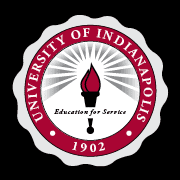 Indianapolis, IN ‧ Private ‧ 4-year
The University's motto, "Education for Service," is central to the institution's identity and purpose. This philosophy is integrated into the curriculum of every academic program. Students and faculty alike participate in international and domestic service-learning trips, volunteer opportunities, and community involvement projects, often in the context of their own careers.
UNDERGRADUATE RESEARCH
University of Indianapolis actively promotes research and scholarly activity by providing unique, in-depth research opportunities for students in a variety of fields. Research at the University is collaborative, allowing students to participate in research groups with fellow classmates and a faculty advisor. Student research at the University of Indianapolis has culminated in published research articles in peer-reviewed scientific journals. Most Schools and Colleges within the University also provide financial support for undergraduate student research expenses as well as travel for professional meetings and conferences at which to present their research.
INTERNSHIPS & CAREER PLACEMENTS
From day one, the Professional Edge Center helps students—even those who haven't decided on a major—identify career pathways, interact with business professionals, and develop professional and interpersonal skills. The Professional Edge Center team is organized into sector experts, giving students the opportunity to work one-on-one with a career advisor dedicated to their field. This gives students a critical advantage over the competition, arming them with everything from field experience and job interview skills to ways to build their network while discovering more about themselves and the world around them. According to a student survey, 94 percent of grads said that the Professional Edge Center gave them an advantage in their careers.
Acceptance rate 84%      •      Net price $20,441      •      SAT Range 960-1170      •      Students submitting SAT scores 86%
Total Undergrad Population 4,271      •      Setting City: Large      •      Private 4-year
Graduation rate (6 year) 62%      •      Retention rate 75%      •      Student-to-faculty ratio 13:1
---
What it's like to attend schools in Indiana and other FAQ:
What are average tuition costs in Indiana?
The average undergraduate tuition & fees for colleges in Indiana is $8,613 for in-state students at public institutions, $22,580 for out-of-state students at public institutions, and $22,736 for students at private institutions.
Cheapest degree program in Indiana
Indiana State University has an average net price of $12,903, making it the least expensive institution in Indiana that made our list.
Easiest degree program to get into in Indiana
Indiana State University has an acceptance rate of 92% and a test-optional admissions policy, making it the least exclusive college in Indiana on our list.
Degree program with lowest student debt in Indiana
Ball State University has a median total debt after graduation of $23,250. This is the typical debt for a student who completed their undergraduate degree.
Best Indiana Colleges by Award
2023 Best Business Schools in Indiana
Best Colleges by State
California | Texas | Florida | New York | Pennsylvania | Illinois | Georgia | Ohio | Alabama | Colorado | Connecticut | Massachusetts | Iowa | Kansas | Kentucky | Louisiana | Maryland | Michigan | Minnesota | Missouri | New Jersey | North Carolina | Oklahoma |Oregon | Tennessee | Virginia | Washington | Wisconsin