Anderson University
Anderson, Indiana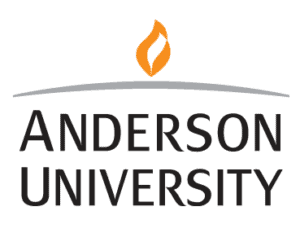 Anderson University is a private liberal arts institution in Anderson, Indiana, founded in 1917 by the Church of God. AU seeks to educate students for lives of faith and service in the church and society. It offers more than 50 majors with experiential and service-learning experiences. Notably unique majors include engineering, national security studies, and sport marketing. 
SHOW MORE
AU helps shape students' academic experiences, all while allowing them to explore their spiritual growth and create lasting friendships through more than 130 campus activities.
Campus Ministries connects students to the local community through volunteer opportunities at places such as local shelters, prison ministry, and nursing homes. Additionally, students can travel the world through the Tri-S (Study, Share, Serve) program. Thanks to the vast number of service opportunities available through Anderson University, more than 400 people participate in trips both in the United States and abroad each year.
Get to know Anderson University
1,205
Degree-Seeking Undergraduates
Full-time to Part-time Ratio
-
0%
1%
2%
3%
4%
5%
6%
7%
8%
9%
10%
11%
12%
13%
14%
15%
16%
17%
18%
19%
20%
21%
22%
23%
24%
25%
26%
27%
28%
29%
30%
31%
32%
33%
34%
35%
36%
37%
38%
39%
40%
41%
42%
43%
44%
45%
46%
47%
48%
49%
50%
51%
52%
53%
54%
55%
56%
57%
58%
59%
60%
61%
62%
63%
64%
65%
66%
67%
68%
69%
70%
71%
72%
73%
74%
75%
76%
77%
78%
79%
80%
81%
82%
83%
84%
85%
86%
87%
88%
89%
90%
91%
92%
93%
94%
95%
96%
97%
98%
99%
100%
Retention rate
8:1
Student/teacher ratio
$31,470
Full-time tuition cost
-
0%
1%
2%
3%
4%
5%
6%
7%
8%
9%
10%
11%
12%
13%
14%
15%
16%
17%
18%
19%
20%
21%
22%
23%
24%
25%
26%
27%
28%
29%
30%
31%
32%
33%
34%
35%
36%
37%
38%
39%
40%
41%
42%
43%
44%
45%
46%
47%
48%
49%
50%
51%
52%
53%
54%
55%
56%
57%
58%
59%
60%
61%
62%
63%
64%
65%
66%
67%
68%
69%
70%
71%
72%
73%
74%
75%
76%
77%
78%
79%
80%
81%
82%
83%
84%
85%
86%
87%
88%
89%
90%
91%
92%
93%
94%
95%
96%
97%
98%
99%
100%
6-year graduation rate
-
0%
1%
2%
3%
4%
5%
6%
7%
8%
9%
10%
11%
12%
13%
14%
15%
16%
17%
18%
19%
20%
21%
22%
23%
24%
25%
26%
27%
28%
29%
30%
31%
32%
33%
34%
35%
36%
37%
38%
39%
40%
41%
42%
43%
44%
45%
46%
47%
48%
49%
50%
51%
52%
53%
54%
55%
56%
57%
58%
59%
60%
61%
62%
63%
64%
65%
66%
67%
68%
69%
70%
71%
72%
73%
74%
75%
76%
77%
78%
79%
80%
81%
82%
83%
84%
85%
86%
87%
88%
89%
90%
91%
92%
93%
94%
95%
96%
97%
98%
99%
100%
Acceptance rate
-
0%
1%
2%
3%
4%
5%
6%
7%
8%
9%
10%
11%
12%
13%
14%
15%
16%
17%
18%
19%
20%
21%
22%
23%
24%
25%
26%
27%
28%
29%
30%
31%
32%
33%
34%
35%
36%
37%
38%
39%
40%
41%
42%
43%
44%
45%
46%
47%
48%
49%
50%
51%
52%
53%
54%
55%
56%
57%
58%
59%
60%
61%
62%
63%
64%
65%
66%
67%
68%
69%
70%
71%
72%
73%
74%
75%
76%
77%
78%
79%
80%
81%
82%
83%
84%
85%
86%
87%
88%
89%
90%
91%
92%
93%
94%
95%
96%
97%
98%
99%
100%
Out-of-state students
College Highlights
Engaged Students
Great Teaching
Vibrant Community
Successful Outcomes
Admission & Aid
Engaged Students
At Anderson University, students don't just study in a classroom; they fully experience their majors. So many aspects of its campus collectively make AU a special place in which to learn and discover.
"Every day I am interacting with students and meeting them where they are in life. We always talk about their faith relationship and how we can help them continue to grow in their relationship with Christ. Even in some of the really hard conduct conversations, it is so evident that the Holy Spirit is at work and bringing restoration to each student as they lean into the Holy Spirit's leading and guiding in their lives." – Dr. Chris Confer BA '01 MDiv '04, Assistant Provost and Dean of Students
UNDERGRADUATE RESEARCH
Undergraduate research and internships are intrinsic to every major at AU. Each spring, students work closely with a member of the faculty for a scholars' day research project, which they get to present on campus. These projects showcase the in-depth process of organizing abstracts, hypotheses, research, focus groups, and surveys.
The honors program's senior seminar serves as a project-based capstone course, driving students to produce intensive, original research under the direction of academic mentors.
Students studying nursing, social work, criminal justice, and ministry are all encouraged to immerse themselves in other cultures, whether they travel internationally to countries across the world or locally to diverse communities in the Indianapolis area. For example, nursing students have travelled to Calcutta, India, to work in the Missionaries of Charity Home for the Dying, while social work students have spent full semesters at the Chicago Center for Urban Life and Culture.
Students in Anderson University's School of Education have the opportunity to practice student teaching near Anderson, in the Indianapolis area, and even overseas. Furthermore, AU is also one of the few colleges to offer year-round student teaching experiences.
LIFE OF FAITH AND SERVICE
It is part of Anderson University's mission to educate its students for lives of faith and service to both the church and their society. Founded in 1964, the Tri-S program (Study, Serve, Share) is designed to let students learn from other cultures while serving in communities around the world. Through Tri-S, students explore other cultures while participating in work camps, service, or ministry projects. Destinations have included Trinidad, Greece, the Dominican Republic, London, Zambia, Scotland, China, and New Zealand. 
Tri-S also offers domestic opportunities to serve, hauling students around the United States for meaningful service. Examples of American Tri-S projects have included urban ministry in cities such as Philadelphia and New York City as well as work projects in the Native American communities of South Dakota and Oklahoma. 
"My time at AU helped me to grow into the person I am today, through faculty, Tri-S trips, and deep friendships. AU gave me space to learn about public relations and Christian ministries, in an environment where I never felt like the two were in conflict. I loved my experiences when traveling with Tri-S, because they allowed me to experience so much more of the world with others who were also excited about travel and culture! Many of those trips also led to deep friendships that have shaped me so deeply." – Christina Nesslage BA '18, MDiv candidate at Duke Divinity School
ENROLLMENT BY ETHNICITY
Non-U.S. Citizen: 1%
Hispanic/Latinx: 8%
Black or African American, non-Hispanic: 7%
White, non-Hispanic: 77%
Native/Indigenous American or Alaska Native, non-Hispanic: 0%
Asian, non-Hispanic: 1%
Native Hawaiian or other Pacific Islander, non-Hispanic: 0%
Two or more races, non-Hispanic: 5%
Race and/or ethnicity unknown: 1%
"Every day I am interacting with students and meeting them where they are in life. We always talk about their faith relationship and how we can help them continue to grow in their relationship with Christ. Even in some of the really hard conduct conversations, it is so evident that the Holy Spirit is at work and bringing restoration to each student as they lean into the Holy Spirit's leading and guiding in their lives." — Dr. Chris Confer BA '01 MDiv '04, Assistant Provost and Dean of Students
Great Teaching
Anderson University's faculty are highly invested in all of their students. They love seeing students deepen their learning, grow in their faith, and prepare for lives of service.
"The faculty and staff at Anderson are phenomenal individuals. They believed in me with more strength than I did myself. There is something powerful about walking around campus and staff members taking the time to say hello to you by name. It gives students the confidence that they are worth the investment of higher education. My professors often spoke higher of me than I thought they ought to; however, with time their words took root and I was able to dream bigger with a new confidence. Staff and faculty taught me that no question is too silly, scary, or simple to be asked. They showed me that the path to success is through authenticity and kindness." – Jessica Thaman BA '17, global studies major
LIBERAL ARTS EDUCATION
Anderson University's liberal arts education requires students not only to master their chosen fields of study, but also to gain a broad understanding of the world around them.
The liberal arts core curriculum sharpens students' skills in written communication, speaking and listening, quantitative reasoning, Biblical literacy, and personal wellness.
AU is committed to offering leadership-building courses that complement every area of study. In addition to their core requirements, students choose between six categories of courses, which include:
Christian Ways of Knowing

Scientific Ways of Knowing

Civic Ways of Knowing

Aesthetic Ways of Knowing

Social and Behavioral Ways of Knowing

Global/Intercultural Ways of Knowing
FIRST-YEAR EXPERIENCE
Anderson University's First-Year Experience introduces students to a well-rounded liberal arts curriculum through a series of engaging activities. Every first-year student builds upon a sturdy foundation that consists of Raven 101 (a registration and advising event), new student orientation, and a seminar during their first semester at AU. 
To ensure that students are as successful as possible right from the beginning of their college career, the First-Year Experience peer-mentoring program divides each entering class into small groups that are led by teams of faculty and student mentors.
"I believe in AU and want students to come here because they will receive an education for a lifetime of engagement and employment, develop meaningful and lasting relationships, and further discover who they are, what they believe, and what difference they can make in the world." – Marie Morris, Anderson University Provost
SPECIAL STUDY OPTIONS
Programs available at this institution.
Accelerated program
Cross-registration
Distance learning
Double major
Dual enrollment
Honors Program
Independent study
Internships
Student-designed major
Study abroad
Teacher certification program

Vibrant Community
During their time at college, Anderson University students stroll through the Valley, play laser tag in the library, explore their faith, and learn from the best faculty. They enjoy a variety of activities after hours through the Campus Activities Board, service clubs, student organizations, fine arts events, and athletics. There is plenty of fun to be had, but those who want to stretch their thinking after class also have countless opportunities to learn from others on campus, AU alumni, and nationally known speakers.
"AU is committed to the holistic development of the student. Unlike a community college or distance program, our commitment to providing extra and co-curricular opportunities for a diverse student body allows for countless ways to create shared experiences that will make for lasting and impactful relationships and memories." – Trent Palmer BA '06, Director of Student Engagement
LEARNING FROM THE BEST
Through campus speaker series and chapel speakers, AU students have the opportunity to witness valuable, real-world applications to their studies, hearing from experts in multiple fields, and from successful AU alums. Other renowned, annual lecture series conferences hosted by Anderson University include the Newell Lectures in Biblical Studies, the Indiana Faith Writing Conference, and the York Children's Literature Festival. 
The School of Music, Theatre, and Dance presents concerts, dance performances, and theatre productions that feature both students and guest artists. Anderson University has three performance venues on campus that proudly host student- and guest-created exhibits. Currently, the university is hosting a special three-year exhibit to celebrate the life and legacy of alums Bill and Gloria Gaither. The university also owns artwork by Warner Sallman, painter of the famous Head of Christ. A collection of Sallman's work is permanently on display on the second floor of AU's York Recital Hall and Galleries.
The School of Theology and Christian Ministry is home to the Gustav Jeeninga Museum of Bible and Near Eastern Studies. Its holdings include original artifacts from many periods of the Ancient Near East, such as the Egyptian, Roman, Greek, Babylonian, Assyrian, and Israelite Periods. The Nicholson University Library also houses a large collection of children's literature and a substantial collection of hymnals.
EXPERIENTIAL LEARNING ON CAMPUS
During the 2017-18 school year, AU opened the Cybersecurity Engineering Laboratory and the Situation Room. The Cybersecurity Engineering Laboratory allows for state-of-the-art learning opportunities with several servers, including a blade chassis, a set of enterprise access switches, core routers, and more. Students and faculty can run complex code or work on research using the high-capacity servers, which have more than 20 physical cores. The value of the room and equipment is nearly $1 million, with Ascension Information Services (AIS) serving as the generous lead sponsor.
The Situation Room is modeled after the same room in the White House. This room gives security studies students classroom space to respond to mock crises as well as a video conferencing setup to allow more opportunities to hear from National Security experts. Speakers brought to campus through the National Security Studies Fellows have included Eric Holder, former U.S. Attorney General; John Brennan, former director of CIA; Matthew Olsen, former director of National Counterterrorism; Robert Mueller, former director of the FBI; and James Clapper, former director of National Intelligence.
The Falls School of Business features its own financial stock trading room, which serves as a real-time, high-tech laboratory classroom that simulates a realistic Wall Street environment, made possible by the STAR Financial Bank. AU finance majors are responsible for managing the university's Raven Fund, valued at $1.5 million.
The School of Nursing and Kinesiology features state-of-the-art facilities, including a Swim Ex rehabilitation pool, a sports medicine center, and a human performance center. The nursing lab is also home to hospital equipment such as Pyxis® MedStation® System, Mega Code Kelly®, and SimMan®.
Students in the School of Science and Engineering are learning to maintain and enhance AU's first solar car, preparing for an exciting race against some of the highest-ranking universities in the United States American Solar Challenge. Computer science students also have the opportunity to study in a one-of-a-kind training center that pairs them with a Genesys supervisor right on campus. 
STAYING FIT
AU students have many outlets through which to be active, including an array of 15 intramural sports programs and several extracurricular club sports that range from rugby, men's volleyball, cheerleading, and lacrosse. The 132,000-square-foot Kardatzke Wellness Center features a natatorium, a weight room, and a cardio area. Additionally, students have daily access to indoor courts for volleyball, floor hockey, basketball, and indoor soccer for intramural and recreational use.
"I've been a sports fanatic all my life, so naturally I wanted to jump right into the intramural program here at Anderson. What began as a way for me to continue my hobby quickly became a way to meet new people and to also get away from the stresses of life. There's a sport for everybody, and you don't have to be good to play. It's a great way to have a great time with your friends." – Kyle Fawcett BA '16, marketing major
ATHLETICS
Anderson University is home to 20 NCAA Division III sports. Raven fans love to cheer on student-athletes at their games, and the campus enjoys celebrating their accomplishments both on the court and in the classroom. Sports at AU include football, volleyball, baseball, softball, men's and women's basketball, cross country, track and field, golf, soccer. swimming, tennis, and men's and women's lacrosse, which was recently introduced in 2018.
SCHOOL LOCATION
Anderson University's location presents the best of small-town living as well as big-city opportunities just minutes away in Indianapolis. Indy is the second-largest city in the midwest and the fifteenth-largest city in the United States. Within the city of Anderson, there is a beautiful state park for hammocking or hiking; chain and local restaurants; a frisbee golf course blocks away from campus; trails along the river for walking and biking; and more. Within an hour, students have access to an international airport, major and minor sports arenas, multiple museums and historical sites, and all the internship and networking opportunities in downtown Indy.
RESIDENCE LIFE
Percent of students living on campus.
First-time, first-year (freshman) students: 87%
Undergraduates: 65%
Campus housing options.
Coed dorms
Men's dorms
Women's dorms
Apartments for married students
Apartments for single students

Successful Outcomes
Anderson's close proximity to Indianapolis not only allows faculty members to maintain critical networks in the professional field, but it also offers opportunities for students to secure internships that often turn into jobs. IndyMix, a gathering of panelists from leading and cutting-edge Indianapolis businesses, is a significant example of the direct contact students have with the professional world beyond AU's borders.
"I've gotten so much out of AU. I interned at three different places over the course of my time here. I've done so many job shadows I can't even count, and I was always networking. I decided that I would pitch this idea to the department about bringing in a sports broadcasting show, something completely student-run that we had never done before on campus. And so from there, I pioneered RavenWatch, which is still around today. I thought that being at a smaller school might have limited my opportunity after graduation, and it was actually quite the opposite. It set me far apart, and it's the reason that I was able to find my job at WNDU that I started right after graduation." – Lindsay Stone BA '18, multimedia journalist at WNDU in South Bend, IN
SUCCESSFUL OUTCOMES
Jon McLaughlin, a 2005 music business grad, is a singer-songwriter and touring artist. As a student, he was the first artist signed to Orangehaus Records, AU's student-run record company. He has released five studio albums and is featured in the Disney film, Enchanted, performing "So Close" from the film's soundtrack. The song also received an Oscar nomination, which led to McLaughlin's performance at the 80th Academy Awards. 
"I find myself just about every day either playing a show on the road or sitting at a piano writing a song and using the skills that I learned at Anderson University. The faculty and staff in the music department were awesome and they really just equipped me with the tools that I needed to get out there in the real world and start building a career for myself. I also found AU to be a really great community of believers where I could grow in my faith and learn about the love of God." – Jon McLaughlin BA '05, singer-songwriter and touring artist
Heike (Baird) Young, a 2010 English graduate, works at Salesforce as Global Content Lead. Her ability to face a number of complex, professional challenges was bolstered by her experience as an active member in a large number of Anderson University activities. As a former member of the WQME radio station, AU's Literary Arts Magazine, and the Sigma Tau Delta honor society, Heike learned to grow as a leader. And, with the critical thinking and communication skills gained through her Tri-S trip to London, internship with FOX 59, and many English courses, she excelled quickly in the demanding workforce.
Ryan Daniel, a 2007 graduate of political science, currently serves as the mayor of Columbia City, Ind., just west of Ft. Wayne. As a student, Daniel had been an intern for Mike Pence's for Congress Campaign and served as the Anderson University student-body president. Daniel shares that the political science program at Anderson University taught him "the ins and outs of campaigning, connecting to voters, and strategies behind 'get out the vote' campaigns. More importantly, AU challenged my beliefs and allowed me to find my own political thoughts on the world around me." 
Lawrence Brownlee is one of the world's leading bel canto tenors. He has performed with nearly every leading international opera house and festival and has been nominated for a Grammy with his recording Virtuoso Rossini Arias. "Being at AU, I had the opportunity to cultivate my own relationship with God. I really learned to stand on my own two feet, to be a grown-up in Christ," said Brownlee.
Bill (1959) and Gloria (1963) Gaither graduated from Anderson University (then Anderson College) and soon after launched a multi-year career as singer-songwriters of Southern gospel and Contemporary Christian music. They have written and composed many songs together, and have performed as part of the Bill Gaither Trio and the Gaither Vocal Band. Bill and Gloria continue to perform today, and they are currently the focus of a three-year exhibit at AU's York Performance Hall, entitled "The Words and the Music: Bill and Gloria Gaither – the Christian Songwriters of the Century." 
Danielle Godly, an orthodontist in Houston, Tex., credits her undergraduate training in biology and chemistry and the excellent faculty and staff at Anderson University for her strong dental school preparation. "The faculty at AU are incredibly encouraging and supportive. I really appreciated smaller class sizes, which allowed the faculty to get to know us on a personal level."
Admission & Aid
Admission
ADMISSIONS FACTORS
Very Important
Rigor of secondary school record | Academic GPA 
Important
Class rank | Academic GPA | Interview | Extracurricular activities
Character/personal qualities | Religious affiliation/commitment | Volunteer work
Considered
Application Essay | Standardized test scores| Recommendation(s) | Talent/ability
First generation | Alumni/ae relation | Racial/ethnic status | Level of applicant's interest
TEST SCORES
Optional
FRESHMAN PROFILE
SAT Evidence-Based Reading and Writing
25th Percentile: 470 | 75th Percentile: 580
SAT Math
25th Percentile: 480 | 75th Percentile: 580
ACT Composite
25th Percentile: 18 | 75th Percentile: 25
ACT Math
25th Percentile: 18 | 75th Percentile: 25
ACT English
25th Percentile: 18 | 75th Percentile: 24
Tuition & Cost
Tuition: $31,470
Fees: $630
Room: $6,300
Board: $5,100
Aid
With a job-placement rate of 97.5%, Anderson University knows that a private education is more than worthwhile. AU partners with each student so that they may earn renewable merit scholarships, explore grant opportunities both on and off campus, and enroll in work-study programs.
Anderson University honors the deep involvement that many churches and families have in their students' lives. To support each student's Christian education, AU's Matching Church Scholarship matches any gift from one's church community up to $1,500 per academic year, doubling the amount of financial assistance they receive as members of their congregation.
The Dr. James Earl Massey Scholarship awards students of superior academic success and leadership. Ranging from $2,000-$4,000, this scholarship supports the education of students who have promoted peace and unity across cultural divides in their home communities.
Anderson University is committed to student success and will make sure each that AU graduate is ready to compete and succeed in the job market.
Contact Anderson University
Campus Location
1100 E. Fifth Street
Anderson, IN 46012
(800) 428-6414