How to Get the Most From Virtual Campus Tours
If you're at the college search stage where it is time to start thinking seriously about where you want to spend your next four years, then let us take a moment to congratulate you. You've done a lot of hard work to get to this stage. And in a pandemic no less! Speaking of that pesky pandemic, it is unfortunately still wreaking havoc on everyday life, including college tours. We understand that college tours are a pivotal part of the college choice process. These first hand experiences help students visualize themselves on the campuses they've read so much about and poured so much effort into applying to. But alas, the pandemic has forced schools to adapt to safer ways of having students experience campus. 
At this point in the pandemic, we have all become accustomed to our new virtual reality, but it can still be a challenge to make the most of a virtual experience on campus. Here are some tips, tricks, and expert advice to help you make the most of a virtual campus tour. 
How to explore a campus virtually: 
Explore all the virtual options available to you
At the start of the pandemic, many colleges dedicated time and resources to boost their virtual offerings for prospective students. High quality interactive videos, online information sessions, and webinars are just a few ways you can get to know a school. Take stock of what virtual options are available to you. Sometimes it's as easy as heading to the main page of a school's website! Kean University's home page directs students to a landing page with COVID-19 related information for nearly everyone on campus, including hopeful students like you! 
Kean University's Director of Enrollment Management Services, Melissa Maiorino, assures students that "Virtual Tours offer you the next best thing to being on campus." Maiorino also believes that "even if there wasn't a pandemic, this is a great opportunity to get a 360 view of campus from any device and can be a useful sorting tool for weighing your options." 
Look out for the facilities relevant to your interests
Where do you see yourself spending the most time on campus? Obviously your dorm and classrooms, but think about your other interests. Are you an athlete? Keep an eye out for the rec center and other sports facilities. Will you be playing an instrument or working toward your Tony Award? Look for your school's center for fine arts! The best part about a campus tour is you can see and imagine yourself in the buildings you might spend a lot of time in. You can still achieve this is a virtual tour! Lindenwood University's Virtual tour is a combination of photos, videos, and panoramic click-throughs that allow you to explore campus as thoroughly as an on-campus visit. If you have a major in mind, keep an eye out for the department building. Aspiring anthropologists can maneuver panoramic views of Young Hall's Archaeology lab.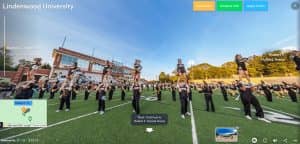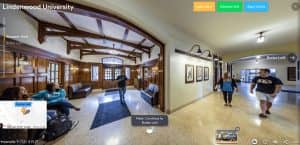 Pay attention to the additional information offered: 
Virtual campus tours will typically allow you to click on notable buildings and either read more information or hear a pre-recorded tour guide speak about them. You wouldn't walk past your guide if they were saying this in person, so don't just click through! 
Take notes/Ask questions: 
Don't be a passive participant! Stay alert and active during virtual tours or information sessions. Kean University's Melissa Maiorino also advises students to consider the following questions as they prepare for virtual information sessions: 
What majors/minors are offered and what is a sample course load? 

What is the demographic of the student population? 

What type of social life can be expected? 

What are the dorms like? 

How is the food on campus?
As you participate in these virtual sessions, make sure you're taking detailed notes. Taking notes is the best way to make sure you'll remember all the information later, which will come in handy when you need to make a decision. Here's another helpful suggestion from Kean's Melissa Mairoino: 
When taking notes you may want to make a pros and cons list based on what you're looking for in a college. Also, take notes on how you felt about the virtual tour and your reactions. I know that it's easier to head to Google or ask Siri or Alexa, but trust me when I tell you that admissions teams are very excited to answer your questions. Not to mention they can probably go a bit more in depth.
Keep an open mind: 
Schools are doing their best to adapt to the limitations caused by covid-19. Remember, not every school is perfect. Each will have their own flaws, so do your best to keep an open mind. And schools are doing the same with you! More on how schools and students are balancing things amid the pandemic from Mairoino: 
It has certainly been the year of the pivot. Colleges are trying to put their best foot forward and showing you why they are the best fit for you, virtually. Trust me when I say, we totally get Zoom fatigue and not wanting to sit in front of a computer any longer than you have to. So it's OK when attending a virtual information session to leave your video off.
Use social media to connect with students/departments 
Social media can be your most powerful tool during your virtual tour experience. You can stay up to date on what's offered, get your questions answered, and connect with current students. Kean's Melissa Mairoino shares her insight on how to utilize social media: 
Check out the university social media accounts. If you want to go deeper, many student clubs and organizations on campuses have their own social media accounts that link to the university social pages. That's a great way to connect with other students, especially those with similar interests. Also, check-in for time to time when colleges go live on Instagram, that's a great way for you to be a fly on the wall and learn more about the ins and outs of what's happening on campus. If you don't want to be a fly on the wall you can ask questions to those from the community participating in the events.
Jordan Shelton, Lindenwood University's Director of Undergraduate Admissions also shares her insight on connecting with schools via social media: 
My biggest tip for exploring campus virtually is to connect with current students!  Most institutions will offer some way for you to connect with current students so you can get a better idea of what student life is like.  Lindenwood offers virtual information sessions where you can talk with students and also have a chat feature on our website that allows you to send chat messages to our student ambassadors who are current students on campus.  Current students are your best way to find out what campus life is really like!
Video topics such as Day in the Life or Dorm Tours, or Move-in Days are exceedingly popular on video platforms like Youtube, Instagram, and TikTok. These videos made by real students offer an authentic glimpse into what life is like on campus. You'll get the scoop on what dorms, dining halls, and student life is like on campus from the students who actually experience them. 
CollegeSide Chats is a great Youtube channel that uploads videos of virtual panel discussions where real students share their experiences on  college campuses. You might glean even more information about student life than you would a traditional tour, so keep an open mind and start exploring! 
It might not be the most ideal way to explore your potential college, but a virtual experience can be just as enriching and impactful. And let us just say that most colleges are just as eager to have you on campus as you are to visit, so feelings of frustration are mutual! Regardless, a virtual tour can still be a great way to get to know your future campus, peers, and professors. Colleges of Distinction is here for you every step of the way. From getting letters of recommendation to changing your major, our advice section is full of helpful insight to help you make the most of your college experience.