College Campuses with Picture-Perfect Fall Foliage
The temperatures are dropping and the days are getting shorter, which means fall is right around the corner. Colleges of Distinction is highlighting schools that blossom during the autumn season. Whether you want to go leaf peeping, pumpkin picking, or just enjoying the cooler temperatures, our schools are the perfect places to enjoy the autumn season. So grab a pumpkin spice latte, and follow along as we take you on a tour of the college campuses with the most beautiful fall foliage.
Lindenwood University
St. Charles, Missouri| Peak Leaf Color: Mid–Late October
Located in St. Charles, Missouri, Lindenwood University truly blossoms during the fall season. Missouri's landscape is gorgeous all year long, but the sight of changing leaves is especially breathtaking. Lindenwood's campus is the perfect vantage point from which to see this annual explosion of vibrant red, orange, and gold. As you stroll the campus during the months of October and November, you'll see the gorgeous array of autumn colors as well as all fun campus activities to match the spirit of the season. Every fall, the surrounding St. Charles community hosts a variety of seasonal events, such as pumpkin picking, corn mazes, fall festivals, apple picking, and more.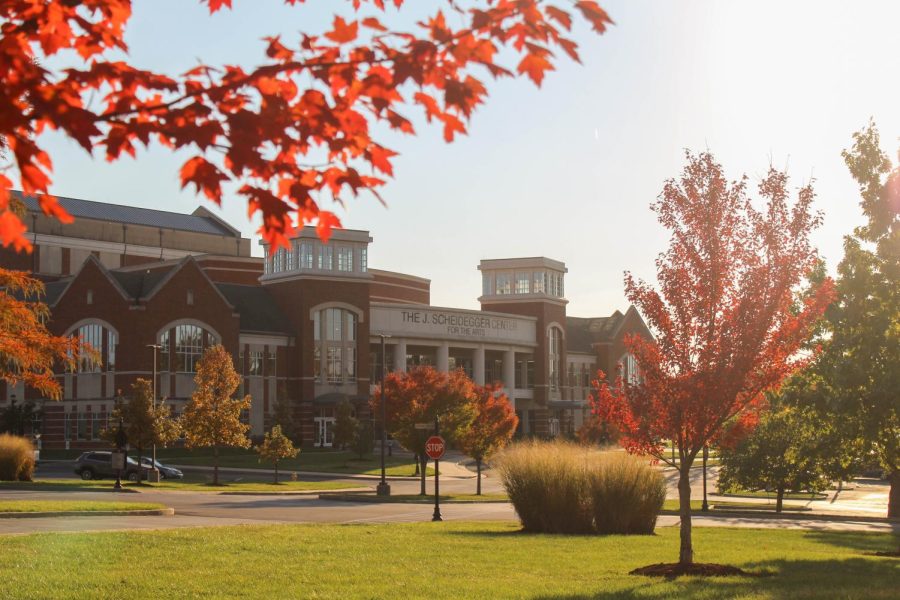 Check out Lindenwood University
Carroll University
Waukesha, Wisconsin | Peak Leaf Color: Late October
Fall trees with hues of orange, red, and yellow will be at their peak in Waukesha Pewaukee in late September or early October. Take in the beauty of fall on the beautiful campus of Carroll University. Carroll is part of a safe, historic neighborhood just blocks from downtown Waukesha, Wis., putting you within walking distance of everything you want to do. Whether you're looking to kick back and study in one of the local coffee shops, bike along the riverfront, browse for vintage vinyl, or get your brunch on at a rooftop restaurant, it's all here. If the great outdoors is more your style, grab your gear; Carroll University is close to bike and hiking trails, nature centers, beaches, public parks, rivers, and lakes—all of which blossom in autumn.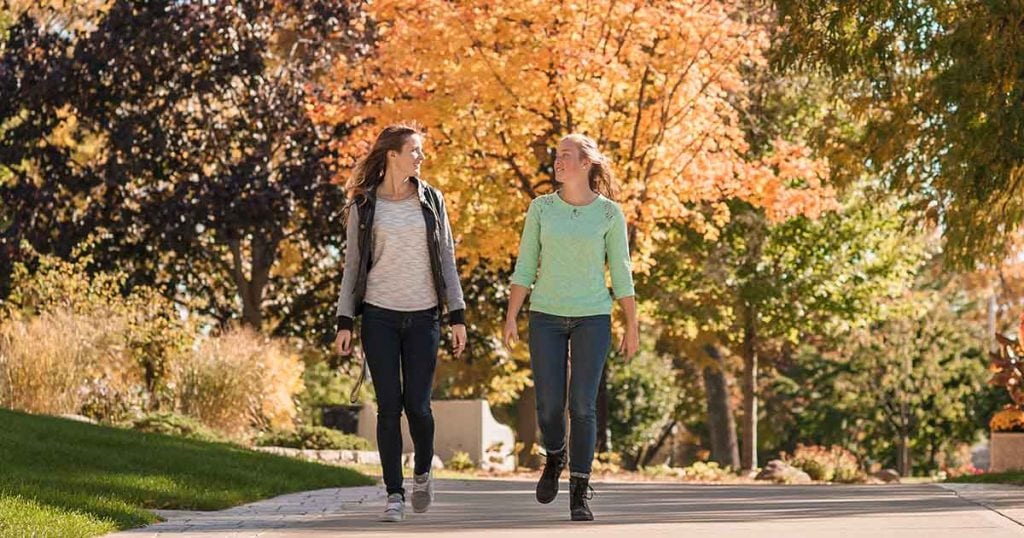 Check out Carroll University
Adelphi University
Garden City, New York | Peak Leaf Color: Mid–Late October
Adelphi University's main campus is located on 75 acres in historic Garden City, New York, just 45 minutes from New York City. There are also centers in Manhattan, Suffolk County, and the Hudson Valley. Adelphi's location is the perfect place to witness the gorgeous array of fall colors. But a gorgeous color show is not all that Adelphi has to offer. During the autumn months, Adelphi hosts a variety of fall events, including its special Fall Arts Festival. Adelphi University's annual Fall Arts Festival is an opportunity for all members of the University community to collaborate and celebrate the arts while reflecting on and illuminating a particular theme. This year, the theme of the event will be Peace of Art: Fostering Dialogues Through the Arts.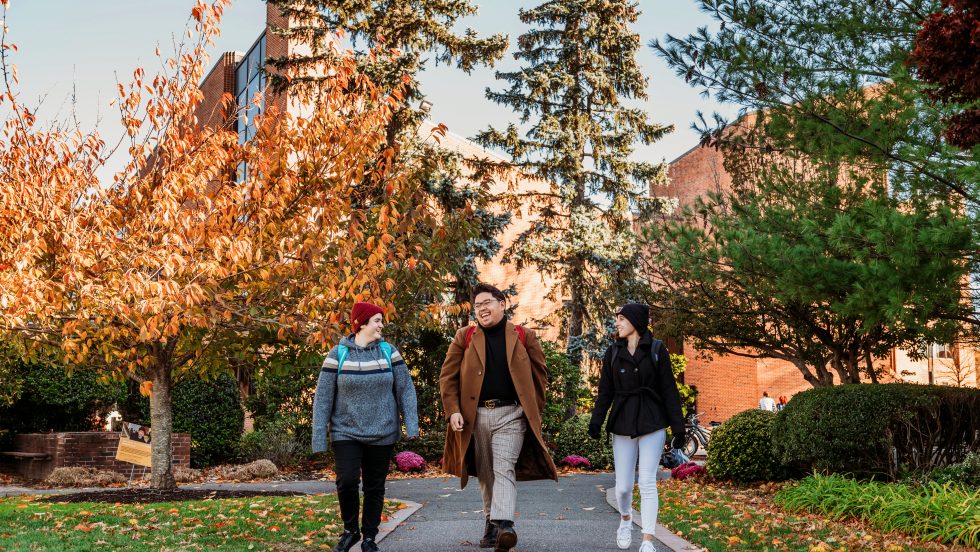 Check out Adelphi University
University of Pittsburgh at Bradford
Bradford, Pennsylvania | Peak Leaf Color: Mid October–Early November
Located in Bradford, Pennsylvania, the University of Pittsburgh at Bradford is one of the best places to see the bright crimsons and blazing oranges of turning leaves. The University's campus is surrounded by the beauty of the Allegheny National Forest and nestled within the PA Wilds. The campus sits on its own275-acre forested mountain top full of red oak, hickory and cherry as well as trails. And, of course, there are beautiful trees on campus. Students can experience the magic of fall colors in the Pennsylvania Wilds with an official leaf peeping tour or by attending a signature fall foliage celebration. The surrounding community also hosts a variety of fall festivals, such as the 2nd Annual Fall Fest in neighboring Smethport.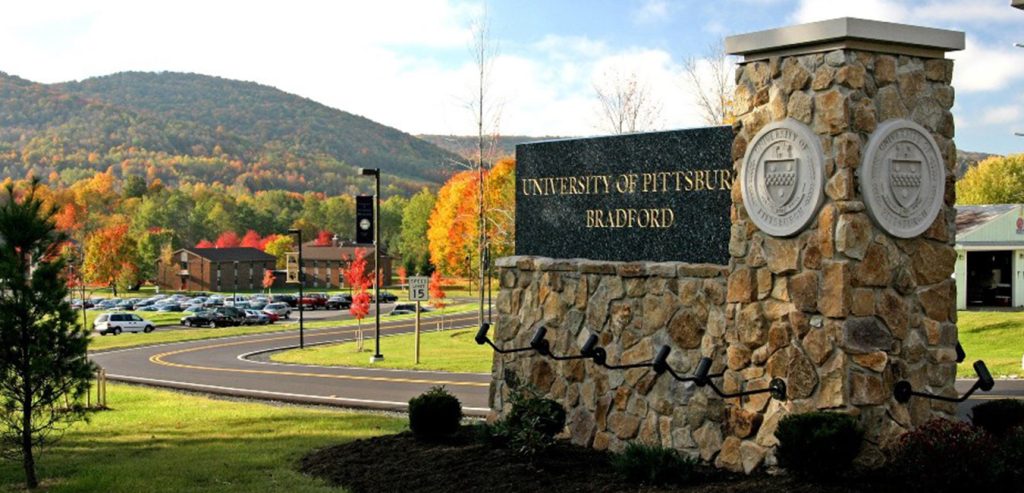 Check out University of Pittsburgh at Bradford
Arkansas Tech University
Russellville, Arkansas | Peak Leaf Color: Late October–Early November
They call it A-Tree-U for a reason!
Situated in the valley between the Ozark and Ouachita Mountains, the Arkansas Tech University campus in Russellville becomes a canvas for autumn's most beautiful colors each November. ATU's fall splendor has been enhanced since 2009 by a tree-planting project led by ATU alumnus and benefactor Robert Norman and his family. They have invested in more than 1,100 new trees that dot the Arkansas Tech campus and provide Mother Nature with even more backdrops for her artistry each autumn.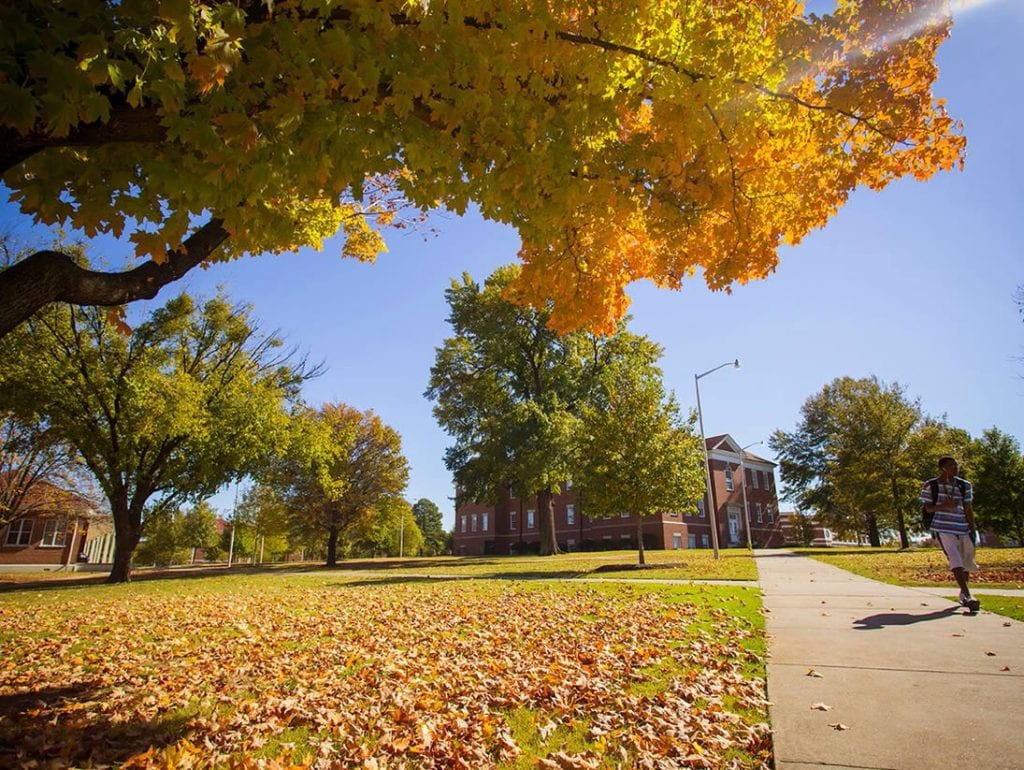 Check out Arkansas Tech University
York College of Pennsylvania
York, Pennsylvania | Peak Leaf Color: Late October
York College makes a point to host events that enrich the student experience. The Cultural Events series features renowned authors and artists, visiting professors, musicals and plays, and much more. Students help drive the fun too, organizing such events as Spartapalooza, a night full of laughter and school spirit. Fall Fest, York College's version of Homecoming, adds an action-packed weekend each autumn for students and families to enjoy.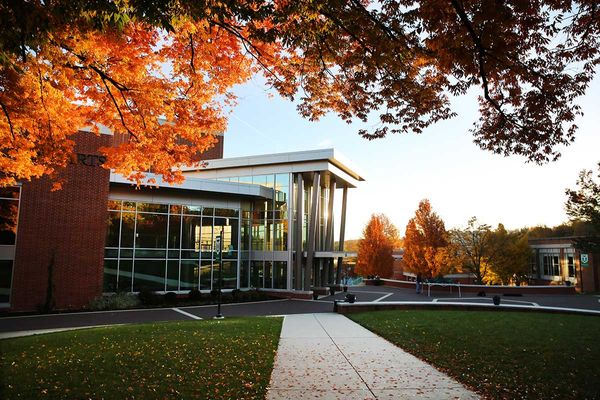 Check out York College of Pennsylvania
Siena Heights University
Adrian, Michigan | Peak Leaf Color: Mid-Late October
Located in Adrian, Michigan—a city appropriately nicknamed "The Maple City"—Siena Heights University (SHU) is no stranger to beautiful fall scenery. The city of Adrian is abundant with a variety of maple trees—red maples, silver maples, and sugar maples are all prevalent in the local flora both on and off campus. These trees are characteristically known for their colors at the turn of the autumn season, with brilliant shades of red, orange, and yellow taking over the green leaves. The maples found on Siena's campus behave no differently, drawing together the red brick buildings to the fall foliage and creating a picture-perfect fall campus. Around the same time the leaves change, SHU hosts a series of fall-based events that serve different purposes across campus, including:
Pumpkin decorating and painting
An on-campus haunted house
Green Light "Pumpkin Bash," an event where jack-o-lanterns and other pumpkins are smashed by students as a form of stress relief, where the pumpkin scraps are then used in the campus composting bins.
Fall Festi-ful, an event where local farmers and vendors are represented on campus with displays and menus that include produce from local markets. The event includes pumpkin bowling, caramel apples, and other fall-themed activities.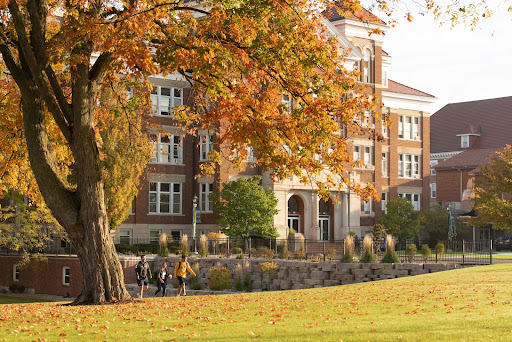 Check out Siena Heights University
SUNY Oneonta
Oneonta, New York | Peak Leaf Color: Late September-Mid October
SUNY Oneonta truly comes alive during the autumn season. As the leaves change color, it's easier than ever to see why Oneonta made Microsoft News' 2021 list of "20 Most Picturesque Small Towns in America." Campus dining halls and facilities like Starbucks change their menus to feature all things fall, from local apple cider to pumpkin doughnuts made in the campus bakery. Offices hold pumpkin-decorating contests, prospective students visit for campus tours and Fall Open House, and children and families from the Oneonta community are invited onto campus for traditions like Halloween in the Halls, where students dress up and hand out candy from their dorm rooms. (SUNY Oneonta also has its fair share of ghost stories, so be sure to stay tuned for our Spooky Stories College Tour…. if you dare!)
Off campus, students can find any number of fun fall activities and events to attend, like harvest festivals downtown and haunted history tours in nearby Cooperstown. There are plenty of local pumpkin patches, apple orchards, and corn mazes to visit, too! A must-see during the autumn months is the College Camp, a free experience that offers 276 acres of gorgeous hiking and biking trails.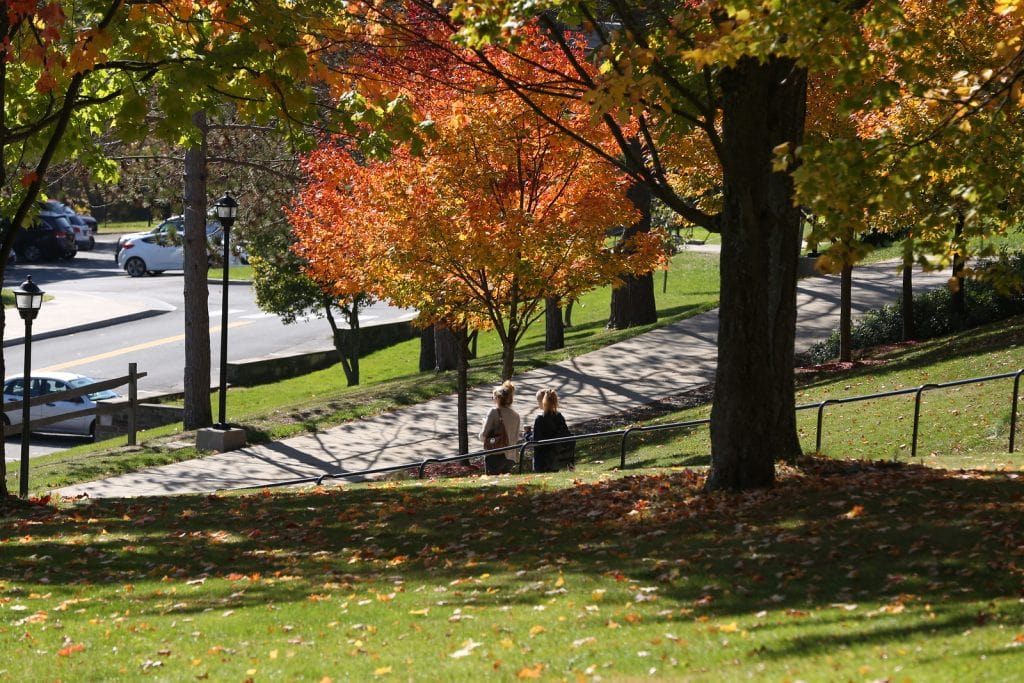 Check out SUNY Oneonta
Check out our advice section for more fun college lists! Whether you're just starting the college search process, trying to find great scholarships, or need tips on writing the perfect admissions essay, our team of experts are full of advice to help you navigate the process.