2023 Best Undergraduate Nursing Schools in Georgia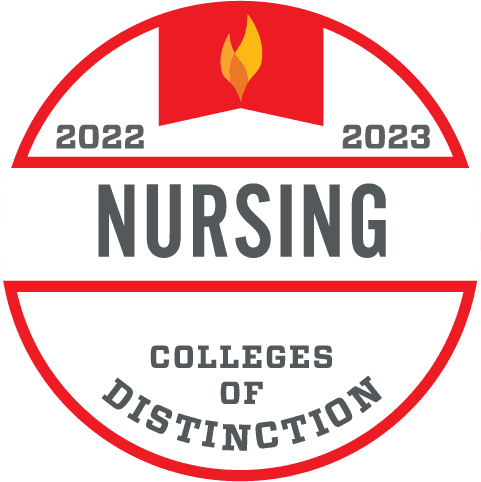 Published: September 1, 2022
By: Colleges of Distinction Staff
Jump to: Georgia College | Georgia Southern University | Mercer University | Toccoa Falls College | Frequently Asked Questions
The path to becoming a nurse is undoubtedly a long and arduous process that requires hard work and dedication. With a shortage in capable and compassionate nurses, it is becoming increasingly important that nursing programs are well rounded, highly accredited, and focused on student success. Colleges of Distinction is proud to recognize schools with these very programs, ones that fully support future nurses along (and beyond!) their undergraduate journey. These institutions, already highly regarded for their commitment to the Four Distinctions, go the extra mile with their cutting-edge nursing degrees.
Our Georgia top colleges for nursing offer students an exciting place to learn and thrive, as proven by the following:
Stability and excellence as core tenets of these nursing programs. Not only have these programs been awarding degrees for more than 10 years, but faculty are continually recognized for their impressive experience and research.
Validation from the ACEN (Accreditation Commission for Education in Nursing) and/or CCNE (Commission on Collegiate Nursing Education) for their commitment to quality and student success.
Practical experiences that provide ample opportunities for students to apply their knowledge to the real world through internships, mentorship programs, and volunteer opportunities.
High mastery rates in such standardized exams as the NCLEX and HESI A2.
Dedicated advising and counseling available specifically for nursing students.
Liberal arts exposure to make students culturally competent, well-rounded individuals with superior critical thinking and leadership skills.
High-impact practices embedded into the curriculum.
Industry connections cultivated by faculty and staff to help students build their network and find meaningful work.
---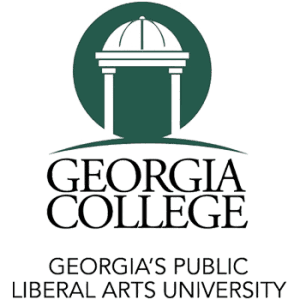 Milledgeville, GA ‧ Public ‧ 4-year
Founded in 1889 as a women's college, Georgia College & State University is Georgia's designated public liberal arts university. Nestled in historic Milledgeville, Georgia, the university provides students a practical education combined with real-world experience and experiential learning. Georgia College fosters students' collegiate and professional growth in a close-knit, 17:1 student-to-faculty ratio.
With over 46 undergraduate programs, 150+ student organizations, and 34 graduate programs to choose from, students are encouraged to participate in intellectual and culturally vibrant activities. As a historic teaching and nursing college, Georgia College & State University consistently ranks among the best programs for both teaching and nursing undergraduate and graduate programs. Combined with affordable tuition, Georgia College is a top pick for students looking for dedicated faculty and staff, diverse academic programs, and a supportive student environment.
The School of Nursing offers an upper-division nursing degree major (BSN) that is built on a two-year core curriculum of Liberal Arts and Sciences. A nursing master's degree (MSN) is offered with the following concentrations: Family Nurse Practitioner, Psychiatric Mental Health Nurse Practitioner, Women's Health Nurse Practitioner, Nurse Midwifery, and Nurse Educator. Post master's certificates are offered for all of the MSN concentrations. A post master's doctor of nursing practice degree (DNP) is also offered.
The undergraduate nursing program is designed to satisfy the current educational requirements prescribed by the Georgia Board of Nursing. Upon successful completion of this program, the unlicensed graduate is eligible to apply for licensure as a registered professional nurse by examination. Approval for admission to the licensing examination and subsequent licensure of qualified applicants is granted by the Georgia Board of Nursing.
Acceptance rate 86% • Net price $20,958 • SAT Range 1100-1245 • Students submitting SAT scores 52%
Total Undergrad Population 6,873 • Setting Town • Public 4-year
Graduation rate (6 year) 62% • Retention rate 82% • Student-to-faculty ratio 16:1
---

Statesboro, GA ‧ Public ‧ 4-year
Georgia Southern University is large enough to provide endless opportunities, but personal enough to feel like home, plus employers say our grads are ready from day one. With almost 27,000 students, approximately 141 different degree programs, three campuses built on a single vision of growing others, Georgia Southern University is moving ahead and ready for more. With historic brick streets or moss-dripping oak trees, our picturesque campuses may seem pristine, but there's a lot of roll-up-your-sleeves work going on here. Research is focused on community impact. Teaching is focused on students. And students are focused on their future.
Since 1906, the University's hallmark has been a culture of engagement that bridges theory with practice, extends the learning environment beyond the classroom and promotes student growth and life success. 10 years in a row named "Military Friendly", 11-time top eco-friendly campus, top 10 best hidden gem public universities and with inclusive excellence a core value, Georgia Southern is ready to help students shine.
Georgia Southern University's School of Nursing is committed to helping meet the needs of the region by providing high quality nursing education programs. Programs incorporate high academic and ethical standards and a caring, learning environment for students. Additionally, graduating nursing professionals are ready to be leaders and are capable of meeting the health care challenges of the 21st century.
Both the undergraduate and graduate curricula have innovative classroom, clinical and community experiences to prepare students to promote the health of populations. The School of Nursing represents a strong and extraordinary community of excellent students, well-prepared faculty, dedicated staff, and supportive alumni and friends. The School of Nursing promotes and advances the quality, accessibility, and availability of nursing care for the people of southeast Georgia and beyond.

Acceptance rate 91% • Net price $15,463 • SAT Range 993-1170 • Students submitting SAT scores 67%
Total Undergrad Population 26,949 • Setting Town • Public 4-year
Graduation rate (6 year) 54% • Retention rate 79% • Student-to-faculty ratio 22:1
---

Macon, GA ‧ Private ‧ 4-year
Mercer University, one of America's oldest and most distinctive universities, is located right in the heart of Georgia. Founded in 1833, Mercer is the only university in the South to offer liberal arts, law, medicine, engineering, and pharmacy at the same institution. In addition, Mercer also offers business, teacher education, nursing, music, and theology. With over 60 undergraduate programs to choose from, students are sure to find the degree that fits their interests.
Mercer's reputation for exceptional academics in an engaged learning environment continues to grow. Mercer University has earned national recognition from the Carnegie Foundation for the Advancement of Teaching for its commitment to community engagement and has also been named to the President's Higher Education Community Service Honor Roll for distinguished community service.
Its roots go back to 1902 when the Baptist Tabernacle Infirmary Training School for Nurses opened in Atlanta as a two-year diploma program with a simple vision of educating students to "heal the needy sick." The school changed to a three-year program a few years later, and by 1913, it was known as the Georgia Baptist Hospital School of Nursing to reflect the hospital's change in ownership. It transitioned to the Georgia Baptist College of Nursing in 1989, merged with Mercer in 2001, and in 2002 moved into a new academic building on Mercer's Cecil B. Day Graduate and Professional Campus in Atlanta.
Acceptance rate 78% • Net price $21,693 • SAT Range 1180-1340 • Students submitting SAT scores 50%
Total Undergrad Population 9,006 • Setting City: Midsize • Private 4-year
Graduation rate (6 year) 73% • Retention rate 87% • Student-to-faculty ratio 14:1
---

Toccoa Falls, GA ‧ Christian ‧ 4-year

Toccoa Falls is the perfect academic community for students who are looking for an institution that will positively impact both their academic and spiritual lives. Founded in 1907 in the beautiful foothills of the Appalachian Mountains, Toccoa Falls' first president, Dr. Richard Forest, was convinced of the importance for all students to receive a quality Christian education. Over one hundred years later, TFC is still following his motto: Where Character is Developed with Intellect.
The Fetterman School of Nursing, launched in Fall 2017, is committed to prepare and equip nurses who will shape the profession of nursing and have a profound impact in transforming healthcare and saving lives. The School of Nursing embraces the truth of Scripture as the foundation that prepares students for the passions to which God has called them. Nursing is a ministry of compassionate care. Your time at TFC will be filled with holy moments as you grow in your knowledge of nursing as a ministry.
TFC offers a BSN program – 4-year degree – eligible to take NCLEX-RN.
What does this mean? This is a four-year program of study that leads to the Bachelor of Science degree with a major in Nursing. Upon completion of the program, a graduate is eligible to write the NCLEX-RN Examination for licensure as a Registered Nurse and is prepared to function as a generalist in professional nursing practice.
Acceptance rate 58% • Net price $22,359
Total Undergrad Population 1,698 • Setting Town • Private 4-year
Graduation rate (6 year) 48% • Retention rate 58% • Student-to-faculty ratio 16:1
---
What it's like to attend nursing schools in Georgia and other FAQ:
What are average tuition costs in Georgia?
The average undergraduate tuition & fees for colleges in Georgia is $5,056 for in-state students at public institutions, $16,206 for out-of-state students at public institutions, and $19,931 for students at private institutions.
Cheapest nursing degree program in Georgia
Georgia Southern University has an average net price of $15,463, making it the least expensive nursing degree program in Georgia that made our list.
Easiest nursing degree program to get into in Georgia
Georgia Southern University has an acceptance rate of 91%, with an SAT range of 993-1170, making it the least exclusive college with a nursing program on our list.
Nursing degree program with lowest student debt in Georgia
Georgia State University has a median total debt after graduation of $21,500. This is the typical debt for a student who completed their undergraduate degree.
Texas | Florida | New York | Pennsylvania | Illinois | California | Ohio 
Best Georgia Colleges by Award
2023 Best Business Schools in Georgia
2023 Best Education Schools in Georgia