Wisconsin Lutheran College
Milwaukee, Wisconsin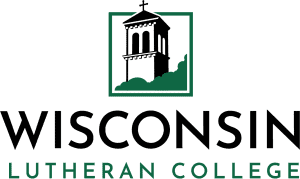 Wisconsin Lutheran College, a Christian college in Milwaukee, provides quality teaching, scholarship, and opportunities for service that are rooted in Holy Scripture. The College promotes the spiritual growth of students in preparation for lives of Christian leadership.
SHOW MORE
At Wisconsin Lutheran College, students not only have small class sizes and a variety of academic options, but they also can work side-by-side with professors doing groundbreaking heart disease research, teach in local schools as early as freshman year, travel to Zambia for a nursing clinical, take a British literature course in England, or conduct marine biology research in Grenada. Taught from a Christian perspective, courses at Wisconsin Lutheran College help students develop skills they'll need in their careers, including critical thinking, communication, teamwork, and decision making. Students also have opportunities for involvement, service, and leadership through NCAA Division III athletics, fine arts groups and ensembles, and 45+ clubs and organizations.
Wisconsin Lutheran College is a coeducational, residential Christian college in Milwaukee. Founded in 1973, the College is affiliated with the Wisconsin Evangelical Lutheran Synod. WLC's degree programs are accredited by the Higher Learning Commission's North Central Association of Colleges and Schools.
Get to know Wisconsin Lutheran College
1,034
Degree-Seeking Undergraduates
Full-time to Part-time Ratio
-
0%
1%
2%
3%
4%
5%
6%
7%
8%
9%
10%
11%
12%
13%
14%
15%
16%
17%
18%
19%
20%
21%
22%
23%
24%
25%
26%
27%
28%
29%
30%
31%
32%
33%
34%
35%
36%
37%
38%
39%
40%
41%
42%
43%
44%
45%
46%
47%
48%
49%
50%
51%
52%
53%
54%
55%
56%
57%
58%
59%
60%
61%
62%
63%
64%
65%
66%
67%
68%
69%
70%
71%
72%
73%
74%
75%
76%
77%
78%
79%
80%
81%
82%
83%
84%
85%
86%
87%
88%
89%
90%
91%
92%
93%
94%
95%
96%
97%
98%
99%
100%
Retention rate
12:1
Student/teacher ratio
$31,310
Full-time tuition cost
-
0%
1%
2%
3%
4%
5%
6%
7%
8%
9%
10%
11%
12%
13%
14%
15%
16%
17%
18%
19%
20%
21%
22%
23%
24%
25%
26%
27%
28%
29%
30%
31%
32%
33%
34%
35%
36%
37%
38%
39%
40%
41%
42%
43%
44%
45%
46%
47%
48%
49%
50%
51%
52%
53%
54%
55%
56%
57%
58%
59%
60%
61%
62%
63%
64%
65%
66%
67%
68%
69%
70%
71%
72%
73%
74%
75%
76%
77%
78%
79%
80%
81%
82%
83%
84%
85%
86%
87%
88%
89%
90%
91%
92%
93%
94%
95%
96%
97%
98%
99%
100%
6-year graduation rate
Rolling
Application deadline
-
0%
1%
2%
3%
4%
5%
6%
7%
8%
9%
10%
11%
12%
13%
14%
15%
16%
17%
18%
19%
20%
21%
22%
23%
24%
25%
26%
27%
28%
29%
30%
31%
32%
33%
34%
35%
36%
37%
38%
39%
40%
41%
42%
43%
44%
45%
46%
47%
48%
49%
50%
51%
52%
53%
54%
55%
56%
57%
58%
59%
60%
61%
62%
63%
64%
65%
66%
67%
68%
69%
70%
71%
72%
73%
74%
75%
76%
77%
78%
79%
80%
81%
82%
83%
84%
85%
86%
87%
88%
89%
90%
91%
92%
93%
94%
95%
96%
97%
98%
99%
100%
Out-of-state students
College Highlights
Engaged Students
Great Teaching
Vibrant Communities
Successful Outcomes
Admission & Aid
Engaged Students
Wisconsin Lutheran College delivers academic excellence without undermining God's Word. From the residence hall to the classroom, WLC students are mentored by caring Christian faculty and staff. The college offers numerous opportunities to study God's word each week and serve through volunteer programs as they share their faith and compassion. Students use their God-given gifts to compete in NCAA Division III athletics; perform in band, choir, and theatre; or take part in 45+ clubs and organizations. Fine arts opportunities at WLC are open to all students, regardless of major.
GENERAL EDUCATION CURRICULUM
General Education at WLC is a central component of the liberal arts programs that encourages multidisciplinary intersections, provides exposure to multiple ways of knowing, and shapes a person's ability to engage in civil and professional relationships in ethical, informed, and creative ways. The new General Education curriculum is a complement, not an addendum, to students' majors. It lays the groundwork for collegiate scholarship, prepares students for personal opportunities and experiences outside their desired professional sectors, and aims to develop informed and active citizen engagement.
As part of the General Education curriculum, students will take courses that will help them achieve six Essential Learning Outcomes: creative thinking, critical thinking, effective communication, ethical reasoning, inquiry and analysis, and intercultural knowledge and competence. All students will complete a liberal arts capstone course prior to graduation as well.
"The liberal arts education from WLC provided me with soft, technical, and emotional intelligence skills and also sowed the seed for my leadership skills. To lead, one needs more than IQ or know-how; one needs to connect with others, communicate effectively, and many times think outside the box to drive strategy and pragmatic solutions. Now, when faced with ethical considerations that lie in the gray area, because of my solid WLC preparation, it is possible to remove the ambiguity and make the right choice." – Stella, WLC Class of 1993, Solutions Engineer
CLIFTONSTRENGTHS FOR STUDENTS
New WLC students are encouraged to use the CliftonStrengths for Students assessment to assist them in identifying their top five themes of talent. The program teaches students how to develop their natural talents into strengths and apply them for success in all areas of their lives. It can be used as a resource for virtually anything—academics, advising, personal life, career, and spiritual life.
UNDERGRADUATE RESEARCH
Each year, WLC students in a variety of academic programs work closely with their professors on research projects that help prepare them for graduate school, professional schools, and the workforce. Many students conduct independent research projects as part of their capstone experiences, presenting at the college's annual Undergraduate Research Symposium or at professional conferences both nationally and internationally. Students have presented the results of WLC's marine biology research in Grenada at the Association of Marine Labs' International Conference held in Jamaica. In 2015, research by a WLC student, alumna, and professor was published in the International Journal of Humanities and Social Science. 
STUDY ABROAD
Students who study abroad at WLC often do so as part of a faculty-led academic experience. Students and professors regularly travel in small groups to China, England, Germany, Greece, Grenada, Italy, Jamaica, Turkey, and Zambia.
ENROLLMENT BY ETHNICITY
Non-U.S. Citizen: 0%
Hispanic/Latinx: 8%
Black or African American, non-Hispanic: 5%
White, non-Hispanic: 76%
Native/Indigenous American or Alaska Native, non-Hispanic: 0%
Asian, non-Hispanic: 1%
Native Hawaiian or other Pacific Islander, non-Hispanic: 0%
Two or more races, non-Hispanic: 3%
Race and/or ethnicity unknown: 6%
Great Teaching
Wisconsin Lutheran College cares personally for students in a distinctive, Christ-centered environment. WLC students learn at a nationally ranked college committed to academic excellence in each of its programs of study. Students can work alongside professors doing heart disease research, teach in local schools as early as their freshman year, travel to Zambia for a nursing clinical, take a literature course in England, or conduct marine biology research in Grenada.
INTRODUCTION TO COLLEGE
As part of the college's core curriculum, all WLC freshmen take two orientation courses. "Introduction to College Experiences" is an extended orientation to college study and life. This seminar introduces a variety of academic topics connected to the college's mission, develops the student's communicative and reflective skills, provides access to resources that support student success, and facilitates effective academic advising. The "Liberal Arts Seminar" introduces students to the liberal arts, the college's Educational Learning Outcomes, and the general education assessment process. The course aims to engage students with the liberal arts and the learning outcomes via a common theme or thread, such as the Campus Read.
"Before coming to WLC, I was a shy, quiet girl from the Czech Republic who had recently learned to speak English. It was the small classes and the encouragement of the wonderful WLC faculty that helped me to complete my degree. These gentle Christian professors guided me and gave me the confidence I needed to become a public school teacher. Now I have become a mentor to younger teachers and serve as a leader for our staff." – Lenka, WLC Class of 2001, Third-Grade Teacher
SPECIAL STUDY OPTIONS
Programs available at this institution.
Accelerated program
Distance learning
Double major
Dual enrollment
Independent study
Internships
Student-designed major
Study abroad
Teacher certification program
Dual-degree programs
Vibrant Communities
Wisconsin Lutheran College provides a welcoming campus in a vibrant community filled with opportunity. Because of WLC's central location on the border of Milwaukee and suburban Wauwatosa, WI, students can take advantage of the area's beautiful lakefront, cultural offerings, and internships. The warm and friendly campus offers modern residence halls and state-of-the-art facilities. WLC is situated across the street from the Milwaukee Regional Medical Center, an invaluable asset for students who are interested in healthcare and the sciences. The college's proximity to Chicago gives students even more chances to explore the Midwest.
VIBRANT CAMPUS LIFE
The WLC experience goes far beyond the classroom. Campus life is full of energy and activity, bustling with social events, guest speakers, variety shows, Homecoming and Winterfest, open mic nights, art gallery openings, and fine arts performances. Students become part of a vibrant, fun community that is centered on the mission and vision of preparing Christian leaders.
"At WLC, I could be connected, involved, and develop in a leadership capacity without getting lost in the shuffle. WLC helped better define who I am, and it was a place where I developed lifelong relationships. The college presented opportunities for me to grow in my leadership skills through playing Warriors Baseball and serving on Student Senate as a commuter representative." – Mark, WLC Class of 1995, Bank Vice President
STUDENT ACTIVITIES
Through student programming events, students can socialize with one another, help members of the community, and gain leadership experience both on and off campus. The college's annual Serving Hands; Serving Hearts event brings the campus community together in a common service project. Students and faculty can gather outside the classroom at events such as the monthly Afternoon Tea and the annual WLC Christmas celebration.
WINNING TEAM
One organization on campus combines research and teaching to compete annually at an international event. During the 2018 International Genetically Engineered Machine (iGEM) competition, WLC's team of student researchers earned a medal for the sixth consecutive year, competing against 300 teams from schools around the world. Their project involved developing a kit that tests water for E. coli contamination quickly and easily.
SCHOOL LOCATION
Wisconsin Lutheran College is situated on the border of the city of Milwaukee and suburban Wauwatosa, Wisconsin. Because of WLC's central location, students can take advantage of everything this easy-to-navigate metropolitan area has to offer. Downtown Milwaukee, with its beautiful lakefront and Fortune 500 companies, offers a unique and diverse city experience. Students who are looking for great music, sporting events, delicious food, shopping, hiking trails, beaches, museums, or internship opportunities will find it all in Milwaukee. The nationally recognized Milwaukee County Zoo and Pettit National Ice Center are also conveniently located near the WLC campus.
ATHLETICS
NCAA Division III, Northern Athletics Collegiate Conference, 19 varsity sports.
Nickname: Warriors
Mascot: Victor E. Warrior
Colors: Green and white
RESIDENCE LIFE
Percent of students living on campus.
First-time, first-year (freshman) students: 93%
Undergraduates: 65%
Campus housing options.
Men's dorms
Women's dorms
Apartments for single students
Houses

Successful Outcomes
Wisconsin Lutheran College prepares its students for lives of Christian servant leadership. Communities, workplaces, families, and churches desperately need moral and ethical Christian leaders. Preparing students to be these leaders in the world is a key component of WLC's mission; it's why the college exists. It's also what distinguishes WLC from other institutions of higher learning. The college provides academic, faith, and campus life experiences that will activate students' leadership potential. Students will be prepared for life's critical moments, ready to step into their own unique purpose. The Certificate for Christian Leadership program, offered to undergraduate students through the college's Center for Christian Leadership, further intentionalizes the college's mission.
The new General Education curriculum outlines three major professional and vocational categories that the college believes are central to developing Christian leaders: Lutheran theology, professional development, and approaches to individual and social questions. All students take courses in these three areas.
SUCCESS DURING AND AFTER COLLEGE
The Student Success Center exists to provide a high level of support for all students and faculty, offering academic tutors, writing tutors, and peer mentors. The Career Development Office assists WLC students as they pursue a fulfilling and appropriate use of their God-given talents. The office helps students bridge the gap between college and career, playing an active role in students' career-development process.
"At WLC, I grew deeply in my faith through Campus Ministry and was taught to apply what I learned in courses like Bioethics. I work with people every day who are facing life-changing illnesses. WLC introduced me to the idea of caring for the whole person—body, mind, and soul—as well as preparing me to integrate faith and profession." – Jonathan, WLC Class of 2011, Resident Physician
AFTER GRADUATION
WLC graduates have gone on to excel in their graduate studies—which many describe as seamless extensions of their undergraduate research work—at such schools as Duke University, Medical College of Wisconsin, New York University, The Ohio State University, Sotheby's Institute of Art-London, Texas Tech University, University of Massachusetts-Amherst, and University of Wisconsin-Madison. Graduates also serve as Christian leaders in the workplace, whether they are business leaders, doctors, judges, lawyers, medical researchers, nurses, or teachers.
Admission & Aid
Admission
ADMISSIONS FACTORS
Very Important
Rigor of secondary school record | Academic GPA | Standardized test scores
Considered
Application Essay | Recommendation(s) | Extracurricular activities
Talent/Ability | Character/personal qualities | Alumni/ae relation
Religious affiliation/commitment | Volunteer work
TEST SCORES
Optional
FRESHMAN PROFILE
SAT Evidence-Based Reading and Writing
25th Percentile: 490 | 75th Percentile: 590
SAT Math
25th Percentile: 500 | 75th Percentile: 600
ACT Composite
25th Percentile: 21 | 75th Percentile: 27
ACT Math
25th Percentile: 19 | 75th Percentile: 26
ACT English
25th Percentile: 20 | 75th Percentile: 26
HOW TO APPLY
WLC welcomes applications any time after completion of a student's junior year in high school. Admission decisions are made on a rolling basis. The admissions committee at WLC evaluates prospective student candidates in terms of both achievement and promise, emphasizing the extent to which students have taken advantage of their educational opportunities. The most successful applicants are those who have completed a strong college preparatory curriculum and have contributed in a significant way to the life of the school, church, or community. To apply, students need to provide the following: application for admission, high school transcripts, and official ACT and/or SAT score reports. Apply online for free at wlc.edu/apply.
Tuition & Cost
Tuition: $31,310
Fees: $444
Room & Board: $10,730
Aid
Wisconsin Lutheran College offers exceptional value at a competitive cost. WLC students will receive more than $12 million in scholarships this year. A four-year graduation guarantee and merit awards worth up to $60,000 further assist students in their quest for a Christian college education at WLC. There are also numerous WLC scholarships available for music, band, art, theatre, Christian school graduates, homeschool graduates, and more.
What Others are Saying
"A defining moment for me at WLC was when I was able to see the full breadth of my personality and interests come to fruition. I could participate in intramural sports, play in the band, take a variety of classes, conduct research, create meaningful relationships with my peers and professors, and grow in my faith. It was life changing to be able to explore and discover all of these aspects of my personality and really get to know myself at WLC."
— Allee, WLC Class of 2016, Ph.D. Student in Chemistry
Contact Wisconsin Lutheran College