University of North Dakota
Grand Forks, North Dakota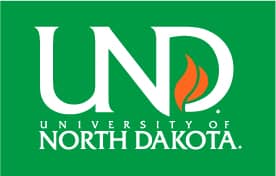 COVID-19 News | Visit Info
Many institutions are offering virtual tours and online information sessions while their campuses are closed to the public.
Join a vibrant community and make valuable connections at University of North Dakota. UND is a Public school in Grand Forks, North Dakota with many undergraduate degrees to choose from.
Get to know University of North Dakota
10,519
Degree-Seeking Undergraduates
Full-time to Part-time Ratio
-
0%
1%
2%
3%
4%
5%
6%
7%
8%
9%
10%
11%
12%
13%
14%
15%
16%
17%
18%
19%
20%
21%
22%
23%
24%
25%
26%
27%
28%
29%
30%
31%
32%
33%
34%
35%
36%
37%
38%
39%
40%
41%
42%
43%
44%
45%
46%
47%
48%
49%
50%
51%
52%
53%
54%
55%
56%
57%
58%
59%
60%
61%
62%
63%
64%
65%
66%
67%
68%
69%
70%
71%
72%
73%
74%
75%
76%
77%
78%
79%
80%
81%
82%
83%
84%
85%
86%
87%
88%
89%
90%
91%
92%
93%
94%
95%
96%
97%
98%
99%
100%
Retention rate
18:1
Student/teacher ratio
$8,212
In-state tuition cost
$14,371
Out-of-state tuition cost
-
0%
1%
2%
3%
4%
5%
6%
7%
8%
9%
10%
11%
12%
13%
14%
15%
16%
17%
18%
19%
20%
21%
22%
23%
24%
25%
26%
27%
28%
29%
30%
31%
32%
33%
34%
35%
36%
37%
38%
39%
40%
41%
42%
43%
44%
45%
46%
47%
48%
49%
50%
51%
52%
53%
54%
55%
56%
57%
58%
59%
60%
61%
62%
63%
64%
65%
66%
67%
68%
69%
70%
71%
72%
73%
74%
75%
76%
77%
78%
79%
80%
81%
82%
83%
84%
85%
86%
87%
88%
89%
90%
91%
92%
93%
94%
95%
96%
97%
98%
99%
100%
4-year graduation rate
-
0%
1%
2%
3%
4%
5%
6%
7%
8%
9%
10%
11%
12%
13%
14%
15%
16%
17%
18%
19%
20%
21%
22%
23%
24%
25%
26%
27%
28%
29%
30%
31%
32%
33%
34%
35%
36%
37%
38%
39%
40%
41%
42%
43%
44%
45%
46%
47%
48%
49%
50%
51%
52%
53%
54%
55%
56%
57%
58%
59%
60%
61%
62%
63%
64%
65%
66%
67%
68%
69%
70%
71%
72%
73%
74%
75%
76%
77%
78%
79%
80%
81%
82%
83%
84%
85%
86%
87%
88%
89%
90%
91%
92%
93%
94%
95%
96%
97%
98%
99%
100%
5-year graduation rate
-
0%
1%
2%
3%
4%
5%
6%
7%
8%
9%
10%
11%
12%
13%
14%
15%
16%
17%
18%
19%
20%
21%
22%
23%
24%
25%
26%
27%
28%
29%
30%
31%
32%
33%
34%
35%
36%
37%
38%
39%
40%
41%
42%
43%
44%
45%
46%
47%
48%
49%
50%
51%
52%
53%
54%
55%
56%
57%
58%
59%
60%
61%
62%
63%
64%
65%
66%
67%
68%
69%
70%
71%
72%
73%
74%
75%
76%
77%
78%
79%
80%
81%
82%
83%
84%
85%
86%
87%
88%
89%
90%
91%
92%
93%
94%
95%
96%
97%
98%
99%
100%
6-year graduation rate
-
0%
1%
2%
3%
4%
5%
6%
7%
8%
9%
10%
11%
12%
13%
14%
15%
16%
17%
18%
19%
20%
21%
22%
23%
24%
25%
26%
27%
28%
29%
30%
31%
32%
33%
34%
35%
36%
37%
38%
39%
40%
41%
42%
43%
44%
45%
46%
47%
48%
49%
50%
51%
52%
53%
54%
55%
56%
57%
58%
59%
60%
61%
62%
63%
64%
65%
66%
67%
68%
69%
70%
71%
72%
73%
74%
75%
76%
77%
78%
79%
80%
81%
82%
83%
84%
85%
86%
87%
88%
89%
90%
91%
92%
93%
94%
95%
96%
97%
98%
99%
100%
Acceptance rate
-
0%
1%
2%
3%
4%
5%
6%
7%
8%
9%
10%
11%
12%
13%
14%
15%
16%
17%
18%
19%
20%
21%
22%
23%
24%
25%
26%
27%
28%
29%
30%
31%
32%
33%
34%
35%
36%
37%
38%
39%
40%
41%
42%
43%
44%
45%
46%
47%
48%
49%
50%
51%
52%
53%
54%
55%
56%
57%
58%
59%
60%
61%
62%
63%
64%
65%
66%
67%
68%
69%
70%
71%
72%
73%
74%
75%
76%
77%
78%
79%
80%
81%
82%
83%
84%
85%
86%
87%
88%
89%
90%
91%
92%
93%
94%
95%
96%
97%
98%
99%
100%
Out-of-state students
College Highlights
Engaged Students
Great Teaching
Vibrant Communities
Successful Outcomes
Admission & Aid
Engaged Students
ENROLLMENT BY ETHNICITY
Non-U.S. Citizen: 5%
Hispanic/Latinx: 4%
Black or African American, non-Hispanic: 2%
White, non-Hispanic: 79%
Native/Indigenous American or Alaska Native, non-Hispanic: 1%
Asian, non-Hispanic: 2%
Native Hawaiian or other Pacific Islander, non-Hispanic: 0%
Two or more races, non-Hispanic: 4%
Race and/or ethnicity unknown: 3%
Admission & Aid
Admission
FRESHMAN PROFILE
SAT Evidence-Based Reading and Writing
25th Percentile: 480 | 75th Percentile: 600
SAT Math
25th Percentile: 500 | 75th Percentile: 630
ACT Composite
25th Percentile: 21 | 75th Percentile: 27
ACT Math
25th Percentile: 20 | 75th Percentile: 27
ACT English
25th Percentile: 19 | 75th Percentile: 26
Tuition & Cost
Tuition (in-state): $8,212
Tuition (out-of-state): $14,371
Fees: $1,524
Room & Board: $9,444
Contact University of North Dakota
Campus Location
University of North Dakota
Grand Forks, ND 58202