University of Mary
Bismarck, North Dakota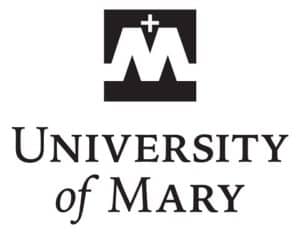 The University of Mary in Bismarck, North Dakota, was founded in 1959 by the Benedictine Sisters of Annunciation Monastery. Beginning as a four-year undergraduate college of education and nursing, it has since expanded to offer 55 undergraduate majors, 14 master's programs, and four doctoral programs. Students enjoy a strong liberal arts foundation for their chosen careers while maintaining a distinctive focus on servant leadership. The University has flourished since its founding and now serves more than 4,600 students in North Dakota, Arizona, Montana, Kansas, Rome, and Peru, along with flexible and convenient online offerings.
SHOW MORE
The hallmarks of the University of Mary are its innovation and distinctiveness. The university has launched a myriad of unique initiatives to benefit students. This includes a groundbreaking 'Year-Round Campus' option, which provides students a full and vibrant campus experience over the summer while allowing them to complete a bachelor's degree in 2.6 years and a master's in four. This option is an innovative solution to the rising costs, extended completion times, and skyrocketing debt loads currently challenging students seeking higher education.
As part of NCAA Division II Athletics, the University of Mary community—students, alumni, faculty, and staff—come together in spirited support of the university's 17 varsity sports teams.
Education at the University of Mary challenges students academically and encourages them to develop their full potential as both people and leaders with moral courage who can effect positive change in the world. They graduate as lifelong learners.
Get to know University of Mary
2,535
Degree-Seeking Undergraduates
Full-time to Part-time Ratio
-
0%
1%
2%
3%
4%
5%
6%
7%
8%
9%
10%
11%
12%
13%
14%
15%
16%
17%
18%
19%
20%
21%
22%
23%
24%
25%
26%
27%
28%
29%
30%
31%
32%
33%
34%
35%
36%
37%
38%
39%
40%
41%
42%
43%
44%
45%
46%
47%
48%
49%
50%
51%
52%
53%
54%
55%
56%
57%
58%
59%
60%
61%
62%
63%
64%
65%
66%
67%
68%
69%
70%
71%
72%
73%
74%
75%
76%
77%
78%
79%
80%
81%
82%
83%
84%
85%
86%
87%
88%
89%
90%
91%
92%
93%
94%
95%
96%
97%
98%
99%
100%
Retention rate
11:1
Student/teacher ratio
$17,980
Full-time tuition cost
-
0%
1%
2%
3%
4%
5%
6%
7%
8%
9%
10%
11%
12%
13%
14%
15%
16%
17%
18%
19%
20%
21%
22%
23%
24%
25%
26%
27%
28%
29%
30%
31%
32%
33%
34%
35%
36%
37%
38%
39%
40%
41%
42%
43%
44%
45%
46%
47%
48%
49%
50%
51%
52%
53%
54%
55%
56%
57%
58%
59%
60%
61%
62%
63%
64%
65%
66%
67%
68%
69%
70%
71%
72%
73%
74%
75%
76%
77%
78%
79%
80%
81%
82%
83%
84%
85%
86%
87%
88%
89%
90%
91%
92%
93%
94%
95%
96%
97%
98%
99%
100%
6-year graduation rate
-
0%
1%
2%
3%
4%
5%
6%
7%
8%
9%
10%
11%
12%
13%
14%
15%
16%
17%
18%
19%
20%
21%
22%
23%
24%
25%
26%
27%
28%
29%
30%
31%
32%
33%
34%
35%
36%
37%
38%
39%
40%
41%
42%
43%
44%
45%
46%
47%
48%
49%
50%
51%
52%
53%
54%
55%
56%
57%
58%
59%
60%
61%
62%
63%
64%
65%
66%
67%
68%
69%
70%
71%
72%
73%
74%
75%
76%
77%
78%
79%
80%
81%
82%
83%
84%
85%
86%
87%
88%
89%
90%
91%
92%
93%
94%
95%
96%
97%
98%
99%
100%
Acceptance rate
-
0%
1%
2%
3%
4%
5%
6%
7%
8%
9%
10%
11%
12%
13%
14%
15%
16%
17%
18%
19%
20%
21%
22%
23%
24%
25%
26%
27%
28%
29%
30%
31%
32%
33%
34%
35%
36%
37%
38%
39%
40%
41%
42%
43%
44%
45%
46%
47%
48%
49%
50%
51%
52%
53%
54%
55%
56%
57%
58%
59%
60%
61%
62%
63%
64%
65%
66%
67%
68%
69%
70%
71%
72%
73%
74%
75%
76%
77%
78%
79%
80%
81%
82%
83%
84%
85%
86%
87%
88%
89%
90%
91%
92%
93%
94%
95%
96%
97%
98%
99%
100%
Out-of-state students
College Highlights
Engaged Students
Great Teaching
Vibrant Communities
Successful Outcomes
Admission & Aid
Engaged Students
The university's president, Monsignor James P. Shea, describes the distinctiveness of Mary:
"What is the purpose of higher education? What is a university for? The domain of a university is universal knowledge. Universal knowledge about how men and women are meant to live as human beings, how they are meant to be contributors to society, contributors to the culture, and our work at the University of Mary is to help our students—whether they are 18 or 42—to be able to see that each of them have that possibility to live fully, to live well, with the insight necessary to be a good mom, to be a good dad, to be great in their workplace in their community. So that they are not just existing, but they are really living. Not just surviving, but they are thriving. And that is a whole different thing. It's an endeavor, which is very distinct from the endeavor which many colleges and universities in our day set out to do. We offer an education for the whole of life, and that's the difference. University of Mary, for Life."
Additionally, the university is intentionally diverse, both geographically and otherwise, and makes an intentional effort to provide a space for students to resist some of society's trends. Most prominently, in a divisive culture in which people who disagree with one another can scarcely speak before hurling insults, the University of Mary promotes an environment where students learn to engage in dialogue in the pursuit of truth. 
Students learn to "disagree without being disagreeable." A university is intended to be a place for the free exchange of ideas, and so the University of Mary warmly welcomes students of many faiths and convictions. At the same time, the University of Mary's common discourse ever takes place in a spirit of authentic respect for Catholic teaching and practice. All faculty and staff at the university acknowledge the Catholic faith as a path to moral integrity and personal holiness.
GLOBAL STUDIES
At the University of Mary, the student experience is enriched by amazing opportunities to study abroad. Global studies at the University of Mary offers students the chance to study in the "Eternal City" of Rome, Italy; Milan, Italy; Peru; and other faculty-led service trips. Students can study for a semester or a few weeks during the summer, or they may participate in service trips over school breaks. Global Studies combines educational programs with life-changing opportunities to experience different cultures, serve others, and put Benedictine values into action.
DAY OF SERVICE
In the fall of 2014, students in Student Government created a campus and community-wide Day of Service. The first year was a tremendous success, and in just its second year, more than 1,000 students and faculty volunteered their time in the Bismarck-Mandan, ND, community. This tradition continues today, as students serve local and charitable organizations and businesses, which touch hundreds of lives, including the students who serve. 
"It's an incredible feeling to belong to something that is much bigger than yourself; to be a part of a project and event that you know will impact the lives of people within our community in a positive way, through an event that will continue to impact and impress upon future students at the university a spirit of service and gratitude." – Rachel, Class of 2018
RESIDENT SCHOLARS
To bridge the gap between residential life on campus and the teaching academy, the university presents a "resident scholar" program in which professors with terminal degrees in their fields (often the humanities) live in community with first-year students. These resident scholars foster a community of learning outside of the classroom, contributing to a unique experience in higher education.
ENROLLMENT BY ETHNICITY
Non-U.S. Citizen: 0%
Hispanic/Latinx: 0%
Black or African American, non-Hispanic: 2%
White, non-Hispanic: 79%
Native/Indigenous American or Alaska Native, non-Hispanic: 2%
Asian, non-Hispanic: 1%
Native Hawaiian or other Pacific Islander, non-Hispanic: 0%
Two or more races, non-Hispanic: 2%
Race and/or ethnicity unknown: 14%
Great Teaching
ACADEMIC EXCELLENCE
Widely respected for academic excellence, the University of Mary offers students in North Dakota and around the globe an affordable, private, Catholic university education. Whether one is an undergraduate pursuing their bachelor's degree or a graduate student pursuing their master's or doctorate, Mary offers values-based, professionally focused academic programs grounded in the liberal arts, servant leadership, and robust experiential learning opportunities.
"Along with a great education, the professors who teach here are authentic and care for the student's well being. I have been blown away by the dynamic of relationships between professors and students. I believe this beautiful example of authentic relationships, witnessed in the professors, has taught the students how to also live in community. I have gained lifelong friends here that care for my soul and desire what is good, true, and beautiful." – Breanna, Class of 2018
FIRST-YEAR SEMINAR
Among the University's unique attributes is the first-year seminar taught by the university's president, Monsignor James P. Shea. Along with selected members of his cabinet, Monsignor Shea's course attempts to ignite students' interest in life's core questions: "Why am I here? What was I made for? Who am I to love? How can I live well?"
Monsignor Shea maintains a close connection with Mary students and often states that young people approach college as "the last gasp of adolescence, when instead a university life is intended to be the first stage of adulthood!"
Monsignor's work with freshmen is coupled with a fine assembly of faculty in a variety of disciplines. Because the University of Mary is not a research institution, Mary's faculty are hired and trained to be devoted to teaching. They engage with students in projects outside of class and are deeply invested in their success. For example, University of Mary professors Marek Dojs (Communications), and Daniel Bielinski (Theatre) have worked with Mary students to produce a professional short film that has been praised by critics and submitted to film festivals throughout the country.
The university has been intentional about fostering an environment where faculty and students develop lasting relationships that become lifelong connections. One example of this effort is the foundation of an on campus 'pub,' called Chesterton's, where students (of legal drinking age) and faculty members can converse together after a day of classes.
Vibrant Communities
ACTIVITIES OUTSIDE OF THE CLASSROOM
Among the university's distinctive communities is the Emerging Leaders Academy (ELA). The University of Mary strives to produce top-notch professionals prepared for the rigors of life and career; ELA students have a desire to go beyond Mary's robust internships and experiential learning programs to personal interaction with leaders in their chosen profession. Offered as an optional community, students in ELA receive personal mentorships by leaders in their chosen professions, developing personal relationships that provide formation and networking. The program is designed for students who want to make a profound impact through their career, and thus should learn from someone actively doing so. There are also many student organizations tied to students' academic interests as well as the Student Recreation Program for intramural and fitness activities. Student activities also include those fostering spiritual development. 
Among these student organizations:
Students Today Leaders Forever (STFL)

Environmental Coalition of Students (ECOS)

Music Education (CMENC)

PACS (Psychology/Pastoral Ministry, Addiction Counseling, Criminal Justice, Social Work/Social and Behavioral Sciences)

PI THETA EPSILON (Beta Pi Chapter) – National Honor Society for Occupational Therapy students

Student Occupational Therapy Association (SOTA)

Student Physical Therapy Association, Students in Free Enterprise (SIFE)
The University of Mary offers convocations on a wide variety of topics that include faculty- and student-led lectures and discussion provided for students to gain educational insight. The convocations also host special guest speakers from around the globe.
In addition to all these clubs and activities, the Fellowship of Catholic University Students (FOCUS) sponsors Bible studies at the University of Mary.
RESIDENCE HALLS
In additional to its residence halls, the University of Mary offers men and women students the opportunity to apply for a faith-based residence life experience. The experiences have residents make a common commitment to pursuing a virtuous life together as a community, all while receiving spiritual direction to discern their vocations.
SCHOOL LOCATION
The University of Mary's main campus is located just south of Bismarck, North Dakota, atop a bluff that oversees stunning panoramic views of the beautiful Missouri River valley, open fields, and rolling hills.
Mary offers all the advantages of traditional university life with the attractions of a vibrant and growing urban setting. Students have quick and easy access to the cities of Bismarck and Mandan with the advantages of a wide and expanding array of events and entertainment in one of the fastest growing communities in America. Bismarck is the capital city of North Dakota and is consistently ranked as one of the safest and least stressful communities in the nation.
Peaceful, beautiful, and friendly, Bismarck is alive with activities in all four seasons, with an extensive trail system, parks and golf courses, sports leagues, a symphony, community theatre, shopping, and more.
Bismarck Municipal Airport offers multiple arrivals and departures each day. Numbers of flights continue to expand, so travel for most out-of-state students is available and convenient.
ATHLETICS
The University of Mary is a member of the NCAA Division II, Northern Sun Intercollegiate Conference and offers 17 varsity sports. 
Men's sports include baseball, basketball, cross country, football, soccer, indoor track & field, outdoor track & field, and wrestling. In addition, the university's men's hockey team is part of the American Collegiate Hockey Association (ACHA).
Women's sports are basketball, cross country, soccer, softball, swimming & diving, tennis, indoor track & field, outdoor track & field, and volleyball.
The University of Mary also offers a variety of intramural sports  as well as a 24/7 fitness center.
The university's mascot is the Marauders, and its school colors are blue and orange.
"Committing to play basketball at the University of Mary was no accident for me. It was without a doubt, part of God's plan. Not only did the team provide me with a family away from home but my teammates, coaches, and the rest of the staff pushed me to reach goals I never thought possible on the court, as well as in life. I found a faith, a passion for my future career, and a group of people that will someday stand beside me at my wedding. I was also given the opportunity to travel to some amazing places, as well as create countless memories. I will be forever grateful for my time at the University of Mary, as well as for the people I met there." – Dani, Class of 2018
Successful Outcomes
GUARANTEED SUCCESS
With 55 undergraduate majors, 14 master's programs, and four doctoral programs, the University of Mary offers a wide range of career opportunities. With a job or graduate school placement rate of 96 percent, Mary graduates succeed in obtaining employment or continuing their studies at the next level. Mary offers professional preparation programs, including such fields as business, education, nursing, physical therapy, other health science specializations (like respiratory therapy), and specializations in engineering (civil, electrical, mechanical).
"My education at the University of Mary has created much opportunity for me both professionally and personally, helping me truly excel as an entrepreneur. University of Mary gave me the skills to confidently enter the real world and pursue my passion of being my own boss. The tremendous pressure of starting a new business with several employees is very challenging but to have the education, support, and passion from the University of Mary helps make everything a success." – Colton, Class of 2015
YEAR-ROUND CAMPUS PROGRAM
Mary has now launched a groundbreaking 'Year-Round Campus' program that allows students the option to complete a bachelor's degree in 2.6 years and a master's degree in four! This program allows students to realize an estimated lifetime financial benefit of more than $600,000 by graduating with two degrees in just four years.
In competitive health science fields, such as nursing and physical therapy, qualifying students can apply for early admission and secure a place in the program. The University of Mary places a strong emphasis on preparing students well for their professional careers and a life fully lived well.
Admission & Aid
Admission
TEST SCORES
Optional
FRESHMAN PROFILE
SAT Evidence-Based Reading and Writing
25th Percentile: 510 | 75th Percentile: 620
SAT Math
25th Percentile: 490 | 75th Percentile: 600
ACT Composite
25th Percentile: 20 | 75th Percentile: 26
ACT Math
25th Percentile: 18 | 75th Percentile: 26
ACT English
25th Percentile: 20 | 75th Percentile: 26
Tuition & Cost
Tuition: $17,980
Fees: $1,850
Room: $3,550
Board: $4,840
Aid
The University of Mary offers affordable education through scholarships, grants, loans, and employment and work-study opportunities. The Financial Aid Department works closely with students to explore all available funding resources. In fact, 99 percent of University of Mary students receive scholarships or some form of financial aid. A number of scholarships are available, including: 
CHI Nursing Scholarship – Students enrolled in Mary's Nursing program can qualify to receive their senior year of nursing tuition for free. 
Gregorian Scholars Honors Program — Gregorian Scholars Honors Program applicants will automatically receive consideration for one of two elite academic scholarships.
Merit-based Scholarships – Students' high school academic accomplishments are rewarded at the University of Mary through the Blessed John Henry Newman and Sr. Thomas Welder academic scholarships.
What Others are Saying
"The University of Mary not only offers an exceptional education experience, but every graduate who walks across the Commencement stage is a better person than when they first arrived on campus. Hearts and minds are transformed through the curriculum, the sense of community, the people, and the many opportunities offered."
— Katelyn, Class of 2018
Contact University of Mary