St. Thomas Aquinas College
Sparkill, New York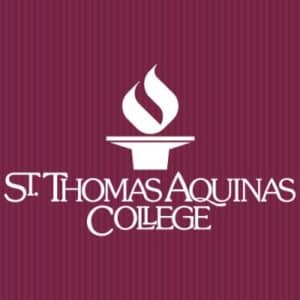 From the day students first arrive, St. Thomas Aquinas College celebrates their strengths, talents, and individuality. The College encourages students to push past their limits and strive for great things, providing the opportunities for students to learn and grow in mind, body, and soul. With a choice of leading-edge academic programs, exciting field experiences, NCAA Division II athletics, and an array of student clubs, students can explore their creativity and meet friends. Anyone can be who they are in a place where everyone knows their name.
SHOW MORE
When students graduate, they possess the tools and skills they need to succeed in any career they choose. St. Thomas Aquinas College's goal is to help students become the best version of themselves possible. The promise students that they will become "the BEST. YOU. EVER."
Founded in 1952 by the Dominican Sisters of Sparkill as a teaching college, the school has grown to a 60-acre campus, providing a safe, welcoming place to study more than 100 majors, minors, and specializations in the School of Arts and Sciences, the School of Business, and the School of Education. It's just 15 miles north of New York City, giving students quick access to learning, cultural, internship, and career opportunities in one of the world's most exciting cities.
The College's students come from around the globe and are active inside and outside of the classroom. At STAC, the faculty are dedicated to creating a learning environment that extends beyond the classroom with various clubs and activities,  21 NCAA Division II athletic teams, study abroad opportunities, and a community where students can make lifelong friendships and "stand out while fitting in."
Get to know St. Thomas Aquinas College
1,612
Degree-Seeking Undergraduates
Full-time to Part-time Ratio
-
0%
1%
2%
3%
4%
5%
6%
7%
8%
9%
10%
11%
12%
13%
14%
15%
16%
17%
18%
19%
20%
21%
22%
23%
24%
25%
26%
27%
28%
29%
30%
31%
32%
33%
34%
35%
36%
37%
38%
39%
40%
41%
42%
43%
44%
45%
46%
47%
48%
49%
50%
51%
52%
53%
54%
55%
56%
57%
58%
59%
60%
61%
62%
63%
64%
65%
66%
67%
68%
69%
70%
71%
72%
73%
74%
75%
76%
77%
78%
79%
80%
81%
82%
83%
84%
85%
86%
87%
88%
89%
90%
91%
92%
93%
94%
95%
96%
97%
98%
99%
100%
Retention rate
17:1
Student/teacher ratio
$33,400
Full-time tuition cost
Rolling
Application deadline
-
0%
1%
2%
3%
4%
5%
6%
7%
8%
9%
10%
11%
12%
13%
14%
15%
16%
17%
18%
19%
20%
21%
22%
23%
24%
25%
26%
27%
28%
29%
30%
31%
32%
33%
34%
35%
36%
37%
38%
39%
40%
41%
42%
43%
44%
45%
46%
47%
48%
49%
50%
51%
52%
53%
54%
55%
56%
57%
58%
59%
60%
61%
62%
63%
64%
65%
66%
67%
68%
69%
70%
71%
72%
73%
74%
75%
76%
77%
78%
79%
80%
81%
82%
83%
84%
85%
86%
87%
88%
89%
90%
91%
92%
93%
94%
95%
96%
97%
98%
99%
100%
Acceptance rate
-
0%
1%
2%
3%
4%
5%
6%
7%
8%
9%
10%
11%
12%
13%
14%
15%
16%
17%
18%
19%
20%
21%
22%
23%
24%
25%
26%
27%
28%
29%
30%
31%
32%
33%
34%
35%
36%
37%
38%
39%
40%
41%
42%
43%
44%
45%
46%
47%
48%
49%
50%
51%
52%
53%
54%
55%
56%
57%
58%
59%
60%
61%
62%
63%
64%
65%
66%
67%
68%
69%
70%
71%
72%
73%
74%
75%
76%
77%
78%
79%
80%
81%
82%
83%
84%
85%
86%
87%
88%
89%
90%
91%
92%
93%
94%
95%
96%
97%
98%
99%
100%
Out-of-state students
-
0%
1%
2%
3%
4%
5%
6%
7%
8%
9%
10%
11%
12%
13%
14%
15%
16%
17%
18%
19%
20%
21%
22%
23%
24%
25%
26%
27%
28%
29%
30%
31%
32%
33%
34%
35%
36%
37%
38%
39%
40%
41%
42%
43%
44%
45%
46%
47%
48%
49%
50%
51%
52%
53%
54%
55%
56%
57%
58%
59%
60%
61%
62%
63%
64%
65%
66%
67%
68%
69%
70%
71%
72%
73%
74%
75%
76%
77%
78%
79%
80%
81%
82%
83%
84%
85%
86%
87%
88%
89%
90%
91%
92%
93%
94%
95%
96%
97%
98%
99%
100%
Full-time faculty w/ terminal degree
College Highlights
Engaged Students
Great Teaching
Vibrant Communities
Successful Outcomes
Admission & Aid
Engaged Students
By linking academic programs to the real world, St. Thomas Aquinas College offers valuable opportunities to enrich students' education through hands-on experiences. Everyone at STAC is prepared to enter the workforce with practical and marketable skills.
INSIDE THE CLASSROOM
St. Thomas Aquinas College students are presenting scholarly research at international conferences; forensic science majors are interning with the local sheriff's department to investigate crimes; biology students are conducting hypothesis-driven research in state-of-the-art labs; and future educators are working with faculty to enrich science education through digital literacy and 3D gaming. These opportunities prepare students to land jobs and/or pursue graduate study after graduation.
"My advisor at STAC, Carol Lagstein, really helped me along the way in my career. She inspired me, then introduced me to the perfect graduate program and dual-degree in mental health counseling and art therapy at Caldwell University." – Jennifer Passanisi '14, Art Therapist, Jawonio Promise Program
BEYOND THE CLASSROOM
STAC students study abroad and expand their global breadth and understanding, traveling to France, Spain, Italy, and other countries all over the world. Honors students can look forward to a study abroad experience at Oxford University in England.
IN THE COMMUNITY
The largest organization on campus, the Spartan Volunteers, hosts fundraisers for local nonprofits, collects books for underprivileged inner-city schools, and gives food and clothing to New York City's homeless during the popular monthly Midnight Run. These are just a few examples of how St. Thomas Aquinas students are reaching out to those in need and educating students to be responsible citizens.
ENROLLMENT BY ETHNICITY
Non-U.S. Citizen: 4%
Hispanic/Latinx: 19%
Black or African American, non-Hispanic: 10%
White, non-Hispanic: 55%
Native/Indigenous American or Alaska Native, non-Hispanic: 0%
Asian, non-Hispanic: 4%
Native Hawaiian or other Pacific Islander, non-Hispanic: 0%
Two or more races, non-Hispanic: 3%
Race and/or ethnicity unknown: 5%
Great Teaching
St. Thomas Aquinas College programs of study within its School of Arts & Sciences, School of Education, and School of Business speak to the needs of today's society. The campus features state-of-the-art classrooms, an innovation center, labs, and study centers to facilitate learning.
EXPERIENTIAL TRAINING
Combining academic rigor with experiential training, St. Thomas Aquinas College prepares students to excel in high-profile fields, from business to education, and in specialized subfields, such as accounting, forensic science, graphic design, sports management, and social media.
STAC is continually evolving its programs of study and recruiting new scholars to its faculty so that it can best prepare students to think outside the box, communicate with conviction, and give back to society in meaningful ways.
Those pursuing careers in media can learn in an actual television studio at the communications center. Students in scientific fields have access to the latest technical equipment, such as a DNA sequencer in Costello Hall. Future teachers gain hands-on knowledge of lesson planning with SMART technology.
INVOLVED PROFESSORS
At St. Thomas Aquinas College, a personalized education builds upon each student's strengths and talents. This is possible through STAC's small class sizes and extraordinary educators who are deeply committed to getting to know their students' unique needs. The faculty work side-by-side with students to help them grow intellectually, applying their knowledge to solve problems in the real world. Professors get to know their students personally and provide helpful advice to guide them through fulfilling years at STAC.
"What excites me is the one-on-one interaction with my students, taking their strengths and making them even stronger, and then seeing them succeed after they graduate." – Dr. Ryan Wynne, Associate Professor of Biology, Director of the Honors Program
SPECIAL STUDY OPTIONS
Programs available at this institution.
Accelerated program
Cooperative education program
Cross-registration
Double major
Dual enrollment
English as a Second Language (ESL)
Exchange student program (domestic)
Honors Program
Independent study
Internships
Liberal arts/career combination
Study abroad
Teacher certification program
Vibrant Communities
The St. Thomas Aquinas community is just the right size to make students feel at home as they begin the journey toward their futures. Whether a student's interests are in sports, the performing arts, campus ministry, radio, publishing, or student government, there is a place there for them.
St. Thomas Aquinas welcomes residents and commuters alike, ensuring a superior education and all of the comforts of a home away from home. If one chooses to live on campus, they can feel right at home in the townhouse-style residence complexes, where they can meet friends for coffee in the dining hall and enjoy the outdoors at the annual Springfest and Oktoberfest.
On campus, life is good. Students have plenty of opportunities to have fun and make friends just steps outside their doors. Residents and commuters also take advantage of St. Thomas Aquinas's close proximity to New York City by venturing out together on weekends. Everyone gets the chance to expand their cultural horizons and enjoy a wide range of professional sports games, Broadway plays, concerts, museums, galleries, fine dining, and sightseeing excursions.
SPARTAN ATHLETICS
Student athletes at St. Thomas Aquinas College build determination and sportsmanship, develop critical life skills such as leadership and personal discipline, and make lifelong friendships with like-minded peers. A member of the National Collegiate Athletic Association (NCAA) Division II, St. Thomas Aquinas College currently sponsors 21 intercollegiate teams, the maroon and gold Spartans. Men's teams include baseball, basketball, cross-country, golf, soccer, tennis, lacrosse, and track (indoor and outdoor seasons). Women's teams include basketball, cross-country, lacrosse, soccer, softball, tennis, field hockey, and track (indoor and outdoor seasons).
In addition, the emphasis on academics, along with strong faculty support, ensures that student athletes will strike the perfect balance in learning both on the field and off, all while maintaining time to socialize and explore their other interests.
Club sports (including ice hockey, soccer, baseball, and bowling) and intramurals are also popular.  For more information on athletics programs, visit www.stac.edu/athletics.
The College's athletic facilities include four outdoor, all-weather tennis courts, the Spartan Athletic Complex, with soccer, softball and lacrosse fields, and the College utilizes nearby Provident Bank Park for baseball, a state park cross country course, and an area golf course for its NCAA Division II intercollegiate sports. The Spartan Athletic Complex sits on 12 acres and is home to the Spartans' soccer teams, the women's softball team, the women's field hockey team, and the lacrosse teams.
Athletes practice in state-of-the-art sports facilities, and baseball stars play, courtesy of STAC's partnership with Palisades Credit Union Park, on a professional minor league ball field.
STAC CLUBS
St. Thomas Aquinas College offers many clubs and organizations through which students can enrich their college experiences, develop leadership skills, and make new friends. For a full listing their more than 40 students clubs on campus, visit www.stac.edu/getinvolved
SCHOOL LOCATION
St. Thomas Aquinas College's 60-acre scenic campus is located in the Rockland County community of Sparkill, New York. The College is 15 miles north of the George Washington Bridge and 20 miles south of West Point. The campus is easily accessible from all points in New Jersey and the entire New York City metro area.
RESIDENCE LIFE
Percent of students living on campus.
First-time, first-year (freshman) students: 73%
Undergraduates: 52%
Campus housing options.
Men's dorms
Women's dorms
Apartments for single students
Successful Outcomes
The Career Development Office is a resource available throughout all four years of a student's education that prepares them for their futures and, more practically, how to successfully enter a competitive workforce after graduation.
CAREER NETWORK: ACCESS TO ALUMNI
The St. Thomas Aquinas College Career Network provides students and alumni various opportunities to develop their skills through internships, virtual career fairs, etiquette seminars, résumé building workshops, and mock interviews. The College pairs students with alumni from around the nation and world, creating a collegial and relaxed setting for an exchange of real-world perspectives. Often times, these relationships lead to internship and employment opportunities, channels for sound professional advice, and everlasting friendships.
PREPARATION THAT LEADS TO RESULTS
St. Thomas Aquinas College puts the tools at students' fingertips for them to build their confidence and become polished job candidates. Whatever career students choose, STAC prepares them to enter tomorrow's workforce with the knowledge and skills they need to succeed. Visit www.stac.edu/careerdevelopment to learn more about the various tools, workshops, counseling, and training that students land jobs upon graduation.
"Our outstanding faculty, experts in their field, are dedicated to preparing talented teachers ready to meet the needs of all students in today's classrooms." – Dr. Meenakshi Gajria, Dean, School of Education
SUCCESSFUL ALUMNI
STAC alumni show the value of their education by achieving success in careers across a wide range of industries and pursuing advanced degrees in medicine, law, and education.
St. Thomas Aquinas College alumni include CEOs of international corporations, financial analysts at leading investment firms, social media experts, and award-winning journalists. They are teachers educating new generations, doctors who heal the sick, lawyers and politicians working to ensure justice, and performers who are entertaining audiences across the nation. In so many diverse professional paths, graduates of St. Thomas Aquinas College are applying their education to achieve their personal best, reach out to others, and make the world a better place.
Admission & Aid
Admission
ADMISSIONS FACTORS
Very Important
Rigor of secondary school record
Important
Recommendation(s) | Interview
Extracurricular activities | Talent/ability
Considered
Academic GPA | Standardized test scores | Application Essay
Volunteer work | Work experience | Level of applicant's interest
TEST SCORES
Required
FRESHMAN PROFILE
SAT Evidence-Based Reading and Writing
25th Percentile: 450 | 75th Percentile: 570
SAT Math
25th Percentile: 450 | 75th Percentile: 580
ACT Composite
25th Percentile: 19 | 75th Percentile: 25
APPLICATION INFORMATION
St. Thomas Aquinas has a rolling admissions policy and admits new students-incoming freshmen and transfers-in both the fall and spring semesters. As soon as the Admissions Office has received a completed application and all of the required materials, the application will be assigned to a counselor for review. Prospective students will be updated throughout the process, and the Office of Admissions will notify them of its decision about two weeks after the College receives the completed application and all supporting materials.
FRESHMEN
To be considered for admission to St. Thomas Aquinas College, one should submit an application as early as possible during their senior year of high school. If one accepts the invitation to attend St. Thomas Aquinas College, they will need to submit a deposit by the required date (May 1 for fall enrollment). For detailed information and requirements, visit the Admissions webpage at https://www.stac.edu/admissions/freshman-students.
TRANSFERS
Transfer students are admitted to the College in both September and January, and while there is no deadline, applications should be submitted as early as possible. For detailed information and requirements, visit the Transfer Admissions webpage at https://www.stac.edu/admissions/transfer-students.
INTERNATIONAL
St. Thomas Aquinas College welcomes international students to the campus, offering services from the International Student Counselor to help with any concerns. For detailed information and requirements, visit the International Students Admissions webpage at https://www.stac.edu/admissions/international-student-admission.
Tuition & Cost
Tuition: $33,400
Fees: $800
Room: $8,500
Board: $6,550
Aid
FINANCIAL AID OPPORTUNITIES
Financial Aid includes scholarships, grants, awards, loans and work study programs — all but scholarships are determined by FAFSA results. Scholarships at St. Thomas are based on a student's application materials. There is no separate application to be considered for STAC scholarships. It is important include the St. Thomas Aquinas College school code on the FAFSA application (002832).
APPLYING FOR AID
St. Thomas Aquinas only requires the Free Application for Federal Student Aid (FAFSA) form. The FAFSA process provides the College with the results in the calculation of one's EFC (Expected Family Contribution). The EFC is the amount of money that the federal government believes one's family can contribute to their student's education.
Visit the St. Thomas Aquinas College Financial Aid webpage for more information at https://www.stac.edu/cost-aid/financial-aid.
What Others are Saying
"STAC has a reputation for being a great school for education. The faculty prepared me, and my peers were collaborative and helpful. The community was incredibly supportive. I believe I am a better educator today because of that."
— Anne Marie Gwizdak '07/'08, Elementary and Special Education, MSEd - Literacy
Contact St. Thomas Aquinas College