Southwest Baptist University
Bolivar, Missouri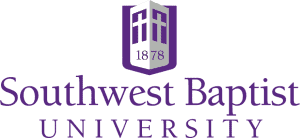 Find meaning and purpose for a lifetime of success at Southwest Baptist University. Choose from more than 100 academic programs as a foundation for being a servant leader in a global society. At SBU, students thrive in their faith journey through discipleship, worship, and ministry experiences.
SBU was founded in 1878 and is rooted in the Baptist faith, affiliated with the Missouri Baptist Convention. The University has four physical campuses and an online campus. The main, residential campus is in Bolivar, Mo.
Get to know Southwest Baptist University
2,379
Degree-Seeking Undergraduates
Full-time to Part-time Ratio
-
0%
1%
2%
3%
4%
5%
6%
7%
8%
9%
10%
11%
12%
13%
14%
15%
16%
17%
18%
19%
20%
21%
22%
23%
24%
25%
26%
27%
28%
29%
30%
31%
32%
33%
34%
35%
36%
37%
38%
39%
40%
41%
42%
43%
44%
45%
46%
47%
48%
49%
50%
51%
52%
53%
54%
55%
56%
57%
58%
59%
60%
61%
62%
63%
64%
65%
66%
67%
68%
69%
70%
71%
72%
73%
74%
75%
76%
77%
78%
79%
80%
81%
82%
83%
84%
85%
86%
87%
88%
89%
90%
91%
92%
93%
94%
95%
96%
97%
98%
99%
100%
Retention rate
12:1
Student/teacher ratio
$24,500
Full-time tuition cost
Rolling
Application deadline
-
0%
1%
2%
3%
4%
5%
6%
7%
8%
9%
10%
11%
12%
13%
14%
15%
16%
17%
18%
19%
20%
21%
22%
23%
24%
25%
26%
27%
28%
29%
30%
31%
32%
33%
34%
35%
36%
37%
38%
39%
40%
41%
42%
43%
44%
45%
46%
47%
48%
49%
50%
51%
52%
53%
54%
55%
56%
57%
58%
59%
60%
61%
62%
63%
64%
65%
66%
67%
68%
69%
70%
71%
72%
73%
74%
75%
76%
77%
78%
79%
80%
81%
82%
83%
84%
85%
86%
87%
88%
89%
90%
91%
92%
93%
94%
95%
96%
97%
98%
99%
100%
Acceptance rate
-
0%
1%
2%
3%
4%
5%
6%
7%
8%
9%
10%
11%
12%
13%
14%
15%
16%
17%
18%
19%
20%
21%
22%
23%
24%
25%
26%
27%
28%
29%
30%
31%
32%
33%
34%
35%
36%
37%
38%
39%
40%
41%
42%
43%
44%
45%
46%
47%
48%
49%
50%
51%
52%
53%
54%
55%
56%
57%
58%
59%
60%
61%
62%
63%
64%
65%
66%
67%
68%
69%
70%
71%
72%
73%
74%
75%
76%
77%
78%
79%
80%
81%
82%
83%
84%
85%
86%
87%
88%
89%
90%
91%
92%
93%
94%
95%
96%
97%
98%
99%
100%
Out-of-state students
College Highlights
Engaged Students
Great Teaching
Vibrant Communities
Successful Outcomes
Admission & Aid
Engaged Students
Education goes far beyond the classroom at SBU with experiential learning activities. Undergraduate research and global learning are two ways in which students engage with both their disciplines and the greater global society. 
"Our students are fully engaged with interactive lectures where they get hands-on opportunities for experiencing best practices of teaching and learning. After they walk across the stage and into their own classrooms, many of them continue the values of lifelong learning by pursuing advanced degrees, seeking out professional development opportunities, and leading within their districts. Truly, SBU students are equipped to make the most of their education before, during, and after their time with us." – Julie Bryant, Ed.D. – Professor of Education, Lewis E. Schollian Chair of Education
UNDERGRADUATE RESEARCH 
Faculty-assisted independent research:

While SBU is not a research institution, faculty in nearly every academic discipline assist students with research opportunities upon request. 

Scientific research:

Students in the sciences can apply for a selective Student Undergraduate Research Experience during the summer, a paid opportunity conducted with faculty supervision. Some divisions have funds to support student attendance at conferences to present the results of their research. 

Capstone projects:

Graduates of the Honors program are challenged with a culminating capstone presentation of their research project. 
GLOBAL LEARNING 
Study abroad:

SBU provides the opportunity for students to study internationally through several different agencies, including the American Institute for Foreign Study (AIFS), the Council for Christian Colleges and Universities (CCCU), and the Consortium for Global Education (CGE). Through these organizations, students can choose to study on any continent, with the exception of Antarctica, with more than 55 institutional options. Additionally, SBU allows students to request to study at international institutions not represented through these organizations. These requests are contingent upon SBU and the institution forming an agreement.. 

Cultural immersion:

The Intercultural Studies (ICS) major requires students to spend six months abroad while working as an apprentice under a cross-cultural worker. Destination sites are selected by the student with approval by the ICS faculty. New degrees in Global Education for either Elementary or Middle School also require a student-teaching experience in another country.

Short-term service projects: SBU's Center for Global Connections (CGC) coordinates about 30 service projects annually, both in the United States and internationally. Participating students earn course credit as they learn about and engage in the local culture.
ENROLLMENT BY ETHNICITY
Non-U.S. Citizen: 2%
Hispanic/Latinx: 3%
Black or African American, non-Hispanic: 4%
White, non-Hispanic: 64%
Native/Indigenous American or Alaska Native, non-Hispanic: 1%
Asian, non-Hispanic: 1%
Native Hawaiian or other Pacific Islander, non-Hispanic: 0%
Two or more races, non-Hispanic: 1%
Race and/or ethnicity unknown: 25%
Great Teaching
SBU faculty and staff are focused on student achievement and success, from student orientation to graduation and beyond.
"The faculty and staff have helped me by meeting needs that I didn't even know needed to be met. The 'caring academic community,' stated in the mission statement could not be more spot-on. All the faculty/staff who I have had the pleasure crossing paths with have been perfect examples of 'lead by example.' Through the faith integration, always-open availability, and their evident love for Christ, they have inspired hope in me. This encouragement provides a sense of security and stability that propels me to the highest spiritual, intellectual, and physical growth that I can reach." – Konner Ireland, Great Bend, Kan. – Exercise Science major
ACADEMIC TRANSITION
During the Welcome Week student orientation preceding the fall and spring semesters, new students become better acquainted with SBU and with one another. Once the semester begins, students are connected to the academic transition program in the University Success Center. The Success Center faculty teach two one-hour general education courses: University Seminar and Introduction to Critical Thinking. Faculty also serve as each student's initial academic advisor.
IMPROVED WRITING SKILLS
Courses require students to engage in the writing process through a variety of approaches, such as traditional research papers, reviews/critiques, reflection papers about the course, journaling, and technical reports.
COLLABORATIVE LEARNING
Many classes include collaborative learning through various methods, such as small group discussions, group projects or presentations, and sometimes traveling as a group as part of a cultural or community service project.
EXPERIENTIAL LEARNING
As students progress through their academic studies, many programs include ways for them to demonstrate their mastery of program skills and knowledge through practical application. Examples include senior art shows, senior music recitals, projects for local businesses, research projects, internships, student teaching, healthcare clinicals, and more.
Faculty are involved in leading trips for students in their academic program. Some of these trips are coordinated through SBU's Center for Global Connections, and many integrate a service component alongside the course content. Examples of these include: 
Social Work faculty and students traveling to Cuba; 

Nursing faculty and students doing medical mission work; and 

Physical Therapy faculty and students doing medical missions.
Other trips are coordinated through the academic area. Examples of this include music performances in Europe and Spanish trips to Central America.
SPECIAL STUDY OPTIONS
Programs available at this institution.
Distance learning
Double major
Dual enrollment
Honors Program
Independent study
Internships
Student-designed major
Study abroad
Teacher certification program
Vibrant Communities
SERVICE-LEARNING
Through coursework and co-curricular events, service learning opportunities are threaded throughout the student journey at SBU. The SBU experience is grounded in servant leadership and a Christian worldview. Service-learning is a core component in academic experiences and extracurricular activities.
Opportunities for service-learning begin during Welcome Week with the "B-Town Excursion" through which they engage in a service project for a community organization or church. Students also engage in public service in a variety of ways, from accounting students helping prepare income tax returns for domestic and international students to social work students volunteering with local organizations providing assistance to community members in need.
SPIRITUAL GROWTH
Another foundational component of the SBU experience is spiritual growth, which is fostered both out of the classroom and in academics. The Community Life + Worship program, for example, sets a graduation requirement for spiritual development through the participation in small groups, mission projects, approved community service activities, and Chapel services. Chapel services meet twice weekly and include challenging speakers, encouraging worship, scriptural teaching, engaging messages.
"Everybody is so supportive, especially when it comes to your spiritual life. You have so many unofficial spiritual coaches in your life because you get to be around all these great role models, whether it be fellow students, faculty, and staff. How they walk in their faith and how they have grown in their relationship with Christ, seeing them and learning from them, you get to grow and strengthen your relationship in Christ as well, which is the best part and most rewarding part of coming to SBU." – Jeffrey Metzler, Concordia, Kan. – Nursing major
STUDENT ACTIVITIES AND LEADERSHIP
SBU hosts 35+ student organizations, including the Student Association and University Activities Council, both of which coordinate campus-wide student activities throughout the entire school year. Many organizations are related directly to academic subjects, providing an avenue for students to further develop knowledge and service for their chosen professions.
SCHOOL LOCATION
SBU's main campus is located in Bolivar in the southwest part of Missouri. With a population of nearly 11,000, Bolivar welcomes college students with dining, retail, employment, recreation, dozens of local churches, community service options, and more. Missouri's third-largest city, Springfield, is just 30 minutes away. Springfield is home to a St. Louis Cardinals AA baseball team and Bass Pro Shops, as well as plenty of restaurants, retail shopping, and cultural experiences. Branson is a little more than an hour away; Kansas City, 2 ½ hours; and St. Louis, 3 ½ hours.
ATHLETICS
SBU has 17 athletic teams competing in the NCAA Division II Great Lakes Valley Conference: Baseball, men's and women's basketball, men's and women's cross country, football, women's golf, men's and women's soccer, softball, men's and women's tennis, men's and women's track and field (indoor and outdoor), and volleyball. Additionally, the University has varsity co-ed cheer and STUNT programs.
SBU received the GLVC James R. Spalding Overall Sportsmanship Award for the 2020-21 season. SBU led the league with five team sportsmanship awards in women's cross country, volleyball, men's basketball, women's basketball, and women's track & field.
Its school colors are purple and white, and its mascot is the Bearcat.
RESIDENCE LIFE
Percent of students living on campus.
First-time, first-year (freshman) students: 78%
Undergraduates: 43%
Campus housing options.
Men's dorms
Women's dorms
Apartments for single students
Special housing for students with disabilities
Special housing for international students

Successful Outcomes
SBU students take the knowledge they gain in the classroom and apply it in real-world settings, and SBU Career Services helps them plan for their future.
INTERNSHIPS
Many majors have internship requirements and work to facilitate placement for students through existing relationships. About one-third of students who graduate have completed an internship with such companies as Disney, Chick-fil-A, U.S. Congress, Cerner Corp., Focus on the Family, U.S. Postal Inspection Service, Leggett & Platt, and many more.
CAREER DEVELOPMENT
Career development is an integral and valuable part of a student's experience. The University Success Center faculty, who assist first-year students with their transition to SBU, work closely with Career Services to provide career counseling, advice, and resources related to potential career opportunities.
Once a student has decided on a direction, Career Services offers a number of opportunities for students to prepare for their careers, including mock interviews, résumé and cover letter workshops, and opportunities for students to connect with potential employers through on-campus or regional career fairs. SBU also uses Handshake, a platform that connects potential employers with the students themselves.
"Since graduating from SBU, I've had the chance to serve clients across the globe. Noble Systems has given me the opportunity to work with diverse individuals and enhance my education from SBU. The foundation that SBU provided has given me the necessary skills to do my best in my career every day." – Stephen Munsell, B.S. Computer Information Science 2018 / Master of Business Administration 2019 – Implementation Engineer at Noble Systems
Admission & Aid
Admission
ADMISSIONS FACTORS
Very Important
Class rank | Academic GPA | Standardized test scores
Considered
Recommendation(s) | Interview 

TEST SCORES
Required
FRESHMAN PROFILE
SAT Evidence-Based Reading and Writing
25th Percentile: 470 | 75th Percentile: 570
SAT Math
25th Percentile: 480 | 75th Percentile: 583
ACT Composite
25th Percentile: 19 | 75th Percentile: 25
ACT Math
25th Percentile: 17 | 75th Percentile: 24
ACT English
25th Percentile: 18 | 75th Percentile: 25
Tuition & Cost
Tuition: $24,500
Fees: $1,008
Room: $3,400
Board: $4,640
Aid
SBU simplifies the admissions process by assigning each student an admissions counselor to walk them and their families through the entire process.
Tuition and fees at SBU are 30% less than the national average for private colleges, and 99 percent of students receive financial aid to significantly reduce the cost of attending SBU. With an average financial aid package of more than $29,000 and 99% of students receiving financial aid, the cost to attend SBU is competitive with many colleges and universities.
Financial aid packages start with academic scholarships. Additional scholarship categories include performance, athletic, church-related, and private scholarships.
What Others are Saying
"I've experienced SBU as a student, an alumnus, a parent of students, and now as a faculty member for 32 years. I believe what happens in the classroom at SBU is of the highest quality. But what makes SBU unique is that our faith in Christ is at the forefront of everything we do, both in and out of the classroom. From this perspective, faculty, and staff are striving to help students fulfill the purposes for which God has created them."
— Bob Glasgow, Ph.D. - Professor of Mathematics
Contact Southwest Baptist University