Southern Utah University
Cedar City, Utah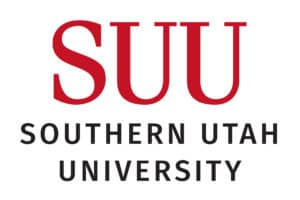 Southern Utah University (1897) is a caring campus community promoting experiential education leading to personal growth, intentional social responsibility and professional excellence. With more than 140 undergraduate and 17 graduate & certificate programs, SUU proudly offers world-class, project-based learning opportunities where students gain professional experience before entering the job market.
SHOW MORE
SUU is the University of the Parks thanks to its close proximity to several outdoor recreational areas and its educational partnerships with the National Park Service. SUU's safe, residential campus allows over 10,000 students to create lifelong friendships along with once-in-a-lifetime outdoor adventures in conjunction with innovative academic endeavors.

Students cheer on the athletic teams who play in the Big Sky Conference, join (or launch) any of the 160 clubs and organizations, and take advantage of the outdoor adventures that surround campus.

With graduation rates 10 points higher than the national average, SUU's graduates go on to top companies, start their own businesses, or attend the best graduate schools in the country.
Founded in 1897, Southern Utah University is a public, coeducational, nonsectarian university with full accreditation from the Northwest Commission on Colleges and Universities.
Get to know Southern Utah University
8,550
Degree-Seeking Undergraduates
Full-time to Part-time Ratio
-
0%
1%
2%
3%
4%
5%
6%
7%
8%
9%
10%
11%
12%
13%
14%
15%
16%
17%
18%
19%
20%
21%
22%
23%
24%
25%
26%
27%
28%
29%
30%
31%
32%
33%
34%
35%
36%
37%
38%
39%
40%
41%
42%
43%
44%
45%
46%
47%
48%
49%
50%
51%
52%
53%
54%
55%
56%
57%
58%
59%
60%
61%
62%
63%
64%
65%
66%
67%
68%
69%
70%
71%
72%
73%
74%
75%
76%
77%
78%
79%
80%
81%
82%
83%
84%
85%
86%
87%
88%
89%
90%
91%
92%
93%
94%
95%
96%
97%
98%
99%
100%
Retention rate
19:1
Student/teacher ratio
$5,774
In-state tuition cost
$19,054
Out-of-state tuition cost
May 1
Application deadline
-
0%
1%
2%
3%
4%
5%
6%
7%
8%
9%
10%
11%
12%
13%
14%
15%
16%
17%
18%
19%
20%
21%
22%
23%
24%
25%
26%
27%
28%
29%
30%
31%
32%
33%
34%
35%
36%
37%
38%
39%
40%
41%
42%
43%
44%
45%
46%
47%
48%
49%
50%
51%
52%
53%
54%
55%
56%
57%
58%
59%
60%
61%
62%
63%
64%
65%
66%
67%
68%
69%
70%
71%
72%
73%
74%
75%
76%
77%
78%
79%
80%
81%
82%
83%
84%
85%
86%
87%
88%
89%
90%
91%
92%
93%
94%
95%
96%
97%
98%
99%
100%
Acceptance rate
-
0%
1%
2%
3%
4%
5%
6%
7%
8%
9%
10%
11%
12%
13%
14%
15%
16%
17%
18%
19%
20%
21%
22%
23%
24%
25%
26%
27%
28%
29%
30%
31%
32%
33%
34%
35%
36%
37%
38%
39%
40%
41%
42%
43%
44%
45%
46%
47%
48%
49%
50%
51%
52%
53%
54%
55%
56%
57%
58%
59%
60%
61%
62%
63%
64%
65%
66%
67%
68%
69%
70%
71%
72%
73%
74%
75%
76%
77%
78%
79%
80%
81%
82%
83%
84%
85%
86%
87%
88%
89%
90%
91%
92%
93%
94%
95%
96%
97%
98%
99%
100%
Out-of-state students
-
0%
1%
2%
3%
4%
5%
6%
7%
8%
9%
10%
11%
12%
13%
14%
15%
16%
17%
18%
19%
20%
21%
22%
23%
24%
25%
26%
27%
28%
29%
30%
31%
32%
33%
34%
35%
36%
37%
38%
39%
40%
41%
42%
43%
44%
45%
46%
47%
48%
49%
50%
51%
52%
53%
54%
55%
56%
57%
58%
59%
60%
61%
62%
63%
64%
65%
66%
67%
68%
69%
70%
71%
72%
73%
74%
75%
76%
77%
78%
79%
80%
81%
82%
83%
84%
85%
86%
87%
88%
89%
90%
91%
92%
93%
94%
95%
96%
97%
98%
99%
100%
Full-time faculty w/ terminal degree
Student Activities
Student Activities
Campus Ministries
Choral groups
Concert band
Dance

Drama/theatre
International Student Organization
Jazz band
Literary magazine
Marching band
Music ensembles
Musical theatre
Opera
Pep band
Radio station
Student government
Student newspaper
Student-run film society
Symphony orchestra
Television station
High-Impact Practices
High-Impact Practices
First-Year Seminars and Experiences
Common Intellectual Experiences
Learning Communities
Writing-Intensive Courses

Collaborative Assignments and Projects
Undergraduate Research
Diversity/Global Learning
Service-Learning, Community-Based Learning
Internships/Coops/Practicums
Capstone Courses and Projects/Senior Experience
Campus Resources
Campus Resources
Career Services
Writing Center
Academic Advisors
Library Services

Faculty Mentors
Disability Services
Multicultural Engagement Center
Health Services
Academic Tutors
Financial Aid Advisors
Student Success Initiative
Veteran Services
Peer Mentors
Counseling
Gender & Sexuality Center
SHOW MORE
College Highlights
Engaged Students
Great Teaching
Vibrant Communities
Successful Outcomes
Admission & Aid
Engaged Students
MAKING GENERAL EDUCATION RELEVANT
Launched in 2015, Jumpstart is an engaging and efficient way to complete the general education requirements. The program allows students to earn all of their GE credits in one year through an integrated curriculum taught by highly qualified professors.
EDGE PROGRAM
Every SUU student plans, executes, and analyzes a long-term comprehensive project, supplementing their undergraduate education. Refining soft skills and preparing viable portfolio content, the EDGE (Education Designed to Give Experience) Program is student centered and faculty mentored. With five centers, students focus their projects on global, community, leadership, creative, or outdoor engagement.

RESEARCH
With fellowships and grants available to undergraduate students, opportunities abound for in-depth research projects across all disciplines. Professors act as mentors outside of the classroom to provide project-based learning to passionate students. During annual symposiums, students and faculty showcase their extracurricular research and prepare for future presentations at the Utah Conference on Undergraduate Research, the Festival of Excellence, and the Utah Academy of Sciences, Arts & Letters.

LEARNING ABROAD
The Office of Learning Abroad follows SUU's core themes of explore, engage, and excel. Students have opportunities to travel during a full semester, a summer session, or winter and/or spring break. SUU boasts an International Affairs office, welcoming students from more than 30 different countries on campus. With more than 44 partnerships with universities around the world, classrooms are rich with diversity and global perspectives.

STUDENT ASSOCIATION
The Southern Utah University Student Association (SUUSA) enriches each student's overall college experience. With the idea of finding and pursuing passions in mind, SUUSA offers a student-run council of elected cabinet members who coordinate finances, academic decisions, activities, and events.
CLASS SIZE
The number of sections of each class size.
2-9: 183 | 10-19: 307 | 20-29: 331
30-39: 168 | 40-49: 82 | 50-99: 85 | 100+: 8
ENROLLMENT BY ETHNICITY
Nonresident aliens: 6%
Hispanic/Latino: 7%
Black or African American, non-Hispanic: 2%
White, non-Hispanic: 74%
American Indian or Alaska Native, non-Hispanic: 2%
Asian, non-Hispanic: 1%
Native Hawaiian or other Pacific Islander, non-Hispanic: 1%
Two or more races, non-Hispanic: 0%
Race and/or ethnicity unknown: 8%
Great Teaching
At Southern Utah University, learning takes place beyond the walls of a classroom. With focus on experiential education, students learn valuable critical thinking and problem-solving skills. Students receive a quality education with personalized attention with an 19:1 student to faculty ratio. From the time students enroll to the university to the day they graduate, SUU is committed to great teaching every credit completed.

FYE AND ORIENTATION
The First Year Experience and Orientation program at SUU provides personal attention to each incoming student. Support is provided by student ACES (Assistant Coaches for Excellence) who help new students with their class schedule, find clubs to participate in, and become acquainted with campus.

SCHOOL OF BUSINESS
The School of Business consists of five bachelor's and two master's programs. The accounting, finance, management, marketing, Masters in Accountancy, and Masters in Business Administration are all AACSB accredited. Students who graduate with a degree in business have a 94% job placement rate. Students have access to the Small Business Development Center and the Entrepreneurship Speaker Series. SUU broke ground on a state-of-the-art business building in spring 2017.

AVIATION
SUU's Professional Pilot Aviation Program offers rotor wing (helicopter) and fixed wing (airplane) pilot training in a partnership with SkyWest Airlines. The Professional Pilot Program offers licenses and ratings in areas ranging from Private Pilot to Certified Flight Instructor. This partnership creates industry-leading career options for prospective pilots. Resources to students include tuition reimbursement, access to pilot mentors, and advanced company seniority.

SCHOOL OF INTEGRATIVE AND ENGAGED LEARNING
The School of Integrative and Engaged Learning teaches outside of traditional academia. The school helps students find their skills and master them with integrative learning. Students may earn a Bachelor of Interdisciplinary Studies degree or an Associate of Arts or Science degree.

COLLEGE OF SCIENCE AND ENGINEERING
The College of Science and Engineering is a customized and stimulating science learning environment. With resources such as the Utah STEM Action Center and the Intercollegiate Rocketry Club, students may supplement in-class education with extracurricular learning projects. From agriculture science to nursing, students are given opportunities throughout the community to learn in and out of the classroom. Located in a highly desirable natural resource environment, the geology program is world class.

COLLEGE OF EDUCATION AND HUMAN DEVELOPMENT
The Beverley Taylor Sorenson College of Education and Human Development's mission is to develop the mind, body, family, and community. The college houses teacher education, physical education, outdoor recreation, and family life departments. The college has local partnerships with schools, outdoor centers, and art councils, which provide students with internships, work opportunities, and experiential learning.

COLLEGE OF PERFORMING AND VISUAL ARTS
Professional graphic design, visual and performing artists teach in the College of Performing and Visual Arts using their expertise to teach and transform students. Departments within the college are art and design, music, theatre arts, dance, and arts administration. Students in the college have opportunities to work with the Utah Shakespeare Festival and the Southern Utah Museum of Art.

COLLEGE OF HUMANITIES AND SOCIAL SCIENCE
The College of Humanities and Social Science develops everyday leaders and lifelong learners. The college consists of the undergraduate communication, English, languages and philosophy, history, sociology, anthropology, political science, criminal justice, psychology, and legal studies departments.

WRITING CENTER
The Writing Center helps students with writing across all disciplines. Staffed with student tutors, the center has resources available to assist students with grant proposals, persuasive essays, research papers, and class writing assignments. Tutors walk students through each step of the writing process, from brainstorming to sentence construction to practicing grammar concepts.

SPEECH AND PRESENTATION CENTER
The Speech and Presentation Center offers personalized help and feedback on all verbal, nonverbal, and visual aspects of a presentation. From class projects to interview skills, the staff of graduate students and interns help students, faculty, staff, and community members strengthen delivery strategies and reduce speech anxiety.
SPECIAL STUDY OPTIONS
Programs available at this institution.
Cooperative education program
Distance learning
Double major
Dual enrollment
English as a Second Language (ESL)
Exchange student program (domestic)
Honors Program
Independent study
Internships
Liberal arts/career combination
Student-designed major
Study abroad
Teacher certification program
Weekend college
Vibrant Communities
CENTER FOR DIVERSITY AND INCLUSION
The Center for Diversity and Inclusion (CDI) provides a space for students to stop by between classes, meet new people, and hang out. The CDI provides advising, counseling, and access to financial aid and scholarships to ethnic minority and LGBTQ students. The center also supports diversity clubs, such as the Black Student Union and the Polynesian Club.
OUTDOOR CENTER
The Outdoor Center on campus rents discounted outdoor equipment, runs the climbing wall, and plans trips and adventures. These adventures are geared to students of all skill level and include rock climbing, hiking, canyoneering, kayaking, snowshoeing, caving, and more. The center's goal is to ignite a passion for recreation.
HEALTH AND WELLNESS
SUU focuses on the mental, physical, and emotional health of students, faculty, staff, and the community. Counseling and Psychological Services (CAPS) is a resource for students who need help with stress and other conflicts that may distract them from achieving their full potential. CAPS is staffed with psychologists, counselors, and social workers who are all experienced and licensed mental health professionals.

The SUU Care and Support Team (CAST) focuses on helping students who may be experiencing emotional distress or mental health issues. The team of supporters consists of trained faculty and staff who are committed to creating and maintaining a comfortable environment.

The HOPE (Helping Our People Eat) Pantry is a resource for students who may be struggling to make ends meet. The pantry provides students with non-perishable foods and some hygiene items for no cost. Students are able to receive meals, or give meals, through donations of nonperishable goods.

The J.L. Sorenson PE Building provides a place for students to focus on their physical well being. Students can access an aquatic center, open recreation areas, and a climbing wall for free. They can also sign up for a class, or purchase a pass, to use the fitness center.
INTERGOVERNMENTAL INTERNSHIP COOPERATIVE
SUU believes in working with the community to prepare students for a successful career. The Intergovernmental Internship Cooperative is a partnership between SUU and 19 federal and state land agencies and the Paiute Tribe. It offers 250-300 internships in regional and public lands. Partners mentor students and provide them with real-world experiences.

LEAVITT CENTER
The Michael O. Leavitt Center for Politics and Public Service is the political hub for Southern Utah University. The center is run by a student Executive Council and focuses on leadership, research, and service. The Leavitt Center provides free weekly events with a focus on educating students in the world of politics.

VETERANS CENTER
The Veterans Resource and Support Center retains and graduates veterans by helping them pursue educational goals. Services provided include: assistance in gaining and processing documentation necessary to attain veteran benefits, assistance connecting with mental health counselors, aid in preparing for and finding appropriate medical attention, academic advisement, free tutoring, free textbooks, moral support, and fellowship. The center staff is dedicated to helping fellow veterans succeed in their academic endeavors.

SOUTHERN UTAH MUSEUM OF ART
The Southern Utah Museum of Art on SUU's campus contains five moveable gallery spaces, administration offices, an education classroom, and a storage and support area. Student and faculty art is displayed in some of the galleries throughout the year. The museum plans and hosts plein air festivals to offer community members and students the opportunity to display and sell their art.

UTAH SHAKESPEARE FESTIVAL
The Utah Shakespeare Festival is a professional theatre company that has been housed on SUU's campus for over 50 years. It offers 11 summer camps for youth, teachers, directors, and community members. Playmakers is the Festival's youth training program, a two-week course for students ages 6–17. There is also a yearly Shakespeare Competition for high schools, which includes various workshops for students. Professional plays are performed from late June to the end of October, including the free Greenshow, an outdoor show featuring dance and music from around the world.
FILM FESTIVALS
Every year the Spanish Program hosts a free film series in March. At each screening, a faculty member introduces the featured film, offering insights and context. After the film, faculty lead discussions to further learning. The goal of the film series is to provide exposure to the art, culture, and history of the Spanish language.

The French Film Festival has been a yearly event since 2007. The festival is free and open to the public to serve as an opportunity for cross-cultural discussion across campus. There are six screenings, which are shown in French with English subtitles.
SCHOOL LOCATION
With adventure around every corner, Southern Utah University stands within a five-hour drive of 20 national parks, monuments, and recreation areas. Nestled in the red rocks of Cedar City, Utah, SUU is a tree-lined campus surrounded by mountains, lakes and trails. Students travel to Las Vegas and Salt Lake City in less than a three-hour drive or catch one of the daily flights from the Cedar City airport.

The 100-acre university is an eco-friendly, safe, residential campus keeping nearly 90 percent of the student body within walking distance. SUU is home to the Utah Shakespeare Festival, Southern Utah Museum of Art, and the Utah Summer Games.
ATHLETICS
Southern Utah University's Athletic Department offers 17 Division 1 sports, including six men's sports (basketball, cross country, football, golf, tennis, and track & field) and nine women's sports (basketball, cross country, golf, gymnastics, soccer, softball, tennis, track & field, and volleyball). The athletic program adheres to the policies and procedures of the NCAA and competes in the Big Sky Conference.

The school colors are red and white with Thor the Thunderbird as the school mascot.
RESIDENCE LIFE
Percent of students living on campus.
First-time, first-year (freshman) students: 24%
Undergraduates: 8%
Campus housing options.
Coed dorms
Apartments for single students
Special housing for disabled students
Special housing for international students
Theme housing
Successful Outcomes
Southern Utah University offers students an opportunity to obtain one of the top educations in Utah, enriched with hands on learning, extensive internships and projects that display their educational endeavors. SUU educates students to become leaders in their field.

SERVICE LEARNING, COMMUNITY BASED LEARNING
SUU strives to be a leading university in service and community based learning. SUU's Community Engagement Center provides students with alternative breaks immersed in service, community service opportunities, various SUU EDGE (Education Designed to Give Experience) projects, and more. The school's Community Engagement Center has maintained its Carnegie Community Engagement Classification, and was recognized in the President's Higher Education Community Service Honor Roll for five years.

INTERNSHIPS/COOPS/PRACTICUMS
Hands-on experiences has helped SUU graduates not only learn in their field, but work there too. SUU's Michael O. Leavitt Center for Politics and Public Service provides students with internships on a local, state and national level. These students can obtain both financial support while in school, as well as, three to 12 credits depending on their internship. SUU also offers internship programs for students through the Intergovernmental Internship Cooperative, a program that allows students to utilize their interests to work professionally.

On top of internship experiences SUU students are able to participate in practicums in their field. Students have real-world work experiences in areas of media, advertising, and psychology across every college. Along with practicums, students work in offices throughout campus. Examples of programs of student employees at SUU include jobs in outdoor education, finance, management, graphic design, and marketing.   

CAPSTONE COURSES AND PROJECTS/SENIOR EXPERIENCE
Regardless of a Thunderbird's major, they are encouraged to enhance their senior year with a capstone or senior project. The senior capstones gives the students a hands on project that they can then display to future employers. Department heads and faculty help students develop and execute their capstone courses and senior experiences. Science majors may spend time on research based projects that can be displayed at an annual symposium, while visual arts majors will spend more time on a BFA exhibition.

TUTORING CENTER
The Learning Center tutoring lab offers free peer tutoring in many subjects. There are opportunities to facilitate study groups in the center.

CAREER CENTER
The Career & Professional Development Center helps students and alumni set post-graduation goals, find jobs, and network with potential employers. Students land permanent positions or internships, explore majors, check resumes and cover letters, and receive advice about careers. The center helps students in their career development process and helps them learn to enhance their potential.

NOTABLE ALUMNI
David Tyler
When David Tyler first enrolled at Southern Utah University, he was skeptical of the little community, but soon realized that living in a small town doesn't mean small opportunities. After he utilized SUU's professional faculty and hands on project experiences, David moved to New York City and works for a top agency in advertisement.

AshLee Winterrose
AshLee Winterrose realized teaching was more than a profession, it was her purpose. After graduation, AshLee began her career in the classroom, where she saw many parents struggling to connect with their children. Thus she created Hide-A-Boo, an interactive toy company with teachables for parents.

Cameron Levins
Now olympic athlete Cameron (Cam) Levins, always knew running was his passion, but didn't know Southern Utah University would be the place to discover how far he could go. His dedicated coach, Eric Houle, saw his potential. After devoting his time to SUU's track and field team; Cam went from a Thunderbird all star, to London 2012 Olympic athlete.

Crystal Sekaquaptewa
With a love for her heritage, Crystal Sekaquaptewa always knew that she wanted to help her Navajo community. Crystal began her path at Southern Utah University in the hopes of becoming a dentist. On the day of graduation Crystal had an acceptance letter from Creighton University School of Dentistry in hand. After passing her boards at Creighton she was hired at the Monument Valley Community Health Center as a dentist, becoming the first Native American woman to be hired within the Utah Navajo Health System.
Admission & Aid
Admission
APPLICATION DEADLINE
Application closing date (fall): May 1 of current year
Priority date: Dec. 1 of current year
ADMISSIONS FACTORS
Very Important
Academic GPA | Standardized test scores
Important
Level of applicant's interest
FRESHMAN PROFILE
SAT Evidence-Based Reading and Writing
25th Percentile: 510 | 75th Percentile: 620
SAT Math
25th Percentile: 500 | 75th Percentile: 600
ACT Composite
25th Percentile: 20 | 75th Percentile: 27
ACT Math
25th Percentile: 19 | 75th Percentile: 26
ACT English
25th Percentile: 20 | 75th Percentile: 27
ACT Writing
25th Percentile: 6 | 75th Percentile: 8
Tuition & Cost
Tuition (in-state): $3,003-$6,006
Tuition (out-of-state): $19,822
Tuition (nonresident aliens): $20,822
Fees: $764
Room & Board: $7,250
Room Only: $3,350
Board Only: $3,900
Aid
The SUU Office of Financial Aid & Scholarships helps navigate the sometimes complicated process of paying for school, including grant and loan program information, FAFSA forms and deadlines, and accepting financial aid awards. With scholarships available to freshman, transfer, graduate, and all other current students, SUU scholarships are made possible through donor gifts to the university.
Contact Southern Utah University