Schreiner University
Kerrville, Texas

Schreiner University is a private, Presbyterian university that offers a personalized, integrated, and holistic educational experience among the open lands of the Texas Hill Country. Named after Captain Charles Schreiner, the university strives to epitomize its founder's grit, tenacity, and courage. Both Captain Schreiner and the Presbytery of Western Texas shared an ambitious vision for the education for the people of Texas—one that would inspire them to pursue their passions with a dedicated heart and well-equipped mind.
SHOW MORE
In 1923, such a vision became a reality when the two forces collaborated to found institution that has since fostered hope and achievement through thoughtful, individualized instruction. Students graduate with the skills and abilities needed to excel in their specific area of study while knowing how to navigate an increasingly diverse, complex world.
Get to know Schreiner University
1,145
Degree-Seeking Undergraduates
Full-time to Part-time Ratio
-
0%
1%
2%
3%
4%
5%
6%
7%
8%
9%
10%
11%
12%
13%
14%
15%
16%
17%
18%
19%
20%
21%
22%
23%
24%
25%
26%
27%
28%
29%
30%
31%
32%
33%
34%
35%
36%
37%
38%
39%
40%
41%
42%
43%
44%
45%
46%
47%
48%
49%
50%
51%
52%
53%
54%
55%
56%
57%
58%
59%
60%
61%
62%
63%
64%
65%
66%
67%
68%
69%
70%
71%
72%
73%
74%
75%
76%
77%
78%
79%
80%
81%
82%
83%
84%
85%
86%
87%
88%
89%
90%
91%
92%
93%
94%
95%
96%
97%
98%
99%
100%
Retention rate
14:1
Student/teacher ratio
$31,938
Full-time tuition cost
-
0%
1%
2%
3%
4%
5%
6%
7%
8%
9%
10%
11%
12%
13%
14%
15%
16%
17%
18%
19%
20%
21%
22%
23%
24%
25%
26%
27%
28%
29%
30%
31%
32%
33%
34%
35%
36%
37%
38%
39%
40%
41%
42%
43%
44%
45%
46%
47%
48%
49%
50%
51%
52%
53%
54%
55%
56%
57%
58%
59%
60%
61%
62%
63%
64%
65%
66%
67%
68%
69%
70%
71%
72%
73%
74%
75%
76%
77%
78%
79%
80%
81%
82%
83%
84%
85%
86%
87%
88%
89%
90%
91%
92%
93%
94%
95%
96%
97%
98%
99%
100%
Acceptance rate
-
0%
1%
2%
3%
4%
5%
6%
7%
8%
9%
10%
11%
12%
13%
14%
15%
16%
17%
18%
19%
20%
21%
22%
23%
24%
25%
26%
27%
28%
29%
30%
31%
32%
33%
34%
35%
36%
37%
38%
39%
40%
41%
42%
43%
44%
45%
46%
47%
48%
49%
50%
51%
52%
53%
54%
55%
56%
57%
58%
59%
60%
61%
62%
63%
64%
65%
66%
67%
68%
69%
70%
71%
72%
73%
74%
75%
76%
77%
78%
79%
80%
81%
82%
83%
84%
85%
86%
87%
88%
89%
90%
91%
92%
93%
94%
95%
96%
97%
98%
99%
100%
Out-of-state students
College Highlights
Program Spotlight
Engaged Students
Great Teaching
Vibrant Communities
Successful Outcomes
Admission & Aid
Program Spotlight
Schreiner's Communication Design program takes a comprehensive look at the arts in a real-world career environment. In the explorative spirit of the liberal arts, this bachelor of fine arts (BFA) degree challenges students to use their artistic creativity not only to produce stunning designs, but also to navigate complex business practices.
Compelling aesthetics are crucial for the success of a company within a saturated market. Both strategy and artistry have their place within Communication Design, and students learn the practical application of their passions, whether they lie in illustration, web design, animation, or any kind of visual medium.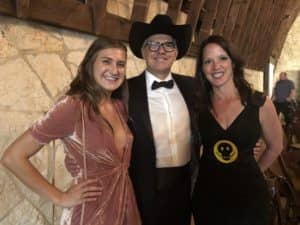 As with Schreiner's other hands-on programs, the Communication Design major comes with plenty of opportunities to intern, practice, and travel while learning to apply their studies to a career path. Take it from alumna Michaela Lehman, class of 2018—her experience beyond the classroom prepared her for a successful career immediately after graduation.
"The knowledge and experiences I gained while earning my BFA degree in Communication Design at Schreiner University without a doubt directly impacted where I am today in the start of my professional career. Schreiner's size allowed me to become involved in numerous organizations and earn multiple leadership roles that taught me everyday life skills.

"Academically, my professors supported and encouraged me both in and out of the classroom, especially in extracurricular activities such as volunteering at Design Ranch and taking a summer internship at a magazine in Costa Rica.

"I will forever be grateful for the actual client work that prepared me for my current full-time position working a Pentagram Austin, one of the most highly reputable design firms in the world." – Michaela Lehman
Engaged Students
FIRST-YEAR CAMPUSES
Rio Grande Valley and El Paso high school graduates have the unique opportunity to start their journey to Schreiner University at one of its first-year campuses in Brownsville and El Paso. Their journey begins as freshmen at one of the nearby campuses, after which they arrive at the main campus in Kerrville as debt-free sophomores. Schreiner is there for every step of the transition with a financial aid package of up to $17,000 of scholarships and $11,000 of grants.
LEARNING COMMUNITIES
Through its supportive and engaging learning communities, Schreiner offers students the unique opportunity to connect with classmates and faculty members who share similar passions and goals. These communities foster powerful relationships that help lead students on the path to higher GPAs, timelier graduation rates, and higher levels of involvement.
Schreiner's learning communities are characterized by a wide array of topics, ranging from the performing arts to STEM learning. These cohorts make it easy for anyone to delve even deeper into their passions, all while forming friendships with others who are just as passionate as them.
Some groups also include a residential component through which those who participate are able to live in reserved dorm wings or floors that place them right next door to the others in their community.
SCHREINER RESEARCH
Schreiner believes that conducting and presenting independent research is a wonderful opportunity for students to demonstrate their abilities and network with important members in their discipline, and so all students are encouraged to explore. Regardless of a student's discipline, the university's Undergraduate Research Committee dedicates itself to guiding them through the process, from identifying a topic to completing grant proposals.
SCHREINER ABROAD
Student travel is an incredible benefit of the Schreiner Experience. Students are encouraged to take as many opportunities as they can to broaden their intellectual and cultural horizons, which is a given outcome of study abroad. So that students can fit travel into their schedule, Schreiner offers three different of experiences: short faculty-led trips, semester or summer trips abroad, and student exchange programs in partnership with two Presbyterian universities in South Korea and Colombia.
ENROLLMENT BY ETHNICITY
Non-U.S. Citizen: 1%
Hispanic/Latinx: 34%
Black or African American, non-Hispanic: 4%
White, non-Hispanic: 55%
Native/Indigenous American or Alaska Native, non-Hispanic: 1%
Asian, non-Hispanic: 1%
Native Hawaiian or other Pacific Islander, non-Hispanic: 0%
Two or more races, non-Hispanic: 3%
Race and/or ethnicity unknown: 0%
Great Teaching
"Schreiner was special because of the atmosphere. We were all like family. It was not too big of a school where I would just be a number; everybody knew everybody. The classes were not too big at all, and the professors were wonderful." – Tim Kaman '90
COMMUNICATING EXCELLENCE
All Schreiner students are expected to graduate with excellent verbal and written communication skills. Effective written communication skills are developed through writing-intensive courses that are integrated into the curriculum. Freshmen first take a seminar course to introduce them to collegiate-level writing and the use of scholarly resources. By the time they are seniors, they will be well-equipped to complete a capstone project in they conduct research, write persuasive arguments, and present their findings.
ONGOING DEVELOPMENT
Established in 2012 through a U.S. Department of Education Title V grant, the Center for Teaching and Learning (CTL) enables faculty to explore new models of teaching and access helpful resources. It's through the CTL that Schreiner helps its professors develop their coursework and provide the best classroom experience possible. This commitment to engaging work ensures that students are given the chance to enjoy up-to-date, innovative classes.
ACADEMIC SUPPORT
Every Schreiner student is encouraged to take advantage of the success-promoting facilities on campus. The Writing Center, Peer Tutoring Center, and Supplemental Instruction program are all available to help at any stage throughout a student's class/project. Altogether, they instill lifelong learning habits as they help students achieve their best.
INNOVATION AND DEVELOPMENT
The Schreiner Office of Academic Innovation and Development (SAID) is dedicated to identifying and implementing the best academic and administrative practices for students. SAID's mission is to support faculty and students through thoughtful, purposeful research and development. The following themes are emphasized:
Student success strategies

Resilience and Thriving

Faculty Support and Development

Teaching and Course Design
Vibrant Communities
The community at Schreiner is cultivated first and foremost by its students themselves. From the student activities board to a recognized student organization, Schreiner students maintain the vibrancy of their campus. This sense of community starts with the Student Activities Board, which organizes and hosts events for the entire campus to enjoy.
"Schreiner played a key role in helping develop who I am today. I had the privilege of playing with many talented basketball and tennis players. I will be forever grateful to be mentioned with this very special group." – Tammy Lusinger '90
RECOGNIZED STUDENT ORGANIZATIONS
Schreiner's Recognized Student Organizations (RSOs) range in topic for students to meet and host activities around particular interests. In an RSO, every student has the chance to develop their leadership skills, explore their interests, and have fun with like-minded peers. More than 30 RSOs are alive with infinite potential.
CAMPUS MINISTRY
Schreiner University is affiliated by choice with the Presbyterian Church but welcomes all denominations with open arms, tolerance, and respect. No matter one's beliefs, any student can visit the Junkin Campus Ministry Center to explore ways to connect with their faith and other students.
GREEK LIFE
Schreiner is proud to host nationally recognized Greek Organizations on campus, cultivating a tradition of meaningful relationships, leadership, and philanthropy. Schreiner has one fraternity, Chi Phi, and two sororities, Delta Phi Epsilon and Alpha Sigma Alpha.
STUDENT GOVERNMENT
Schreiner wants students' voices to be heard. It's a priority for students themselves to advocate for what the university can provide them! Through the Student Government Association, the student body is ensured fair and equal representation in the administrative decisions of the university. Representatives are elected by the student body and preside over numerous committees, including Academic Affairs, Admissions, Library and Technology, Diversity, and more.
SCHOOL LOCATION
Located in Kerrville, the heart of Texas Hill Country, Schreiner's campus is sure to awe and inspire. From county fairs and festivals to the numerous parks and hiking trails, Kerrville offers visitors an authentic hill country experience. Kerrville is conveniently located one hour northwest of San Antonio and 90 minutes west of Austin.
ATHLETICS
Schreiner "Mountaineers" compete in NCAA Division III athletics. Men's sports include: baseball, basketball, cross country, golf, soccer, tennis, and track & field. Women's sports include: basketball, cross country, golf, soccer, softball, tennis, volleyball, and track & field.
Successful Outcomes
CAREER DEVELOPMENT
The Career Development Office guides and advises students at every stage of their academic career. Whether a student has a clear goal and needs guidance for how to achieve it or if they have no idea what they want to do after college, Schreiner's career advisors are willing to lend a helping hand. Students are encouraged to take advantage of the many resources available, including résumé writing and editing, mock interviews, internship and job searching, and much more.
MEANINGFUL WORK INITIATIVE
The Meaningful Work Initiative was designed to offer support and resources to faculty and staff to create experiential learning opportunities for students. Students develop the habits and skills necessary to adapt and succeed in a diverse workforce.
Well-qualified students who are able to demonstrate proficiency through the Initiative can earn a Meaningful Work Certificate. This Certificate, a true sign of real-world achievement, complements their diploma and serves as evidence of their skills.
SCHREINER GROW
The Schreiner GROW (Guided Reflection on Work) program was created to help students draw a clear connection between their learning and their experiences. Students learn how to reflect in a productive way that supports their success, translating their knowledge to actionable skills. It's not always obvious how to apply class work to the real world, but Schreiner GROW makes it easy to reflect, assess, and apply what they've learned for their future success.
COMMUNITY INTERNSHIP
The community internship program, administered by the Career Development Office and supported by area foundations and individual donations, allows qualified students to participate in various compensated internship programs. Students can choose to participate in the summer or throughout the academic year, learning marketable skills and networking with important members of their community.
Admission & Aid
Admission
TEST SCORES
Optional
FRESHMAN PROFILE
SAT Evidence-Based Reading and Writing
25th Percentile: 460 | 75th Percentile: 590
SAT Math
25th Percentile: 460 | 75th Percentile: 570
ACT Composite
25th Percentile: 17 | 75th Percentile: 23
ACT Math
25th Percentile: 17 | 75th Percentile: 23
ACT English
25th Percentile: 14 | 75th Percentile: 23
Schreiner University accepts applications submitted directly through its website as well as through Apply Texas.
Tuition & Cost
Tuition: $31,938
Room: $4,956
Board: $5,623
Aid
Schreiner has proven its dedication to making its high-quality education affordable for everyone, awarding 99% of freshmen with some kind of financial aid. Schreiner's Financial Services team is waiting to help everyone through their application and enrollment process to make qualifying for aid as easy as possible.
Contact Schreiner University