Saint Xavier University
Chicago, Illinois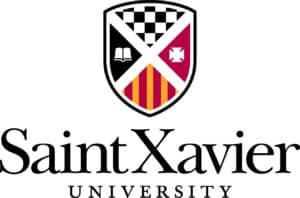 Saint Xavier University is a distinguished four-year private institution founded by the Sisters of Mercy in 1846. Chicago's oldest Catholic university and the first Mercy institution of higher learning in the United States, Saint Xavier provides a transformative educational experience to more than 3,500 students at its Chicago campus with more than 55 program offerings through its College of Liberal Arts and Education and College of Nursing, Health Sciences and Business. As a mission-driven, student-centered institution, Saint Xavier educates for competence, character, and career success and is consistently recognized as one of the best in the Midwest.
Get to know Saint Xavier University
3,080
Degree-Seeking Undergraduates
Full-time to Part-time Ratio
-
0%
1%
2%
3%
4%
5%
6%
7%
8%
9%
10%
11%
12%
13%
14%
15%
16%
17%
18%
19%
20%
21%
22%
23%
24%
25%
26%
27%
28%
29%
30%
31%
32%
33%
34%
35%
36%
37%
38%
39%
40%
41%
42%
43%
44%
45%
46%
47%
48%
49%
50%
51%
52%
53%
54%
55%
56%
57%
58%
59%
60%
61%
62%
63%
64%
65%
66%
67%
68%
69%
70%
71%
72%
73%
74%
75%
76%
77%
78%
79%
80%
81%
82%
83%
84%
85%
86%
87%
88%
89%
90%
91%
92%
93%
94%
95%
96%
97%
98%
99%
100%
Retention rate
16:1
Student/teacher ratio
$33,630
Full-time tuition cost
-
0%
1%
2%
3%
4%
5%
6%
7%
8%
9%
10%
11%
12%
13%
14%
15%
16%
17%
18%
19%
20%
21%
22%
23%
24%
25%
26%
27%
28%
29%
30%
31%
32%
33%
34%
35%
36%
37%
38%
39%
40%
41%
42%
43%
44%
45%
46%
47%
48%
49%
50%
51%
52%
53%
54%
55%
56%
57%
58%
59%
60%
61%
62%
63%
64%
65%
66%
67%
68%
69%
70%
71%
72%
73%
74%
75%
76%
77%
78%
79%
80%
81%
82%
83%
84%
85%
86%
87%
88%
89%
90%
91%
92%
93%
94%
95%
96%
97%
98%
99%
100%
6-year graduation rate
Rolling
Application deadline
-
0%
1%
2%
3%
4%
5%
6%
7%
8%
9%
10%
11%
12%
13%
14%
15%
16%
17%
18%
19%
20%
21%
22%
23%
24%
25%
26%
27%
28%
29%
30%
31%
32%
33%
34%
35%
36%
37%
38%
39%
40%
41%
42%
43%
44%
45%
46%
47%
48%
49%
50%
51%
52%
53%
54%
55%
56%
57%
58%
59%
60%
61%
62%
63%
64%
65%
66%
67%
68%
69%
70%
71%
72%
73%
74%
75%
76%
77%
78%
79%
80%
81%
82%
83%
84%
85%
86%
87%
88%
89%
90%
91%
92%
93%
94%
95%
96%
97%
98%
99%
100%
Acceptance rate
-
0%
1%
2%
3%
4%
5%
6%
7%
8%
9%
10%
11%
12%
13%
14%
15%
16%
17%
18%
19%
20%
21%
22%
23%
24%
25%
26%
27%
28%
29%
30%
31%
32%
33%
34%
35%
36%
37%
38%
39%
40%
41%
42%
43%
44%
45%
46%
47%
48%
49%
50%
51%
52%
53%
54%
55%
56%
57%
58%
59%
60%
61%
62%
63%
64%
65%
66%
67%
68%
69%
70%
71%
72%
73%
74%
75%
76%
77%
78%
79%
80%
81%
82%
83%
84%
85%
86%
87%
88%
89%
90%
91%
92%
93%
94%
95%
96%
97%
98%
99%
100%
Out-of-state students
-
0%
1%
2%
3%
4%
5%
6%
7%
8%
9%
10%
11%
12%
13%
14%
15%
16%
17%
18%
19%
20%
21%
22%
23%
24%
25%
26%
27%
28%
29%
30%
31%
32%
33%
34%
35%
36%
37%
38%
39%
40%
41%
42%
43%
44%
45%
46%
47%
48%
49%
50%
51%
52%
53%
54%
55%
56%
57%
58%
59%
60%
61%
62%
63%
64%
65%
66%
67%
68%
69%
70%
71%
72%
73%
74%
75%
76%
77%
78%
79%
80%
81%
82%
83%
84%
85%
86%
87%
88%
89%
90%
91%
92%
93%
94%
95%
96%
97%
98%
99%
100%
Full-time faculty w/ terminal degree
College Highlights
Engaged Students
Great Teaching
Vibrant Communities
Successful Outcomes
Admission & Aid
Engaged Students
"I can honestly say that choosing SXU to complete my bachelor's degree was the right decision for me. The mission and traditions of the Sisters of Mercy makes SXU a special place to be a student. On top of receiving a quality Catholic education, I have had many opportunities to express my devotion to service. At SXU, I am the vice president of the Student Veteran Alliance, a member of Tau Sigma and a member of the Student Nursing Association. Through these organizations my peers and I raised money and created care packages for the troops overseas. In other service-oriented projects, we have collected toys for ill children at Advocate Hope Hospital around the holidays. There are ample opportunities for anybody to serve others here at Saint Xavier University." – Richard Bretzer '20 (Nursing)
One of the core values of Saint Xavier University is service, and as such, SXU features programs and classes that encourage students to make the most of their education. This includes things like study abroad programs, internships, community service projects, and student-driven research to ensure a well-rounded experience.
Students benefit from an active, collaborative learning environment. Professors are readily available to offer the necessary support, encouragement, and intellectual stimulation. Perhaps most significantly, students acquire lifelong skills in writing, critical thinking, and problem-solving, prepared to take on every sphere of life.
STUDY ABROAD
Study abroad options for SXU students are expanding. The Center for International Education can help students make diversity and global perspectives part of their undergraduate experience, whether that be for a few weeks, a semester, or a full year. Since 2004, SXU students have participated in some 30 different programs at colleges and universities in 14 nations, including Argentina, Ireland, Japan, Russia, South Africa, and Spain. Saint Xavier also offers short-term, faculty-led courses abroad for undergraduate and graduate students; some locations include: China, Croatia, England, Ireland, and Italy.  
SERVICE OPPORTUNITIES
Saint Xavier is particularly dedicated to serving its community through the Mercy mission of service, including the Service Club program and the Mercy Volunteer Corps. Students in Service Club have come together with Port Ministries to make thousands of lunches for distribution to those in need. Students have also been called to serve in the Mercy Volunteer Corps, which helps people who are economically poor or otherwise socially marginalized. Volunteers commit to compassionate service, simple lifestyles, and spiritual growth. In March 2022, the University introduced the annual Week of Service, where students, staff, and faculty participate in service initiatives tied closely to the critical concerns of the Sisters of Mercy, with opportunities to serve places like the Greater Chicago Food Depository, Ronald McDonald House, animal shelters, and forests in need of ecosystem rehabilitation. As part of Cougar-Trax, a two-day program for first-year students, incoming students participate in a series of service opportunities on and off campus, where they gain a deep understanding and empathy of marginalized groups as they confront issues of poverty, racism, discrimination, and environmental issues. 
HONORS PROGRAM
Incoming freshmen who demonstrate exceptional academic achievement and potential (based on test scores, GPA, and other factors) are invited to participate in the Honors Program. Open to students in any major, the Honors Program offers an enriched academic experience that provides more time for in-depth and advanced study. Honors students often work closely with a faculty advisor on research and other collaborative projects.
ENROLLMENT BY ETHNICITY
Non-U.S. Citizen: 0%
Hispanic/Latinx: 44%
Black or African American, non-Hispanic: 12%
White, non-Hispanic: 37%
Native/Indigenous American or Alaska Native, non-Hispanic: 0%
Asian, non-Hispanic: 3%
Native Hawaiian or other Pacific Islander, non-Hispanic: 0%
Two or more races, non-Hispanic: 2%
Race and/or ethnicity unknown: 2%
Great Teaching
PASSIONATE PROFESSORS
Current students and SXU graduates consistently identify SXU faculty as the best part of their academic experience. SXU faculty are trained as research scholars and recognized as experts in their field of study. Of the nearly 125 full-time faculty, 70 percent have the highest degree in their discipline. More importantly, they're distinguished by their dedication to teaching undergraduates, openly available to students thanks to a student-to-faculty ratio of only 15:1.
"In my time as a student at SXU, I found a supportive environment where faculty and staff are committed to my success. Because of the tremendous amount of support, I have held two leadership roles and have worked with various nonprofits. Instead of fighting for an opportunity to grow, a lot of these opportunities were offered to me directly. It was a pleasant change, because it showed SXU's commitment in making me a better student and a better citizen for the world." – Sharon Chacko '20 (Communication Sciences and Disorders)
VIA
The first step to becoming a successful Saint Xavier University student is through participation in a VIA (first-year orientation) session during the summer before classes start. VIA is designed specifically to make the transition to college life as smooth as possible, and students continue to talk about the great times they had meeting new classmates and learning about SXU long after their session. Coinciding with the University initiative to educate for competence, character, and career success, this program takes a distinctive approach to fostering student achievement in all areas of life.
SXU COLLEGES
The College of Liberal Arts and Education is dedicated to providing students with a challenging general education program that cultivates critical thinking, effective communication, and collaboration as students explore arts and sciences disciplines. SXU is the first in Illinois to offer a fully online elementary education master's program that leads to a professional educator's license and 1 of 8 Chicago-area universities that are part of the NSF-funded PUMA STEM Alliance, which is focused on increasing the number of underserved minorities in STEM programs (NSF 1911271). The Education Division offers NCATE-accredited undergraduate programs in early childhood education and elementary education as well as a secondary education certification for students majoring in art, biology, English, and other fields. At the undergraduate level, Saint Xavier is one of the five largest private not-for-profit providers of teachers in Illinois. In the metropolitan Chicago area, it is estimated that more than 174,000 schoolchildren a day are taught by a teacher from SXU.
The Colleges of Nursing, Health Sciences and Business is accredited by the Commission on Collegiate Nursing Education (CCNE) and is one of 20 programs nationwide to be recently designated "a Center of Excellence in Nursing Education." Its Graham School of Management is also accredited by the Association to Advance Collegiate Schools of Business (AACSB) and provides a strong theoretical foundation and hands-on professional experience. SXU is also among the top 5 percent of business programs worldwide that are AACSB accredited.
SXU's Degree Completion Programs accommodate the educational needs of busy working adults. The professional studies degrees are designed for transfer students seeking advancement in business, management, the hospitality industry, and other fields.
SPECIAL STUDY OPTIONS
Programs available at this institution.
Accelerated program
Cooperative education program
Distance learning
Double major
Dual enrollment
English as a Second Language (ESL)
Exchange student program (domestic)
Honors Program
Independent study
Internships
Liberal arts/career combination
Student-designed major
Study abroad
Teacher certification program
Vibrant Communities
Students can discover countless opportunities to enhance their education through clubs and organizations, athletic activities, and community service. Saint Xavier is a welcoming and inclusive campus community.
"During my first semester after transferring to SXU, I didn't know anybody on campus, and I felt like a visitor. I didn't know much about the school, didn't have roots established here and didn't have a sense of belonging. Throughout my following semesters, I decided to make an effort to be more involved. I became an employee on campus, joined two different honors programs, became treasurer of the Pre-Law Association, traveled to Ireland through an SXU study abroad program and participated in a course trip to Yellowstone. Along the way, I've made friends, coworkers, mentors and clients! Making an active decision to become a member of SXU, rather than a visitor, was the best choice I have ever made, and it has transformed my experience here. Now, I truly can say SXU is my home!" – Emily Malchow '20 (English)
STUDENT ACTIVITIES
At Saint Xavier, over 40 active registered student organizations (RSOs) are available to allow students to connect with like-minded individuals in academic, cultural, service-oriented, spiritual, honorary, professional, social justice, or special interest organizations. Extracurricular involvement allows students to share their interests with others while developing lifelong friendships. It also reinforces the active, collaborative learning environment in the classroom.
In addition to the wide variety of RSOs available, students can also play club or intramural sports, apply to be an X-Factor Student Leader, earn a Cougars LEAD certificate, participate in student government, or even host a radio show. Whatever interests or special talents a student may have, there is probably a group of like-minded students to join. And if there isn't, Saint Xavier encourages students to start their own RSO and build their own legacy at SXU! 
RESIDENCE LIFE
Many SXU students take advantage of the University's new and expanding residential facilities, with 15 percent of first-year students and 12 percent of undergraduates living on campus. However, well over half of all SXU students are commuters. Saint Xavier Council (SXC) and the Commuter Services Program help to keep this diverse commuter population connected to one another as well as to on-campus activities and events.
GUEST LECTURES
Students have had the opportunity to hear from such world-renowned leaders as Colin Powell, Elie Wiesel, and Madeleine Albright through the SXU Voices and Visions Lecture Series.
DIVERSITY
SXU students come from diverse backgrounds and have a wide range of interests and goals. Approximately 60 percent are first-generation college students. Saint Xavier University has been ranked highly for its diverse student population, with more than one-third of SXU undergraduates coming from underrepresented ethnic backgrounds.
SCHOOL LOCATION
Nestled in a quiet corner in one of the nation's biggest, most diverse cities, Saint Xavier University is home to over 3,500 students from 45 different states and 13 different countries. The University has one of the most diverse student populations among universities in the Midwest and is one of the safest college campuses in Illinois.
Saint Xavier is located only 20-30 minutes from downtown Chicago, which is full of world-class museums, shopping, restaurants, theaters, and more. The city is an inexhaustible source of cultural enrichment, recreation, and inspiration.
ATHLETICS
National Association of Intercollegiate Athletics (NAIA)
All-American Student Athletes
#1 Champions of Mid-States Football Midwest League
National Tournament Appearances 
20 varsity teams
Men's teams: baseball, basketball, bowling, cross country, football, golf, soccer, track & field, and volleyball
Women's teams: basketball, bowling, cross country, golf, soccer, softball, track & field, and volleyball
Co-ed teams: esports, cheerleading and Paw Prints (a dance team)
Intramurals: SXU has a variety of intramurals. 
Mascot: Champ the Cougar
Colors: Scarlet and Gray
RESIDENCE LIFE
Percent of students living on campus.
First-time, first-year (freshman) students: 26%
Undergraduates: 16%
Campus housing options.
Coed dorms
Apartments for married students
Successful Outcomes
SUPPORT SERVICES
SXU is deeply committed to student success. The University offers academic resources and support services that encourage achievement not only academically, but also personally and professionally. Academic resources—such as the Center for Accessibility Services, the Center for Learning and Student Support, and TRIO—are designed to facilitate the mastery of study strategies and learning skills to improve overall academic performance. Through services like the Counseling Center and the Health Center, students can also maintain their health and personal growth.
The Center for SUCCESS promotes student success both in school and after graduation with supportive resources and programming, including workshops, panels, employer information sessions, and such recruiting events as networking nights and the College-to-Career Expo. Advisors use a holistic advising approach to tend to individual career and academic needs, including assistance with course selection, major and career exploration, career readiness, job search, and graduate and professional school. The Center for SUCCESS prepares, educates, and connects students with pre-professional opportunities, internships, and micro-internships to develop lifelong skills valued by employers, and it goes further to encourage student involvement in service, leadership opportunities, and mentorship.
"Looking back, I think Saint Xavier gave me the foundation to not only cope with the volume of material that medical school had to offer, but it also gave me a sense of purpose. I think that's one thing that's really important to remember as you move forward—think about what your project means to you and how it can affect the community." – Darryl Brown, M.D. '13, about his Capstone work in the Honors Program (Biology, Chemistry, and Spanish)
CAPSTONE PROJECTS
Saint Xavier University encourages in-depth research and student-faculty collaboration through senior capstone courses. Typically held in a two-semester format, this course allows students across most major programs to encapsulate the cumulative skills and knowledge they have developed throughout their years with the University. Research, analysis, and faculty collaboration prepare the students to present their projects in conferences and other formal settings, including the annual Research Expo. The Student-Faculty Collaborative Research (SFCR) initiative reflects SXU's leadership commitment to excellence in teaching, learning, and scholarship, all while providing teams of faculty and students the opportunity to address meaningful research questions through engaging high-impact educational practices. 
INTERNSHIPS
Students from a variety of academic areas participate in internships with regional professionals. SXU encourages internships so that students may build a career-related work record to increase their marketability and value to employers after graduation.
Admission & Aid
Admission
ADMISSIONS FACTORS
Very Important
Academic GPA | Standardized test scores | Application Essay
Important
Rigor of secondary school record
Considered
Recommendation(s) | Interview | Extracurricular activities
Talent/ability | Character/personal qualities
TEST SCORES
Required
FRESHMAN PROFILE
SAT Evidence-Based Reading and Writing
25th Percentile: 470 | 75th Percentile: 560
SAT Math
25th Percentile: 480 | 75th Percentile: 560
ACT Composite
25th Percentile: 18 | 75th Percentile: 24
ACT Math
25th Percentile: 17 | 75th Percentile: 24
ACT English
25th Percentile: 18 | 75th Percentile: 24
ADMISSION PROCESS
SXU has a rolling admission policy, which means there's no set deadline for submitting an application. However, students are encouraged to apply as early as possible during their senior year of high school. Students can apply for freshman admission to SXU by submitting the paper application or by completing the application online.
Apply online and the $25 application fee will be waived. Freshman applicants must submit a completed application for admission; a $25 application fee (unless applying online); official high school transcript or GED score report; ACT or SAT I score report (unless included on high school transcript); and personal essay.
Tuition & Cost
Tuition: $33,630
Fees: $1,100
Room: $6,720
Board: $4,820
"As a first-generation student, having a scholarship has allowed me to be a trailblazer for other family members, women, and minorities alike who are interested in obtaining a higher education." – Alondra Fonseca '18 (Communication)
Contact Saint Xavier University