Reinhardt University
Waleska, Georgia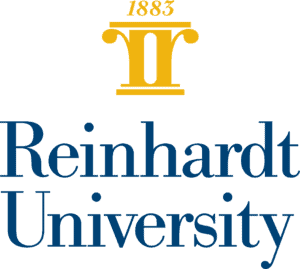 Since 1883, Reinhardt has focused on meeting student needs one person at a time. Reinhardt's emphasis is on personalized education, best provided in small classes by talented professors who challenge and care about their students.

Students find Reinhardt's academic programs engaging, challenging, and rewarding — an investment that yields positive returns to their personal and professional lives. Graduates take full advantage of Reinhardt's opportunities and enter their professions with the richness of a broad liberal arts education. They are well prepared, having gained specific professional skills through their participation in engaged classroom experiences, co-curricular enrichments, challenging research projects, rewarding service initiatives, exciting internships, and life-transforming studies abroad.
Get to know Reinhardt University
1,292
Degree-Seeking Undergraduates
Full-time to Part-time Ratio
-
0%
1%
2%
3%
4%
5%
6%
7%
8%
9%
10%
11%
12%
13%
14%
15%
16%
17%
18%
19%
20%
21%
22%
23%
24%
25%
26%
27%
28%
29%
30%
31%
32%
33%
34%
35%
36%
37%
38%
39%
40%
41%
42%
43%
44%
45%
46%
47%
48%
49%
50%
51%
52%
53%
54%
55%
56%
57%
58%
59%
60%
61%
62%
63%
64%
65%
66%
67%
68%
69%
70%
71%
72%
73%
74%
75%
76%
77%
78%
79%
80%
81%
82%
83%
84%
85%
86%
87%
88%
89%
90%
91%
92%
93%
94%
95%
96%
97%
98%
99%
100%
Retention rate
13:1
Student/teacher ratio
$24,228
Full-time tuition cost
-
0%
1%
2%
3%
4%
5%
6%
7%
8%
9%
10%
11%
12%
13%
14%
15%
16%
17%
18%
19%
20%
21%
22%
23%
24%
25%
26%
27%
28%
29%
30%
31%
32%
33%
34%
35%
36%
37%
38%
39%
40%
41%
42%
43%
44%
45%
46%
47%
48%
49%
50%
51%
52%
53%
54%
55%
56%
57%
58%
59%
60%
61%
62%
63%
64%
65%
66%
67%
68%
69%
70%
71%
72%
73%
74%
75%
76%
77%
78%
79%
80%
81%
82%
83%
84%
85%
86%
87%
88%
89%
90%
91%
92%
93%
94%
95%
96%
97%
98%
99%
100%
Out-of-state students
-
0%
1%
2%
3%
4%
5%
6%
7%
8%
9%
10%
11%
12%
13%
14%
15%
16%
17%
18%
19%
20%
21%
22%
23%
24%
25%
26%
27%
28%
29%
30%
31%
32%
33%
34%
35%
36%
37%
38%
39%
40%
41%
42%
43%
44%
45%
46%
47%
48%
49%
50%
51%
52%
53%
54%
55%
56%
57%
58%
59%
60%
61%
62%
63%
64%
65%
66%
67%
68%
69%
70%
71%
72%
73%
74%
75%
76%
77%
78%
79%
80%
81%
82%
83%
84%
85%
86%
87%
88%
89%
90%
91%
92%
93%
94%
95%
96%
97%
98%
99%
100%
Full-time faculty w/ terminal degree
College Highlights
Engaged Students
Great Teaching
Vibrant Communities
Successful Outcomes
Admission & Aid
Engaged Students
A National Survey of Student Engagement from 2016, shows 92% of Reinhardt University's seniors were engaged in at least one High Impact Practice, from service-learning to internships and more. About half of the seniors were involved in internships, and 25% were involved in research with faculty. The NSSE survey showed that seven out of 10 students participated in service learning projects.
FIRST-YEAR EXPERIENCE
From the beginning of students' college careers, Reinhardt plugs them into courses that set them on paths for success at college, in careers, and for life. First-year students enroll in Critical Thinking Seminar, individually themed by the professor who teaches the course. In 2015-2016, faculty taught courses centered on exciting topics like The Curiosity Cabinet, Film and Environmental Studies, and Blazing the Trails: The Role College Students Played in the Civil Rights Movement.
LEARNING WHILE SERVING
Reinhardt professors value the experience of learning while serving others. Whether teaching art or business, Reinhardt faculty help students apply the skills they learn in class to help others. For instance, Digital Art students produced videos for local non-profit organizations. Business technology students partnered with SERV International, raising money for children living in an orphanage in Kenya. Marketing majors, along with other United Methodist-affiliated colleges, led a campus-wide awareness and fund-raising campaign for "Imagine No Malaria." Students in Sociology spent their spring break in Ixmiquilpan, Mexico working to provide education, food, and clean water to underserved families of that region.
STUDY ABROAD
Reinhardt faculty instruct study-abroad courses each summer. To support students financially, Reinhardt applies a portion of the student's tuition payment for the course to the expense of the trip. Recent trips include a combined study of ancient art and theatre in Athens, Greece and the island of Crete, studies of the cold war for sociology and communication majors in Germany and Czech Republic, and biological and psychological studies located in Ecuador and the Galapagos Islands. Every other summer, students majoring in World Languages and Culture study abroad in Spain.
SENIOR CAPSTONE
The results of the 2016 National Survey of Student Engagement indicate that 67 percent of Reinhardt seniors participated in at least two High-Impact Practices (HIPs) while studying at Reinhardt and 25% participated in one HIP. High-Impact Practices include participation in a learning community, service-learning, research with faculty, internship or field experience, study abroad, and culminating senior experience.
CONVOCATION OF ARTISTS AND SCHOLARS
The Robert L. Driscoll Convocation of Artists and Scholars is an annual student performance, exhibition, and research conference. Juniors and seniors from across campus read research papers, share internship experiences, show art work, and perform music and theatrical productions for faculty, staff, and students. For nearly a week in the beauty of a North Georgia spring, Reinhardt celebrates student learning among the blooms.

The 2016 NSSE survey indicated that 69% of seniors took courses that included a community-based service-learning project, while 70% of seniors "frequently" gave course presentations, which is higher than the corresponding percentage for all Georgia seniors (64%) or all seniors nationwide (56%) who took the NSSE survey.
MULTICULTURALISM
Celebrating global diversity, students of Reinhardt University organize an International Festival each year, featuring poster sessions, performances, and culinary delights. Reinhardt's diverse student body facilitated an opportunity for students to learn from each other; it also allowed students to work together in a culturally diverse atmosphere — an aspect that put Reinhardt in the top 10% in the indicator of the NSSE survey compared to its peers and other Georgia and national institutions (both public and private) that participated in the NSSE survey.
ENROLLMENT BY ETHNICITY
Non-U.S. Citizen: 2%
Hispanic/Latinx: 11%
Black or African American, non-Hispanic: 17%
White, non-Hispanic: 62%
Native/Indigenous American or Alaska Native, non-Hispanic: 0%
Asian, non-Hispanic: 1%
Native Hawaiian or other Pacific Islander, non-Hispanic: 0%
Two or more races, non-Hispanic: 3%
Race and/or ethnicity unknown: 4%
Great Teaching
"I love Reinhardt because for the last three years it has been my home away from home. I've received opportunities that I would not have anywhere else. I also love Reinhardt because of the help I've received from my professors who have always been willing to help in anyway they can. Reinhardt is a place of opportunity and a home to all." — Joshua Teague, 2020
Great teaching is the hallmark of Reinhardt University. Reinhardt professors are first and foremost teachers. As one student remarked when nominating her math professor for a teaching award: "He made my goal his goal." Great teaching is both encouraged and recognized.

Reinhardt ranked in the top 10 percent of all Georgia and U.S. schools that participated in the NSSE survey in Spring 2016 for student-faculty interaction.
TEACHING AWARDS
Reinhardt University recognizes great teaching by awarding the annual United Methodist Exemplary Teaching Award. Faculty are nominated and reviewed by their peers. The faculty committee charged with selecting the winner reviews course syllabi and assignments, student course evaluations, and received letters of recommendation from students and colleagues.

Faculty also compete for the Vulcan Outstanding Teacher Award, which honors a Reinhardt teacher who exhibits innovative teaching and is available to students in and outside the classroom, committing to educating the whole person.

The Jane England Teaching Excellence Award is given each year to a Reinhardt faculty member who is a productive scholar, a good citizen of the University, and an excellent teacher. The nominees are selected by a group of reviewers that include a Reinhardt faculty member, a Reinhardt administrator, and an outside academic who teaches at another university.

Reinhardt University Deans select two faculty members each year to receive the Faculty Research Award and the Faculty Artistic Award for a contribution executed within the past academic year.
SATISFIED STUDENTS
What do students say about the learning experience at Reinhardt University?

RU students are highly satisfied with the quality of instruction. On a scale of 1 to 5 (Very Poor to Very Good), the average term rating (fall 2015 to spring 2016) for overall satisfaction with the course ranged from 4.1 to 4.9 among the different schools within the University. High ratings were also received for items associated with teaching quality:
4.8: The professor created an atmosphere in which students were free to ask questions and express their ideas, both in and out of the classroom;

4.7: Class was regularly held;

4.6: The professor cared about student success.
Results from exit surveys also indicate that students are satisfied with the quality of teaching in their major program. The following are rated on a scale from 1 to 5 with 1 being "Very Dissatisfied" and 5 being "Very Satisfied":
4.4: Satisfaction with the course;

4.5: Satisfaction with instructor's teaching effectiveness.
As part of program assessment efforts, all full-time faculty submit a Course Reflection each semester. Instructors are asked to reflect on the effectiveness of the course's learning outcomes and discuss ways in which the course can be improved. These regular reflections often lead to pedagogical innovations and increased use of technology across the curriculum.

In addition, 2016 NSSE results show that 87% of the Reinhardt seniors classified their undergraduate experience as "good" or "excellent," and 82% would choose Reinhardt again if they could start over again.
SPECIAL STUDY OPTIONS
Programs available at this institution.
Cross-registration
Distance learning
Double major
Dual enrollment
Honors Program
Independent study
Internships
Study abroad
Vibrant Communities
STUDENT ACTIVITIES
Reinhardt is home to a very active Student Government Association, which is given its own budget each year to support student learning and co-curricular activities. Students also participate in more than 35 clubs, including academic honor societies. Visit: www.reinhardt.edu/clubs.

NSSE results show that 43% of Reinhardt seniors held leadership positions in the numerous clubs and organizations at the University during their undergraduate experience, which is higher than the average for NSSE participants in Georgia (38%) or the U.S. (33%).

Reinhardt University faculty internationalize the campus with the Year of Program. In 2015, the campus focused on Mexico. Activities for the "Year of Mexico" included an International Culture Festival, Café y conversacion events focusing on different aspects of Mexican culture and RU student experiences in Mexico. In addition, students participated in a co-curricular spring break trip where they provided community service in the area of Ixmiquilpan Hildalgo and helped build a well for the village of El Tablon. Visit: www.reinhardt.edu/academic-enrichment/year-of.

For the 2016-17 academic year, Reinhardt will hold the "Year of Understanding Your World," during which forums and seminars will be held about elections, immigration, international terrorism and community policing.
LEADERSHIP ACADEMY
Student Leadership Academy convenes, each October, the Annual Student Leadership Conference, featuring a keynote address from a regional leader and themed workshops and seminars, specifically designed for Reinhardt students. The Academy also hosts Leadership and Lemonade, monthly symposia that focus on leadership skills such as conflict mediation, financial management, and personality inventories. Visit: www.reinhardt.edu/schools-programs/mccamish-school-of-business/leadership-conference.
OVERFLOWING WITH CULTURE
Reinhardt University's Falany Performing Arts Center brings world-class musical and theatrical performances to campus each year. The 2015-16 season included the Atlanta Symphony Orchestra and the Celtic Tenors, as well as first-class stage performances and more. For information on the 2016-17 season, visit www.reinhardt.edu/falany.

Reinhardt University is home to the Funk Heritage Center, a regional interpretive museum that focuses on Native American tribes and Appalachian settlements in the North Georgia mountains. Visit: www.reinhardt.edu/funkheritage.
SCHOOL LOCATION
Reinhardt University's main campus in Waleska, Georgia is only 45 miles northwest of Atlanta and 60 miles south of Springer Mountain, the starting point of the Appalachian Trail. The 525-acre campus is known for its year-round scenic beauty.
ATHLETICS
Reinhardt fields 24 team sports:
MEN: football, basketball, baseball, soccer, tennis, golf, lacrosse, cross country, indoor and outdoor track & field, wrestling, and bowling

WOMEN: basketball, softball, soccer, tennis, golf, lacrosse, volleyball, cross country, indoor and outdoor track & field, and bowling

COED: cheerleading, which is a club sport
All offer scholarships. The University is a member of the National Association of Intercollegiate Athletics and is a bronze level Champions of Character Five-Star Institution. The University mascot is SOAR the Eagle and its colors are navy, blue, and gold.
RESIDENCE LIFE
Percent of students living on campus.
First-time, first-year (freshman) students: 74%
Undergraduates: 47%
Campus housing options.
Coed dorms
Men's dorms
Women's dorms
Special housing for disabled students
Special housing for international students
Theme housing
Successful Outcomes
Reinhardt University sets its students up for success. Compared to all 2016 NSSE schools, the Reinhardt seniors reported a greater institutional emphasis on "providing support to help students succeed academically" and "using learning support services (tutoring services, writer center, etc.)." Reinhardt seniors reported higher levels of support for "engaging diverse others." Of the Reinhardt seniors who participated in the 2016 NSSE survey, 92% reported being involved in High Impact Practices, including service-learning and internships. More than 70% reported being involved in service-learning projects.
SET UP FOR SUCCESS
According to institutional data from 2013, Reinhardt students graduate with less debt than the national and state averages.

Reinhardt graduates report gaining employment before Commencement with organizations such as The Weather Channel, MTN Media, Benson Integrated Marketing, Opelika-Auburn News, The Home Depot, WSB TV, and Liberty Mutual Insurance. Other graduates reported acceptance at graduate schools of their choice, along with teaching assistantships.
SUCCESSFUL OUTCOMES BY ACADEMIC SCHOOL
School of Arts & Humanities: In March 2015, Reinhardt University's history program hosted the Georgia Regional Phi Alpha Theta Conference. Reinhardt history faculty and students participated by moderating panels and reading papers on a variety of historical topics.

In 2015, six McCamish School of Business students participated in state business competitions. Reinhardt students earned 1st Place in Impromptu Speaking Competition and 1st Place in Future Business Executives Competition. RU's Chapter of Phi Beta Lambda took the 2nd Place Award for the largest chapter in Division III.

Learning outcome reports for all programs in the School of Mathematics and Sciences show that students consistently achieve above the targeted benchmark for "communicating scientific knowledge, both orally and written." Biology and psychology students read research papers at undergraduate research conferences.

Students from the School of Performing Arts compete annually at regional and national competitions. In 2015, Reinhardt students won Georgia Music Educators Association's Master Class Winner and an Award for Excellence, while a musical theatre student took 1st place in Sophomore Men vocal competition at the Southeast Region's National Association of Teachers of Singing; two Reinhardt students were named Semi-Finalists at the National Association of Teachers of Singing.

Price School of Education & Sport Studies: Twenty-seven Sport Studies majors completed, in 2014-2015, an internship or practicum, 59 students completed 10-hours of community service projects, and two students published articles in Peach State College Sports.
Admission & Aid
Admission
ADMISSIONS FACTORS
Very Important
Academic GPA | Standardized test scores
Considered
Application Essay | Recommendation(s)

TEST SCORES
Required
FRESHMAN PROFILE
SAT Evidence-Based Reading and Writing
25th Percentile: 480 | 75th Percentile: 590
SAT Math
25th Percentile: 460 | 75th Percentile: 570
ACT Composite
25th Percentile: 19 | 75th Percentile: 24
ACT Math
25th Percentile: 17 | 75th Percentile: 23
ACT English
25th Percentile: 17 | 75th Percentile: 24
Tuition & Cost
Tuition: $24,228
Fees: $1,000
Room & Board: $10,920
Contact Reinhardt University