Regis University
Denver, Colorado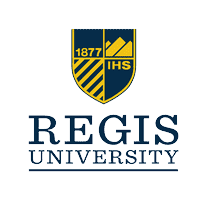 Known for its stately Lord of the Rings-style weeping elm amidst a sprawling arboretum that contains more than 1,200 trees and stellar backdrop of the Rockies, Regis University offers a tranquil aesthetic. And as outdoor enthusiasts know, nature pairs well with effective teaching and personal development. Regis students can spend time in the bustling heart of downtown Denver or the beautiful scenery of Colorado nature, and the area surrounding the Regis University campus is a rich tapestry of local eateries, historic concert venues, professional sports teams, and unique shops and stores—there's truly something for everyone.  
SHOW MORE
At its core, Regis University is a bold community of thinkers, activists, and adventurers who hold fast to traditions of academic excellence, leadership, social responsibility, and community service, inspired by Jesuit values.
REGIS BY THE NUMBERS
Average Size of Incoming Freshman Class:

500

Average Class Size:

17
53%

Ethnic Minorities 

33%

First-generation students

85

clubs and organizations, including intramural sports, theatre, KRCX radio, student

alliances, and more

63,312

Average Service Hours in an Academic Year

100+ Student Abroad Programs to Choose From In Over 40 Countries
Get to know Regis University
2,818
Degree-Seeking Undergraduates
Full-time to Part-time Ratio
-
0%
1%
2%
3%
4%
5%
6%
7%
8%
9%
10%
11%
12%
13%
14%
15%
16%
17%
18%
19%
20%
21%
22%
23%
24%
25%
26%
27%
28%
29%
30%
31%
32%
33%
34%
35%
36%
37%
38%
39%
40%
41%
42%
43%
44%
45%
46%
47%
48%
49%
50%
51%
52%
53%
54%
55%
56%
57%
58%
59%
60%
61%
62%
63%
64%
65%
66%
67%
68%
69%
70%
71%
72%
73%
74%
75%
76%
77%
78%
79%
80%
81%
82%
83%
84%
85%
86%
87%
88%
89%
90%
91%
92%
93%
94%
95%
96%
97%
98%
99%
100%
Retention rate
11:1
Student/teacher ratio
$39,260
Full-time tuition cost
Aug. 1
Application deadline
-
0%
1%
2%
3%
4%
5%
6%
7%
8%
9%
10%
11%
12%
13%
14%
15%
16%
17%
18%
19%
20%
21%
22%
23%
24%
25%
26%
27%
28%
29%
30%
31%
32%
33%
34%
35%
36%
37%
38%
39%
40%
41%
42%
43%
44%
45%
46%
47%
48%
49%
50%
51%
52%
53%
54%
55%
56%
57%
58%
59%
60%
61%
62%
63%
64%
65%
66%
67%
68%
69%
70%
71%
72%
73%
74%
75%
76%
77%
78%
79%
80%
81%
82%
83%
84%
85%
86%
87%
88%
89%
90%
91%
92%
93%
94%
95%
96%
97%
98%
99%
100%
Acceptance rate
-
0%
1%
2%
3%
4%
5%
6%
7%
8%
9%
10%
11%
12%
13%
14%
15%
16%
17%
18%
19%
20%
21%
22%
23%
24%
25%
26%
27%
28%
29%
30%
31%
32%
33%
34%
35%
36%
37%
38%
39%
40%
41%
42%
43%
44%
45%
46%
47%
48%
49%
50%
51%
52%
53%
54%
55%
56%
57%
58%
59%
60%
61%
62%
63%
64%
65%
66%
67%
68%
69%
70%
71%
72%
73%
74%
75%
76%
77%
78%
79%
80%
81%
82%
83%
84%
85%
86%
87%
88%
89%
90%
91%
92%
93%
94%
95%
96%
97%
98%
99%
100%
Out-of-state students
-
0%
1%
2%
3%
4%
5%
6%
7%
8%
9%
10%
11%
12%
13%
14%
15%
16%
17%
18%
19%
20%
21%
22%
23%
24%
25%
26%
27%
28%
29%
30%
31%
32%
33%
34%
35%
36%
37%
38%
39%
40%
41%
42%
43%
44%
45%
46%
47%
48%
49%
50%
51%
52%
53%
54%
55%
56%
57%
58%
59%
60%
61%
62%
63%
64%
65%
66%
67%
68%
69%
70%
71%
72%
73%
74%
75%
76%
77%
78%
79%
80%
81%
82%
83%
84%
85%
86%
87%
88%
89%
90%
91%
92%
93%
94%
95%
96%
97%
98%
99%
100%
Full-time faculty w/ terminal degree
College Highlights
Engaged Students
Great Teaching
Vibrant Communities
Successful Outcomes
Admission & Aid
Engaged Students
"A Jesuit education is an education that is not like any other. It's one where you learn about the world around you. You learn about current events. You learn about taking care of the whole person. You're hungry for learning. It's an education that you can't get anywhere else." – Jason Armijo, Regis University Alumnus, English
SERVICE-LEARNING
The Center for Service Learning at Regis University partners with students, faculty, and the community to educate, engage, and connect with the public as positive agents of change for local and global justice. Community-based service-learning takes students out of the classroom and changes their perspectives and helps them see others—and themselves—a little bit better. It's care for the whole person in action.
STUDY ABROAD
Regis University offers three types of study abroad programs in more than 40 countries. Practice in the Field is for students seeking experiential learning opportunities, Cultural Immersion is for students looking to immerse themselves in a foreign country, and Traditional Study Abroad is for students looking to experience another culture while taking courses for their degree abroad.
CLUBS AND ORGANIZATIONS
There are 85 student clubs and organizations on the Regis University campus. With opportunities ranging from intramural sports and theatre to KCRX radio and student alliances, there's something for everyone looking to enrich their campus experience.
CLASS SIZE
The number of sections of each class size.
2-9: 105 | 10-19: 205 | 20-29: 179
30-39: 27 | 40-49: 12 | 50-99: 2 | 100+: 0
ENROLLMENT BY ETHNICITY
Non-U.S. Citizen: 1%
Hispanic/Latinx: 26%
Black or African American, non-Hispanic: 5%
White, non-Hispanic: 53%
Native/Indigenous American or Alaska Native, non-Hispanic: 0%
Asian, non-Hispanic: 5%
Native Hawaiian or other Pacific Islander, non-Hispanic: 0%
Two or more races, non-Hispanic: 4%
Race and/or ethnicity unknown: 4%
Great Teaching
Regis University understands that that learning doesn't just happen in the classroom. As the only liberal arts Jesuit university in its region, Regis University offers students more than 125 hands-on degrees and programs, available online and on-campus.
Faculty partner with business and community leaders to enhance economic, environmental, and social wellbeing. Regis University's small student-to-faculty ratio guarantees that students are never just a face in the crowd, but a voice. One hundred percent of Regis courses are taught by faculty—not TAs or graduate students—so students can rest assured they're learning from distinguished experts in their field.
"How might you change the world? As a student at Regis, whether you study nursing, philosophy, business or biology, you will immerse yourself in the liberal arts through our distinctive core curriculum. Let me be clear though; the liberal arts does not reflect a political leaning, nor is it a traditional just for budding poets or painters, although artists are certainly welcome here, it's a much more expansive exploration of human thought and action in today's world, and throughout history. The liberal arts allow us to think about timeless challenges and complex questions. At Regis, you start your journey in the core by mastering the arts of writing and speaking, then even as you pursue your major, you gain a breadth of knowledge against a range of subjects. Your core experience culminates in courses that integrate multiple perspectives into the exploration of issues like diversity and culture, global environmental awareness, justice and the common good, and the search for meaning."
– Geoffrey Bateman, Ph.D., Regis University
Dean, Student Support / Environmental Learning
Professor, Peace and Justice Studies
COLLEGES
Regis University is home to three unique colleges dedicated to supporting student goals and education through Jesuit values. Offering the benefits of industry-specific knowledge and the ability to explore outside a singular chosen field, students in the Anderson College of Business and Computing, Regis College, and the Rueckert-Hartman College for Health Professions graduate with an understanding of how to make a positive impact on the world around them.
View a full list of Regis University's academic programs at this link here.
FIRST-YEAR EXPERIENCE
Regis University wants to ensure that all first-year students have a smooth transition into the community. It does this in three ways: 
First-Year Seminars in which students fine-tune their academic excellence in writing and speaking for the greater good.

The First-Year Advising Program to help students reflect on the transition to college.

The First-Year Learning Community, which helps students find their place and sense of belonging in their new home.
SPECIAL STUDY OPTIONS
Programs available at this institution.
Accelerated program
Distance learning
Double major
Dual enrollment
Honors Program
Independent study
Internships
Liberal arts/career combination
Student-designed major
Study abroad
Teacher certification program
Weekend college
Vibrant Communities
"The campus really is a community. Everyone is looking out for each other." – Andrew McCullouch, Regis University Alumnus, Doctor of Physical Therapy '17
Regis University has all the opportunities—both inside and outside the classroom—to help students get exactly where they want to be in their careers and in their lives.
RESIDENCE LIFE
The Regis campus is home to three residence halls, which contain a total of 349 rooms. In addition, there are 32 apartments within a residence village as well as an upper-class and graduate student apartment complex with 29 apartments. Each student must fulfill a two-year on-campus residency requirement.
Denver is frequently cited as one of the best cities in which to live. It recently ranked No. 14 in the U.S. News and World Report's annual list of The 25 Best Places to Live in the U.S., citing its stronger-than-average job market, reliably great weather, and thousands of acres of parks, trails, and golf courses. Three other Colorado cities made the list including Boulder (No. 1), Colorado Springs (No. 6), and Fort Collins (No. 11).
STUDENT ORGANIZATIONS
There is also ample opportunity for Regis students to embrace their passion for impacting the community and creating a life of meaning. Clubs and organizations like RegisCorps offer the chance for students to hone their skills through transformative leadership experiences, while the Regis University Service Society program helps students connect with their community through street walks delivering food to the homeless, tutoring at inner-city Catholic schools, and much more. 
TRADITIONS
At its core, Regis University is a tight-knit community, and it is committed to keeping those bonds strong through such traditions as Blue and Gold Weekend—a collaboration between the Regis Athletics, Alumni Engagement, and the Office of Student Engagement and Leadership; the annual Christmas Tree Lighting; Ranger Week; and many other events that bring all Regis students together. 
Regis University is dedicated to cura personalis—Latin for "care for the person." This mission extends to the community and fostering a stronger connection between Regis students and their community.
SCHOOL LOCATION
Located in Northwest Denver, Regis University serves as an ideal home base for students looking to experience all Colorado has to offer. With hundreds of miles of hiking trails, dozens of places to ski and ride, and a thriving community, students' Regis experience extends well outside the classroom. 
ATHLETICS
The Regis University Rangers compete in NCAA Division II, offering 12 varsity-level sports. These include: men's and women's basketball, men's and women's soccer, men's and women's cross country, men's and women's golf, women's lacrosse, women's volleyball, baseball, and softball.
RESIDENCE LIFE
Percent of students living on campus.
First-time, first-year (freshman) students: 65%
Undergraduates: 15%
Campus housing options.
Coed dorms
Apartments for single students
Special housing for students with disabilities
Theme housing
Wellness housing

Successful Outcomes
"The Regis programs challenged my abilities, provided me new tools and helped me stretch my skills."  – Ruben Martinez, Regis University Alumnus, B.S. Business Administration '07, MBA '10
Students who graduate from Regis University are equipped with a diverse skill set, ready to make a difference in their chosen fields. In addition to having the training unique to their career path, Regis is dedicated to providing a value-centered and experiential education that honors the whole person—mind, body, and spirit—producing graduates who are prepared to challenge the status quo and aspire to something greater than themselves. 
THE LEARNING COMMONS
Regis wants to ensure all students reach their academic potential, and The Learning Commons provides a free and easy way for them to find academic support. The Learning Commons offers one-on-one appointments with writing coaches, expert tutoring on a wide range of subjects and, thanks to a partnership with Smarthinking, online tutoring when an in-person option isn't available. 
INTERNSHIPS
Before they graduate, Regis University students are encouraged to pursue internships in their chosen fields, and they have ample opportunity to talk with support staff in the Academic Internship Program Office to help them achieve this goal. Regis has intern partnerships with many top Colorado businesses, including Vail Resorts and the Denver Art Museum. 
CAREER AND PROFESSIONAL DEVELOPMENT
Students at Regis have access to the school's Center for Career and Professional Development, which is dedicated to helping them navigate the job search and career challenges. With such services as interview training, résumé and cover letter writing, salary negotiations, and more, Regis graduates enter the working world with the foundation to build a successful career.
SENSE PROGRAM
Adapting to the demands of a rigorous college curriculum can be a challenge, but Regis University's Support to Effectively Navigate the School Environment (SENSE) is designed to help students maintain a balance in their lives while still enjoying the full college experience. Services include help finding resources and community connections, time management and organizational skill development, and self-advocacy training.
FASTFORWARD DEGREE COMBINATIONS
Students can save time and money by earning a bachelor's and master's degree at the same time through Regis University's FastForward Program. Dual-degree combinations give students the chance to enter the workforce with a head start.
CAREER OUTCOMES
Regis University graduates earn an average starting salary of $58,000, and 95% of Regis graduates have either landed a job or are in graduate school within six months of earning their diplomas. The alumni base is also spread all over the country and the globe, with Class of 2019 graduates working in 37 states and abroad. Regis graduates have landed jobs at some of the most well-known businesses and organizations in the world, including the United Nations, Amazon, IMB, Americorps, the Children's Hospital of Colorado, and many more.
Admission & Aid
Admission
ADMISSIONS FACTORS
There are many factors that go into the decision to accept a prospective Regis University student. In addition to students with a strong academic background, Regis is looking for students interested in becoming future leaders who are driven by academic excellence, tenacious curiosity and a passion for creating lasting, positive change in their communities.
Very Important
Rigor of secondary school record | Academic GPA
Standardized test scores | Character/personal qualities 

Important
Application Essay

Considered
Class rank | Recommendation(s) | Interview | Extracurricular activities
Talent/ability | First generation | Alumni/ae relation | Racial/ethnic status
Volunteer work | Work experience | Level of applicant's interest
FRESHMAN PROFILE
SAT Composite
25th Percentile: 1010 | 75th Percentile: 1200
SAT Evidence-Based Reading and Writing
25th Percentile: 500 | 75th Percentile: 620
SAT Math
25th Percentile: 500 | 75th Percentile: 600
ACT Composite
25th Percentile: 21 | 75th Percentile: 28
ACT Math
25th Percentile: 19 | 75th Percentile: 26
ACT English
25th Percentile: 20 | 75th Percentile: 28
HOW TO APPLY
Regis makes it easy to apply and accepts both Common Application and the Regis Application with equal consideration. Along with completing the application, prospective students need to include the following materials:
Transcripts:

Official high school transcripts. Transcripts must be official and may not be stamped Student Copy.

Personal Statement:

Each application requires a personal statement so the admissions office can get to know applicants better.

Letter of Recommendation:

Applicants must supply a letter of recommendation from a high school counselor or teacher.
SCHEDULE A VISIT
Visiting Regis is an important part of the admissions process. Whether it's in-person or virtual, scheduling a visit provides prospective students with the opportunity to learn about what the Regis campus is all about and how they will fit in.
Tuition & Cost
Tuition: $39,260 per year
Student Activity Fee (per semester): $175
Freshman Orientation Fee (one time): $350
Health Insurance Fee (estimated): $2,554 annually*
Wellness Offset Fee (per semester): $210
Aid
99%

of Students Receive Financial Aid

First-Year Merit Scholarships: $5,000 to $20,000 annually
What Others are Saying
"A Jesuit education is something that is so much more than books, statistics and graphs. It's about developing each student to become more of themselves after they graduate, and more of themselves to the world."
— Abigail Peters, Regis University Alumna, Politics / Peace and Justice