Notre Dame of Maryland University
Baltimore, Maryland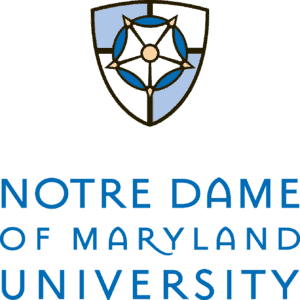 Notre Dame of Maryland University's approach to education has prepared thousands of high-level performers and creators of social change. The University is consistently responsive to the needs of a student body that's hungry to learn and a world that's hungry for knowledgeable, compassionate leaders.
SHOW MORE
NDMU embodies the pioneering educational tradition and social justice mission that, more than a century ago, spurred the College of Notre Dame to welcome the first class of women pursuing four-year baccalaureate degrees.
In addition to its historic undergraduate college for women, NDMU offers undergraduate, graduate, Ph.D., and certificate programs for women and men. Its transformative educational model prepares students for leadership and success at all levels.
The University's 22,000 alumnae and alumni have become leaders in a full range of professional fields, leading exceptional lives of service and achievement.
Founded in 1895 by the School Sisters of Notre Dame, NDMU was the first Catholic college for women in the United States to award the four-year baccalaureate degree. NDMU is accredited by the Middle States Commission on Higher Education, the National Council for Accreditation of Teacher Education (NCATE), the Accreditation Commission for Education in Nursing (ACEN), the Accreditation Council for Pharmacy Education, and the Accreditation Council for Business Schools and Programs (ACBSP).
Get to know Notre Dame of Maryland University
755
Degree-Seeking Undergraduates
Full-time to Part-time Ratio
-
0%
1%
2%
3%
4%
5%
6%
7%
8%
9%
10%
11%
12%
13%
14%
15%
16%
17%
18%
19%
20%
21%
22%
23%
24%
25%
26%
27%
28%
29%
30%
31%
32%
33%
34%
35%
36%
37%
38%
39%
40%
41%
42%
43%
44%
45%
46%
47%
48%
49%
50%
51%
52%
53%
54%
55%
56%
57%
58%
59%
60%
61%
62%
63%
64%
65%
66%
67%
68%
69%
70%
71%
72%
73%
74%
75%
76%
77%
78%
79%
80%
81%
82%
83%
84%
85%
86%
87%
88%
89%
90%
91%
92%
93%
94%
95%
96%
97%
98%
99%
100%
Retention rate
7:1
Student/teacher ratio
$38,295
Full-time tuition cost
Rolling
Application deadline
-
0%
1%
2%
3%
4%
5%
6%
7%
8%
9%
10%
11%
12%
13%
14%
15%
16%
17%
18%
19%
20%
21%
22%
23%
24%
25%
26%
27%
28%
29%
30%
31%
32%
33%
34%
35%
36%
37%
38%
39%
40%
41%
42%
43%
44%
45%
46%
47%
48%
49%
50%
51%
52%
53%
54%
55%
56%
57%
58%
59%
60%
61%
62%
63%
64%
65%
66%
67%
68%
69%
70%
71%
72%
73%
74%
75%
76%
77%
78%
79%
80%
81%
82%
83%
84%
85%
86%
87%
88%
89%
90%
91%
92%
93%
94%
95%
96%
97%
98%
99%
100%
Acceptance rate
-
0%
1%
2%
3%
4%
5%
6%
7%
8%
9%
10%
11%
12%
13%
14%
15%
16%
17%
18%
19%
20%
21%
22%
23%
24%
25%
26%
27%
28%
29%
30%
31%
32%
33%
34%
35%
36%
37%
38%
39%
40%
41%
42%
43%
44%
45%
46%
47%
48%
49%
50%
51%
52%
53%
54%
55%
56%
57%
58%
59%
60%
61%
62%
63%
64%
65%
66%
67%
68%
69%
70%
71%
72%
73%
74%
75%
76%
77%
78%
79%
80%
81%
82%
83%
84%
85%
86%
87%
88%
89%
90%
91%
92%
93%
94%
95%
96%
97%
98%
99%
100%
Out-of-state students
College Highlights
Engaged Students
Great Teaching
Vibrant Communities
Successful Outcomes
Admission & Aid
Engaged Students
GLOBAL LEARNING
NDMU is the first university in Maryland to be granted United Nations Non-Governmental Organization (NGO) Status. This classification for the institution offers NDMU students greater access to the U.N. and esteemed global leaders. Students make regular trips to the U.N., participating in a range of international learning experiences. U.N. ambassadors are also brought to campus as part of NDMU's Visiting Ambassador Program. Students have the opportunity to meet and learn from representatives from around the globe who are creating and influencing international relations.
"In March, I attended the meeting of the UN Commission on the Status of Women at the UN headquarters in New York. There is something about being in those halls that is electrifying. I saw women from so many different cultures and countries. I'm inspired to become one of those women." – Tavia Williams, NDMU Class of 2020, Political Science and Philosophy
STUDY ABROAD
Through Notre Dame's Office of International Programs, students can select from a diverse portfolio of semester and short-term study abroad opportunities all around the world. Short-term programs led by NDMU faculty are also available throughout the year. Most of these programs are one to two weeks in length and offer an academic credit option.
NDMU's program helps students develop an international perspective and a sense of global responsibility, building their intercultural and linguistic skills while fostering lifelong international friendships.
RESEARCH
NDMU's diverse educational environment offers students the opportunity to participate in research within their individual field of interest. Students work closely with faculty experts, conducting research and creating a path for their lifelong work. They can also participate in the annual Nancy Kreiter Research Day, a campus-wide celebration of student research at which their work is presented to the community.
HONORS PROGRAM
The Morrissy Honors Program offers elite scholars the opportunity to take part in seminar-style learning, cultural events, undergraduate research, and international travel.
ENROLLMENT BY ETHNICITY
Non-U.S. Citizen: 1%
Hispanic/Latinx: 13%
Black or African American, non-Hispanic: 21%
White, non-Hispanic: 40%
Native/Indigenous American or Alaska Native, non-Hispanic: 0%
Asian, non-Hispanic: 5%
Native Hawaiian or other Pacific Islander, non-Hispanic: 0%
Two or more races, non-Hispanic: 4%
Race and/or ethnicity unknown: 15%
Great Teaching
"The liberal arts foundation NDMU provides helped me develop as a whole person as well as an academic. It instilled a strong work ethic in me, and I was prepared to do a lot of writing." – Kylie Eldridge, Alum, NDMU Class of 2016, Political Science
FIRST-YEAR SEMINAR
NDMU 100 is a four-credit course in which first-year students focus on making a successful transition into college life. This class, offered to all first-year and transfer students (NDMU 200), finds it foundations in three core goals.
Becoming an intentional learner:

NDMU welcomes new students into the learning community as they begin their pathway to scholarship. They're introduced to all the resources that are available to support their course work, preparing themselves to be intentional learners. It is in this course that students have the room to map out plans to meet their course requirements, actively seek enrichment experiences, and use campus services to support their academic work.

Becoming a Notre Dame of Maryland University woman:

Inheriting the religious values of social justice from NDMU's founders, the School Sisters of Notre Dame, students are introduced to the university's faith-based heritage from the very start. They learn to embrace the founders' commitment to uplifting both women and the underserved. Focus in this course is spent on the value of the NDMU Honor Code, which emphasizes the construction of a meaningful life in the pursuit of one's career interests as well as a commitment to the rich artistic, creative, analytical, scientific, and literary dimensions of the liberal arts.

Learning global and cultural fluency:

NDMU students are urged to value inclusive communities as they foster "international" minds and hearts. NDMU believes that cultural differences enrich the human experience, and every student has the opportunity to embrace diversity through a range of active learning experiences and service.
THE WRITING CENTER
The Writing Center's mission is to help students become better writers. NDMU matches up peer-student consultants to work with students from every year, every school, every major, and every grade level. These experts work with skilled writers as well as those who feel like they struggle to put words on a page.
Writing consultants help with:
Developing stronger essay topics

Thinking about the significance of what one has to say

Improving the support for and development of one's ideas

Organizing material

Enhancing the effectiveness of one's style
LEADERSHIP
The Transformational Leaders Program is offered to students enrolled in the Women's College. It embodies the University's commitment to the mission of its founders, the School Sisters of Notre Dame, to educate women to transform the world. The Transformational Leaders Program prepares students to be catalysts for positive social change. Through a combination of interdisciplinary coursework, international study opportunities, professional development activities, and internship and service-learning experiences, students gain the expertise to become leaders who make change happen. Students in the Transformational Leaders Program earn a certificate in Leadership and Social Change. This program, designed to complement a wide variety of programs of study, can be combined with any major.
TRAILBLAZERS
NDMU's Trailblazer Scholars program provides academic enrichment and student support to first-generation college students. The program features a variety of workshops and mentoring activities to empower students, connect them with college resources, help them integrate into college life, and immerse them in a supportive community of peers and faculty. It provides high-impact experiences that collectively ensure first-generations years of postgraduate fulfillment, steeping them in a comfortable environment of friends and mentors.
PATHWAYS
NDMU's Academic Pathways Program identifies and better prepares students who are in need of additional resources for success. This innovative program identifies and reaches out to these students before their college career begins to help narrow down their specific needs, providing them the support they need before they even begin classes.
FACULTY
NDMU faculty are award-winning educators, innovators, and professionals in their fields who care about student success. They are devoted mentors, guiding and challenging students throughout their University experience.
SPECIAL STUDY OPTIONS
Programs available at this institution.
Accelerated program
English as a Second Language (ESL)
Honors Program
Independent study
Internships
Study abroad
Teacher certification program
Weekend college
Vibrant Communities
NDMU students learn actively, engage with passion, and build learning-relationships that last a lifetime. The opportunities for students to become involved on campus are robust. The organizations and clubs offer students familiar and new opportunities to help them expand their experiences and make new friends.
NDMU holds multiple university-wide events throughout the year, including Welcome Week, Homecoming, Spirit Week, Notre Dame Day, Partners in Mission Day, and WOW Festival. These engage students and promote mission-driven, relationship-building fun.
WOW FESTIVAL
NDMU brings local, national, and international contributors to the stage during the WOW Festival to celebrate and discuss the issues most important to women, such as equal pay, race, gender equality, politics, activism, education, health, and more. Live music, entertainment, food trucks, speed mentoring, and a local marketplace are also highlights of the festival. These events are designed to be agents of change, providing a space for women to participate in discussion, education, and collaboration on the issues that most impact their lives.
HONOR CODE
Traditions are an integral part of student life at Notre Dame of Maryland University. At the beginning of each academic year, first-year students assemble with faculty to recite the Honor Code at the Investiture Ceremony. This code, written in 1936, emphasizes truth and honesty in academic work. Students pledge to pursue truth, to see beauty in all things, and to do good in the world and their communities.
THE JOAN DEVELIN COLEY VISITING AMBASSADOR PROGRAM
U.N. ambassadors spend time on campus with students as part of NDMU's Visiting Ambassador Program. Students have the opportunity to meet and learn from representatives from around the globe who are creating and influencing international relations.
BUSTA FORUM
The Charles J. Busta III Business Forum is designed to showcase the thoughts and experiences of business leaders—especially women leaders—in order to encourage creativity and personal growth in women. The featured lecturer meets with students to offer mentorship opportunities, discusses their paths to success, and explains how their own work could relate to the experiences of NDMU students. These inspirational professionals of integrity have made a real difference, overcome significant obstacles, or delivered dramatic, unexpected success.
SCHOOL LOCATION
Located on 58 acres in a historic, upscale, residential area, the campus offers exceptional facilities, picturesque grounds, and easy access to Baltimore—home to more than 120,000 college students—as well as Washington, D.C., and Philadelphia.
ATHLETICS
A member of NCAA Division III and the Colonial States Athletic Conference, NDMU offers nine intercollegiate sports: Basketball, Cross Country, Field Hockey, Lacrosse, Outdoor Track, Soccer, Softball, Tennis, and Volleyball. The school's mascot, Gabby the Gator, can be spotted cheering her student-athletes on to victory.
RESIDENCE LIFE
Percent of students living on campus.
Undergraduates: 74%
Campus housing options.
Women's dorms
Successful Outcomes
The entirety of the NDMU experience builds the knowledge, skills, and values for successful careers, providing a vibrant learning community that both challenges and supports students as they gain confidence in their abilities. The school's 7:1 student-faculty ratio ensures that every student is engaged in the classroom.
"NDMU has prepared me for the next step by offering clinical experience in amazing hospitals… It's given me real-life experience caring for patients." – Madalyn Dewling, Alum, NDMU Class of 2018, Nursing
SERVICE-LEARNING
Service to the community has always been a vital aspect of the NDMU experience and is thus integrated both inside and outside the classroom experience. Students are given the opportunity to incorporate service components into their academic courses in any discipline, interacting with diverse groups and problem solving for complex, real-world issues. These initiatives provide rich learning opportunities, especially when coupled with guided reflection, class discussion, and skilled analysis.
Service-learning is an excellent opportunity to perfect the balancing of academics, experiential learning, and personal growth experiences while expanding students' concept of self-giving. The program seeks to maintain its long history of prioritizing service to those neglected by society.
FIRST IMPRESSIONS
NDMU's extensive alumni network partners with the Career Center and the University's business programs with the First Impressions program to help students build "soft skills" for their transition to the real world. During the series of workshops and engagements, students learn effective communication, networking, and presentation skills that drive success.
CAREER CENTER
NDMU's Career Center provides expert guidance, timely resources, and career development to students and alumni, assisting them to help them achieve their career goals and become transformational leaders. The services at the Center include career counseling and coaching, career assessments, résumé writing, mock interviews, and job search guidance. Additionally, high-profile companies and businesses are often invited to campus to meet and interview students.
Admission & Aid
Admission
HOLISTIC ADMISSIONS
NDMU is a test-optional university. Standardized test scores (SAT or ACT) are not required for admission. Admissions to NDMU is based on a holistic admission review process.
Holistic admissions for NDMU means that the University considers the whole applicant, not just select pieces. High school achievements, extracurricular activities, work and life experiences, community service activities, artistic and creative talents, commitment, "fit" for the university, and the student's potential to contribute to the intellectual and cultural vitality of the campus are all considered in the admissions process.
Course Selection: Course selection is an important indicator of a student's academic motivation. Has the student engaged in challenging academic courses? Does the academic preparation support the student's intended major? Has the student availed themselves of the academic opportunities offered by their high school?
Students whose grades in academic courses are improving are more likely to be successful in college. NDMU looks for students who continue to take challenging courses and increase their grades in those courses.
Class Rank: If a high school provides class rank, it will be considered in the context of understanding local grading practices. Likewise, if the high school provided a school profile, it will be considered for additional context on the high school.
Essay: The student's application essay is an important tool in determining academic motivation and better understanding the fit between the student and NDMU. While the essay is a chance to get to know the student better, the admissions committee will also look for a coherent message delivered with clarity, using correct grammar and spelling.
Activities: Consideration is given for what students do outside the classroom, such as participation in school clubs, sports, jobs, or volunteer work.
Diversity: NDMU values diversity in its campus community, racial/ethnic background, socioeconomic background, and family educational history are among the many aspects of diversity that will be considered.
ADMISSIONS FACTORS
Very Important
Rigor of secondary school record | Academic GPA
Important
Class rank | Level of applicant's interest
Considered
Application Essay | Recommendation(s) | Interview | Extracurricular activities Talent/ability | Character/personal qualities | First generation | Alumni/ae relation Geographical residence | State residency | Religious affiliation/commitment  Racial/ethnic status | Volunteer work | Work experience
FRESHMAN PROFILE
SAT Evidence-Based Reading and Writing
25th Percentile: 440 | 75th Percentile: 580
SAT Math
25th Percentile: 430 | 75th Percentile: 530
ACT Composite
25th Percentile: 17 | 75th Percentile: 22
Tuition & Cost
Tuition: $38,295
Fees: $1,380
Room & Board: $12,565
Aid
Notre Dame of Maryland University offers a comprehensive program of need- and merit-based financial assistance. It is designed to help students and families cover the difference between the amount they are able to pay and the total cost of attending Notre Dame.
The Office of Financial Aid provides detailed and up to date information on the types of aid available, how to apply, eligibility requirements, policies and procedures, external scholarships for students, deadlines, a checklist, contact information, and more.
What Others are Saying
"I am prepared for the next step in my life because of the opportunity I had through NDMU to evolve holistically and strengthen my identity and who I want to be in the world."
— Kashay Webb, Alum, NDMU Class of 2019, Philosophy
Contact Notre Dame of Maryland University