Maryville College
Maryville, Tennessee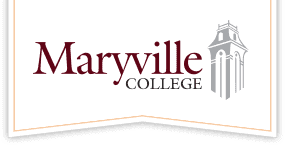 The study of everything. The preparation for anything.
SHOW MORE
Perfectly situated between the Great Smoky Mountains National Park and the city of Knoxville, Tennessee, Maryville College is a place where you'll experience the everyday comforts of a welcoming community and beautiful campus. You'll also find the unexpected: the study of everything combined with extensive career preparation, an emphasis on self-exploration combined with a commitment to service, a values-based foundation combined with universal acceptance of difference. 
These elements will hone your thinking and decision-making skills, and help you discover what interests you, what drives you, and what your greater purpose is. You'll be equipped to address the hard problems, connect with people all over the globe, and succeed in any career (including the ones that have yet to be imagined). And when you graduate, you'll be a well-rounded scholar, a capable leader, and an understanding citizen — committed to doing good on the largest possible scale.
VALUING DIVERSITY
Exploring the ideas, cultures, and values of others is a key part of an education at Maryville College. You'll meet people from many backgrounds, beliefs, and nationalities. You'll be challenged to question assumptions and examine alternate viewpoints to better understand others, and learn more about yourself. And with every new person you meet and meaningful discussion you have, you'll feel — and extend — the sincere sense of welcome that makes Maryville College a true community of learning.
"I chose Maryville College because of the small class setting and the academic curriculum. Although it is challenging, professors are always willing to help. I love the atmosphere. Everyone has made me feel welcomed from the moment I first visited Maryville." – Edna Hernandez
Get to know Maryville College
1,072
Degree-Seeking Undergraduates
Full-time to Part-time Ratio
-
0%
1%
2%
3%
4%
5%
6%
7%
8%
9%
10%
11%
12%
13%
14%
15%
16%
17%
18%
19%
20%
21%
22%
23%
24%
25%
26%
27%
28%
29%
30%
31%
32%
33%
34%
35%
36%
37%
38%
39%
40%
41%
42%
43%
44%
45%
46%
47%
48%
49%
50%
51%
52%
53%
54%
55%
56%
57%
58%
59%
60%
61%
62%
63%
64%
65%
66%
67%
68%
69%
70%
71%
72%
73%
74%
75%
76%
77%
78%
79%
80%
81%
82%
83%
84%
85%
86%
87%
88%
89%
90%
91%
92%
93%
94%
95%
96%
97%
98%
99%
100%
Retention rate
12:1
Student/teacher ratio
$35,448
Full-time tuition cost
Rolling
Application deadline
-
0%
1%
2%
3%
4%
5%
6%
7%
8%
9%
10%
11%
12%
13%
14%
15%
16%
17%
18%
19%
20%
21%
22%
23%
24%
25%
26%
27%
28%
29%
30%
31%
32%
33%
34%
35%
36%
37%
38%
39%
40%
41%
42%
43%
44%
45%
46%
47%
48%
49%
50%
51%
52%
53%
54%
55%
56%
57%
58%
59%
60%
61%
62%
63%
64%
65%
66%
67%
68%
69%
70%
71%
72%
73%
74%
75%
76%
77%
78%
79%
80%
81%
82%
83%
84%
85%
86%
87%
88%
89%
90%
91%
92%
93%
94%
95%
96%
97%
98%
99%
100%
Acceptance rate
-
0%
1%
2%
3%
4%
5%
6%
7%
8%
9%
10%
11%
12%
13%
14%
15%
16%
17%
18%
19%
20%
21%
22%
23%
24%
25%
26%
27%
28%
29%
30%
31%
32%
33%
34%
35%
36%
37%
38%
39%
40%
41%
42%
43%
44%
45%
46%
47%
48%
49%
50%
51%
52%
53%
54%
55%
56%
57%
58%
59%
60%
61%
62%
63%
64%
65%
66%
67%
68%
69%
70%
71%
72%
73%
74%
75%
76%
77%
78%
79%
80%
81%
82%
83%
84%
85%
86%
87%
88%
89%
90%
91%
92%
93%
94%
95%
96%
97%
98%
99%
100%
Out-of-state students
College Highlights
Engaged Students
Great Teaching
Vibrant Communities
Successful Outcomes
Admission & Aid
Engaged Students
Students may come to Maryville anticipating an enriching four years of education, but they find so much more upon setting foot on campus. As one of the oldest colleges in the country, Maryville has an extensive history of making a meaningful and lasting impact on its students' lives.
"I had a desire to develop a larger perspective of the world to truly carry out Maryville College's mission statement on a global scale to 'search for truth, grow in wisdom, and work for justice and dedicate a life of creativity and service to the peoples of the WORLD.' My time abroad allowed me to develop a sense of purpose and a passion for understanding." – Albrianna Jenkins
THE SENIOR STUDY
Since 1947, the Senior Study has been a distinctive part of every Maryville student's experience. In this two-semester, faculty-supervised undergraduate research project, students choose a topic related to their major and explore their career goals and passions. Completed studies take many forms (traditional research, original compositions, field work, etc.) and are impressive additions to résumés and graduate school applications. Studies that are deemed "exemplary" by the Maryville College faculty are added to the College library's permanent collection.
STUDY ABROAD
While many colleges offer the option to study in a foreign country, Maryville commits to sending its students on fully immersive cultural excursions. Nearly 40% of MC students have an international experience. Global exposure makes students more well rounded, helping them stand out in the job market by developing their cross-cultural proficiency and awareness. International experiences are so highly valued that Maryville offers programs year-round. Faculty-led travel-study courses focus on particular subjects or issues.
MARYVILLE COLLEGE WORKS
At MC, the way you'll prepare for a career is unlike anywhere else. Not only is there an entire office dedicated to career readiness, it's also integrated seamlessly into your curriculum through a program called Maryville College Works. While you're developing critical thinking, problem solving, and communications skills in all your classes, you'll also be putting those skills to work defining specific career goals and gaining the type of experience you can put on a resume. And, because your Maryville College Works experience is self-directed, you'll not only have the background employers and grad schools are looking for, you'll have the independence and expertise to navigate the job market—and your career—long after graduation.
ENROLLMENT BY ETHNICITY
Non-U.S. Citizen: 3%
Hispanic/Latinx: 6%
Black or African American, non-Hispanic: 9%
White, non-Hispanic: 75%
Native/Indigenous American or Alaska Native, non-Hispanic: 1%
Asian, non-Hispanic: 1%
Native Hawaiian or other Pacific Islander, non-Hispanic: 0%
Two or more races, non-Hispanic: 4%
Race and/or ethnicity unknown: 2%
Great Teaching
"I became interested in pursuing research as a career after completing my senior research project studying bacterial luciferase with Dr. [Angelia] Gibson. The personalized mentorship I received at Maryville College really helped to give me the confidence and skills I needed to achieve my career goals." – Jonathan Augustin, Ph.D. Johns Hopkins School of Medicine
When teaching is done strictly by the book, students lose hold of what an education is really all about. Maryville's core curriculum is non-traditional in all the best ways, taking an interesting and explorative spin on the classroom, laboratory, and studio environments.
FIRST-YEAR SEMINARS
A core requirement for freshmen starting their college experience, First-Year Seminars vary in topic and reflect their professors' interests and expertise. Serving as a multi-faceted introduction to college life, Maryville College academics, and the liberal arts approach to learning, FYS courses explore topics such as happiness, improvisation, the structure and functions of business, and the history of law.
FACULTY-LED TRAVEL-STUDY COURSES
May and Spring Break travel-study programs are faculty-led experiences that offer sophomores, juniors, and seniors alternate study environments, domestic and international experiences, and exposure to diverse cultures while earning credit toward their degree. The programs have experiential learning as the focus and are typically two to three weeks in length. Recent course titles include Tropical Ecology in Bonaire, The Legacy of Greece, and A History of Immigration in New York City.
SPECIAL STUDY OPTIONS
Programs available at this institution.
Cooperative education program
Double major
Dual enrollment
Exchange student program (domestic)
Independent study
Internships
Liberal arts/career combination
Student-designed major
Study abroad
Teacher certification program
Vibrant Communities
"You should choose Maryville College because there is no other community where you can experience such a beautiful campus, compete for conference championships each year while playing the sports you love, and still walk out with a prestigious diploma that will help you get ahead in life." – Wes Bloeme
MOUNTAIN CHALLENGE
Located on the Maryville campus, Mountain Challenge, LLC, is an outdoor adventure and team-building program that strives "to provide high-quality, safe outdoor experiences designed to change the world for the better, one person at a time." Mountain Challenge activities are incorporated into Orientation classes and, year-round, students can sign up for off-campus trips to canoe, hike, raft, bike, rock-climb, and cave. "Camp 4," an outdoor initiative designed by Mountain Challenge staff members to address physical inactivity in the community, is open once a week and also available to students.
FIT. GREEN. HAPPY.®
Fit. Green. Happy.® is a program developed by Maryville's Mountain Challenge to focus on improving the fitness of the Maryville College community, getting people outdoors, contributing to environmental sustainability, and fostering happiness. The College is also recognized as an Exercise is Medicine® on Campus (EIMOC) school, earning gold-level distinction from this American College of Sports Medicine initiative in 2018.
THEMED LIVING COMMUNITIES
Launched in the fall of 2018, themed living aims to build communities of like-minded students within the residence halls. Currently, programming is focused on three themes: Fit. Green. Happy.®, community engagement, and scholar-athlete. The College's wellness residence, Gibson Hall, adopted Fit. Green. Happy.® in partnership with Mountain Challenge. The community engagement theme is housed in Davis Hall and helps members get involved with the local community through service. The scholar-athlete community in Gamble Hall is dedicated to helping athletes balance the demands of athletics and academics.
Students are able to choose whether to be a part of a themed living community when applying for housing; however, there is no mandatory component. Students are free to choose when to participate in themed programming and, despite being housed in specific residence halls, any student is welcome to participate in the themed communities' programming.
CLAYTON CENTER FOR THE ARTS
The $47-million Clayton Center for the Arts opened in 2010. Home to the College's Fine Arts Division and a gathering place for the community to celebrate the arts and culture of the region, the Clayton Center gives all students opportunities to see national and international shows and exhibits while also giving students majoring in the fine arts opportunities to work, perform, and exhibit in state-of-the-art venues. The facility includes: the 1,200-seat Ronald and Lynda Nutt Theatre (proscenium theatre with continental seating), the 200-seat Haslam Family Flexible Theatre, the 252-seat Harold and Jean Lambert Recital Hall, state-of-the-art classrooms, costume and scene shops, and multiple dressing rooms.
STELLAR LOCATION
Located in Maryville, Tennessee, between the Great Smoky Mountains National Park and the city of Knoxville, Maryville College offers more than 1,000 students from around the world both the beauty of a rural setting and the advantages of an urban center. The twin cities of Maryville and Alcoa have a combined population of nearly 40,000 and are known for their friendliness, high quality of life and superb education and employment options. Maryville College's 263-acre campus – with historic buildings and 140 acres of College Woods that serve as a natural classroom and recreational haven – makes for a perfect home-away-from-home.
ATHLETICS
NCAA Division III Athletics
Men's varsity sports: baseball, basketball, cross-country, football, golf, soccer, and tennis
Women's varsity sports: basketball, cross-country, golf, soccer, softball, tennis, volleyball.
Intramural and club sports are also available, including equestrian.
Mascot: Scots
Colors: Orange and Garnet
RESIDENCE LIFE
Percent of students living on campus.
First-time, first-year (freshman) students: 79%
Undergraduates: 68%
Campus housing options.
Coed dorms
Men's dorms
Women's dorms
Apartments for married students
Apartments for single students
Special housing for students with disabilities
Theme housing
Wellness housing
Successful Outcomes
BRIDGING COLLEGE TO CAREER
The "Maryville College Works" program is designed to deliver comprehensive career preparation, professional experience, and mentoring to all students across the four-year curriculum. The College is located within minutes from Knoxville and the Great Smoky Mountains National Park, providing students with the opportunity to intern or work with such employers as Blount Memorial Hospital, HGTV, the National Park Service, Newell Rubbermaid, Oak Ridge National Laboratory, and Scripps Network, just to name a few.
SENIOR EXAMS AND THESES
Maryville College is one of the nation's few colleges that require seniors to complete a comprehensive exam in their major and conduct an extensive Senior Study. This is the capstone of Maryville's academic rigor, which enables students to excel in "the real world." Such an involved experience is supported through personalized, one-on-one instruction, which is made possible by Maryville's 12:1 student-to-faculty ratio.
"The courses I took at Maryville College were designed and structured to be provocative, to make students see things from different perspectives, and to examine the unexpected ways in which things are connected to help develop unexpected, innovative solutions to these pressing questions. I was able to debate, discuss, and have conversations about sensitive and complex issues in those classrooms, unpacking problems and hearing others' input in ways that I simply would not have been able to if I had chosen to go to a large state school for my undergrad. The intimacy of the classes at Maryville also put the pressure on students to be informed and aware of what was happening in the world and to be able to find connections and applications between our lectures and reality—a skill that is not only important to have for my master's program and future work, but one that I find to be imperative to being a good world citizen." – Kalyn Carpenter
Admission & Aid
Admission
ADMISSIONS FACTORS
Very Important
Rigor of secondary school record | Academic GPA | Standardized test scores
Important
Class rank | Recommendation(s)
Interview | Character/personal qualities
Considered
Application Essay | Extracurricular activities
Talent/ability | Volunteer work

TEST SCORES
Optional
FRESHMAN PROFILE
SAT Evidence-Based Reading and Writing
25th Percentile: 430 | 75th Percentile: 590
SAT Math
25th Percentile: 450 | 75th Percentile: 570
ACT Composite
25th Percentile: 20 | 75th Percentile: 28
ACT Math
25th Percentile: 18 | 75th Percentile: 26
ACT English
25th Percentile: 19 | 75th Percentile: 30
Tuition & Cost
Tuition: $35,448
Fees: $844
Room: $5,904
Board: $6,100
Aid
Maryville College believes in rewarding hard work with generous merit- and need-based aid. Also available are competitive scholarships and fellowships valued between $19,000 to full tuition. Nearly 100% of full-time students receive financial aid. Maryville College's admissions staff will also assist its students with the financial aid process.
Competitive scholarships and fellowships include:
The Dan and Melanie Mays McGill Scholarship (full tuition)

McGill Fellowships

The Scots Science Scholarships for STEM majors

Bonner Scholarships for service

Isaac Anderson Fellowship for Church Leadership

Music, Theatre, and Art scholarships

Mountain Challenge Fellowships

ALANA Cultural Diversity Award

Yellow Ribbon (Through the Yellow Ribbon Program, the VA and Maryville College will cover 100% of the cost of a student's tuition and fees.)

Equestrian Team Scholarship
What Others are Saying
"I knew from day one that Maryville College was the place for me even though it is considerably different than my hometown of Houston, Texas. There is a vision for growth here that has allowed me to become a leader on campus. The opportunities for students at MC are limitless."
— Aaron Solomon
Contact Maryville College