Marymount University
Arlington, Virginia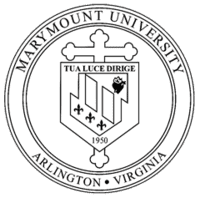 A Marymount education provides a strong liberal arts foundation with a global perspective, extensive networking and career preparation, and an inclusive community where students are encouraged to "Learn with Purpose." Founded by the Religious of the Sacred Heart of Mary, Marymount calls the members of the community to embrace a value of service to others, which continues to be reflected in the work of its faculty, staff, students, and alumni around the world. 
As a Catholic university, Marymount welcomes people of all faiths and cultures, enjoying an ethnically diverse student body that enriches the learning experience for everyone. In fall 2019, Marymount welcomed students from 46 states and 76 countries. With 75 undergraduate and graduate programs of study, the University is committed to innovation, student success, alumni achievement, and faculty and staff excellence.
Get to know Marymount University
1,891
Degree-Seeking Undergraduates
Full-time to Part-time Ratio
-
0%
1%
2%
3%
4%
5%
6%
7%
8%
9%
10%
11%
12%
13%
14%
15%
16%
17%
18%
19%
20%
21%
22%
23%
24%
25%
26%
27%
28%
29%
30%
31%
32%
33%
34%
35%
36%
37%
38%
39%
40%
41%
42%
43%
44%
45%
46%
47%
48%
49%
50%
51%
52%
53%
54%
55%
56%
57%
58%
59%
60%
61%
62%
63%
64%
65%
66%
67%
68%
69%
70%
71%
72%
73%
74%
75%
76%
77%
78%
79%
80%
81%
82%
83%
84%
85%
86%
87%
88%
89%
90%
91%
92%
93%
94%
95%
96%
97%
98%
99%
100%
Retention rate
14:1
Student/teacher ratio
$35,950
Full-time tuition cost
-
0%
1%
2%
3%
4%
5%
6%
7%
8%
9%
10%
11%
12%
13%
14%
15%
16%
17%
18%
19%
20%
21%
22%
23%
24%
25%
26%
27%
28%
29%
30%
31%
32%
33%
34%
35%
36%
37%
38%
39%
40%
41%
42%
43%
44%
45%
46%
47%
48%
49%
50%
51%
52%
53%
54%
55%
56%
57%
58%
59%
60%
61%
62%
63%
64%
65%
66%
67%
68%
69%
70%
71%
72%
73%
74%
75%
76%
77%
78%
79%
80%
81%
82%
83%
84%
85%
86%
87%
88%
89%
90%
91%
92%
93%
94%
95%
96%
97%
98%
99%
100%
6-year graduation rate
Rolling
Application deadline
-
0%
1%
2%
3%
4%
5%
6%
7%
8%
9%
10%
11%
12%
13%
14%
15%
16%
17%
18%
19%
20%
21%
22%
23%
24%
25%
26%
27%
28%
29%
30%
31%
32%
33%
34%
35%
36%
37%
38%
39%
40%
41%
42%
43%
44%
45%
46%
47%
48%
49%
50%
51%
52%
53%
54%
55%
56%
57%
58%
59%
60%
61%
62%
63%
64%
65%
66%
67%
68%
69%
70%
71%
72%
73%
74%
75%
76%
77%
78%
79%
80%
81%
82%
83%
84%
85%
86%
87%
88%
89%
90%
91%
92%
93%
94%
95%
96%
97%
98%
99%
100%
Acceptance rate
-
0%
1%
2%
3%
4%
5%
6%
7%
8%
9%
10%
11%
12%
13%
14%
15%
16%
17%
18%
19%
20%
21%
22%
23%
24%
25%
26%
27%
28%
29%
30%
31%
32%
33%
34%
35%
36%
37%
38%
39%
40%
41%
42%
43%
44%
45%
46%
47%
48%
49%
50%
51%
52%
53%
54%
55%
56%
57%
58%
59%
60%
61%
62%
63%
64%
65%
66%
67%
68%
69%
70%
71%
72%
73%
74%
75%
76%
77%
78%
79%
80%
81%
82%
83%
84%
85%
86%
87%
88%
89%
90%
91%
92%
93%
94%
95%
96%
97%
98%
99%
100%
Out-of-state students
College Highlights
Engaged Students
Great Teaching
Vibrant Communities
Successful Outcomes
Admission & Aid
Engaged Students
DISCOVER
All entering freshmen are required to take Discover, which explores inquiry-based learning while connecting students with peer mentors who provide critical information about the transition to Marymount. These classes are generally small, like most of Marymount's classes, and are taught by faculty from across campus.
THE CENTER FOR GLOBAL EDUCATION
The Center for Global Education (CGE) is integral to Marymount University's mission in educating students to be socially responsible global citizens. It supports global learning in various ways with programming both on campus and abroad, offering study abroad programs that include semester programs; short-term, faculty-led trips; a Global Classroom Series; international internships; global student-teaching; graduate programs; and domestic study away options. 
Students can choose to study abroad for a full semester through partner universities and providers, immersing themselves as full-time students at another university or international center. If students are unable to study abroad for a full-semester, the CGE offers various short-term program options to help students have a meaningful international experience. Short-term, faculty-led programs, along with the Global Classroom Series programs, allow students to travel abroad for approximately 1-3 weeks with a faculty leader and fellow students. These programs are available at both the undergraduate and graduate level. 
"While studying abroad in Florence, I have learned how to accept when things go terribly wrong, how to travel with others, how to be flexible, and mostly how to be comfortable with being uncomfortable. I have learned from my mistakes, how to plan better, and take advantage of the situation I am in at the moment. With every situation I have been in here, every person I have met, and every little thing I have experienced, I have grown. I knew these four months would be a growing experience, but I never expected them to be this life-changing. A few years ago I never ever would have thought I would have the guts to study abroad in a foreign country, but here I am and I honestly am so proud of myself for taking this leap of faith. If you are reading this and you are not sure if you are ready to study abroad or not, just do it. Push yourself out of your comfort zone and experience something so different than ever before that it will be life-changing. I promise you will not regret it." — Melissa Morreale (Interior Design, Class of 2020)
International internship programs are also available for students during the summer semester or during their semester abroad. These internships are credit-bearing, unique opportunities to gain real-world experience in an international context. Similarly, global student-teaching programs allow undergraduate and graduate students in education to gain student-teaching experience in elementary and secondary schools abroad. Last but not least, the CGE offers domestic study away programs in which students travel within the United States and gain hands-on experience in their academic field. 
The CGE has most recently introduced a first-year Discover program, which invites incoming first-year students to journey to Quebec with their new peers for one week prior to orientation.
In addition to its international programming, the Center for Global Education (CGE) also coordinates occasional domestic field experiences. These short-term, faculty-led programs give students the opportunity to get great first-hand learning experiences as they connect what they are learning inside of the classroom to "real-world" settings. These programs incorporate service-learning and cultural diversity and career preparation. During the last few semesters, Marymount has offered these study-away programs:
EN 350 American Dream – San Juan, Puerto Rico
Fashion Market Field Experience – Las Vegas, Nevada (runs every other year)
CJ 313 Recognition and Recovery of Human Remains – Suffolk, Virginia
MBA 585 Global Business – San Juan Puerto Rico
HPR 355 Health Disparities – New Orleans, Louisiana (Service-Learning)
EN 206 American Literature: Borderlands – Laredo, Texas
SOC 385 Global Inequality and Community Development – San Juan, Puerto Rico
"Studying abroad allows me to experience a different type of learning and foster the growth of a new perspective. I think these skills are invaluable. ..In regards to my experience in my science class, the impact of seeing a sloth up close or eating raw coffee beans while standing right next to a coffee plantation will never leave my memory. In class, I remember hearing over and over again how important the environment is to the health of the planet, but there is nothing like seeing this up close.  While the educational experience may be exceptionally impactful, another powerful realization has occurred to me while I have traveled through Costa Rica: I have developed a sense of global community. I have found a way to connect with a whole other group of people…While we may comment on how sad [world] events are, we never fully understand what it means to the people, how these events impact them until we are right in the heart of it. Instead of dismissing these events, you begin to ask "what does this mean for the country I am currently living in?" rather than thinking only what it means for the United States. You begin to feel a deep connection with the country and people, therefore a new type of empathy develops for the country's well-being. I do not believe I would have developed this anywhere else besides study abroad." —  Mariah Allen (Economics, Sociology, Class of 2020)
UNDERGRADUATE RESEARCH
Marymount requires all students to develop competence in inquiry-based learning, fulfilled through the first-year Discover 101 course as well as various inquiry-based courses within their academic programs. Additionally, the university supports students across all academic majors and all stages of study to continue to develop their research skills. Marymount provides opportunities for students to work with individual faculty mentors on summer research/creative projects and present scholarly/creative works at the university's annual Student Research Conference held each April. Students can also receive funding to travel to external professional conferences to present their research or to attend regional competitions of research/creative works.
Research is also an integral part of the Honors Program curriculum. Honors students work with faculty members of their choosing in two Honors tutorials. Often, students present their tutorial research at Marymount's Student Research Conference, or at such external conferences as the Virginia Collegiate Honors Council or National Collegiate Honors Council conferences.
CLASS SIZE
The number of sections of each class size.
2-9: 49 | 10-19: 108 | 20-29: 129
30-39: 31 | 40-49: 1 | 50-99: 3 | 100+: 0
ENROLLMENT BY ETHNICITY
Non-U.S. Citizen: 14%
Hispanic/Latinx: 24%
Black or African American, non-Hispanic: 16%
White, non-Hispanic: 33%
Native/Indigenous American or Alaska Native, non-Hispanic: 0%
Asian, non-Hispanic: 7%
Native Hawaiian or other Pacific Islander, non-Hispanic: 0%
Two or more races, non-Hispanic: 5%
Race and/or ethnicity unknown: 2%
Great Teaching
LIBERAL ARTS CORE
Marymount's Liberal Arts Core is grounded in the traditional humanities and sciences, the study of which provides students with a broad understanding of human cultures and the world around them, prompts them to examine their own lives and values, and encourages them to cultivate their sense of personal and social responsibility.
The Liberal Arts Core curriculum includes courses in writing, mathematics, the natural and social sciences, humanities, philosophy, and theology or religious studies. Beyond these core courses, Marymount also requires coursework that includes inquiry-based learning experiences, exposure to global perspectives, and an opportunity for experiential learning through an internship or research project.
Students are exposed to global perspectives on campus, as well; international students make up about 15 percent of the student body, and Marymount's Center for Global Education provides the chance to live, study, intern, and serve around the world. Marymount's close-knit academic community is enlivened by professors with real-world experience, all of whom take a personal interest in student success and power a culture of engagement that fosters intellectual curiosity, service to others, and an overall global perspective. Innovative undergraduate programs combine a strong liberal arts foundation with solid career preparation.
"The small classes at Marymount really allowed me to form close relationships with my professors — both improving the quality of education that I was receiving and allowing me to make more connections. I wouldn't change the experiences and education I acquired at Marymount for another university — ever!" — Jisandry Gonzalez, BA, Class of 2020
LEADERSHIP DEVELOPMENT
Leadership Development is a collaborative, inclusive process that is open to all students throughout each aspect of their University experience. Participants in the Leadership Development program become well-rounded individuals with the knowledge, skills, capacity, and desire to lead, empowered to share their leadership gifts in their ongoing journey as they cultivate positive social change. Students in the program develop their leadership skills through the following opportunities: 
Peer Mentors

Orientation Leaders

Student Organization Executive Board 

Student Ambassadors

Marymount University Government Association

Community Assistants
SPECIAL STUDY OPTIONS
Programs available at this institution.
Member of the Consortium of Universities of the Washington Metropolitan Area
Accelerated program
Cross-registration
Distance learning
Double major
Dual enrollment
Honors Program
Independent study
Internships
Student-designed major
Study abroad
Teacher certification program
Vibrant Communities
LIVING AND LEARNING
Marymount has two themed housing options: one that focuses on spiritual/faith development, and the other that focuses on global perspectives. This Global Thinkers program is a residential community for both domestic and international students. Sharing a residential floor, students have a formal and centralized place in which they can engage with one another and share their cultures. 
Marymount currently offers four different living-learning communities (LLCs). Each LLC provides its residents with an atmosphere dedicated to academic success, student support, and a supporting community built around shared interests. Students can choose from the following options:
Marymount University Global Thinkers
Marymount University Global Thinkers at the Rixey
Honors Living-Learning Community
Criminal Justice Living-Learning Community 
SERVICE-LEARNING
Service is at the heart of Marymount, included as part of the charism of the university's founding religious order, a pillar of its mission, and a core value. Although Marymount's faculty, staff, students, and alumni have been involved in service since the university's establishment, the university recently formalized the value in its 2018 Quality Enhancement Plan (QEP), Empowering Students for Service, which focuses on enhancing student learning through the lens of service. The plan is designed to further develop a learning environment that encourages, values, and supports student awareness of and participation in meaningful service. At Marymount, community networks include the on-campus community; the local Arlington, Virginia, region; the larger Washington metropolitan area; and communities around the world with a global focus.
To further facilitate students' efforts, the Saints' Center for Service provides support, builds partnerships, and fosters meaningful opportunities for service and student learning. One of the tasks of the center is to help faculty develop outstanding service-learning courses. Service learning is a teaching method in which students, faculty, and staff form partnerships with community groups in order to meet needs identified by those community partners while engaging in critical reflection that fosters student learning. The university is developing these courses in programs across schools and disciplines.
GREAT EDUCATION, CAPITAL LOCATION
Marymount University, located in Arlington, VA just five metro stops from the heart of Washington, D.C., is home to an engaged, exceptionally diverse learning community  Marymount serves nearly 3,400 students from 46 states and, as a leader in the region for international students, 76 countries. At Marymount, students enjoy small classes and incredible personal attention. Students are able to take advantage of the resources of the nation's capital, one of the world's most important business, arts, financial, and political centers, to provide unique learning experiences for personal and professional growth. Faculty incorporate these resources into the curriculum so that students benefit from all that the city offers, including unique internship sites like Capitol Hill, the National Institutes of Health, the Smithsonian museums, and various international businesses.
ATHLETICS
Marymount Athletics offers 10 men's and 9 women's intercollegiate sports teams in the NCAA Division III, Atlantic East Conference. In addition to intercollegiate sports, students can participate in  intramurals, club sports, fitness instruction, and informal recreational opportunities.
RESIDENCE LIFE
Percent of students living on campus.
First-time, first-year (freshman) students: 67%
Undergraduates: 28%
Campus housing options.
Coed dorms
Apartments for married students
Apartments for single students
Special housing for students with disabilities
Theme housing

Successful Outcomes
Marymount's mission emphasizes intellectual curiosity, curiosity, service to others, and a global perspective. Its education is grounded in the liberal arts, promotes career preparation, and strives to help students develop both personally and professionally. Marymount's community values diversity, innovation, and excellence  and seeks to embody the principles of the RSHM, to "respond to the needs of our time," "placing ourselves and our resources at the service of those who are most in need of justice." Marymount provides services and resources to support students throughout the educational journey and as they pursue employment and further education after they leave Marymount.
ACADEMIC ADVISING CENTER
The Academic Advising Center promotes undergraduate student success by supporting and encouraging each student from orientation through graduation. Professional advisors support students by monitoring progress each semester across their academic careers, helping them achieve the goal of graduating in four years. Academic advisors take a student-centered approach to learning, focusing on the whole person by assessing individual needs and interests, providing appropriate referrals, and helping students understand university policies and procedures. By actively engaging students in discussions about goal setting, decision making, and problem solving, professional academic advisors work in partnership with all students to navigate their life goals and foster success in their fields of study. Once students select a major, they are additionally assigned a faculty mentor to help guide them in their academic and professional efforts and future plans.
INTERNSHIPS AND EMPLOYMENT
All undergraduate students are required to participate in an internship or related experience. Outstanding internship experiences are available throughout the Washington area with corporations, government agencies, schools, hospitals, and retail establishments,Marymount University is committed to helping students identify and secure appropriate internship opportunities, and supports this goal through its Center for Career Services. The center offers the tools to equip students with the search and identification process. There are also opportunities to participate in internships abroad. The Center for Career Services provides resources and support for students and alumni throughout the career development process and offers many student employment opportunities on campus.
Admission & Aid
ADMISSION INFORMATION

Marymount University offers admission to in-person undergraduate and graduate degree programs, graduate certificate programs, and online program opportunities. Financial assistance is available for all programs of study, but students are  encouraged to apply early to ensure they can be considered for maximum aid opportunities. Admission representatives are available Monday – Friday, 9 a.m. – 5 p.m. to discuss any questions about applying to MU in the future.
ADMISSIONS FACTORS
Very Important
Rigor of secondary school record | Academic GPA
Considered
Class rank | Talent/ability | Application Essay | Recommendation(s)
Interview | Extracurricular activities | Character/personal qualities
First generation | Alumni/ae relation | Geographical residence
Volunteer work | Work experience | Level of applicant's interest
TEST SCORES
Optional
ADMISSIONS INFORMATION
Marymount University offers admission to in-person undergraduate and graduate degree programs, graduate certificate programs, and online program opportunities. Financial assistance is available for all programs of study, but students are  encouraged to apply early to ensure they can be considered for maximum aid opportunities. Admission representatives are available Monday – Friday, 9 a.m. – 5 p.m., to discuss any questions about applying to MU in the future.
Tuition & Cost
Tuition: $35,950
Fees: $850
Room: $10,497
Board: $5,200
Contact Marymount University
Campus Location
2807 North Glebe Road
Arlington, Virginia 22207