Mary Baldwin University
Staunton, Virginia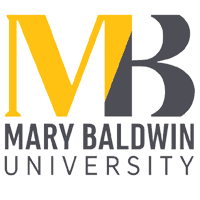 Since its founding in 1842 Mary Baldwin University has been an opportunity engine with one purpose: To help renegades, entrepreneurs, and dreamers mold their passion into meaningful, high-impact careers.
SHOW MORE
Students tap into the power of career-launching classes and programs across three dynamic colleges: The College of Arts and Sciences, Palmer College of Professional Studies, and Murphy Deming College of Health Sciences.
They gain access to a team of professors and mentors with a mission to help them find — and pursue — their calling. They learn from real-world experts and professional coaches dedicated to equipping them with the skills, experience, confidence, and credentials they need to catalyze dreams and smash glass ceilings. With a 10:1 student-faculty ratio, profs not only know their students' names and goals, they take pride in fueling their quest for growth and helping them tackle every challenge along the way.
Students can expect to build relationships in a highly individualized and hands-on student-centered learning environment with ambitious peers. They'll also connect with a robust network of alumni, like-minded industry leaders, partnering businesses, institutions and agencies.
At MBU, students have all the support they need and more to take their lives and careers to the next level.
Get to know Mary Baldwin University
1,477
Degree-Seeking Undergraduates
Full-time to Part-time Ratio
-
0%
1%
2%
3%
4%
5%
6%
7%
8%
9%
10%
11%
12%
13%
14%
15%
16%
17%
18%
19%
20%
21%
22%
23%
24%
25%
26%
27%
28%
29%
30%
31%
32%
33%
34%
35%
36%
37%
38%
39%
40%
41%
42%
43%
44%
45%
46%
47%
48%
49%
50%
51%
52%
53%
54%
55%
56%
57%
58%
59%
60%
61%
62%
63%
64%
65%
66%
67%
68%
69%
70%
71%
72%
73%
74%
75%
76%
77%
78%
79%
80%
81%
82%
83%
84%
85%
86%
87%
88%
89%
90%
91%
92%
93%
94%
95%
96%
97%
98%
99%
100%
Retention rate
11:1
Student/teacher ratio
$30,690
Full-time tuition cost
Rolling
Application deadline
-
0%
1%
2%
3%
4%
5%
6%
7%
8%
9%
10%
11%
12%
13%
14%
15%
16%
17%
18%
19%
20%
21%
22%
23%
24%
25%
26%
27%
28%
29%
30%
31%
32%
33%
34%
35%
36%
37%
38%
39%
40%
41%
42%
43%
44%
45%
46%
47%
48%
49%
50%
51%
52%
53%
54%
55%
56%
57%
58%
59%
60%
61%
62%
63%
64%
65%
66%
67%
68%
69%
70%
71%
72%
73%
74%
75%
76%
77%
78%
79%
80%
81%
82%
83%
84%
85%
86%
87%
88%
89%
90%
91%
92%
93%
94%
95%
96%
97%
98%
99%
100%
Acceptance rate
-
0%
1%
2%
3%
4%
5%
6%
7%
8%
9%
10%
11%
12%
13%
14%
15%
16%
17%
18%
19%
20%
21%
22%
23%
24%
25%
26%
27%
28%
29%
30%
31%
32%
33%
34%
35%
36%
37%
38%
39%
40%
41%
42%
43%
44%
45%
46%
47%
48%
49%
50%
51%
52%
53%
54%
55%
56%
57%
58%
59%
60%
61%
62%
63%
64%
65%
66%
67%
68%
69%
70%
71%
72%
73%
74%
75%
76%
77%
78%
79%
80%
81%
82%
83%
84%
85%
86%
87%
88%
89%
90%
91%
92%
93%
94%
95%
96%
97%
98%
99%
100%
Out-of-state students
-
0%
1%
2%
3%
4%
5%
6%
7%
8%
9%
10%
11%
12%
13%
14%
15%
16%
17%
18%
19%
20%
21%
22%
23%
24%
25%
26%
27%
28%
29%
30%
31%
32%
33%
34%
35%
36%
37%
38%
39%
40%
41%
42%
43%
44%
45%
46%
47%
48%
49%
50%
51%
52%
53%
54%
55%
56%
57%
58%
59%
60%
61%
62%
63%
64%
65%
66%
67%
68%
69%
70%
71%
72%
73%
74%
75%
76%
77%
78%
79%
80%
81%
82%
83%
84%
85%
86%
87%
88%
89%
90%
91%
92%
93%
94%
95%
96%
97%
98%
99%
100%
Full-time faculty w/ terminal degree
College Highlights
Engaged Students
Great Teaching
Vibrant Communities
Successful Outcomes
Admission & Aid
Engaged Students
Learning and doing go hand in hand at Mary Baldwin—a combination that develops engaged citizens of the world. Never has experiential learning been more important for young women looking to make their mark. Mary Baldwin students are empowered to be the architects of their lives with the broad foundation of a core liberal arts education and the in-depth knowledge of an academic major of their choice.
With nearly 570 leadership positions available on campus—from the 80-year-old Student Government Association to Amnesty International to the Mary Baldwin Performing Dance Group—every student can find a role that fits her personality and ambition.
"My piece of advice to you when you first come here to Mary Baldwin is to know that you have power. I immediately got involved. I joined Quest, I went to Senate every week, I even created an advocacy group with one of my friends. Whatever you envision you can put into fruition here at Mary Baldwin." – Qadira Muhammad '20, SGA president
ANNUAL THEME
Each year, a theme is chosen to unite the Mary Baldwin community around a central idea that fosters civic and global engagement. The theme gives definition to the academic year and provides a way to link together the work of students, faculty, and staff from all disciplines and programs. Past years' themes have included Courage, Place, Power, Heart, Maps, and Moment. And in 2016-17, the theme was Identity. Students in all undergraduate and graduate programs were invited to write an essay or produce a creative piece (e.g. original musical composition, drawing, sculpture, video, poem, performance) that addressed the theme and its relation to civic engagement in a global context. Essays and creative works ranged from academic inquiry to personal reflections to advocacy positions.
GLOBAL LEARNING
Mary Baldwin is committed to providing international experiences as a vital part of a personally transforming education. All students—regardless of their academic major or language ability—are encouraged to travel, study, or volunteer overseas. College is the ideal time for students to gain the cross-cultural competence they need to become active participants in our increasingly interdependent world. Short-term trips organized and led by full-time Mary Baldwin faculty during May Term are open to all students. Or, students can study or volunteer abroad for a summer, a semester, or a year.
The Mary Baldwin College for Women offers an exceptionally diverse and welcoming learning community, providing proven educational benefits to all while providing an optimal learning environment for non-majority students. 
UNDERGRADUATE RESEARCH
Mary Baldwin's emphasis on undergraduate research, scholarship, and creative activity represents its commitment to developing students who not only know, but, more importantly, do. From field to studio, from library to laboratory, from far-away places to right next door, Mary Baldwin students know there are multiple ways to find the answer. Whether investigating medieval frescos in an Italian cathedral or collecting feather and blood samples from songbirds to quantify differences in parasite loads, excellence in research, scholarship, and creative activity is their goal. The university's distinctive major programs allow seniors to carry out original research or creative projects in collaboration with faculty mentors, ensuring the chance for hands-on experience that provides substance to their curiosity.
ENROLLMENT BY ETHNICITY
Non-U.S. Citizen: 1%
Hispanic/Latinx: 8%
Black or African American, non-Hispanic: 23%
White, non-Hispanic: 52%
Native/Indigenous American or Alaska Native, non-Hispanic: 0%
Asian, non-Hispanic: 2%
Native Hawaiian or other Pacific Islander, non-Hispanic: 0%
Two or more races, non-Hispanic: 5%
Race and/or ethnicity unknown: 9%
Great Teaching
"My experience at MBU prepared me for my career and taught me the meaning of community. Starting with the first conversation I had with MBU, I felt like a valued member. My professors and advisors listened to my story and supported me along the path to achieving my goals. They believed in me from the beginning." – Donté Montague '15, award-winning teacher
Academic life at Mary Baldwin connects small, lively classes with hands-on learning in internships, service projects, original research, trips abroad, on-campus jobs, and more.
A 10:1 student-to-faculty ratio means that students have real conversations with professors who are experts in their fields and, often, active researchers. MBU also boasts small class sizes (the average is 17 students) with plenty of personal attention. Guidance from a faculty advisor ensures an individual plan for each student that not only meets graduation requirements, but also builds important skills in preparation for life and career goals.
Distinctive majors and a network of peer, faculty, and staff mentors are trademarks of the Mary Baldwin academic experience. Undergraduate, graduate, and certificate programs are organized into four colleges: the College of Arts & Sciences, the College of Business & Professional Studies, the College of Education, and the Murphy Deming College of Health Sciences. 
LEADERSHIP GATEWAY
All first-year residential students get to be involved in a Leadership Gateway, which proves to be the key to unlocking the full potential of their student experience. Each gateway includes a focus in career preparation as well as the exploration of a topic of interest such as leadership, healthy lifestyles, cultural identity, and academic achievement. Gateways help new students make connections with students, faculty, and staff who share their interests and passions.
SPECIAL STUDY OPTIONS
Programs available at this institution.
Accelerated program
Distance learning
Double major
Dual enrollment
Exchange student program (domestic)
Honors Program
Independent study
Internships
Student-designed major
Study abroad
Teacher certification program
Vibrant Communities
Most Mary Baldwin students live, eat, work, and play right on the beautiful 54-acre campus overlooking Staunton, Virginia's vibrant downtown. On campus, students are involved in more than 40 student-led clubs and organizations, including student government, theater, athletics, and academic honor societies. Just a few steps away, the city brims with eclectic personality and plenty of shops, restaurants, and entertainment venues.
More than half of MBU's residential undergraduates are ethnic minorities, which means that holiday celebrations include not only Christmas, but also Kwanzaa, Las Posadas, Hanukkah, and other events. Students of all backgrounds take part in Caribbean Carnival festivities, participate in Black History Month activities, and engage in student groups such as Black Student Alliance, Latinas Unidas, and Anointed Voices of Praise. The Office of Inclusive Excellence gives holistic support to students of color: monitoring their progress, advising minority student organizations, promoting positive community relations, and representing their concerns.
The Quest program advances spiritual growth through community service, academic course work, discussion, and co-curricular activities. Quest connects people of different backgrounds and faiths in an open, honest, and respectful environment known as the Interfaith Village.
As a multiple-year winner of the USA South Atlantic Conference sportsmanship trophy with nearly two dozen athletes named to the conference all-academic team in 2015-16, Mary Baldwin emphasizes excelling as a well-rounded athlete. The college offers NCAA Division III teams in basketball, cross country, soccer, softball, tennis, track and field, and volleyball, as well as myriad club and intramural teams.
LEARNING COMMUNITIES
Established in 1985, the unique Program for the Exceptionally Gifted (PEG) offers girls as young as 13 the opportunity to bypass all or some of their high school grades to pursue an undergraduate degree. PEG students attend classes, hold leadership positions on campus, and participate in college events with traditional-age students.
The Virginia Women's Institute for Leadership (VWIL) is another one-of-a-kind program at Mary Baldwin. Through rigorous academics, physical training, military leadership training, and broad-based leadership development, VWIL students become part of the corps of cadets, the only all-female cadet corps in the nation. VWIL students take additional courses and participate in extra co-curricular activities and wear their signature green and white uniform three or four days a week. This program is affiliated with the nearby Virginia Military Institute, and women in the program earn a minor in leadership studies.
New special living/learning opportunities include the Education Leaders and Murphy Deming Scholars programs, which offer fast-track degrees in education and health sciences, respectively. Each program includes academic and co-curricular components designed to offer a unique, holistic experience. More targeted student cohorts are in development. 
A COLLEGE WITHIN A COMMUNITY
Downtown Staunton—just a short walk from campus—offers students live music, a movie theater, art galleries, coffee houses, restaurants for all budgets, and retail shopping. Staunton is also home to the world's only recreation of Shakespeare's Blackfriars Playhouse and the birthplace and library of former U.S. President Woodrow Wilson. Five historic districts combine with modern facilities to make Staunton a destination for filmmakers, festivals, conferences, and visitors from around the world.
Located between the Blue Ridge and Allegheny mountains in western Virginia, the Shenandoah Valley is filled with opportunities for camping, backpacking, hiking, skiing, whitewater kayaking, and biking (both on- and off-road). It's also a perfect setting for studying birds, wildflowers, stream biology, and ecology.
SCHOOL LOCATION
Staunton, Virginia—Located on 54 beautiful (and hilly) acres overlooking downtown; 45 minutes from Charlottesville Regional Airport.
ATHLETICS
NCAA Division III, USA South Atlantic Conference. Seven varsity sports: basketball, cross country, soccer, softball, tennis, track and field, and volleyball. Club and intramural sports include baseball (to be a varsity sport in 2021), dance, fencing, field hockey, riding, swimming, cheerleading, and others can be organized at students' request.
RESIDENCE LIFE
Percent of students living on campus.
First-time, first-year (freshman) students: 93%
Undergraduates: 50%
Campus housing options.
Coed dorms
Women's dorms
Special housing for international students
Living-learning communities
Successful Outcomes
"The courses at MBU challenged me to think critically and apply the material that I learned to my everyday work. I have gained knowledge and confidence that will not only help me in my field, but also in my life." – Tatiana A. Bryant '19, Behavior Support Clinician
The Mary Baldwin family is filled with people who take risks, care for the world, and create solutions. Mary Baldwin alumnae have gone on to become high-ranking officials in the military, work in the White House, and establish international humanitarian organizations. A few Program for the Exceptionally Gifted graduates have set records as the youngest students at the nation's most prestigious graduate schools.
SERVICE-LEARNING
Mary Baldwin is consistently recognized by the President's Higher Education Community Service Honor Roll as one of the top service-oriented institutions in the nation for its commitment to connecting with local and global communities. MBU students volunteer at schools, churches, food banks, homeless shelters, child care centers, and many other local nonprofits and social service organizations. Internationally, they have worked in schools, assisted underprivileged children, and helped rebuild communities in India, Nepal, El Salvador, and Belgium, just to name a few.
CAPSTONE PROJECTS
In their senior year, all undergraduate students complete a capstone project—a research project or creative work that is a culmination of their studies. For studio art majors, this could mean exhibiting paintings the campus gallery. For science majors, the project may involve investigating endocrine-disrupting compounds in waterways. Students and faculty often present their capstone projects at conferences around the country and sometimes even abroad, a rare opportunity for undergraduates.
INTERNSHIPS
Throughout their tenure, students are encouraged to take on meaningful campus jobs and internships in the surrounding community help build their résumés while continuing to learn.
Says one alumna, "My social work internship ended up being the answer to my questions about the future. I am reminded of the value of my education every time I meet with a patient or family. I am confident in my ability to serve them."
The innovative offerings at Mary Baldwin provide graduates with many paths to achievement as well as preparation for the real world. Through the College to Career model, students begin integrating life and career planning into their education right away. They focus on networking and preparing for work or post-graduate education in their sophomore, junior, and senior years. The Rosemarie Sena Center for Career Development is dedicated to helping students transition successfully from college to career. Staff members provide career-related assessment, occupational/vocational exploration, decision-making skills development, and job search and/or graduate school assistance. The Vantage Point will soon provide a centrally located home for student life offices, vocational and graduate school planning, civic and global engagement services, and professional development resources.
BEYOND THE PAYCHECK
An overwhelming majority of alumnae are employed or enrolled in graduate school within one year of graduation; over the long term, 33% earn graduate degrees, more than half engage in volunteer service, and nearly 50% hold work or volunteer leadership positions.
Ninety-four percent of Mary Baldwin alumnae rate the quality of their education as excellent or good, and the majority report that they were better prepared for challenges after college than their peers who went to coeducational schools. Graduates have made their mark on career fields from education to advertising, from laboratory research to international banking, and from politics to art.
One alumna says, "I would never have been appointed by the president to work in the West Wing of the White House at age of 23 if it had not been for Mary Baldwin. My political science professors were always challenging me to do better, while still praising me for the accomplishments I had achieved."

Another explains, "I have come to realize just how rigorous the instruction I received was. I am thankful daily not only for the personal lessons and support I received as a student, but also for the high expectations that faculty and staff set for me."
Admission & Aid
Admission
ADMISSIONS FACTORS
Very Important
Rigor of secondary school record | Academic GPA
Important
Standardized test scores | Character/personal qualities
Considered
Class rank | Application Essay | Recommendation(s) | Interview
Extracurricular activities | Talent/ability | First generation | Alumni/ae relation
Volunteer work | Work experience | Level of applicant's interest
TEST SCORES
Optional
FRESHMAN PROFILE
SAT Evidence-Based Reading and Writing
25th Percentile: 480 | 75th Percentile: 580
SAT Math
25th Percentile: 460 | 75th Percentile: 540
ACT Composite
25th Percentile: 18 | 75th Percentile: 24
ACT Math
25th Percentile: 16 | 75th Percentile: 23
ACT English
25th Percentile: 18 | 75th Percentile: 25
Tuition & Cost
Tuition: $30,690
Fees: $420
Room & Board: $9,730
What Others are Saying
"I'm able to control my education at MBU, and it's tailored to who I am and what I want. It's what drew me here."
— Maddison Bowen '19
Contact Mary Baldwin University