Lynn University
Boca Raton, Florida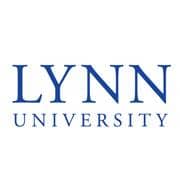 Lynn is agile, dedicated, forward-looking, and well placed.  
SHOW MORE
An independent institution, Lynn is known for its innovative learning programs and diverse student body, with students from over 100 countries. Lynn embraces new ideas and technologies that empower its faculty to deliver creatively its nationally praised core curriculum. The Lynn community believes in providing an open and supportive environment in which professors, academic advisors, and mentors are readily available. Lynn University concentrates on the art of teaching, making good students great and great students remarkable.
Lynn University is a private institution, accredited by the Southern Association of Colleges and Schools Commission on Colleges (SACSCOC) to award bachelor's, master's, and doctoral degrees.
Additionally, Lynn University has received specialized accreditation for its business programs through the International Assembly for Collegiate Business Education (IACBE).
Get to know Lynn University
2,459
Degree-Seeking Undergraduates
Full-time to Part-time Ratio
-
0%
1%
2%
3%
4%
5%
6%
7%
8%
9%
10%
11%
12%
13%
14%
15%
16%
17%
18%
19%
20%
21%
22%
23%
24%
25%
26%
27%
28%
29%
30%
31%
32%
33%
34%
35%
36%
37%
38%
39%
40%
41%
42%
43%
44%
45%
46%
47%
48%
49%
50%
51%
52%
53%
54%
55%
56%
57%
58%
59%
60%
61%
62%
63%
64%
65%
66%
67%
68%
69%
70%
71%
72%
73%
74%
75%
76%
77%
78%
79%
80%
81%
82%
83%
84%
85%
86%
87%
88%
89%
90%
91%
92%
93%
94%
95%
96%
97%
98%
99%
100%
Retention rate
17:1
Student/teacher ratio
$37,600
Full-time tuition cost
-
0%
1%
2%
3%
4%
5%
6%
7%
8%
9%
10%
11%
12%
13%
14%
15%
16%
17%
18%
19%
20%
21%
22%
23%
24%
25%
26%
27%
28%
29%
30%
31%
32%
33%
34%
35%
36%
37%
38%
39%
40%
41%
42%
43%
44%
45%
46%
47%
48%
49%
50%
51%
52%
53%
54%
55%
56%
57%
58%
59%
60%
61%
62%
63%
64%
65%
66%
67%
68%
69%
70%
71%
72%
73%
74%
75%
76%
77%
78%
79%
80%
81%
82%
83%
84%
85%
86%
87%
88%
89%
90%
91%
92%
93%
94%
95%
96%
97%
98%
99%
100%
Acceptance rate
-
0%
1%
2%
3%
4%
5%
6%
7%
8%
9%
10%
11%
12%
13%
14%
15%
16%
17%
18%
19%
20%
21%
22%
23%
24%
25%
26%
27%
28%
29%
30%
31%
32%
33%
34%
35%
36%
37%
38%
39%
40%
41%
42%
43%
44%
45%
46%
47%
48%
49%
50%
51%
52%
53%
54%
55%
56%
57%
58%
59%
60%
61%
62%
63%
64%
65%
66%
67%
68%
69%
70%
71%
72%
73%
74%
75%
76%
77%
78%
79%
80%
81%
82%
83%
84%
85%
86%
87%
88%
89%
90%
91%
92%
93%
94%
95%
96%
97%
98%
99%
100%
Out-of-state students
Benefits
High-Impact Practices
High-Impact Practices
First-Year Seminars and Experiences
Common Intellectual Experiences
Learning Communities
Writing-Intensive Courses

Collaborative Assignments and Projects
Undergraduate Research
Diversity/Global Learning
Service-Learning, Community-Based Learning
Internships/Coops/Practicums
Capstone Courses and Projects/Senior Experience
SHOW MORE
Campus Resources
Campus Resources
Career Services
Writing Center
Academic Advisors
Library Services

Health Services
Academic Tutors
Financial Aid Advisors
Counseling
SHOW MORE
SHOW MORE
College Highlights
Engaged Students
Great Teaching
Vibrant Communities
Successful Outcomes
Admission & Aid
Engaged Students
CLOSE-KNIT CLASSROOMS
The average class size at Lynn is 20 students, lending a hand to a learning style that is both individualized and unique. With small class sizes, students have the opportunity to thrive in an environment where their individual skills are valued and respected. Faculty are not leading large lecture seminars where students are numbers. Instead, they are actively engaging small groups of students to push their academic potentials and find educational success.
EXPERIENCED PROFESSORS
Each Lynn faculty member was chosen because of their dedication to education and proven success in their fields. Professor of American Studies, Dr. Robert Watson, is a frequent media commentator, appearing on CNN, MSNBC, "Time," "USA Today," and numerous others. He also directs and edits a report for the White House, which is produced after the Inauguration every 4 years. College of International Communication's Gary Carlin brings his advertising expertise as the former vice president for Hasbro Toy Company, managing brands like Monopoly, Scrabble, and Clue. Lynn professors are all firm believers in experiential learning, including Dr. Lisa Dandeo, who takes fashion and retail majors behind-the-scenes at New York Fashion Week and leads their annual spring student fashion show.     
EXPERIENTIAL LEARNING
At Lynn, students don't just study; they learn by doing. In more than 50 undergraduate and graduate majors, everyone is able to work hands-on in the subjects they're interested in. Projects, interviews, excursions, and internships help students master the latest trends in their fields. Whether in Aeronautics, Arts and Sciences, Business and Management, Education, or International Communication, students gain key skills to help them succeed.
IPAD®-POWERED LEARNING
Lynn is known around the nation for its iPad®-powered learning initiative, which provides undergraduate day students with their own iPad Pro, Smart Keyboard, and Apple Pencil to keep and use in their classes. Lynn is also known for its innovative coursework that applies traditional subjects like science and math to everyday situations, building students' theoretical understanding and practical approach.
LIMITLESS LEARNING
Lynn University believes that learning can go beyond campus. By partnering with other best-in-class organizations, Lynn offers students the ability to learn just-in-time job skills in emerging careers. For undergraduates, Lynn offers a 3+3 program through which students can complete their bachelor's degree in 3 years, followed by a 3-year Juris Doctor from St. Thomas University. Graduate students can take advantage of Lynn + Amani Institute, which offers an MBA in Social Innovation Management, including 10 months of global experience—perfect for students who are passionate about driving positive social change. Both undergraduates and graduates can benefit from Lynn + Wyncode Academy, a partnership that focuses on web development and coding skills, in-demand skills in today's workplace environment.  
THE INSTITUTE OF ACHIEVEMENT AND LEARNING
Since 1991, Lynn's Institute of Achievement and Learning has helped students achieve academic success, teaching them how to capitalize on their individual strengths. Whether students need help with planning, organization, studying, writing, or testing, the IAL has certified coaches and tutors readily available for assistance. Undergraduates can opt for full-program participation or choose a la carte services as needed.
ENROLLMENT BY ETHNICITY
Non-U.S. Citizen: 16%
Hispanic/Latinx: 18%
Black or African American, non-Hispanic: 11%
White, non-Hispanic: 47%
Native/Indigenous American or Alaska Native, non-Hispanic: 0%
Asian, non-Hispanic: 1%
Native Hawaiian or other Pacific Islander, non-Hispanic: 0%
Two or more races, non-Hispanic: 3%
Race and/or ethnicity unknown: 4%
Great Teaching
ACCELERATED BACHELOR'S DEGREE
Lynn's accelerated bachelor's degree is an incredibly unique program that offers students the chance to complete a 4-year degree in just 3 years. Students who participate work closely with academic advisors to create a degree program that is unique to their individual needs. There are countless benefits to participation in this program. Students in the accelerated bachelor's degree can take extra courses at no cost. They also enjoy the advantage of an early graduation, decreased tuition, the opportunity to design their own path of study, and the ability to jumpstart their careers to get ahead in the workplace.
JANUARY (J)-TERM
The January Term is a unique learning experience in which students can apply academic theories to projects, social initiatives, and internships. The goal of a J-Term is to allow students to more deeply explore their disciplines through real-life application. Students are expected to complete one course each January Term that explores specialized and application-based subjects.
STUDY ABROAD
Lynn's study abroad programs allow students to visit more than 30 cities around the world at no additional cost to their normal tuition. And, unlike other schools, Lynn students don't have to wait until their sophomore year to study; they can go abroad as early as their second semester. Trips range from three weeks to a year in length, and new cities are continually added to the possible repertoire. The Center for Learning Abroad is a great resource for students interested in finding a program. It helps students coordinate the logistics of going abroad, all while making sure the program is contributing to the completion of their degree.
THE CONSERVATORY OF MUSIC
In addition to practicing daily with renowned faculty-artists, students admitted to the Conservatory of Music enjoy a full-tuition scholarship and the opportunity to be featured in more than 10 live performances each year.
ENROLLMENT BY ETHNICITY
Nonresident aliens: 17%
Hispanic/Latino: 15%
Black or African American, non-Hispanic: 11%
White, non-Hispanic: 44%
American Indian or Alaska Native, non-Hispanic: 0%
Asian, non-Hispanic: 1%
Native Hawaiian or other Pacific Islander, non-Hispanic: 0%
Two or more races, non-Hispanic: 1%
Race and/or ethnicity unknown: 11%
Vibrant Communities
CLUBS & ORGANIZATIONS
Lynn offers its students several opportunities to get involved outside of the classroom. There are more than 40 clubs and organizations that span various interests. Students can be involved in religious, political, academic, non-academic, and cultural organizations. Greek life is also present at Lynn, with 3 fraternities and 2 sororities on campus. The Lynn community is always offering something new, exciting, and intriguing. And, in a group of just 10 students, one can kick-start their own official clubs or organizations. Some examples of the fun activities and events include:
CEO Speaker Series, where students have the opportunity to hear from respected CEO's and ask questions

Dively Frontiers in Globalization Lecture Series

Fighting Knights athletics

Knights of the Round Table (KOR), featuring discussion panels, food drives, local outreach, and promoting a connected Lynn community

Movies on the lawn or in the pool

Palm Beach International Film Festival, hosted at Lynn University and open to all Florida high school and college students. Featured guests and presenters have included Vanilla Ice, Burt Reynolds and American-Idol contestant, Emily Brooke.

Paws & Relax, when furry friends help students take a break from studying for upcoming finals

Off-campus excursions to area attractions, including water parks, Orlando theme parks, ocean activities, and more

Student Activity Board (SAB), where students put on events like game show nights, trivia, comedians, bumper cars, food trucks, 90's night, a spring carnival, and more

Student cooking classes, like sushi-making

The First 40, featuring planned campus events, speakers, socials, and excursions for the first 40 days of the school year

Various touring shows, such as Second City, MJ Live, and Capitol Steps
ANNUAL EVENTS
Lynn's annual events always draw a crowd. This list features just a few of the big events Lynn hosts each year:
Alumni Weekend, featuring an alumni sports game, picnic, and social dinner

Celebration of Nations, featuring food and artistic performances celebrating the 100+ countries represented by Lynn students

Celebration of the Arts, showcasing student and faculty musicians, singers, dancers, and artists of all kinds

Family Fun Day, featuring free games, prizes, and food for the entire community

Founders Day

, celebrating the university's intriguing history, including a costume-themed canoe race

Gingerbread Holiday Concert, showcasing student-musicians from Lynn's Conservatory of Music

Parents & Families Weekend, where Lynn welcomes their extended #LynnFamily with news, announcements, showcases, picnics, and other social events
Spring Fashion Show, a student-produced event that incorporates work from students who study fashion & retail, advertising & PR, journalism, communication & emerging media, event management, digital art & design, marketing, and hospitality management
SCHOOL LOCATION
Lynn's South Florida location can't be beat. Just minutes from Miami, Fort Lauderdale, and West Palm Beach, Lynn is located in one of the most strategic, international gateways to America. This area is a center for commerce, culture, finance, international trade, and start-ups, making it the perfect home to Lynn's largely international student body.
The Lynn campus showcases the South Florida lifestyle too. With lush green landscaping and hammocks dotting the campus, it just happens to be a tropical paradise.
ATHLETICS
The Lynn University Fighting Knights compete in the NCAA Division II Sunshine State Conference. Fighting Knights athletics teams have won 23 national championships and 38 Sunshine State conference titles—so far.
6 men's varsity sports: Baseball; Basketball; Golf; Lacrosse; Soccer; Tennis
9 women's varsity sports: Basketball; Cross Country; Golf; Soccer; Softball; Swimming; Tennis; Track; Volleyball
School colors: Blue and white
Successful Outcomes
A college education is about both the academic and personal lessons that students learn, and Lynn recognizes that preparing students for the working world is an incredibly important part of the educational experience. In the Hannifan Center at Lynn, students are given guidance for their futures. Lynn graduates are highly successful, going on to pursue careers as prominent businessmen and women in their fields.
iEXPLORE
Lynn offers a program called iExplore to help undecided majors explore career options that may lead to a declared major of interest. An iExplore Advisor builds a personal profile to see what strengths and interests a student has. A tailored program is then created to help the student explore career options and a coordinating major.
INTERNSHIPS AND WORK EXPERIENCE
Most Lynn students take internships as part of their graduation requirements. South Florida is a center of commerce, culture, finance, international trade, and start-ups, which means that students have numerous opportunities to put their studies to practical use.
NOTABLE ALUMNI
Just a few of Lynn's notable alumni include:
Carla Conde – Vice President, Corporate Communications, Discovery Networks Latin America/ U.S. Hispanic

Dan Matthews III – Owner, Local 315 Brewing Company

Joseph Abruzzo – State Senator

Lisa Gangel Kearney – ESPN News Anchor

Susan Haynie – Boca Raton Mayor

Tommy Kahnle – Chicago White Sox Pitcher
THE CAREER CONNECTIONS FAIR
The Career Connections Fair is a great way for students to meet potential employers. This networking experience, exclusive only to the Lynn community, is beneficial for students who want to explore different career options and talk with experienced alumni.
Of the many companies and organizations where Lynn alumni are making an impact, these are just a few:
Aeronautics: Department of Homeland Security, JetBlue Airways, United Airlines, U.S. Air Force, Vida Jets

Business and Management: ADT, Bank of America, Bloomingdale's, Boston Red Sox, Dow Jones, Enterprise Holdings, Fidelity, Four Seasons Hotels and Resorts, IBM, JP Morgan, Walt Disney World

Education: Broward County School District, Florida State University, New York City Department of Education, School District of Palm Beach County, Texas A&M University

International Communication: A&E Network, CBS Radio, CNN, Discovery Communications, ESPN, Inside Edition, MTV Latin America, NBCUniversal, Univision, VH1

Music: Chicago Symphony, Colorado Symphony, Rochester Philharmonic, San Diego Symphony, San Francisco Ballet, Sao Paulo Orchestra, Unites States Navy Band
Admission & Aid
Admission
TEST SCORES
Optional
Tuition & Cost
Tuition: $37,600
Fees: $1,750
Room & Board: $12,470