John Brown University
Siloam Springs, Arkansas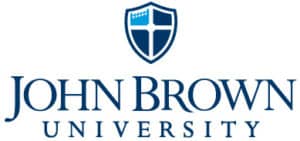 Since 1919, John Brown University has educated students from across the globe in a distinctly Christian community, providing an academic, spiritual, and professional foundation for world-impacting careers. JBU enrolls more than 2,400 students from 38 states and 53 countries and is committed to providing quality academics within a distinctly Christian community. A top-ranked institution in Arkansas, it is a vibrant and growing university of the arts, sciences, and professions.
Get to know John Brown University
1,359
Degree-Seeking Undergraduates
Full-time to Part-time Ratio
-
0%
1%
2%
3%
4%
5%
6%
7%
8%
9%
10%
11%
12%
13%
14%
15%
16%
17%
18%
19%
20%
21%
22%
23%
24%
25%
26%
27%
28%
29%
30%
31%
32%
33%
34%
35%
36%
37%
38%
39%
40%
41%
42%
43%
44%
45%
46%
47%
48%
49%
50%
51%
52%
53%
54%
55%
56%
57%
58%
59%
60%
61%
62%
63%
64%
65%
66%
67%
68%
69%
70%
71%
72%
73%
74%
75%
76%
77%
78%
79%
80%
81%
82%
83%
84%
85%
86%
87%
88%
89%
90%
91%
92%
93%
94%
95%
96%
97%
98%
99%
100%
Retention rate
14:1
Student/teacher ratio
$25,000
Full-time tuition cost
-
0%
1%
2%
3%
4%
5%
6%
7%
8%
9%
10%
11%
12%
13%
14%
15%
16%
17%
18%
19%
20%
21%
22%
23%
24%
25%
26%
27%
28%
29%
30%
31%
32%
33%
34%
35%
36%
37%
38%
39%
40%
41%
42%
43%
44%
45%
46%
47%
48%
49%
50%
51%
52%
53%
54%
55%
56%
57%
58%
59%
60%
61%
62%
63%
64%
65%
66%
67%
68%
69%
70%
71%
72%
73%
74%
75%
76%
77%
78%
79%
80%
81%
82%
83%
84%
85%
86%
87%
88%
89%
90%
91%
92%
93%
94%
95%
96%
97%
98%
99%
100%
6-year graduation rate
Rolling
Application deadline
-
0%
1%
2%
3%
4%
5%
6%
7%
8%
9%
10%
11%
12%
13%
14%
15%
16%
17%
18%
19%
20%
21%
22%
23%
24%
25%
26%
27%
28%
29%
30%
31%
32%
33%
34%
35%
36%
37%
38%
39%
40%
41%
42%
43%
44%
45%
46%
47%
48%
49%
50%
51%
52%
53%
54%
55%
56%
57%
58%
59%
60%
61%
62%
63%
64%
65%
66%
67%
68%
69%
70%
71%
72%
73%
74%
75%
76%
77%
78%
79%
80%
81%
82%
83%
84%
85%
86%
87%
88%
89%
90%
91%
92%
93%
94%
95%
96%
97%
98%
99%
100%
Acceptance rate
-
0%
1%
2%
3%
4%
5%
6%
7%
8%
9%
10%
11%
12%
13%
14%
15%
16%
17%
18%
19%
20%
21%
22%
23%
24%
25%
26%
27%
28%
29%
30%
31%
32%
33%
34%
35%
36%
37%
38%
39%
40%
41%
42%
43%
44%
45%
46%
47%
48%
49%
50%
51%
52%
53%
54%
55%
56%
57%
58%
59%
60%
61%
62%
63%
64%
65%
66%
67%
68%
69%
70%
71%
72%
73%
74%
75%
76%
77%
78%
79%
80%
81%
82%
83%
84%
85%
86%
87%
88%
89%
90%
91%
92%
93%
94%
95%
96%
97%
98%
99%
100%
Out-of-state students
-
0%
1%
2%
3%
4%
5%
6%
7%
8%
9%
10%
11%
12%
13%
14%
15%
16%
17%
18%
19%
20%
21%
22%
23%
24%
25%
26%
27%
28%
29%
30%
31%
32%
33%
34%
35%
36%
37%
38%
39%
40%
41%
42%
43%
44%
45%
46%
47%
48%
49%
50%
51%
52%
53%
54%
55%
56%
57%
58%
59%
60%
61%
62%
63%
64%
65%
66%
67%
68%
69%
70%
71%
72%
73%
74%
75%
76%
77%
78%
79%
80%
81%
82%
83%
84%
85%
86%
87%
88%
89%
90%
91%
92%
93%
94%
95%
96%
97%
98%
99%
100%
Full-time faculty w/ terminal degree
College Highlights
Engaged Students
Great Teaching
Vibrant Community
Successful Outcomes
Admission & Aid
Engaged Students
Consisting of three elements—the major, the Core Curriculum, and the Co-Curriculum—a JBU education seeks to produce well-rounded graduates with the intellectual, spiritual, and professional foundations for world-impacting careers. The courses in the major prepare the student for a career or for graduate school. The Core Curriculum is a broad exposure to human learning and, finally, the Co-Curriculum completes the wholeness model with intentional extra-curricular experiences. The educational programs at JBU are designed to stimulate curiosity and new discovery. Every day, JBU students are exposed to thought-provoking lectures and interactive projects that prepare them for life after college.
"At first I decided against JBU because of financial concerns. But later, I transferred from another school because I decided that academic excellence was worth the money. Our professors are incredibly accessible. You can walk right into their offices and it's not a big deal. That is not what I got at my previous school, and not what you can get at a state school. A lot of students graduate and want to do scientific research. In the science department, we get a lot of practice doing research and giving oral presentations. This semester, I had the opportunity to work with my research supervisor on writing a grant, and I received the grant. That was big for me in my professional development." – Eliza Newkirk
THE CORE CURRICULUM
John Brown University's Core Curriculum is a set of foundational courses that instills a deeper, integrative understanding of scripture, creation, and culture in order to prepare students to honor God and serve others. Designed to engage the Head, Heart, and Hand, JBU's Core Curriculum seeks to equip students to become lifelong learners, develop a discerning Christian faith, and participate in God's creative and redemptive purposes in the world through their vocation. To best accomplish these goals, the curriculum provides all students with a set of core classes during their early years, allows them to choose from a variety of courses within basic subject areas during their middle years, and culminates with a series of upper-level common courses that encourage students to integrate the skills and knowledge from their majors with the common coursework. The Global Studies portion of the curriculum allows students to choose from several courses related to diversity and culture or a study abroad experience.
THE CO-CURRICULUM
The Core Curriculum is complemented and supported by the Co-Curriculum. More strongly addressing the spiritual, social, and emotional goals of the Core Curriculum, it includes Freshman Orientation, the Chapel program, student organizations (Cause Ministries, Residence Hall Associations, growth and support groups, etc.), counseling, the Career Development Center, the Academic Assistance Program, intramural sports, programming for married students, the Soderquist Center, the Center for Healthy Relationships, and the student leadership programs.
STUDY ABROAD
Study abroad is an encouraged means of satisfying the Global Studies requirement of the Core Curriculum. JBU values study abroad semesters and summers as life-changing experiences. Students can study in over twenty countries, including Ireland, Italy, Jordan, Scotland, England, China, Guatemala, Australia, New Zealand, Switzerland, South Korea, and Uganda. Wherever students are—a JBU classroom, the Louvre in Paris, or the Bodleian Library in Oxford, England—JBU seeks to give them every opportunity to grow and change through their academic pursuits. 
JBU signed a memorandum of understanding with South Korea's Handong Global University, which gave way to a study abroad program, research collaboration, and faculty and staff exchanges. JBU provides opportunities that make its education the most pervasive and constructive it can be.
GATEWAY SEMINAR IN CHRISTIAN SCHOLARSHIP
All freshmen enroll in a gateway course designed to introduce them to the purpose and method of Christian higher education and the distinctive mission of John Brown University. Through the exploration of a particular topic (such as poverty, The Chronicles of Narnia, the Holocaust, or film), students participate in the communal intellectual life and the application of a Christian worldview.
THE LEADER SCHOLARS INSTITUTE (LSI)
As freshmen, students may apply to the selective LSI Program, a co-curricular, 4-year leadership program designed to challenge and develop them through experiential learning in and out of the classroom. By helping individuals identify and develop their strengths, the program equips and enables students to be practical leaders.
HONORS SCHOLARS PROGRAM
As freshmen, students may apply to the Honors Scholars Program, a four-year program that combines curricular and co-curricular programs to extend and enrich academic experiences. Classes are small and interactive with excellent faculty. Students also have the opportunity to co-teach with a professor, conduct research, take educational trips, study abroad, and present their research at regional and national conferences. The program is designed to attract academically motivated students to challenge Christian scholars for God's kingdom as well as to enrich the broader university community.
CLASS SIZE
The number of sections of each class size.
2-9: 55 | 10-19: 122 | 20-29: 95
30-39: 49 | 40-49: 22 | 50-99: 0 | 100+: 0
ENROLLMENT BY ETHNICITY
Nonresident aliens: 6%
Hispanic/Latino: 6%
Black or African American, non-Hispanic: 2%
White, non-Hispanic: 75%
American Indian or Alaska Native, non-Hispanic: 2%
Asian, non-Hispanic: 2%
Native Hawaiian or other Pacific Islander, non-Hispanic: 0%
Two or more races, non-Hispanic: 4%
Race and/or ethnicity unknown: 4%
Great Teaching
At JBU, professors are equipped to prepare students for life after college. Seventy-seven percent of full-time faculty hold Ph.D.s or other terminal degrees in their fields of study from universities like Oxford, Harvard, Princeton, Dartmouth, Purdue, Stanford, and JBU itself.
"The professors actually care about you. You're not in a class with 60 students. You're in a class with 15-20 students. That gives you a lot of advantages. One advantage that I've enjoyed is going to my professor during office hours and talking about what we are and aren't understanding in the class. I feel like it's safe to share my opinion." – Wilfredo Abudeye Fernandez
CURIOUS FACULTY
Many faculty and staff are currently applying and expanding their education. Dr. David Vila manages an archaeological dig in Northern Jordan every summer, typically taking students with him. Dr. Marquita Smith received a Fulbright U.S. Scholar Grant for her teaching-research project titled "Courageous Communication: Creating Journalism that Matters." Dr. Gloria Gale is conducting research in Washington, D.C., with the National Association for Education of Young Children (NAEYC). Other JBU professors are working on research projects in Liberia, Ghana, Scotland, England, France, and Alaska; developing art exhibits on Christian practice in North American Indian tribes; presenting research papers internationally; speaking at national conferences; and writing books.
Professors at JBU are role models to students not only in their academic pursuits, but also in their display of moral character and devotion to Jesus Christ. Professors regularly invite students to their homes for dinner or meet with them in the cafeteria on a weekly basis. JBU professors make it a priority to know their students well.
SMALL CLASSES FOR BIG RESULTS
JBU has the highest graduation rate in Arkansas. Sixty-five percent of students who enter the university complete degrees within six years, and 89 percent of JBU students obtain jobs or enroll in graduate school within 6 months of graduation (according to a survey of 2017-2018 graduates with an 89 percent survey-return rate). The success of JBU students is due in part to the 13:1 student-to-faculty ratio. Because JBU classes are small and professors have a contemporary understanding of their fields, classes become think-tanks and discussion groups for all topics of study.
NEW FACILITIES FOR OUTSTANDING EDUCATION
Since 2000, 90% of JBU campus is new or has been renovated. Recent projects include near-finished construction on the Health Education Building, the Berry Performing Arts Center, the Bill George Arena, and the Balzer Technology Center as well as the renovation of the Walton Lifetime Health Complex, J. Alvin Brown Hall (men's residence hall), Mayfield Residence Hall (women's residence hall), a second art facility, and the restoration to the historic Cathedral Group buildings. Through these new and newly-renovated buildings, JBU students are gaining access to cutting-edge technology that enhances their academic pursuits.
SPECIAL STUDY OPTIONS
Programs available at this institution.
Accelerated program
Distance learning
Double major
Dual enrollment
English as a Second Language (ESL)
Exchange student program (domestic)
Honors Program
Independent study
Internships
Liberal arts/career combination
Student-designed major
Study abroad
Teacher certification program
Vibrant Community
"I am an extrovert, so at first I thought, 'the bigger the school, the better for me.' But my friend from a state school came to eat lunch with me in the caf recently and said, 'You know everyone! I don't know anyone but my roommate and a few girls in my sorority. When I walk across campus, I don't see recognizable faces.' At JBU, I've been able to form deeper, more intimate relationships. I know so many people." – Isabelle Martinez
GUEST SPEAKERS
At JBU, students have incredible opportunities to learn as members of the JBU community and the greater Northwest Arkansas community. Over the years, JBU has hosted a number of internationally renowned guest speakers, including:
President Bill Clinton as Governor of Arkansas

Benjamin Netanyahu, Israeli Prime Minister

Sam Walton, Founder and CEO of Walmart

Chaim Potok, American Jewish author and rabbi

Gov. Mike Huckabee, Fox News contributor and former Arkansas governor

Blake Mycoskie, founder and Chief Shoe Giver of TOMS shoes
ARTISTIC EXPLORATION
Beyond the university's own theatre productions, performances, and art galleries, the liberal arts departments at JBU have hosted a series of acclaimed artists for recitals, master classes, and gallery exhibits:
Christine Donahue, renowned soprano

Chan Kiat Lim, acclaimed pianist

Makoto Fujimura, founder of the International Arts Movement; acclaimed artist, writer, speaker

Charles Pearce, world-renowned calligrapher:

The Painted Word: Calligraphic Abstractions

Eudora Welty, Pulitzer Prize-winning author and photographer:

Continuous Thread of Revelation
THRIVING CULTURAL FACILITIES
Students can attend off-Broadway productions and performances by top artists at the Walton Arts Center in Fayetteville, Arkansas. The Crystal Bridges Museum of American Art houses some of the most valuable and well-known paintings by American artists, from Norman Rockwell's Rosie the Riveter to Charles Willson Peale's George Washington.
EDUCATIONAL OPPORTUNITIES FOR ALL
JBU's Student Events and Activities committee plans an extensive calendar of events like concerts that feature Lecrae, Anberlin, NeedtoBreathe, and Switchfoot; Mock Rock; the JBU Talent Show; and coffee houses designed to cultivate community, culture, and creativity. The school also offers a campus-wide retreat for students to get off-campus for Bible study, teaching, and outdoor recreational activities. Multiple university departments sponsor resume writing workshops; networking workshops; and dating, engaged, and married couple seminars. JBU faculty and staff often host documentary and film viewings for discussion and student development.
SERVE SILOAM
Soon after settling in, JBU freshmen take part in an event called Serve Siloam. Students volunteer throughout the Siloam Springs community, serving individuals, local businesses and non-profit organizations, and community centers. Through this service, students are introduced to the community while developing a sense of obligation to care for it.
THE CENTER FOR HEALTHY RELATIONSHIPS
Established in 1998 at John Brown University, the Center for Healthy Relationships aims to provide individuals, couples, families, and organizations with practical and innovative resources that encourage and empower the growth of healthy relationships in personal and professional settings. Several of the Center's staff, including Dr. Gary Oliver and Dr. Derek Gwinn, teach psychology and theology courses at JBU.
THE SODERQUIST CENTER FOR LEADERSHIP AND ETHICS
Soderquist Leadership is a not-for-profit organization founded in 1998 by Don Soderquist, former COO and Senior Vice-Chairman of Wal-Mart Stores, Inc. With facilities on JBU's campus, as well as through customizable training programs, individuals, teams, and organizations receive values-focused training and development that equips them to win in the marketplace. The Center also offers Soderquist Fellowships to top applicants of John Brown University's Master of Business Administration, and Master of Science in Leadership and Ethics. Fellows work full time for the Center, receive full tuition and a two-year stipend, and work alongside veteran business leaders.
SCHOOL LOCATION
John Brown University is located in the Northwest Arkansas Metropolitan Statistical Area (Fayetteville-Springdale-Rogers) which, according to recent census data, is populated by nearly 500,000 people. Ranked as the #5 best place to live in the U.S. by U.S. News and World Report, Northwest Arkansas is a superb place for JBU students to spend their college years. Northwest Arkansas truly is the best of both worlds—an area of small-town friendliness with the amenities and economic engines that rival many large American cities.
ATHLETICS
NAIA Division I, 10 Varsity Sports
Men and Women's Basketball; Women's Cheerleading; Men and Women's Cross Country; Men and Women's Soccer; Men and Women's Tennis; Women's Volleyball
Mascot: Golden Eagle
Colors: Blue and gold
RESIDENCE LIFE
Percent of students living on campus.
First-time, first-year (freshman) students: 56%
Undergraduates: 57%
Campus housing options.
Coed dorms
Men's dorms
Women's dorms
Apartments for married students
Apartments for single students
Special housing for disabled students
Successful Outcomes
"I received a full tuition scholarship to attend the University of Missouri School of Law! Law school has always been in the back of my mind, but it didn't become an actual goal until after taking JBU political science classes such as Constitutional Law. I see pursuing law as part of my Christian vocation because I have a passion for justice and people, and I want to use the privileges I've been given to help those who are pushed aside. As an attorney who is also a Christian, I can focus on my ability to advocate for truth and justice and seek reconciliation." – Lauren Marsh
STUDENT ACCOMPLISHMENTS
JBU trains students to live purposeful lives both during and after college. In just these past few years, JBU students have accomplished some amazing things:
Valeria Armendariz Cabral '20 is a chemistry major and Walton Scholar from Mexico. This summer, she is working at the Institute of Radiopharmaceutical Cancer Research at Helmholtz-Zentrum Dresden-Rossendorf in Dresden, Germany. Valeria is one of 310 students from the USA, Canada, and the UK to receive a full-ride scholarship from the Institute. 
Jaydee Edwards '20 is collaborating with JBU Professor Dr. Jill Ellenbarger, designing compounds that change colors when exposed to chemical contaminants in drinking water. They hope to produce simple color-changing test kits that can be deployed to remote locations around the world to test water quality. Jaydee hopes to attend graduate school to work with environmental science and policy, advance human living conditions, and share Jesus with the world. 
Luke Merrick '19 earned first place in the Upper College/Independent Studio Men category at the National Association of Teachers of Singing (NATS) 2018 National Student Auditions (NSA). While JBU's music students regularly participate in NATS singing competitions at the state and more recently the regional level, Merrick's entry into NSA marks the first time a JBU student has ever participated and placed nationally. 
Matt Branum '19 was accepted into Yale Divinity School. Matt is an honors student who graduated this May with a degree in history. He will begin his studies in New Haven in the fall.
Phillip Todd '18 and Michael Schultz '18 were recently accepted to George Mason University's master's program in economics and awarded an MA Fellowship through the Mercatus Center, a think-tank doing economic research at GMU. The fellowship includes full tuition support and a monthly stipend that totals over $80,000 over two years. 
Aimee Yeates '18 was recently commissioned into the Air Force as a 2nd Lieutenant. This fall, she'll start medical school at the University of Arkansas for Medical Sciences. The USAF will pay for medical school and, after graduating, Aimee will serve in the Air Force. 
Krista Gay '16 graduated this spring from Brooklyn Law School and is preparing for a career in Labor & Employment Litigation. Currently, she works as a Law Clerk for Outten & Golden LLP.
Construction Management teams earned first place in the heavy civil division and second place in the commercial building division at the Associated Schools of Construction Region 5 student competition. The competition, sponsored by the TEXO Association (the largest commercial contractors association in Texas), challenged students in project management skills that required estimating, scheduling, contracts, budget development, and a formal presentation to construction professionals. JBU competed against teams from Texas A&M University, Texas Tech University, Oklahoma State University, and the University of Arkansas Little Rock.  
ALWAYS EXCELLING
JBU Business students design and present a comprehensive marketing plan for a local organization or business enterprise. JBU Marine Biology students SCUBA dive in Florida during spring break to fulfill their lab requirement. Seniors in JBU's Construction Management program coordinate and supervise a large-scale construction project in the area. JBU and Samaritan's Purse host an annual shelter competition where engineering and construction management student teams are invited to design and construct a rapidly deployable transitional disaster shelter for use by aid organizations in response to natural disasters. Family and Human Services majors conduct formal psychological studies and submit their results to a professional organization of their choice in order to develop the selected organization's services. Art students partake in internships where they can apply what they learn to the workplace, and they later develop individual portfolios of their work that they present in the Senior Portfolio Review to potential employers. JBU students studying renewable energy maintain a partnership with Spanish company Sankyo Energy for collaborative research in wind-generated energy.
LIBERAL ARTS FOR WELL-ROUNDED FUTURES
Because of JBU's liberal arts education and encouraging faculty and staff, students graduate with big dreams and practical, well-rounded experience. These JBU students work to meet the needs they see in their community and the world through inter-university competitions, new business plans, student development programs, social justice organizations, and medical missions. The options are endless.
Admission & Aid
Admission
ADMISSIONS FACTORS
Very Important
Academic GPA | Standardized test scores | Recommendation(s)
Important
Class rank | Application Essay | Interview
Character/personal qualities | Religious affiliation/commitment
Considered
Rigor of secondary school record | Extracurricular activities | Talent/ability
First generation | Alumni/ae relation | Level of applicant's interest
FRESHMAN PROFILE
SAT Evidence-Based Reading and Writing
25th Percentile: 550 | 75th Percentile: 680
SAT Math
25th Percentile: 530 | 75th Percentile: 630
ACT Composite
25th Percentile: 24 | 75th Percentile: 29
ACT Math
25th Percentile: 22 | 75th Percentile: 27
ACT English
25th Percentile: 23 | 75th Percentile: 32
Tuition & Cost
Tuition: $25,000
Fees: $1,144
Room & Board: $9,040
Aid
JBU Admissions Counselors are fun, personable, and knowledgeable. Financial Aid staff work closely with each student and their admissions counselor to customize an aid package just for them. JBU is more affordable than many think; 90% of traditional undergraduates receive financial aid from JBU, and most students graduate with lower student loan debt than students graduating from state colleges in the area.
What Others are Saying
"There is a stigma that small Christian colleges are incredibly boring and conservative. I think students need to know that you can have a fun college experience and do crazy and harmless things with you friends, and still be a Christian. Our sports programs are great and full of good people. And we're not bad at sports. We're pretty good. I don't think a lot of people know that. Our professors are brilliant in their fields, but they also care about us. They are open and are willing to point out the things in us where they see us excelling. But they're also willing to say, 'Hey, I think you need to work on this area a bit.' I was really nervous about financial aid, but it ended up being a lot cheaper than other schools I was looking at. My friend goes to a state school and has a class with 300 students in it. Here, every professor knows my name. They email me if I miss class to ask if I'm feeling okay."
— Annika Pollard
Contact John Brown University
Campus Location
2000 West University Street
Siloam Springs, AR 72761
(479) 524-9500

Visit John Brown University Online