Iona College
New Rochelle, New York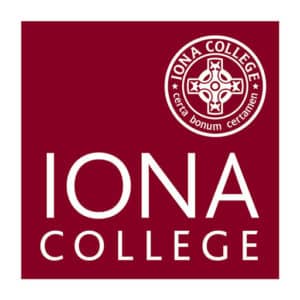 In the tradition of the Christian Brothers and American Catholic higher education, Iona College is a diverse community of learners and scholars dedicated to academic excellence. Iona's students, faculty, staff, and administrators embody the values of justice, peace, and service. Together, the Iona College community shares a mission to make a positive impact on the lives of others and to move the world.
Iona, located just 20 miles north of Midtown Manhattan, provides students the opportunity to learn in small classes and labs, work with accomplished teachers and scholars, and gain hands-on experiences that transform their views of the world and pave the way to exciting careers.
Get to know Iona College
3,287
Degree-Seeking Undergraduates
Full-time to Part-time Ratio
16:1
Student/teacher ratio
$40,172
Full-time tuition cost
Feb. 15
Application deadline
-
0%
1%
2%
3%
4%
5%
6%
7%
8%
9%
10%
11%
12%
13%
14%
15%
16%
17%
18%
19%
20%
21%
22%
23%
24%
25%
26%
27%
28%
29%
30%
31%
32%
33%
34%
35%
36%
37%
38%
39%
40%
41%
42%
43%
44%
45%
46%
47%
48%
49%
50%
51%
52%
53%
54%
55%
56%
57%
58%
59%
60%
61%
62%
63%
64%
65%
66%
67%
68%
69%
70%
71%
72%
73%
74%
75%
76%
77%
78%
79%
80%
81%
82%
83%
84%
85%
86%
87%
88%
89%
90%
91%
92%
93%
94%
95%
96%
97%
98%
99%
100%
Acceptance rate
-
0%
1%
2%
3%
4%
5%
6%
7%
8%
9%
10%
11%
12%
13%
14%
15%
16%
17%
18%
19%
20%
21%
22%
23%
24%
25%
26%
27%
28%
29%
30%
31%
32%
33%
34%
35%
36%
37%
38%
39%
40%
41%
42%
43%
44%
45%
46%
47%
48%
49%
50%
51%
52%
53%
54%
55%
56%
57%
58%
59%
60%
61%
62%
63%
64%
65%
66%
67%
68%
69%
70%
71%
72%
73%
74%
75%
76%
77%
78%
79%
80%
81%
82%
83%
84%
85%
86%
87%
88%
89%
90%
91%
92%
93%
94%
95%
96%
97%
98%
99%
100%
Out-of-state students
-
0%
1%
2%
3%
4%
5%
6%
7%
8%
9%
10%
11%
12%
13%
14%
15%
16%
17%
18%
19%
20%
21%
22%
23%
24%
25%
26%
27%
28%
29%
30%
31%
32%
33%
34%
35%
36%
37%
38%
39%
40%
41%
42%
43%
44%
45%
46%
47%
48%
49%
50%
51%
52%
53%
54%
55%
56%
57%
58%
59%
60%
61%
62%
63%
64%
65%
66%
67%
68%
69%
70%
71%
72%
73%
74%
75%
76%
77%
78%
79%
80%
81%
82%
83%
84%
85%
86%
87%
88%
89%
90%
91%
92%
93%
94%
95%
96%
97%
98%
99%
100%
Full-time faculty w/ terminal degree
College Highlights
Engaged Students
Great Teaching
Vibrant Communities
Successful Outcomes
Admission & Aid
Engaged Students
STUDY ABROAD
Iona's Study Abroad programs make it possible and affordable for students to get exposure to different world cultures. Iona sponsors a wide variety of ongoing study abroad programs in locations around the world, including:
Semester programs in Ireland; and Passport Western Europe Semester in three cities: Dublin, Barcelona, and Rome

Summer programs in France, Italy, England, and Spain

Spring Break programs in Italy and Poland
MISSION & MINISTRY
The Office of Mission and Ministry provides students and the community at large with opportunities to build a caring community of faith and compassion through volunteer service, immersion trips, faith-sharing groups, advocacy and social justice groups, and more. Students even have the opportunity to serve as Student Ministers. Student Ministers are liaisons between the student body and the Office of Mission and Ministry. Selected students help develop programming for students and coordinate local service projects.
LOCAL AND INTERNATIONAL SERVICE PROJECTS
At Iona, serving the greater community is at the heart of the school's mission. Iona believes that education is a valuable tool to improve the world. Whether planting a tree or volunteering at local soup kitchens, Iona students find that even the smallest acts of kindness and consideration can move the world. Iona students find ways to give back through campus services and through nationally recognized organizations, such as Best Buddies, Habitat for Humanity, Christian Brothers Outreach, Project Family Soup Kitchen, and more.
The Iona in Mission program offers students once-in-a-lifetime opportunities to immerse themselves in different cultures and ways of life. Iona in Mission is a way for students to exercise their passions to make profound differences in the world while testing their knowledge and broadening their experiences. These experiences are truly transformative for participants and often enrich and deepen their Iona education.
RESEARCH OPPORTUNITIES
From their first day on campus, Iona students are a part of the school's mission to move the world through rigorous projects and assignments.
Students work closely with highly acclaimed faculty in order to develop valuable skills for the future. Iona's independent research opportunities and team projects prepare students to use critical thinking, analytical strategies, and creative research techniques to succeed in any career.
See what students are saying about Iona.
ENROLLMENT BY ETHNICITY
Nonresident aliens: 3%
Hispanic/Latino: 23%
Black or African American, non-Hispanic: 10%
White, non-Hispanic: 50%
American Indian or Alaska Native, non-Hispanic: 1%
Asian, non-Hispanic: 3%
Native Hawaiian or other Pacific Islander, non-Hispanic: 0%
Two or more races, non-Hispanic: 1%
Race and/or ethnicity unknown: 9%
Great Teaching
Iona College's dedicated and accomplished faculty members have the academic credentials and the professional experience to deliver an exceptional education to students. Ninety-three percent of Iona faculty members hold the highest degree in their field. At Iona, students see professors not just as faculty, but as mentors. With a student-faculty ratio of 16 to 1, Iona prides itself on being able to guide each student as he or she pursues individual academic and professional goals.
NEW CORE CURRICULUM
Iona introduced a new core curriculum, which provides a common learning experience that prepares its students for ethical, engaged citizenship and lifelong learning through the lenses of diversity, sustainability, and a global perspective. Framed by the values of peace, justice, civic engagement, and service, the content-rich, interdisciplinary liberal arts curriculum is cohesively structured and characterized by an emphasis on critical thinking and literacy in its many forms. The dynamic core promotes the use of high-impact educational practices and is designed to foster deep learning experiences that support students in their pursuit of the knowledge and skills needed to thrive.
ENDOWED PROFESSORSHIPS
Endowed professorships allow Iona College to bring in new faculty and support existing experienced faculty to teach. Iona's first fully endowed professorship—Iona College Board of Trustees Endowed Professor in Science—was recently given to Sunghee Lee, Ph.D., professor of Analytical Chemistry and department chair. Dr. Lee joins Elena Procario-Foley, Ph.D., as a holder of a named professorship at Iona. Dr. Procario-Foley, associate professor of Religious Studies and Religious Studies department chair, was named the Brother John G. Driscoll Professor of Jewish-Catholic Studies in 1998. Iona expects to have more than 10 endowed professorships by 2023.
LAPENTA-LYNCH TRADING FLOOR
The LaPenta-Lynch Trading Floor in the School of Business offers students a simulated trading environment featuring 20 high-end networked trading desks and a continuous live data feed from Bloomberg. Students learn firsthand using the same technology and analytic tools used on Wall Street and are able to build and track investment portfolios as if they were on an actual trading floor or in a corporate finance office.
Iona recently expanded the footprint of the business school and will reopen a new state-of-the-art facility that will double the size of the LaPenta School of Business.
PRE-PROFESSIONAL PROGRAMS
Iona offers numerous Pre-Professional Programs. For students interested in a career in law, Iona offers a Joint Degree with Seton Hall University Law School. For students interested in the medical field, Iona offers a Joint Degree Program in Dentistry and Pharmacy with Lake Erie College of Osteopathic Medicine.
ENDOWED AND NEW PROGRAMS
Iona College is committed to endowing academic programs and institutes that are ready to meet the challenges of 21st century higher education.
Endowed programs include:
Business Analytics Institute

Center for Financial Market Studies

Center for Health Care Analytics

Cyber Security Program

Dolce Postdoctoral Psychology Fellowship

Executive-in-Residence Program

Honors Program

Institute for Thomas Paine Studies

Mission and Ministry

NSF S-Stem: Iona Development of Excellence in Science Through Intervention, Resilience & Enrichment

Speech, Language & Hearing Clinic

Sports & Entertainment Management Center

Study Abroad Program
Vibrant Communities
Iona College boasts a vibrant campus life, home to more than 80 different clubs and organizations that evolve to meet the changing needs of the student body. Iona's calendar is full of performing arts events, lectures and readings, movie and game nights, campus-wide fundraisers, athletic challenges, and activities of all kinds. There's always something happening, giving everyone the chance to start something new or unique.
CLUBS & ORGANIZATIONS
Iona College's more than 80 clubs and organizations include Greek letter fraternities and sororities, media organizations, club sports, diversity clubs, special interest, and academic clubs.
DIVERSITY & MULTICULTURALISM
Iona College's Diversity Committee provides programs, support and resources in order to enhance a diversity-positive campus community. The committee engages students in topics that are of particular interest to them, establishing programs that assess issues such as race and ethnicity, gender, sexual orientation, spiritual identify, offensive language and symbols, and students with disabilities.
SCHOOL LOCATION
Iona is a private, comprehensive, four-year Catholic college located on more than 45 scenic acres in New Rochelle, N.Y., just 20 miles north of Midtown Manhattan. New York City offers students exposure to world-class internships and career opportunities and is easily accessible from campus through the nearby Metro North train station. Students at Iona are also able to access other nearby cities including Stamford and Newark.
Take a Virtual Tour here.
See Iona's Visitor's Guide here.
ATHLETICS
Athletic Division: NCAA Division I
21 Varsity Sports
Men: Baseball, Basketball, Cross Country, Golf, Rowing, Soccer, Swimming & Diving, Track & Field, Water Polo
Women: Basketball, Cross Country, Lacrosse, Rowing, Soccer, Softball, Swimming & Diving, Track & Field, Volleyball, Water Polo
Mascot: Killian the Gael
Colors: Maroon and Gold
Successful Outcomes
93% of Iona students are employed or enrolled in graduate school within 6 months of graduation.
CHALLENGED TO MOVE THE WORLD
Iona College is one of the most highly accredited institutions in New York with 10 college and program accreditations. Iona has a commitment to combining a career-focused education with a liberal arts curriculum, challenging and preparing students for success. Students gain a competitive edge with employers through real-world knowledge, ethics, and critical-thinking skills. An Iona education also gives students the global exposure needed to succeed in today's highly competitive world. Throughout students' academic careers, service-learning projects, and internships, they always have someone to encourage and challenge them to move the world.
INTERNSHIP OPPORTUNITIES
Iona College recognizes the importance of combining work experience with academic learning to prepare students to successfully pursue careers after graduation. Iona's close proximity to New York City, its network of 45,000+ alumni, and its strong ties to companies throughout the tristate area provide unlimited opportunities for internship placements.
Admission & Aid
Admission
APPLICATION DEADLINE
Regular decision: Feb. 15
Early action: Dec. 1
Iona College is a test-optional school and does not require SAT/ACT scores. If a student wishes to share their scores, the deadline to submit is Feb. 15.
Tuition & Cost
Tuition: $40,172
Fees: $2,200
Room & Board: $15,736
Aid
99% of first-year students receive scholarships/financial aid, with $52.7 million in scholarships and grants awarded in 2018-19.
Iona College strives to meet the financial needs of every student. Need is determined by the information provided on the Free Application for Financial Aid (FAFSA). All students are considered for merit-based scholarships, which are awarded regardless of need.