Georgia Southern University
Statesboro, Georgia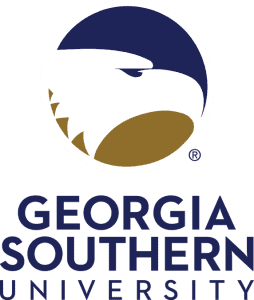 Georgia Southern University is large enough to provide endless opportunities, but personal enough to feel like home, plus employers say our grads are ready from day one. With almost 27,000 students, approximately 141 different degree programs, three campuses built on a single vision of growing others, Georgia Southern University is moving ahead and ready for more. With historic brick streets or moss-dripping oak trees, our picturesque campuses may seem pristine, but there's a lot of roll-up-your-sleeves work going on here. Research is focused on community impact. Teaching is focused on students. And students are focused on their future.
SHOW MORE
Since 1906, the University's hallmark has been a culture of engagement that bridges theory with practice, extends the learning environment beyond the classroom and promotes student growth and life success. 10 years in a row named "Military Friendly", 11-time top eco-friendly campus, top 10 best hidden gem public universities and with inclusive excellence a core value, Georgia Southern is ready to help students  shine. 
Georgia Southern is the state's largest and most comprehensive university south of I-20. With programs at the bachelor's, master's and doctoral levels, Georgia Southern is a public Carnegie Doctoral/R2 institution with three vibrant campuses — the Statesboro Campus, the Armstrong Campus in Savannah and the Liberty Campus in Hinesville, plus a learning center in Wexford, Ireland. Georgia Southern's nationally accredited academic programs include a heavy dose of real-world work so our graduates are READY the day they graduate. A unit of the University System of Georgia, the University boasts 300-plus student organizations, outstanding Division I athletics with 75 NCAA conference and national titles and state-of-the art residence halls and campus facilities.
Get to know Georgia Southern University
22,414
Degree-Seeking Undergraduates
Full-time to Part-time Ratio
-
0%
1%
2%
3%
4%
5%
6%
7%
8%
9%
10%
11%
12%
13%
14%
15%
16%
17%
18%
19%
20%
21%
22%
23%
24%
25%
26%
27%
28%
29%
30%
31%
32%
33%
34%
35%
36%
37%
38%
39%
40%
41%
42%
43%
44%
45%
46%
47%
48%
49%
50%
51%
52%
53%
54%
55%
56%
57%
58%
59%
60%
61%
62%
63%
64%
65%
66%
67%
68%
69%
70%
71%
72%
73%
74%
75%
76%
77%
78%
79%
80%
81%
82%
83%
84%
85%
86%
87%
88%
89%
90%
91%
92%
93%
94%
95%
96%
97%
98%
99%
100%
Retention rate
22:1
Student/teacher ratio
$5,464
In-state tuition cost
$19,282
Out-of-state tuition cost
-
0%
1%
2%
3%
4%
5%
6%
7%
8%
9%
10%
11%
12%
13%
14%
15%
16%
17%
18%
19%
20%
21%
22%
23%
24%
25%
26%
27%
28%
29%
30%
31%
32%
33%
34%
35%
36%
37%
38%
39%
40%
41%
42%
43%
44%
45%
46%
47%
48%
49%
50%
51%
52%
53%
54%
55%
56%
57%
58%
59%
60%
61%
62%
63%
64%
65%
66%
67%
68%
69%
70%
71%
72%
73%
74%
75%
76%
77%
78%
79%
80%
81%
82%
83%
84%
85%
86%
87%
88%
89%
90%
91%
92%
93%
94%
95%
96%
97%
98%
99%
100%
6-year graduation rate
May 1
Application deadline
-
0%
1%
2%
3%
4%
5%
6%
7%
8%
9%
10%
11%
12%
13%
14%
15%
16%
17%
18%
19%
20%
21%
22%
23%
24%
25%
26%
27%
28%
29%
30%
31%
32%
33%
34%
35%
36%
37%
38%
39%
40%
41%
42%
43%
44%
45%
46%
47%
48%
49%
50%
51%
52%
53%
54%
55%
56%
57%
58%
59%
60%
61%
62%
63%
64%
65%
66%
67%
68%
69%
70%
71%
72%
73%
74%
75%
76%
77%
78%
79%
80%
81%
82%
83%
84%
85%
86%
87%
88%
89%
90%
91%
92%
93%
94%
95%
96%
97%
98%
99%
100%
Acceptance rate
-
0%
1%
2%
3%
4%
5%
6%
7%
8%
9%
10%
11%
12%
13%
14%
15%
16%
17%
18%
19%
20%
21%
22%
23%
24%
25%
26%
27%
28%
29%
30%
31%
32%
33%
34%
35%
36%
37%
38%
39%
40%
41%
42%
43%
44%
45%
46%
47%
48%
49%
50%
51%
52%
53%
54%
55%
56%
57%
58%
59%
60%
61%
62%
63%
64%
65%
66%
67%
68%
69%
70%
71%
72%
73%
74%
75%
76%
77%
78%
79%
80%
81%
82%
83%
84%
85%
86%
87%
88%
89%
90%
91%
92%
93%
94%
95%
96%
97%
98%
99%
100%
Out-of-state students
-
0%
1%
2%
3%
4%
5%
6%
7%
8%
9%
10%
11%
12%
13%
14%
15%
16%
17%
18%
19%
20%
21%
22%
23%
24%
25%
26%
27%
28%
29%
30%
31%
32%
33%
34%
35%
36%
37%
38%
39%
40%
41%
42%
43%
44%
45%
46%
47%
48%
49%
50%
51%
52%
53%
54%
55%
56%
57%
58%
59%
60%
61%
62%
63%
64%
65%
66%
67%
68%
69%
70%
71%
72%
73%
74%
75%
76%
77%
78%
79%
80%
81%
82%
83%
84%
85%
86%
87%
88%
89%
90%
91%
92%
93%
94%
95%
96%
97%
98%
99%
100%
Full-time faculty w/ terminal degree
College Highlights
Engaged Students
Great Teaching
Vibrant Communities
Successful Outcomes
Admission & Aid
Engaged Students
STUDENT RESEARCH AND CREATIVE ACTIVITY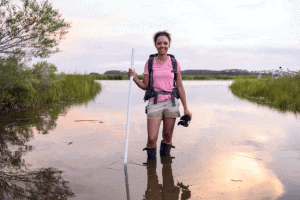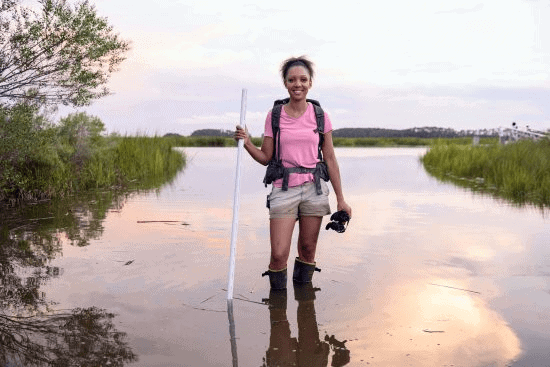 Conducting research is an important part of the college and graduate school experience, offering many benefits which include:
Fostering critical thinking and analytical skills through hands-on learning

Defining academic, career and personal interests

Expanding knowledge and understanding of a chosen field outside of the classroom

Developing one-on-one connections with distinguished faculty in their field 

Building community with peers, faculty and organizations on- and off-campus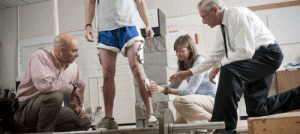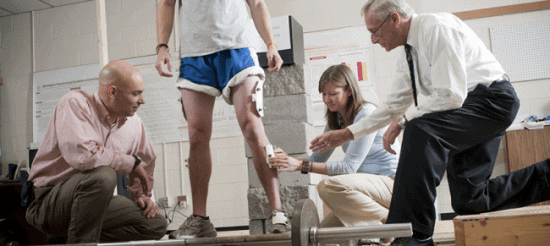 Georgia Southern University is a public-impact research institution that not only depends on the expertise of faculty researchers but also the dynamic ideas and creativity of its students. At Georgia Southern, undergraduate and graduate students pursue investigation, inquiry, and creative expression across the institution. Students are able to take advantage of individual research projects in their area of interest, execute research projects as part of their class curriculum or support research efforts of faculty members.
Student research focuses on conducting experiments, analyzing data, interpreting a text or a work of art within an historical and cultural context, making connections, exploring meaning, or uncovering contradictions. Performing independent research allows students to develop their own original ideas and present them to a wider audience; they become producers, not just consumers, of knowledge. There are countless opportunities in each college and department to be involved in the innovative research happening at Georgia Southern University. Find out more here.
GLOBAL ENGAGEMENT
Global Engagement prepares students with the global knowledge, attitudes and skills that will enable them to function as citizens of the world. Global Engagement aims to infuse a global dimension throughout the University's teaching, research, and service activities, and improve the breadth and depth of Georgia Southern's global reach and engagement. These aspirations are achieved by managing international strategic partnerships; providing experiential learning with study abroad, study away & exchange programming for students; offering professional development and service activities for faculty and staff; and maintaining high-quality, federally compliant exchange and visiting student and scholar services. This infusion of internationalized educational activities extends beyond the scope of the University to support global learning, business, and economic development in Southeast Georgia. Visit the Global Portal here.
INTERNATIONAL STUDIES
International Studies is an interdisciplinary degree program emphasizing global awareness and foreign language skills as preparation for careers in international service or international business.  Its multifaceted curriculum is designed to introduce you to the complex cultural, socioeconomic, and geopolitical realities of today's world and to foster analytical thinking paired with effective communication in a foreign language of your choice. You can choose one emphasis from the following:
Modernization, development, and Environment

War and Peace Studies

Society, Cultures, and Tradition
International Studies majors become highly proficient in understanding global affairs through studying the culture, history, and political economy of the regions outside the United States. You will also acquire a second language and experience another culture by studying abroad.
The Center for Irish Research and Teaching (CIRT)—Spanning and Serving Communities, from Coastal Georgia to Southeast Ireland—The Flagship Irish Studies Unit in the University System of Georgia
Georgia Southern University's first overseas campus, located in a landmark historic building in Wexford Town, a coastal town of Viking origin in beautiful, safe southeast Ireland. CIRT's director secured approximately $800,000 in outside funding for the Wexford Campus project. Among other compelling factors, the choice of location reflects the fact that during "prime time" for Irish emigration to Savannah — the half-decade beginning in 1848 — over 56% of newcomers arrived from County Wexford. Savannah became and remains the "most Wexford" city in North America. While growing its Wexford Campus, Georgia Southern is deepening its strategic collaborative initiatives with three Irish institutions of higher learning: Waterford Institute of Technology and Institute of Technology Carlow (both based in southeast Ireland) and the University of Dublin (better known as Trinity College Dublin).
On both the Statesboro and Savannah campuses—and, since 2020, also on the university's Wexford campus—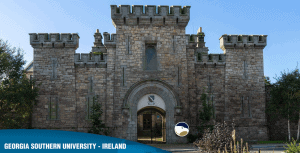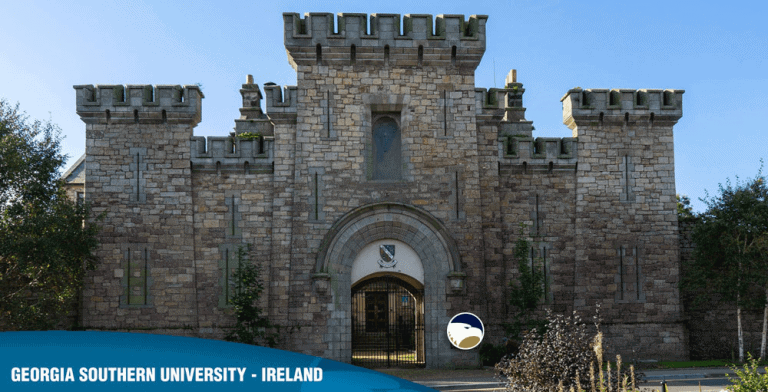 CIRT facilitates Irish-focused courses across the disciplines: from international business to sustainability; from secondary education to healthcare administration; from theater to history; and much more. CIRT has gained distinction for incorporating experiential learning into its courses, many of which provide comparative study of Irish and US approaches to key challenges
CIRT flies the flag for Ireland and advances Irish America in the University System of Georgia, whose 26 member institutions serve around 320,000 students. The unit is committed to researching and teaching the multifarious identities, experiences, and achievements that constitute Irishness, a concept that continues to evolve and that, at its best, enlarges the ancient Gaelic principle of flaithiúlacht (generosity). Learn more about CIRT here.
DIVERSITY, EQUITY AND INCLUSION (DEI) –– OFFICE OF INCLUSIVE EXCELLENCE
Georgia Southern University celebrates diversity in all its forms. The center pillar of Georgia Southern's Strategic Plan says all populations will feel valued and respected, regardless of race, gender, ethnicity, religion, national origin, age, sexual orientation or identity, education or disability. In addition, the University capitalizes on distinctive, unique campus cultures while encouraging strong institutional unity. You can learn more about it here: Together–Inclusive Excellence at Georgia Southern
Inclusive Excellence is an on-going, collaborative process uniting Georgia Southern students, faculty, staff, administrators and alumni in the work of embedding diversity and inclusiveness throughout University life. A commitment to Inclusive Excellence creates an engaged, welcoming campus climate that values diversity, supports student-leaders and rewards excellence at every level. Inclusive Excellence is also focused on preparing students to succeed in a multicultural economy. According to the American Management Association, a person's Cultural Intelligence Quotient, which enables college graduates to excel in a diverse workplace, is the number one predictor of success in today's global economy.
Since DEI permeates all areas of the University, you can read about the other offices and groups that promote DEI and Georgia Southern's commitment to "growing ourselves to grow others." Office of Multicultural Affairs, President's Student Advisory Council (PSAC), President's Diversity Advisory Council (PDAC), Student Government Association, Student Accessibility Resource Center, Office of Student Activities, Student Leadership and Civic Engagement
STUDENT TESTIMONIALS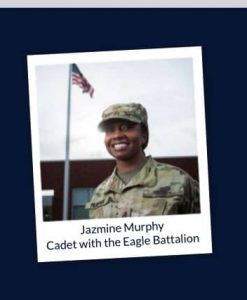 "I came here to mingle, meet new people and to network.
I was always comfortable with this area and the diversity.
Not too big of a town, not too small of a town and plenty of people…
I am Jazmine Murphy, I am a soldier and I am Georgia Southern."
– Jazmine Murphy, Cadet with Eagle Battalion.
"I like Georgia Southern because it allows me to show my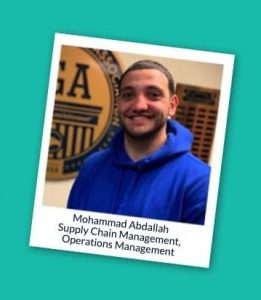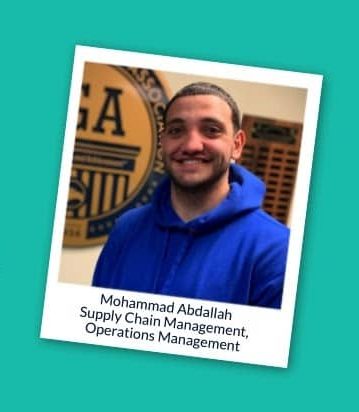 perspective
to my peers who have many misconceptions and generalizations
about my demographic [Middle Eastern and Muslim].
There's nothing better than having the
opportunity to give your minority perspective and
having the ability to change negative thoughts into friendships."
– Mohammad Abdallah, supply chain management major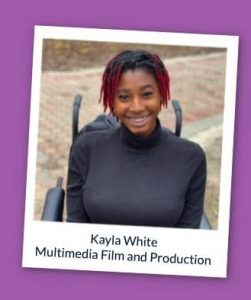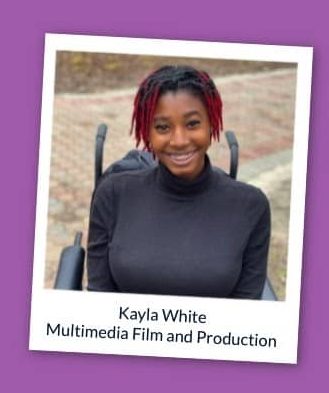 "I love Georgia Southern because I don't feel like an outcast.
Everyone treats me with open arms and all my friends can
make me smile on my worst day."
– Kayla White, multimedia and film production major
CLASS SIZE
The number of sections of each class size.
2-9: 318 | 10-19: 688 | 20-29: 769
30-39: 533 | 40-49: 231 | 50-99: 183 | 100+: 74
ENROLLMENT BY ETHNICITY
Non-U.S. Citizen: 1%
Hispanic/Latinx: 27%
Black or African American, non-Hispanic: 0%
White, non-Hispanic: 2%
Native/Indigenous American or Alaska Native, non-Hispanic: 8%
Asian, non-Hispanic: 57%
Native Hawaiian or other Pacific Islander, non-Hispanic: 0%
Two or more races, non-Hispanic: 4%
Race and/or ethnicity unknown: 1%
Great Teaching
Georgia Southern University offers 141 different majors in the bachelor's, master's and doctoral levels with exciting programs through its 10 Colleges and their many schools and departments. Just a few of them are highlighted below:
FIRST-YEAR AND SECOND-YEAR EXPERIENCE (FYSY):
Transitioning to college is exciting…and sometimes a little intimidating. Whether you are a first-time freshman, transfer, non-traditional, or returning student Georgia Southern is excited that you are considering continuing your education at one of the three campuses; Statesboro, Armstrong in Savannah and Liberty Campus in Hinesville, Georgia. Recognizing that students come with a variety of experiences and expectations, the goal is to help you be successful throughout the various stages of your academic journey. The Office of FYSY Programs provides new students with the academic and social resources needed to successfully transition to college life and progress towards degree completion. We help equip students with best practices and critical skills to reach their full potential. For first-year students, FYSY Programs offers a two credit hour course that fosters academic engagement, information literacy and diversity and inclusion. FYSY works with campus partners in the development and coordination of student programming that promotes personal growth through academic and social opportunities.
THE ALLEN E. PAULSON COLLEGE OF ENGINEERING AND COMPUTING
For students like you who want to explore, innovate and inspire, the Allen E. Paulson College of Engineering and Computing offers the following departments and degree programs.
6 Academic Departments: Civil Engineering & Construction | Computer Science | Electrical & Computer Engineering | Information Technology | Manufacturing Engineering | Mechanical Engineering

10 Undergraduate Degrees: B.S. in Civil Engineering | B.S. in Construction | B.S. in Construction Engineering | B.S. with a major in Computer Science | B.S. in Electrical Engineering | B.S. in Computer Engineering | B.S. in Information Technology | Bachelor's in IT Online | B.S. in Manufacturing Engineering | B.S. in Mechanical Engineering

6 Graduate Degrees: M.S. in Civil Engineering | M.S. in Computer Science | M.S. in Electrical Engineering | M.S. in Information Technology | M.S. in Applied Engineering with a concentration in Advanced Manufacturing Engineering or Engineering Management | M.S. in Mechanical Engineering
Watch what one of our students has to say! 
THE COLLEGE OF ARTS AND HUMANITIES
The College of Arts and Humanities (CAH), the College of the Creative Mind, plays a central role in every student's core of knowledge. The primary goal is to shape a dedication to investigation and creativity within arts and humanities through dynamic educational offerings. CAH encourages students to address the analytical, historical, cultural, and the philosophical foundations of their disciplines. Georgia Southern prepares students to be vital members of their professional communities. Likewise,CAH  promotes participation in civic and public life and remains committed to preparing students to be responsible global citizens. Some CAH departments include:
Fred and Dinah Gretsch School of Music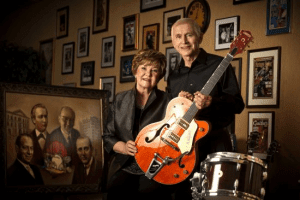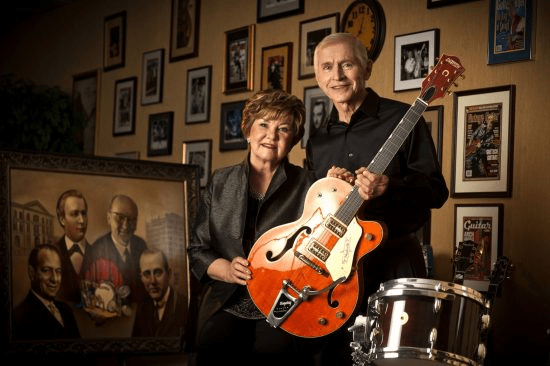 The Gretsch School is everything that great music itself is: inspiring, engaging, and profoundly affecting. The Gretsch School's faculty members exemplify the University's long-standing commitment to first-rate teaching and professional excellence. You will experience richly diverse and intriguing experiences on the stage and in the classroom that are hallmarks of a Georgia Southern education. The "grit and grace" that defines the historic Gretsch sound is also a perfect label for Georgia Southern, as the university's school of music is named after the world-famous drum and guitar maker.
The Fred and Dinah Gretsch School of Music is the newest addition to the Gretsch family, which includes country music icon Chet Atkins, legendary rock drummer Charlie Watts, the Beatles' George Harrison,  the late great Malcolm Young of AC/DC, rockabilly and swing king Brian Setzer, the Country Music Hall of Fame and Museum, and many more.
Betty Foy Sanders Department of Art (BFSDoArt)
With a focus on professional practice and leadership through creative activity, the BFSDoArt provides students with innovative curricula incorporating relevant technologies and interdisciplinary approaches to educate students with the requisite technical skills and theoretical knowledge for competitive and successful careers as professional artists, art historians, and designers.
The BFSDoArt offers interactions with visiting artists and scholars, a diverse exhibition schedule in the state-of-the-art Center for Art and Theatre galleries. Scholarship, internship, and travel abroad opportunities are also available in the University's ongoing commitment to the development of a well-rounded future world citizen whose creative research recognizes both aesthetic issues and global awareness.
Department of Communication Arts
Within Georgia Southern University's culture of engagement, the Communication Arts faculty—through its degree programs in Communication Studies, Multimedia Film and Production, Multimedia Journalism, Public Relations, Theatre, and Professional Communication and Leadership—promote the critical analysis, evaluation, performance, and practice of human communication in its various forms. Theatre students, film and production students, communication studies students, public relations students and journalism students will learn to tell their own and other's stories with an ethical and authentic voice, as engaged members of their communities.
Watch what some Georgia Southern graduates say:
I am Laura Harris, I am a journalist and I am Georgia Southern.
I am James Kicklighter. I am a film director, and I am Georgia Southern.
Department of World Languages and Cultures
Watch what our students have to say!
Department of History
More than dates and events, history gives us a broader view of our world. By understanding how people thought and acted across the ages in the different parts of the world, we can better understand the events of today and how we can influence tomorrow. History majors analyze and interpret information, write and share ideas about why events happened and develop the knowledge and skills that help them to succeed in today's workplace. Skills that are especially valued by employers!
Department of Literature
See what our students have to say!
Department of Philosophy and Religious Studies
See what our students have to say: Philosophy | Religious Studies

Department of Writing and Linguistics
 Welcome to the only free-standing writing department in the state of Georgia: the Department of Writing & Linguistics at Georgia Southern University. The  B.A. in Writing is unique in Georgia for offering a major that incorporates the fields of creative writing, linguistics, professional and technical writing, and rhetoric and composition. Majors learn and practice an array of writing and analytical skills that allow students to design their own experience according to their educational, creative, and professional goals.
Interdisciplinary Centers
Here you'll learn about the Africana Studies and Women's Gender and Sexuality Studies among others.
See what students say about Africana Studies
"The Africana Studies minor program is an essential component to an inclusive comprehensive education … It introduces students to concepts and cultures that aren't covered in other areas. The Center for Africana Studies will aid Georgia Southern University in its efforts to become recognized as one of the most comprehensive, student centered universities in the nation." – Francys Johnson, Esq.
"The African Studies program is very important to me because I am of African descent and through this program I can study my heritage in an academic setting. As an English major with intentions to pursue a doctorate in African-American literature, I have found valuable opportunities to explore different areas of my emphasis. Culture, politics, history, and other topics are pertinent to the understanding of the literature of a people."– Keemelah Martin, English Graduate
Watch what students have to say about Women's Gender and Sexuality Studies! 
Museum
The Georgia Southern Museum is where collections, exhibits, and programming interpret the natural and cultural history of Georgia's coastal plain and the exciting research and work taking place at Georgia Southern University.
COLLEGE OF BEHAVIORAL AND SOCIAL SCIENCES
The College consists of the Department of Criminal Justice and Criminology, Department of Sociology and Anthropology, Department of Public and Non-Profit Studies, Department of Psychology, School of Human Ecology, and the Department of Political Science and International Studies. The College offers 13 undergraduate degrees and five graduate degrees including the Doctor of Psychology. 
Watch our students describe some of Georgia Southern's amazing College of Behavioral and Social Sciences Programs!
Earn Your Degree in Criminal Justice with an Emphasis in Cybercrime at Georgia Southern
Earn your Fashion Merchandising and Apparel Design Degree at Georgia Southern University
Earn Your Anthropology Degree at Georgia Southern University
COLLEGE OF EDUCATION
Georgia Southern University College of Education is the premier and primary educator of teachers in Southeast Georgia, and Eagle Educators are known throughout the state and nation for their achievements and dedication to the field of education. Programs offered by the COE prepare future teachers, school psychologists, counselors, school library media specialists, instructional technologists, researchers and leaders through intensive field experiences, cutting-edge technology and research-based instruction. With more than 100 faculty members who are experts in the field, students learn in an environment exemplified by a free exchange of ideas, high academic expectations and individual responsibility for academic achievement. See what the College of Education has to offer! 
Learn about the new education degree that is one of the few child and family development programs in the region:
Get Your Child and Family Development Degree at Georgia Southern
COLLEGE OF SCIENCE AND MATHEMATICS
Are you ready to discover the future? By combining state-of-the-art research and teaching facilities with numerous regional, national and global collaborations, the Georgia Southern College of Science and Mathematics is a leader in producing graduates to meet tomorrow's challenges. 
The College boasts state-of-the-art teaching and research labs in support of geospatial technology, an aquatics lab, two microscopy suites, a mass spectrometry suite, and additional instrumentation necessary to support faculty members' and students' diverse research interests and facilitate their numerous collaborations. The Biological Sciences Building on the Statesboro campus was recognized as a Georgia Peach Green Building. Additionally, the College houses animal care spaces, greenhouses, herbaria, and an insectary where insects can be raised and studied. The College is also home to three large research collections (Herpetology, Entomology, and Botany). The department of Chemistry and Biochemistry is accredited by the American Chemical Society to offer the ACS-certified degree in chemistry. There are also pre-health professional programs and an accelerated pathway to a pharmacy doctorate.
THE HONORS COLLEGE
READY for the Challenge?
Launch your future with distinction. Participate in active learning through research, service and other experiential opportunities. Join a supportive community of scholars. Join a Community of Scholars and watch what students have to say about the Georgia Southern University Honors College:
THE PARKER COLLEGE OF BUSINESS
The Parker College of Business seeks to produce career-ready professionals by offering a broad array of high quality undergraduate and select graduate programs within a learning environment characterized by inspired teaching, relevant research, and meaningful service. The College searches for new knowledge, both theoretical and practical, and insightful learning opportunities for students.
Departments and Schools
THE JIANN-PING HSU COLLEGE OF PUBLIC HEALTH
Public health promotes and protects the health of people and the communities where they live, work, and play. Students and graduates work to prevent people from getting sick or injured and promote wellness by encouraging healthy behaviors.
Are you looking for the best college of public health in Georgia? Explore Georgia Southern's College of Public Health (JPHCOPH) to earn your BSPH, MPH, or DrPH degree. JPHCOPH is home to 42 faculty, 12 staff and nearly 500 undergraduate, master's and doctoral students. Students and faculty work closely together, making substantial contributions to the field of public health and improving health and wellness of the communities we serve. Through the Biostatistics, Epidemiology, and Environmental Health Sciences and Health Policy and Community Health departments and the Center for Addiction Recovery, Center for Public Health Practice and Research and Karl E. Peace Center for Biostatistics and Survey Research the goal is to contribute to the well-being of the communities of Georgia, the U.S. and the world.
Now, more than ever, a career in public health requires passion, commitment and a desire to make a difference!
THE WATERS COLLEGE OF HEALTH PROFESSIONS
The Waters College of Health Professions (WCHP) is the largest undergraduate health sciences college in the state of Georgia and was established to provide comprehensive and innovative programs that enhance the health and quality of life for individuals, families and communities within a global society.
WCHP is comprised of three departments and one school: the Department of Diagnostic and Therapeutic Sciences, the Department of Health Sciences and Kinesiology, the Department of Rehabilitation Sciences and the School of Nursing
The College's nationally accredited programs train outstanding leaders through engaged teaching and learning opportunities, scholarly and creative research and socially responsive service activities. With a commitment to interdisciplinary learning and professional excellence, WCHP prepares the next generation for success.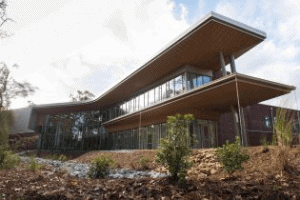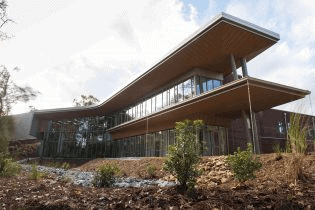 The Health Professions Academic Building on the Armstrong Campus in Savannah is a 63,000 square-footfacility that was built with a rapidly changing healthcare field in mind. It is designed to train healthcare providers in a state-of-the-art interprofessional environment that encourages a team-oriented approach to healthcare—an approach that has been shown to improve delivery of care and patient outcomes.
The facility includes the St. Joseph's/Candler Nursing Suite, an 8,193-square-foot area with advanced technologies that prepare students to meet patient needs in a changing healthcare delivery environment.
One example of the successful School of Nursing programs is Georgia Southern University's completely online RN to BSN, one of the top 20 most affordable online BSN programs. It is flexible, convenient and can be completed in just nine courses.
The program allowed graduate Sharen Martin to advance her nursing career quickly with its individualized guidance and expert faculty. Watch Sharon's story:
Georgia Southern's Online RN to BSN Program is Flexible, Convenient and Swift
Georgia Southern also has a 3200 square foot cutting edge Biodynamics and Human Performance Center. Persons with expertise in sports medicine, physical therapy, athletic training, strength and conditioning, personal training, exercise physiology, nutrition, orthopedics, engineering and sport coaching are all directly affiliated with the Center.
Find out the success story of the collaborative effort between the Departments of Health Sciences and Kinesiology and Rehabilitation Sciences providing experiences for adolescents with disabilities:
Camp RAD Provides Pivotal Experiences for Children with Disabilities
STUDENT TESTIMONIAL
Breaking barriers: doctoral student helps document breastfeeding challenges for Black mothers, shares their voices — and finds her own
A photo speaks louder than words. 
That's the proverbial premise behind the Savannah H.O.P.E. Photovoice Project, a visual, community-based research project led by Georgia Southern University researchers that helps identify social, cultural and physical barriers that Black mothers in Chatham County face while breastfeeding. The project won a 2021 Health Innovation Award from Healthy Savannah. Double Eagle Christina Cook ('16,'19) has assisted Savannah H.O.P.E. Photovoice Project lead Nandi Marshall, DrPH, associate professor in the Jiann-Ping Hsu College of Public Health (JPHCOPH) and associate dean of Academic Affairs, for the last three years. First serving as the JPHCOPH graduate assistant while completing a master's in public health and now as Marshall's graduate assistant in the public health doctoral program, Cook has taken pride in helping others amplify their voices. 
In turn, she found her own.
"Personally, what this has done for me is solidify my direction," said Cook. "As someone who likes to navigate a lot of different paths, and someone who is an intuitive and does-this-feel-right type of person, doing the work has really led me down the path of what I want to do because I am very committed to a sense of justice."
The photovoice method, a groundbreaking visual research methodology that empowers marginalized individuals to document their experiences and communicate their concerns, was utilized, as participants captured images that represent local breastfeeding barriers. Some snapped shots in corporate settings and public areas without access to breastfeeding areas, while others hinted at a lack of family support or pushback based on cultural norms, captured with photos in familial surroundings.
"A lot of them are physical barriers," said Cook. "There is just not a space available. It was really surprising. Even in churches, one of the moms said that whenever she would go to church the only place for her to go was the bathroom. Or someone was ushered into the office to nurse there. 
"The other ones have been sociocultural like this is something that Black people don't do or what family members would say. Or going into a public park and people just staring at the moms while they breastfed." 
Sessions facilitated by Cook and Marshall allowed participants to talk about the photos, their perspectives and ideas for change with one another to help guide resolutions to overcome barriers for improved local breastfeeding equity. 
Most special for Cook has been "being able to connect with people, especially in the community and actually hearing what's going on," she said. "Everything in this research project has allowed me to do that and really understand what the issues are and how we can address them."
The research and photos were compiled into a photobook, which serves as a tool for Cook and Marshall to share with local businesses and community organizations.
"The policy initiative we're doing now is working with organizations to help them develop breastfeeding and chestfeeding policies for their employees so that women or mothers or parents aren't forced to feed in a bathroom," said Cook. "Or have to make that decision whether to stay home or quit their job, or return to work or spend a lot on childcare just to go back to work."
SPECIAL STUDY OPTIONS
Programs available at this institution.
Accelerated program
Cooperative education program
Distance learning
Double major
Dual enrollment
English as a Second Language (ESL)
Honors Program
Independent study
Internships
Student-designed major
Study abroad
Teacher certification program
Vibrant Communities
RESIDENTIAL LEARNING COMMUNITIES
Georgia Southern offers students the opportunity to shape their living experience by participating in one of the Residential Learning Communities (RLCs). These communities are a unique way for students to live with others who may have a similar major, are involved in the same campus program, or who share an interest/identity. Each of the communities has their own specialized programming, connections to campus partners, and requirements. There are Theme Communities and Living-Learning Communities. Past RLC experiences have included Faculty Coffee Chats, field trips, common courses, study nights and course registration parties, RLC competitions, Homecoming participation, community service experiences, and more! It's a great way for incoming students to have a built-in support network from their first day on campus. Here are some examples of the 2021-2022 communities:
LEADERSHIP AND COMMUNITY ENGAGEMENT
The Office of Leadership and Community Engagement utilizes an integrated theoretical approach to learning, service, and leadership that empowers students to become active, global citizens who lead positive change. The office is dedicated to helping students develop both in and out of the classroom through:
SCHOOL LOCATION
Georgia Southern University campuses are full of life—places where memories are made every day. They are comfortable sites of activity and interaction for both educational and personal growth offering a wide variety of facilities, services and organizations to the 27,000-plus students interested in exercising, maintaining their health, enjoying the outdoors, making new friends, building knowledge, and sharing ideas.
"Georgia Southern has provided me with a nurturing learning environment and a home away from home. I just wanted to thank you for that." – Emily Chizmar: Honors student, Math major
Statesboro Campus
Georgia Southern's largest campus, home to more than 20,000 students, is located in historic Statesboro, a growing college town built around a shop-lined Main Street. It offers the exciting benefits of a large university and the personal feel of a smaller college. Students can choose from 141 degree programs, be involved in hands-on learning within an individualized program, and conduct research with professors. The residential community offers some 300 clubs and organizations for involvement so students can connect with specific groups of friends. The resources on campus are seemingly endless.
Statesboro Campus Map • More Information
Armstrong Campus in Savannah
Situated on the Atlantic coast in beautiful Savannah, the Armstrong Campus of Georgia Southern University is located just minutes away from the National Historic Landmark District downtown and a short drive from the sunny beaches of Tybee Island. The 268-acre arboretum campus is home to more than 6,500 students offering more than 100 degree programs and an abundance of resources and activities for students. This close-knit community recognizes each student as the unique person they are — and truly fosters student success.
Armstrong Campus Map • More Information
Liberty Campus in Hinesville
Located in Hinesville, the Liberty Campus houses a new, state-of-the-art facility offering a variety of opportunities for local students, especially those affiliated with the military, to take advantage of a nationally recognized university in their own backyard. This campus, home to over 500 students, serves all undergraduate student types, including Dual Enrollment, new freshmen, transfers, and adult learners. Earn a bachelor's degree,  associate's degree or take classes before transitioning to the Statesboro or Armstrong Campus.
Liberty Campus Map  • More Information
TRADITIONS
Georgia Southern is a university rich in history. Since its humble beginnings, the school has established a wide range of traditions that serve to distinguish it from its peers and deepen the bond with its own students as each year passes. The Eagle Nation is built on these bonds, soaring on the cheers of students, alumni and loyal fans who shout "Georgia…" and know with confidence that "Southern" is the answer they'll receive. Learn more here.
ATHLETICS
With 75 NCAA conference titles and 7 national titles, Georgia Southern Eagles have a proud history of winning. The Eagles compete in the Division I Football Bowl Subdivision (FBS) (formerly I-A) and are members of the NCAA Division I Sun Belt Conference. During their time at the Football Championship Subdivision (FCS/I-AA) level, the Eagles won six national championships. With the Eagles' first Sun Belt title in 2014, they became only the third team, after Nevada in 1992 and Marshall in 1997, to win their conference championship in their first year at the FBS level. Home football games are played at Allen E. Paulson Stadium, known as "The Prettiest Little Stadium in America." 
The Sun Belt men's sports include: football, baseball, basketball, golf and tennis. The Sun Belt women's sports include: basketball, golf, soccer, softball, tennis and volleyball. In 2021, men's golf and women's tennis both won Sun Belt championships.
The Georgia Southern teams that compete outside the Sun Belt do so in sports that are not sponsored by that conference. Women's swimming and diving competes in the Coastal Collegiate Sports Association. Rifle, a fully coeducational sport in which Georgia Southern fields a women-only team, competes in the Southern Conference (SoCon). Men's soccer competes in the Mid-American Conference. In 2021, women's rifle won the SoCon team smallbore championship.
THE EAGLES
Georgia Southern's athletics teams have adopted several names throughout history, but claimed "Eagles" by a campus vote in 1959. Having one American Bald Eagle on campus is impressive, but having multiple eagles is a true triumph. The eagles—Freedom and Glory—live in the campus-based Center for Wildlife Education and the Lamar Q Ball, Jr. Raptor Center, which has a wetlands area, an old-growth forest and a mountain display.
GUS
There is possibly no more visible figure than Georgia Southern's official Eagle mascot, GUS. Best known for his sideline antics at sporting events, the loveable, furry mascot makes special appearances throughout the year. GUS has visited the Georgia Capitol, posing with business and political leaders, and other dignitaries, as an ambassador for the University. Gus has even been an ESPN "favorite mascot" nominee.
BEAUTIFUL EAGLE CREEK
When Georgia Southern resurrected the football program in 1981, traditions and spirit needed resurrection as well. So legendary Head Football Coach Erk Russell created his own. But inspiration came to him in the most unusual of places. Inspired by the gnat-infested drainage ditch that cut across the field between the team's locker room and practice fields, Russell convinced his players that its stagnant water was actually "Beautiful Eagle Creek," a source of "magical" waters.
SOUTHERN PRIDE MARCHING BAND
Southern Pride is two hundred members strong and celebrated its 25th anniversary in 2007. Southern Pride performs at all home football games, select "on the road" athletic events, parades, and as an exhibition band at marching contests throughout the state and region. The band combines the highest quality music and execution, while providing entertainment and sparking enthusiastic Georgia Southern fans.
RESIDENCE LIFE
Percent of students living on campus.
First-time, first-year (freshman) students: 79%
Undergraduates: 23%
Campus housing options.
Coed dorms
Apartments for single students
Special housing for students with disabilities
Special housing for international students
Theme housing

Successful Outcomes
EXPERIENTIAL LEARNING PROGRAM
The Georgia Southern University Experiential Learning Program provides undergraduate and graduate students academically enhancing employment opportunities in a variety of industries and sectors through co-op, internship, and job shadowing opportunities. The Experiential Learning Program encourages relevant quality work experiences for all students who desire to enrich their academic program of study with planned, progressive, and monitored work experiences. These employment opportunities build upon strong instructional programs to ensure that students receive an outstanding education that prepares them intellectually, technically, culturally, ethically, and socially for the demands and opportunities of an increasingly changing world.
What is an Internship?
Internships are hands-on experiential learning opportunities where students can apply academic knowledge in professional settings to further adapt skills for the "real world."
What is a Co-op?
Co-op, short for cooperative education, is an experiential learning program that balances classroom theory with multiple periods of practical, hands-on experience prior to graduation. The typical co-op plan is for students to alternate terms of full-time classroom study with terms of full-time, discipline-related employment.
Check out some of the internships and co-ops Georgia Southern students have had on our Internship Spotlight page!
Find out what students say about the Internship Scholarship, offered by the Office of Career and Professional Development. This scholarship enables students to complete their required internship 
CAPSTONE COURSES
Most courses and the core curriculum require a capstone course for completion of the degree. In these courses, students will make connections among their core curriculum, their career goals, and their external activities and articulate how these connections inform their understanding of their place in the world.
Students will…
Articulate how their general education foundation has contributed to their developing global perspective

Analyze how their academic and lived curriculum (core-level) studies have contributed to the development of their academic and professional goals.
Our graduates have significant, repeated exposure to the high-impact practices that develop technical and essential skills: a strong foundation in core arts and sciences, undergraduate research, collaboration, teamwork, leadership, writing and communication, global perspectives, diversity, service-learning, and capstone experiences that include ePortfolios and projects. Our faculty are also committed to improving the literacy of all Georgia Southern students through our general education program.
FIRST DESTINATION SURVEY
Data is collected on a student's plans after graduation as they relate to employment status, wages, bonuses, work authorization status, location, name of the organization, and how they were made aware of the opportunity. Also collected is data on a student's participation/nonparticipation in experiential learning opportunities while attending the University. The data collected for experiential learning consists of type (Internship, Coop, etc.) and the name of the organization.Academic programs often use this data as baseline information for developing/assessing/reporting programs of study.
EXCELLENCE IN PRACTICE
Georgia Southern University Multimedia Development Center wins Professional Emmy® Award
The National Academy of Television Arts and Sciences Southeast Chapter has recognized Georgia Southern University's Multimedia Development Center (MDC) with an Emmy® Award at their annual awards event in Atlanta. 
"The Eagle has Landed" won for Best Environment/Science Short Form Content in the Spanish language category. MDC Director Art Berger, Brianna Womack, Collin Crews and Doug Thompson were announced as winners at the event. English to Spanish translations for the production were provided by Professor of Spanish Dolores E. Rangel, Ph.D. 
"This is an outstanding accomplishment for us as a team and for the university, especially given the challenges of the pandemic and the quality of this year's Emmy submissions," said Berger. 
The MDC received three Emmy nominations this year. Berger received a best director nomination for Short Form Content and Ben Powell received a production nomination for an additional Spanish language category production of "Georgia Southern Robots."
The MDC has previously received thirty-two professional and student Emmy nominations. The center has received five professional wins including best director, best sports director, and best technical director, and two Emmy awards for best audio with the Georgia Southern Symphony, including eight student Emmy wins. The National Academy of Television Arts and Sciences is a professional organization for individuals in the television and broadcasting industry. NATAS is the standard-bearer for excellence in the television broadcasting industry and the gatekeepers of the prestigious regional Emmy awards.
STUDENT TESTIMONIAL
From athlete to engineer, family lessons guide first-generation college graduate
Matthew Johns is a first-generation college graduate who almost didn't attend college. It was the encouragement from his grandfather that drove him to pursue a manufacturing engineering degree from Georgia Southern University.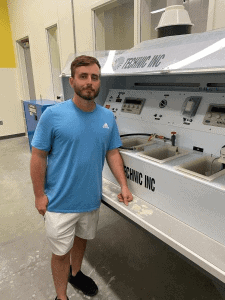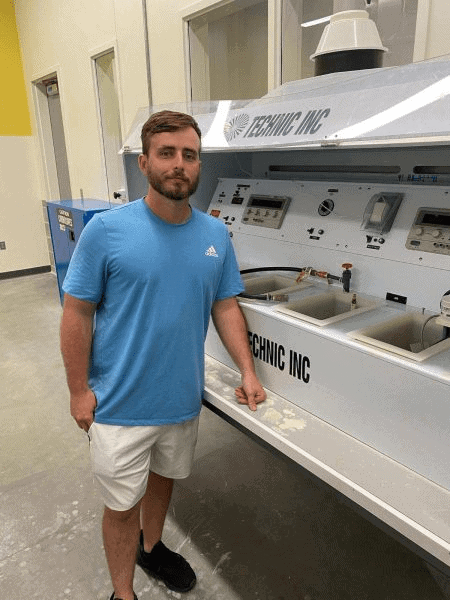 Johns, who comes from a rural town in southeast Georgia, was one of around 80 graduates from his high school, where he mainly focused on sports.
"I played baseball, basketball and football," Johns said. "We won two state championships in baseball and I never really thought about my life outside of sports. Going into sports was my original hope and dream."
Johns' relationship with his grandfather, who suffered lifelong hardships as a professional tradesman, was a motivating force when it came to his decision to think beyond athletics and attend college.
"Growing up with my pops is what led me to pursue engineering," Johns said. "My grandpa lived next door and he was a millwright. We worked on cars together, and that was where I caught the bug for mechanical work. He would always say 'If you're going to do something, you need to be an engineer.'"
Johns felt that his education at a small school program put him at a disadvantage initially.
"I came from a big education gap," Johns said. "It was a little overwhelming to me when I first got here. Most of the guys in my class came from STEM programs. My school was so small we didn't have anything like that."
It was the support of his professors and classmates that helped him through the challenges.
"It took me a few times of failing to figure it out," Johns said. "I started talking to my peers and I think at some point it just clicked for me. You either fail and get better, or you fail and get worse, so I developed study habits by looking at my peers who came from STEM programs."
Because of the positive impact his mentors had on his college success, Johns spent much of his time sharing his own experiences with younger students.
"I have become somewhat of an advisor for a lot of people," Johns said. "I tell them about my experience, what worked for me and what set me back, so that they can be better for themselves."
Johns felt that his time at Georgia Southern allowed him to expand not only academically, but socially as well. Through his experiences on campus he has become more open to a variety of individuals and ideas.
"It's a melting pot of people," Johns said. "I feel like I used to be very small-minded, but learning how to interact with people in my program helped me. I understand that people come from different cultures and have different political beliefs. I like to try to talk to people about it and understand their situation and their way of doing things."
Johns graduated on May 12, 2021 and he is now preparing for a move to Connecticut in July where he will begin a new role as an operations supervisor at General Dynamics Electric Boat where he'll train and eventually lead a team.
"With my background, I feel like I can relate to people more and be more accepting," he said. "I know not everybody has the same personality and not everyone is motivated in the same ways."
Admission & Aid
Admission
ADMISSIONS INFORMATION
For more than 110 years, Georgia Southern University has been training students to be doers. Here, students dig in from day one, roll up their sleeves and get to work. Coached by some of the best faculty anywhere, they create businesses, manufacture products, build robots, and nurse the sick back to health—all before ever putting on a graduation robe.
College isn't just about getting a degree. It's about experience and preparation for what comes next. To grow. To serve. To lead. To make a difference.  
Visit a campus and find out what Ready is all about!
ADMISSIONS FACTORS
Very Important
Rigor of secondary school record | Academic GPA | Standardized test scores 

Considered
Class rank

FRESHMAN PROFILE
SAT Composite
25th Percentile: 1010 | 75th Percentile: 1190
SAT Evidence-Based Reading and Writing
25th Percentile: 510 | 75th Percentile: 610
SAT Math
25th Percentile: 490 | 75th Percentile: 590
ACT Composite
25th Percentile: 18 | 75th Percentile: 24
ACT Math
25th Percentile: 17 | 75th Percentile: 24
ACT English
25th Percentile: 19 | 75th Percentile: 26
Tuition & Cost
Tuition (in-state): $5,464
Tuition (out-of-state): $19,282
Fees: $2,114
Room: $6,466
Board: $3,750
Aid
TUITION AND AID INFORMATION
Paying for college and navigating the financial aid process can be scary and confusing. Georgia Southern wants to be as transparent as possible with the cost of attendance and our staff want to help you through the aid process.
What Others are Saying
"As both a first-generation college student and a first-generation U.S. citizen, there have been so many additional challenges and barriers that I've had to face than the traditional student you would find here at Georgia southern. I am so grateful that none of those were enough to stop me from fitting in on this campus, and that's what makes us so special. Georgia Southern celebrates what makes us different."
— Jasmine Guerra ('21), Magna cum laude graduate with finance and business management degrees, now a client service associate with UBS
Contact Georgia Southern University