Eastern Oregon University
La Grande, Oregon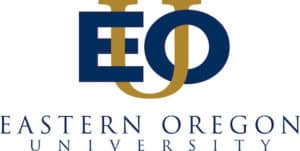 Eastern Oregon University was founded in 1929 as a teachers' college and today serves as a center for education, culture and scholarship in rural areas of Oregon. Students receive personal attention from professors and build strong relationships with peers and mentors. Officially designated Oregon's Rural University in 2018, EOU cultivates innovative partnerships with communities across the region to expand economic and educational opportunities for all.
SHOW MORE
About 1,300 students attend EOU on campus in La Grande, Ore., a small college town nestled in the Grande Ronde Valley. On-campus programs include art, theatre and music, as well as chemistry, nursing, and agricultural sciences. Student-athletes on 13 varsity teams compete for the blue-and-gold in the NAIA league, as part of the Cascade Collegiate Conference (and the Frontier Conference in football), regularly bringing home conference titles for the Mountaineers.
A little more than half of EOU students attend classes online, bringing the total student population to just over 3,000. After pioneering distance education in the 1980s, EOU continues to serve as a leader in providing high-quality programs and access for all online, on campus and at its 11 regional centers across Oregon. Experience the personal touch and cozy atmosphere of a private college with one of the most cost competitive tuition rates in the Pacific Northwest. Discover the Eastern Edge at EOU.
"It is a privilege to say that I attend a university that truly cares about its students, from the committed staff to the helpful hands of faculty. I am one step closer to my future profession and it all has been thanks to the carefully outlined programs." – Victor Saldana Meza
Get to know Eastern Oregon University
2,397
Degree-Seeking Undergraduates
Full-time to Part-time Ratio
-
0%
1%
2%
3%
4%
5%
6%
7%
8%
9%
10%
11%
12%
13%
14%
15%
16%
17%
18%
19%
20%
21%
22%
23%
24%
25%
26%
27%
28%
29%
30%
31%
32%
33%
34%
35%
36%
37%
38%
39%
40%
41%
42%
43%
44%
45%
46%
47%
48%
49%
50%
51%
52%
53%
54%
55%
56%
57%
58%
59%
60%
61%
62%
63%
64%
65%
66%
67%
68%
69%
70%
71%
72%
73%
74%
75%
76%
77%
78%
79%
80%
81%
82%
83%
84%
85%
86%
87%
88%
89%
90%
91%
92%
93%
94%
95%
96%
97%
98%
99%
100%
Retention rate
15:1
Student/teacher ratio
$8,213
In-state tuition cost
$21,533
Out-of-state tuition cost
Sept. 10
Application deadline
-
0%
1%
2%
3%
4%
5%
6%
7%
8%
9%
10%
11%
12%
13%
14%
15%
16%
17%
18%
19%
20%
21%
22%
23%
24%
25%
26%
27%
28%
29%
30%
31%
32%
33%
34%
35%
36%
37%
38%
39%
40%
41%
42%
43%
44%
45%
46%
47%
48%
49%
50%
51%
52%
53%
54%
55%
56%
57%
58%
59%
60%
61%
62%
63%
64%
65%
66%
67%
68%
69%
70%
71%
72%
73%
74%
75%
76%
77%
78%
79%
80%
81%
82%
83%
84%
85%
86%
87%
88%
89%
90%
91%
92%
93%
94%
95%
96%
97%
98%
99%
100%
Acceptance rate
-
0%
1%
2%
3%
4%
5%
6%
7%
8%
9%
10%
11%
12%
13%
14%
15%
16%
17%
18%
19%
20%
21%
22%
23%
24%
25%
26%
27%
28%
29%
30%
31%
32%
33%
34%
35%
36%
37%
38%
39%
40%
41%
42%
43%
44%
45%
46%
47%
48%
49%
50%
51%
52%
53%
54%
55%
56%
57%
58%
59%
60%
61%
62%
63%
64%
65%
66%
67%
68%
69%
70%
71%
72%
73%
74%
75%
76%
77%
78%
79%
80%
81%
82%
83%
84%
85%
86%
87%
88%
89%
90%
91%
92%
93%
94%
95%
96%
97%
98%
99%
100%
Out-of-state students
-
0%
1%
2%
3%
4%
5%
6%
7%
8%
9%
10%
11%
12%
13%
14%
15%
16%
17%
18%
19%
20%
21%
22%
23%
24%
25%
26%
27%
28%
29%
30%
31%
32%
33%
34%
35%
36%
37%
38%
39%
40%
41%
42%
43%
44%
45%
46%
47%
48%
49%
50%
51%
52%
53%
54%
55%
56%
57%
58%
59%
60%
61%
62%
63%
64%
65%
66%
67%
68%
69%
70%
71%
72%
73%
74%
75%
76%
77%
78%
79%
80%
81%
82%
83%
84%
85%
86%
87%
88%
89%
90%
91%
92%
93%
94%
95%
96%
97%
98%
99%
100%
Full-time faculty w/ terminal degree
College Highlights
Engaged Students
Great Teaching
Vibrant Communities
Successful Outcomes
Admission & Aid
Engaged Students
"Some say you make your best friends in college. For myself here at EOU, that couldn't be any more true. Eastern has provided me with lifelong friends. It really is a family here. We truly care about each other. I couldn't imagine myself anywhere else." – Zach Bartlow
COLLABORATIVE ASSIGNMENTS AND PROJECTS
Many talented and creative people work together in EOU's music, theatre, art, and English writing programs. This collaboration yields impressive results, including the university's honor of becoming the first in the U.S. to produce an amateur version of "Phantom of the Opera." Students are regularly writing and creating pieces for publication in the university's literary magazine, "Oregon East," and the Nightingale Gallery on campus offers even more opportunities that showcase student and faculty work, along with guest artists.
Undergraduate students regularly get to work in the lab, the field, and in the community with EOU's skilled and dedicated professors in biology, chemistry-biochemistry, mathematics, psychology, anthropology and sociology. Students compete in the international math-modeling competition (at which EOU usually finishes in the top five worldwide); create new software for senior computer science projects; and engage with aspiring scientists through school outreach programs. Original research appears regularly in the award-winning Eastern Oregon Science Journal—the first student-published, undergraduate scientific research journal in the state.
"I'm thrilled that the Outdoor Adventure Program and newly founded Yoga Club provide the opportunity to get outside, stay in shape and remain active! Co-founding the Econ Club and my role as president of student government have also allowed me to further explore my major outside of the classroom setting." – Addie Beplate
UNDERGRADUATE RESEARCH
Students get hands-on experience starting their freshman year at EOU. They continue building their résumés by working alongside faculty to carry out and present undergraduate research and participate in internships. Such practices are valued highly by employers and graduate schools. During their courses of study, students participate in service learning programs and research. Undergraduates also have unparalleled access to cutting-edge science and technology labs where they sequence DNA or design new software. Each year, students from across disciplines come together to present their original research and creative accomplishments for the Spring Symposium. Opportunities also include presenting at national conferences independently and with faculty research partners.
DIVERSITY/GLOBAL LEARNING
EOU students embark on exciting international travel through a variety of study abroad programs around the world. Back on campus, the International Dinner and Show and Island Magic Lu'au are annual events organized entirely by students. EOU's Native American Student Council coordinates the Indian Arts Festival and Spring Pow Wow each year. Featuring dancing, drumming, crafts and a traditional friendship feast, the community event is a great opportunity to participate in and learn about the culture and traditions native to Eastern Oregon.
CLASS SIZE
The number of sections of each class size.
2-9: 120 | 10-19: 91 | 20-29: 48
30-39: 9 | 40-49: 5 | 50-99: 4 | 100+: 0
ENROLLMENT BY ETHNICITY
Non-U.S. Citizen: 1%
Hispanic/Latinx: 14%
Black or African American, non-Hispanic: 2%
White, non-Hispanic: 68%
Native/Indigenous American or Alaska Native, non-Hispanic: 2%
Asian, non-Hispanic: 1%
Native Hawaiian or other Pacific Islander, non-Hispanic: 3%
Two or more races, non-Hispanic: 4%
Race and/or ethnicity unknown: 5%
Great Teaching
"I am attending EOU because it is convenient and affordable, while still offering a high quality education. Both the staff and professors are extremely helpful and take an interest in providing the best service possible to help each student reach their academic potential." – John Herrington
EOU students are members of a vibrant living and learning community with access to outstanding academic resources, involvement programs, and support services such as:
First-Year Experience classes to help navigate college, focusing on student support, information literacy and faculty engagement.

Summer Bridge, providing students eligible to participate in TRiO Student Support Services with academic preparation and relationship building in advance of the start of fall term.

Individual and group study sessions, tutoring and personal academic advising with trained faculty and staff.
EOU prides itself on putting teaching first, making sure each student receives individual attention that is otherwise rare in public universities. Every professor and staff member is dedicated to working with students throughout their college experience. Transfer students often comment on the personal attention they receive compared to other institutions they have attended—both large and small. Faculty enjoy working with students from the time they enroll to graduation, starting with Week of Welcome and concluding at Commencement. Professors are also dedicated to enhancing the educational experience of their students through mentorship and problem-solving. More than anything, they want their students to be successful.
"Going through the art program at EOU challenged me as an artist, making me stronger and more well-rounded. The best part was the Senior Studio, where I worked closely with peers and had the much-needed space to create for our Senior Exhibition." – Sheyenne Johnson, '16
FIRST-YEAR SEMINARS AND EXPERIENCES
Student success is a priority at EOU, where First-Year Experience programs help guide students through their academic and co-curricular experiences. These programs assist students with developing critical thinking skills, healthy behaviors, an understanding of their own values and beliefs, and an awareness of values and beliefs that may differ from their own. Student success advocates also help to navigate the ever-changing world of college life, academics, and finances.
"My English/Writing professors took as much of an interest in my well-being as they did in my writing. My understanding of writing, which was built and nurtured by one-on-one interactions with English/Writing faculty, has been the most valuable tool I have in terms of education." – Mackenzie Trotter, '14
WRITING-INTENSIVE COURSES
EOU is strongly committed to the view that writing skills are key to professional success, as they enhance communication skills and promote further learning. Students must complete the University Writing Requirement (UWR) to graduate. The UWR requires that students pay attention to writing throughout their studies, demonstrating a mastery of writing specific to their disciplines. To this end, all students must complete the following:
First-year writing courses required by placement.

One lower-division UWR writing-intensive course identified by each major and 23 Institutional Graduation Requirements.

Two upper-division UWR writing-intensive courses as identified by each major.
"The math department at Eastern is amazing. Faculty are so willing to work with students to help them succeed. With the help and encouragement from my professors and fellow students, I made it!" – McKenzie Garlock
SPECIAL STUDY OPTIONS
Programs available at this institution.
Cooperative education program
Cross-registration
Distance learning
Double major
Dual enrollment
Exchange student program (domestic)
External degree program
Honors Program
Independent study
Internships
Liberal arts/career combination
Student-designed major
Study abroad
Teacher certification program
Weekend college
Vibrant Communities
"Eastern is awesome. There is something here for everybody whether it be the Chem Club or intramural sports or even theater and music. No matter what there is something here for you, if not you can just start up your own club." – Justin Hutton
CLUBS & ORGANIZATIONS
EOU students are making friends and making a difference through over 50 clubs and organizations. Interested in covering campus news and events? Join the student newspaper team at The Voice or DJ for KEOL, EOU's radio station. If scientific experiments pique curiosity, consider the Chemistry Club. From live bands, bonfires and movies, guest artists, authors and filmmakers, to rodeos and intramural athletic teams, there is always something to do on (or near!) campus. Learn more at www.eou.edu/campus-life.
GREAT OUTDOORS
When students want to get outside, there are four seasons of recreation waiting in EOU's backyard. The Outdoor Adventure Program can help them plan a successful trek, and equipment rentals are free for students. Snowboarding at Oregon's highest base elevation ski area, kayaking Class III rapids, rock climbing, and mountain biking are all available within minutes of campus. Visit www.eou.edu/outdoor.
"The faculty and staff members are a great influence on my experience at EOU. They are very supportive and encouraging. EOU is a great community to help build strong relationships with your professors." – Aisha Abimbola
COMMUNITY CONNECTIONS
The community surrounding EOU's main campus is full of connections to the university. Many local business owners are alumni, and it's not unusual to bump into faculty at the movie theater or a coffee shop. The Community School for the Arts program hosts private music lessons for children and adults, administering the Community Symphonic Band, Community African Drumming group, Union County Children's Choir, and Grande Ronde Community Choir. The annual Eastern Oregon Film Festival is another premier, independent film, and music event in the region welcoming participation from student volunteers and interns. More at www.eou.edu/community.
"Guiding, passionate and inspiring individuals truly exist at EOU. The mentoring, leadership and memories that faculty provide are exceptional. I gained hands-on management experience as president of the Associated Students of Eastern Oregon University (ASEOU), all while being a student-athlete. Flexibility is what truly sets EOU apart!" – Sidronio Rangel
LEARNING COMMUNITIES
EOU students majoring in biology, chemistry-biochemistry, computer science, and mathematics can become ASTEO Scholars and live in a STEM community in the campus residence halls. ASTEO stands for Advancing Science and Technology in Eastern Oregon, and the scholarship is funded by a grant from the National Science Foundation's S-STEM Program. Recipients of the award participate in hands-on learning beginning their first year of study, attend regular activities with STEM faculty, become eligible for summer internships, and sometimes qualify for paid positions as an ASTEO Ambassador for EOU. Visit www.eou.edu/asteo.
SCHOOL LOCATION
EOU's campus is located in La Grande, Ore., just four short blocks from the city's historic downtown. Students ride public transit for free making it easy to visit the seasonal farmer's market, coffee shops, restaurants, and other businesses. La Grande is the largest of eight communities in the lush Grande Ronde Valley—a haven in the high desert region. Oregon's highest base elevation ski resort, rock climbing routes, mountain biking trails, and other opportunities for outdoor adventure are readily available nearby.
ATHLETICS
EOU is an NAIA member school with 13 varsity sports. "Monty Mountaineer" is the mascot and the university colors are blue and gold. The Mountaineers compete in the Frontier Conference for football and Cascade Conference for men's and women's basketball, indoor/outdoor track and field, cross country, softball, volleyball ,and men's and women's soccer. EOU also competes in the NAIA for men's wrestling and as an independent in the Women's Collegiate Wrestling Association.
RESIDENCE LIFE
Percent of students living on campus.
First-time, first-year (freshman) students: 64%
Undergraduates: 12%
Campus housing options.
Coed dorms
Apartments for single students
Special housing for disabled students

Successful Outcomes
EOU's high-quality liberal arts and professional programs prepare students to succeed in the world beyond college and thrive in a competitive, global marketplace. Academic advisors help students register for the right classes for their majors and stay on track toward graduation, while talented professors illustrate how to put experience into practice. EOU graduates are going on to conduct amazing work and make significant contributions to their communities. Some well-known alumni include a U.S. congressman, an international wildlife conservationist, a celebrated children's book author, a documentary filmmaker and television producer, and nationally recognized doctors.
"As a manager in the healthcare industry, I use the analytical, personal and communication skills I learned at EOU on a daily basis. I am a proud graduate and can confidently say this program has made me a better leader in my field." – Emily Higgins
SERVICE LEARNING
EOU students enjoy multiple opportunities to work with local businesses and nonprofit organizations. While education majors are immersed in area schools, student-athletes are working with children both in the gym and on the field. In the community, EOU students are helping address food scarcity and raising emergency funds for families in need during the annual Walk for Warmth. Outreach to area youth includes a celebration of reading and writing during the Student Writers Workshop on campus, and sixth through eighth-graders attend the Girls in Science event held every fall in the university's state-of-the-art science center. High school students also present their artwork in EOU's Nightingale Gallery for the annual Eastern Oregon Regional High School Art Exhibition. At each event, EOU students gain experience in coordinating and managing high-impact programs for the community, accounting for thousands of hours of contact each year.
"I felt prepared for medical school with the good foundation EOU gave me. The science faculty are so much more teaching oriented and accessible. I loved that it was a small campus and I also came out with a lot less debt." – Shakira Bandolin, MD, '09
INTERNSHIPS/COOPS/PRACTICUMS
Leadership opportunities abound for many undergraduates at EOU involved in student government, the Ambassador program, and other organizations. These students are working with legislators, board members, alumni, and foundation and community leaders. EOU also offers in-person coaching and online resources to help students broaden the perspective of their career choices and understand the value of their education in relation to employment.
EOU's Career Services Center is dedicated to fostering further student development by supporting internships, service learning projects, and work study positions both on and off campus. Students access the EOU Careers Network online to view, research, and apply for career development opportunities within the region, state, nationally, and globally. Visit www.eou.edu/career.
"The EOU Psychology program gave me an extremely strong foundation. I was more prepared for my graduate school classes than many of my classmates. I now have a rewarding and challenging career as a Clinical Psychologist in the United States Public Health Service." – Abby McCabe
CAPSTONE COURSES AND SENIOR PROJECTS
All graduating EOU seniors complete a capstone experience or senior project. These culminating experiences tie together the objectives of their programs, their general education outcomes, and often career-related applications of experiential learning. There is a wide range of discipline-based projects for seniors: education majors are preparing teaching portfolios; business administration students are creating business plans for community partners; seniors in the sciences are conducting original research to present at national conferences; and art majors are working in semi-private studios to prepare their capstone exhibitions. Ultimately, EOU ensures that all of its graduates are prepared for the world of work or continued study in graduate programs.
Admission & Aid
Admission
APPLYING FOR ADMISSION
As an open access institution, EOU is on a rolling admission schedule and takes a holistic approach when evaluating students. The priority deadline for admission and scholarships is February 1. To apply, the EOU Office of Admissions needs the following:
Completed online application for admission

$50 non-refundable application fee

Official high school transcript or Official college transcripts

Official SAT or ACT scores
EOU Admissions is dedicated to working with students. For questions or help completing the application process, call 800-452-8639 or e-mail admissions@eou.edu. For additional information on requirements and to start an application visit www.eou.edu/admissions. Para information en espanol llame al 1.800.452.8639.
APPLICATION DEADLINES
Application closing date (fall): Sept. 10
Priority date: Feb. 1
ADMISSIONS FACTORS
Very Important
Rigor of secondary school record | Academic GPA
Important
Talent/ability
Considered
Class rank | Standardized test scores | Extracurricular activities
Application Essay | Recommendation(s) | First generation
Volunteer work | Work experience | Level of applicant's interest
TEST SCORES
Optional
Tuition & Aid
Tuition (in-state): $8,213
Tuition (out-of-state): $21,533
Fees: $1,983
Room: $6,340
Board: $4,430
Aid
SCHOLARSHIPS AND FINANCIAL AID
Students can take full advantage of their talent, skills, performance, drive, and ambition to become eligible for scholarships. EOU awards over $2.3 million in scholarships based on merit and need, and the EOU Foundation awarded $550,000 in additional scholarships to students during the 2016-17 academic year. Nearly every student is eligible for some type of financial aid and a complete financial aid package may contain scholarships, grants, work-study, and loans.
ASTEO SCHOLARS
The Advancing Science and Technology in Eastern Oregon (ASTEO) scholarship is for freshmen or transfer students majoring in biology, chemistry-biochemistry, computer science or mathematics. The scholarship offers students up to $7,500 annually for tuition and fees. For more information and how to apply visit www.eou.edu/asteo.
To apply for all other university scholarships visit www.eou.edu/fao or reach EOU's Financial Aid Office at 541-962-3550.
WESTERN UNDERGRADUATE EXCHANGE (WUE)
Students who are currently residents in participating WUE states have the opportunity to enroll at EOU for a reduced tuition rate: 150 percent of resident tuition plus fees. The WUE Program is renewable for up to twelve (12) terms for high school recipients and transfer students can receive support for up to six (6) terms. All students must enroll full-time and maintain good academic standing. To learn more visit www.eou.edu/admissions/wue.
Participating WUE states: Alaska, Arizona, California, Colorado, Hawaii, *Idaho, Montana, Nevada, New Mexico, North Dakota, *Oregon, South Dakota, Utah, *Washington, and Wyoming. Students from Guam and the Commonwealth of the Northern Mariana Islands will also be considered for the WUE rate.
Prospective students may contact the EOU Office of Admissions at 541-962-3393 or toll free at 800-452-8639.
What Others are Saying
"If you had told me five years ago that I was going to live in Eastern Oregon and graduate from EOU, I would have questioned you. These last five years have been absolutely amazing, regardless of the hard times. I wouldn't have changed a thing about it."
— Alex Taunton, '18
Contact Eastern Oregon University