Defiance College
Defiance, Ohio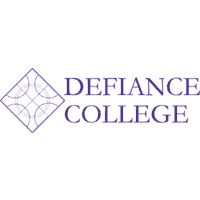 Defiance College emphasizes learning on the basis of its mission's four pillars: to know, to understand, to lead, to serve. The liberal arts-based institution offers 40+ majors and pre-professional programs designed to prepare students to live in the world and change it for the better.
Defiance College is a comprehensive, private, coeducational college affiliated with the United Church of Christ. Founded in 1850, the 150-acre campus is located in Northwest Ohio, an area of picturesque farmland at the confluence of the Auglaize and Maumee rivers. Defiance offers bachelor's, master's, and associate degrees for learners at different stages of their educational journey.
Get to know Defiance College
562
Degree-Seeking Undergraduates
Full-time to Part-time Ratio
-
0%
1%
2%
3%
4%
5%
6%
7%
8%
9%
10%
11%
12%
13%
14%
15%
16%
17%
18%
19%
20%
21%
22%
23%
24%
25%
26%
27%
28%
29%
30%
31%
32%
33%
34%
35%
36%
37%
38%
39%
40%
41%
42%
43%
44%
45%
46%
47%
48%
49%
50%
51%
52%
53%
54%
55%
56%
57%
58%
59%
60%
61%
62%
63%
64%
65%
66%
67%
68%
69%
70%
71%
72%
73%
74%
75%
76%
77%
78%
79%
80%
81%
82%
83%
84%
85%
86%
87%
88%
89%
90%
91%
92%
93%
94%
95%
96%
97%
98%
99%
100%
Retention rate
12:1
Student/teacher ratio
$33,150
Full-time tuition cost
Rolling
Application deadline
-
0%
1%
2%
3%
4%
5%
6%
7%
8%
9%
10%
11%
12%
13%
14%
15%
16%
17%
18%
19%
20%
21%
22%
23%
24%
25%
26%
27%
28%
29%
30%
31%
32%
33%
34%
35%
36%
37%
38%
39%
40%
41%
42%
43%
44%
45%
46%
47%
48%
49%
50%
51%
52%
53%
54%
55%
56%
57%
58%
59%
60%
61%
62%
63%
64%
65%
66%
67%
68%
69%
70%
71%
72%
73%
74%
75%
76%
77%
78%
79%
80%
81%
82%
83%
84%
85%
86%
87%
88%
89%
90%
91%
92%
93%
94%
95%
96%
97%
98%
99%
100%
Acceptance rate
-
0%
1%
2%
3%
4%
5%
6%
7%
8%
9%
10%
11%
12%
13%
14%
15%
16%
17%
18%
19%
20%
21%
22%
23%
24%
25%
26%
27%
28%
29%
30%
31%
32%
33%
34%
35%
36%
37%
38%
39%
40%
41%
42%
43%
44%
45%
46%
47%
48%
49%
50%
51%
52%
53%
54%
55%
56%
57%
58%
59%
60%
61%
62%
63%
64%
65%
66%
67%
68%
69%
70%
71%
72%
73%
74%
75%
76%
77%
78%
79%
80%
81%
82%
83%
84%
85%
86%
87%
88%
89%
90%
91%
92%
93%
94%
95%
96%
97%
98%
99%
100%
Out-of-state students
College Highlights
Engaged Students
Great Teaching
Vibrant Communities
Successful Outcomes
Admission & Aid
Engaged Students
BUILDING GLOBAL CITIZENS
Guided by experienced faculty members, Defiance College students build on existing interests to develop and explore new passions. They approach challenges with the habits of heart, mind, and spirit, altogether driven toward doing good in the world. 
Although they arrive with an astonishing range of ambitions and take off in every possible direction, Defiance provides each and every student with a strong liberal arts foundation that emphasizes critical thinking and character building. Ultimately, this shapes DC students into individuals who understand their impact on the world.
"Not only am I in the field of study that I enjoy, I've been given many opportunities to expand my leadership skills, volunteer in the community, and even apply the knowledge I've gained at an international scale." – Ely King, Mathematics and Business Administration major
UNDERGRADUATE RESEARCH
Defiance gives students the opportunity to engage in relevant research programs that rarely happen before graduate school. Students present both at campus symposia as well as at state and national conferences. Additionally, they create capstone projects that truly represent a deeper understanding of their academic accomplishments.
SERVICE-LEARNING AND LEADERSHIP 
DC is home to the McMaster School for Advancing Humanity: an innovative research program devoted to teaching, service, scholarship, and action to improve the human condition. Distinctive among colleges and universities across the U.S., the McMaster School utilizes Defiance College's nationally recognized model of service and civic engagement. Through its program, students and faculty make a lasting impact as they apply their academic expertise to real-world contexts. In recent years, participants have developed projects and established partnerships in Belize, Cambodia, Tanzania, and Panama. Much of the success of the projects can be credited to learning communities—groups of peers who meet on a regular basis to strategize and prepare for their research and travel.
HONORS PROGRAM
Defiance College's Honors program allows students to enrich their education through academic challenges that are supported by an active cohort of peers and faculty mentors. The Honors program is committed to providing a support system that will promote strong academics and offer a variety of experiential learning opportunities.
ENROLLMENT BY ETHNICITY
Non-U.S. Citizen: 0%
Hispanic/Latinx: 9%
Black or African American, non-Hispanic: 23%
White, non-Hispanic: 61%
Native/Indigenous American or Alaska Native, non-Hispanic: 1%
Asian, non-Hispanic: 0%
Native Hawaiian or other Pacific Islander, non-Hispanic: 0%
Two or more races, non-Hispanic: 2%
Race and/or ethnicity unknown: 3%
Great Teaching
"I have had the two best social work professors to ever exist. The amount of time they have invested in me is beyond words." – Kaytie Williamson, Social Work
ENERGETIC, SUPPORTIVE FACULTY
Defiance College professors stretch students' thinking skills and prepare them for a successful career by combining book knowledge with real-world skills. With a student-to-faculty-ratio is only 11:1, professors truly get to know everyone as a student and as an individual. They may care about grades, but they also care about the person each student will grow into. They add to classroom theory with actual practice, incorporating valuable internships, job shadowing, and learning trips with outside experiences.
"Students tell us over and over again how much they've learned not just about this course or that, but about themselves. We work to draw out the best in them, and we discover they draw out the best in us." – Dr. Marian Plant, Professor of Religious and Ministry Studies
UNDERGRADUATE RESEARCH AND PROJECTS
A challenging academic environment at Defiance College is enhanced by undergraduate research, creative expression, and real-world professional experience. DC's rich, liberal arts-based classroom environment is the centerpiece from which students form connections and discover new ways of viewing and exploring the world.
Defiance College students are engaged in collaborative research and scholarship with their faculty. Such outlets include the Honors program, campus symposia, capstone projects within each major, and learning communities of the McMaster School for Advancing Humanity.
SPECIAL STUDY OPTIONS
Programs available at this institution.
Accelerated program
Cooperative education program
Double major
Honors Program
Independent study
Internships
Student-designed major
Study abroad
Teacher certification program
Vibrant Communities
In addition to taking advantage of shopping and entertainment in town, DC students participate in ongoing service-learning projects in the community, further supporting DC's reputation for strong programs of engagement and responsible citizenship.
SERVICE-LEARNING
The Defiance College Service Leadership program develops students' knowledge and capacity to be civically engaged. Participants meet monthly to learn about and address Defiance community needs through a variety of projects. This program provides opportunities for students to apply academic skills and knowledge to real-world contexts through service for the betterment of the surrounding local community. As a result, students gain valuable leadership and career readiness skills and develop an understanding of their place as civically engaged leaders.
Among all the colleges that embrace service, Defiance is notably at the forefront of community engagement. In fact, Defiance College students, faculty, and staff have completed over 25,000 hours of service locally and globally.
STUDENT-RUN SERVICE
Defiance College takes its focus on service a step further with opportunities for students to develop a service or business that impacts a community need and is directly related to their area of study. Projects include student-run businesses that provide computer repair and graphic design services, a program that provides food on weekends for children in need, and a reading and writing center for local children.
"My DC experience has been a very positive one. Through the Honors Program, I've learned research presentation and critical thinking skills. As a Service Leader and manager of a Project 701 initiative, I've acquired skills necessary to lead, and I've been able to give back to the community." – Corey Davis, Education major with a minor in Autism Studies
RESIDENCE LIFE
More than 60 percent of DC's students live on campus. First-year students primarily live in one residence hall, while older students can choose from a variety of options, including apartment-style housing.The Office of Residence Life is committed to creating an environment in the residence halls that encourages academic excellence, social competence, independence, and a sense of community living. Well-trained staff, including 2 Hall Directors and 14 Resident Assistants, provides programming, guidance, and support.
STUDENT ACTIVITIES
Students enjoy the Office of Student Life's sponsored programs and activities, which include things like comedians, movies, and casino night. The staff foster relationships among the faculty, staff, and students as well as members of the wider community. Defiance College is a member of the National Association of Campus Activities (NACA) and offers more than twenty NCAA Division III sports or intramural programs.
SCHOOL LOCATION
Defiance College is located in Defiance in the Northwest corner of Ohio. Its distinctive name comes from Fort Defiance, established by General Anthony Wayne in 1794. Situated on the confluence of the Maumee and Auglaize Rivers, the city of Defiance was founded in 1836 in an area that had been an important gathering location of Native American nations for centuries.
Defiance is one hour from Lima and Toledo, OH, and Fort Wayne, IN. It is two hours from Detroit, two and a half hours from Columbus, and four hours from Chicago. The city of Defiance has 17,000 residents and is the regional center of a six-county area.
The 150-acre campus is close to both quiet residential neighborhoods and busy commercial districts. Within walking distance of campus are stores, restaurants, movie theaters, and coffee and ice cream shops.
ATHLETICS
Defiance College offers intercollegiate varsity sports at the NCAA Division III level in the Heartland Collegiate Athletic Conference, including: 
Men's: baseball, basketball, cheer/dance, cross country, eSports, football, golf, indoor and outdoor track and field, soccer, tennis, and wrestling
Women's: basketball, cheer/dance, cross country, eSports, golf, indoor and outdoor track and field, soccer, softball, tennis, and volleyball
In 2018, DC became one of approximately 70 schools in the nation to offer eSports at the varsity level.
Successful Outcomes
"Defiance College is a school that I am so fortunate to have earned my degree from. As a Sport Management major, DC presented me with the tools for success from the minute I stepped on campus. The amount of connections I made through faculty, staff, and other students helped me to excel in my career by presenting me with opportunities to attend several conferences, workshops, and networking events, which led me to three internships before graduation. Post graduation, these experiences and connections presented me with the opportunity to work in the NHL and has now led me to pursue my Master's Degree. The people at Defiance College strive every day to help students, past and present, to succeed in every aspect of life." – Alicia Kahlik, Sport Management major
PREPARED FOR THE WORLD
A Defiance College education incorporates the belief that individuals are part of something bigger, a conviction that instills a sense of social responsibility. At Defiance College, serving others plays an important role in every student's experience. Defiance students are called upon to think and act within their academic areas, utilizing classroom knowledge to make an impact within their communities and beyond. These experiences give them the awareness of a diverse world and its needs and the leadership skills to create positive change. Defiance's dedication to engaged learning means that students are sure to go beyond books and lectures to dig in and learn by doing.
These experiences provide them with the skills to be better employees, better leaders, and responsible citizens. By the time they graduate, Defiance College students already possess outstanding professional skills that have been tested and polished through their engagement with real-life experiences.
ALUMNI FULFILLMENT
Today's Defiance College students are preceded by generations of alumni who credit DC for the success they have enjoyed in both their careers and personal lives. The value of a DC education is measured not only by future financial reward, but also by the quality of its academic and student-life programs today. Strong academic programs and a liberal arts tradition will help students think critically, problem-solve, and work with people of different backgrounds, altogether helping them develop skills to excel in their professions.
Admission & Aid
Admission
ADMISSIONS FACTORS
Very Important
Rigor of secondary school record | Class rank | Academic GPA
Important
Interview
Considered
Standardized test scores | Application Essay | Recommendation(s) | Talent/ability
Character/personal qualities | Alumni/ae relation |Geographical residence
TEST SCORES
Optional
FRESHMAN PROFILE
SAT Evidence-Based Reading and Writing
25th Percentile: 360 | 75th Percentile: 490
SAT Math
25th Percentile: 340 | 75th Percentile: 470
ACT Composite
25th Percentile: 18 | 75th Percentile: 22
ACT Math
25th Percentile: 17 | 75th Percentile: 23
ACT English
25th Percentile: 15 | 75th Percentile: 22
APPLICATION PROCESS
Defiance College accepts applications for admission throughout the calendar year and follows a rolling admission policy, which means applications are reviewed and decided upon on an individual basis as soon as completed application materials are received. Applicants are notified of the admission decision within a few days.
Students applying for admission should submit the following:
Completed DC application for admission (application available at

www.defiance.edu

or add Defiance College on the Common Application)

Official high school transcript

Official ACT or SAT test scores (either official score report or on high school transcript)
Tuition & Cost
Tuition: $33,150
Fees: $760
Room: $5,580
Board: $5,034
Aid
Defiance College rewards deserving entering students through a dynamic scholarship program designed to recognize academic achievement. Scholarships are offered to eligible students the first year and are renewed each year according to established renewal requirements. Final scholarships are coordinated with other federal, state, and Defiance College sponsored awards and may be influenced by the student's on-campus or commuter status.
Scholarships are awarded to eligible first-year students in an amount between $13,000 and $21,000 upon acceptance to the College. Full-tuition scholarships are available through a competitive Scholarship Day program.
Dean's Scholarship $21,000

Pilgrim Scholarship $19,000

Trustee Scholarship $17,000

Achievement Scholarship $15,000

Merit Scholarship $13,000

Transfer Scholarship $12,000 – $16,000 
Financial aid at Defiance College is designed to reward academic achievement and to meet students' demonstrated need. Students are encouraged to complete the Free Application for Federal Student Aid (FAFSA). Defiance College's Federal School Code is 003041.
What Others are Saying
"I knew before I attended Defiance College that I wanted to be a veterinarian. My education at Defiance College gave me a great science basis to carry on to The Ohio State University College of Veterinary Medicine. The science professors at DC made difficult subjects easier and were always willing to help. At Defiance College, I first began to enjoy science labs. Besides the science background, I was able to develop skills and reasoning that I continue to use everyday. I was able to take advantage of many unique opportunities outside of the classroom as well, especially through volunteering. Serving others continues to be a large part of my career."
— Austin Kleman, Molecular Biology major