Dean College
Franklin, Massachusetts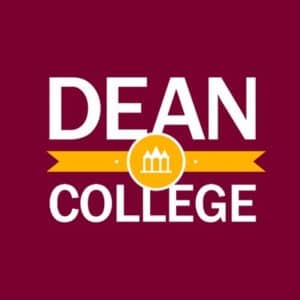 Dean College is a private, residential New England College grounded in a culture and tradition that all students deserve the opportunity for academic and personal success. A uniquely supportive community for more than 150 years, Dean has woven together extensive student support and engagement with exceptional teaching and innovative campus activities. Graduates are lifelong learners who thrive in their careers, embrace social responsibility, and demonstrate leadership. This is The Dean Difference.
Today, Dean serves close to 1,200 full-time students and nearly 400 part-time students. Approximately 90 percent of the college's entire student population lives on campus in one of 13 residence halls.
Get to know Dean College
1,180
Degree-Seeking Undergraduates
Full-time to Part-time Ratio
-
0%
1%
2%
3%
4%
5%
6%
7%
8%
9%
10%
11%
12%
13%
14%
15%
16%
17%
18%
19%
20%
21%
22%
23%
24%
25%
26%
27%
28%
29%
30%
31%
32%
33%
34%
35%
36%
37%
38%
39%
40%
41%
42%
43%
44%
45%
46%
47%
48%
49%
50%
51%
52%
53%
54%
55%
56%
57%
58%
59%
60%
61%
62%
63%
64%
65%
66%
67%
68%
69%
70%
71%
72%
73%
74%
75%
76%
77%
78%
79%
80%
81%
82%
83%
84%
85%
86%
87%
88%
89%
90%
91%
92%
93%
94%
95%
96%
97%
98%
99%
100%
Retention rate
16:1
Student/teacher ratio
$41,118
Full-time tuition cost
Rolling
Application deadline
-
0%
1%
2%
3%
4%
5%
6%
7%
8%
9%
10%
11%
12%
13%
14%
15%
16%
17%
18%
19%
20%
21%
22%
23%
24%
25%
26%
27%
28%
29%
30%
31%
32%
33%
34%
35%
36%
37%
38%
39%
40%
41%
42%
43%
44%
45%
46%
47%
48%
49%
50%
51%
52%
53%
54%
55%
56%
57%
58%
59%
60%
61%
62%
63%
64%
65%
66%
67%
68%
69%
70%
71%
72%
73%
74%
75%
76%
77%
78%
79%
80%
81%
82%
83%
84%
85%
86%
87%
88%
89%
90%
91%
92%
93%
94%
95%
96%
97%
98%
99%
100%
Acceptance rate
-
0%
1%
2%
3%
4%
5%
6%
7%
8%
9%
10%
11%
12%
13%
14%
15%
16%
17%
18%
19%
20%
21%
22%
23%
24%
25%
26%
27%
28%
29%
30%
31%
32%
33%
34%
35%
36%
37%
38%
39%
40%
41%
42%
43%
44%
45%
46%
47%
48%
49%
50%
51%
52%
53%
54%
55%
56%
57%
58%
59%
60%
61%
62%
63%
64%
65%
66%
67%
68%
69%
70%
71%
72%
73%
74%
75%
76%
77%
78%
79%
80%
81%
82%
83%
84%
85%
86%
87%
88%
89%
90%
91%
92%
93%
94%
95%
96%
97%
98%
99%
100%
Out-of-state students
College Highlights
Engaged Students
Great Teaching
Vibrant Communities
Successful Outcomes
Admission & Aid
Engaged Students
"The Dean Difference is the atmosphere and the opportunities that the institution offers. At any other school, you're not going to be able to be involved in so many different things and in so many different areas on campus. Because of these opportunities, I am a stronger and more independent individual." – Jackie, Student
THE DEAN DIFFERENCE
Dean College prides itself in The Dean Difference. This College-wide commitment to success is a holistic effort that integrates academics with faculty support and community involvement. Whatever a student does on campus, they are acting according to The Dean Difference. Built into each class is a strong network of support, and supplemented by academic growth are a variety of meaningful service and community engagement activities. Through The Dean Difference, students find an interwoven sense of meaning behind everything they do as a Dean College scholar.
"Dean allows all students to be unique. The Dean Difference is having the ability to use all of the resources that Dean offers and shape yourself for the future." – Courtney, Student
STUDY ABROAD
Whether they travel for a small period of a couple of weeks or spend an entire semester or year abroad, Dean students have endless opportunities to study beyond the College's walls and out into the world.
Students who wish to stay in the country have two fantastic options to study domestically. Dean College partners with the Washington Center in Washington, D.C., through which students can get hands-on internship experience with highly regarded government figureheads. Dean is also affiliated with the Disney College Program, a creative internship program that allows students to develop their problem-solving skills in either DisneyLand or Disney World.
Beyond the States, Dean College students can travel to study in a wide array of foreign countries, including Italy, Spain, Germany, New Zealand, Ireland, and even Australia. The College also partners with Regent's University London, offering students a life-changing university experience in the middle of downtown London. Regardless of one's area of study, they are bound to find a program that enriches their major, all while sending them on an exciting adventure.
Additionally, Dean College and the Joan Phelps Palladino School of Dance, known nationally and internationally for its Bachelor of Arts and new Bachelor of Fine Arts programs in Dance, is DanceAbroad Argentina's exclusive collegiate partner. Participating college dance majors from any college or university will earn up to fifteen college credits during the collaborative, full-semester academic program. Courses of instruction include tango technique and its history, ballet, modern dance, jazz, dance composition, and Spanish language coursework at either the beginning, intermediate, or advanced level.
In addition to the longer-term study abroad options, Dean offers a select few courses that include one- to two-week field trips around the world, linking their course materials to real contexts. For example, some European history and international relations courses can bring students to witness history, geography, and politics firsthand.
"I had the opportunity to study abroad in London during my first semester of senior year, and it was an extraordinary experience that I still can't believe happened. Some of my favorite memories include going to Camden Market with my friends and visiting Shakespeare's Globe for a production of King Lear. I learned so much about myself and saw things I only thought I'd see on TV or in a history book!" – Gia, Student
A PARTNER EVERY STEP OF THE WAY
Unlike most other colleges, Dean pairs every student with a dedicated personal advisor whose sole job is to help them navigate the challenges of upper-level coursework and to keep them on the right track. Advisors work with their students individually, helping them choose their classes, monitor their progress, and provide them with access and direction toward one-of-a-kind academic opportunities. Personal advisors are dedicated to getting their students involved on campus, ensuring that their educational investments enrich their lives and set promising precedents for their future careers.
"My favorite thing about the Sports Broadcasting program at Dean is that you get experience right away. Within my first two weeks at Dean, I was on the air and hosting my own radio show. Not many other schools give you that experience so quickly." – Alex, Student
ENROLLMENT BY ETHNICITY
Non-U.S. Citizen: 4%
Hispanic/Latinx: 8%
Black or African American, non-Hispanic: 12%
White, non-Hispanic: 62%
Native/Indigenous American or Alaska Native, non-Hispanic: 0%
Asian, non-Hispanic: 1%
Native Hawaiian or other Pacific Islander, non-Hispanic: 0%
Two or more races, non-Hispanic: 4%
Race and/or ethnicity unknown: 8%
Great Teaching
"At most colleges, you are just another number, but at Dean, the professors care about you and your future. I feel welcome at Dean, and I know there is always someone to provide help when I need it. That is The Dean Difference." – Isabella, Student
CONNECTED TO THE WORLD
Dean College faculty teach with a bold, collective vision. They don't simply impart theoretical knowledge; rather, they seek out innovative ways to build strong, employable skills. Dean's faculty excitedly bring their students on location to places like Gillette Stadium's radio and television facilities as well as McCoy Stadium, home of the Pawtucket Red Sox. This is made possible through the Center for Business, Entertainment, and Sport Management, a partnership with Kraft Sports + Entertainment that offers students a dynamic curriculum and unprecedented hands-on experience. They also invite leaders of multi-billion dollar companies to give guest lectures in the classroom, such as Vice President of Sales at The Kraft Sports Group, Murray Kohl, and Director of the Government Security Policy and Strategy at Microsoft, Angela McKay.
"The ability to work closely with professors in order to understand course material is helpful and has enabled me to build bonds and learn more than what is assigned in class. I have gained real-world experiences and, because of this, I feel prepared for my time after Dean." – Westley, Student
FIRST-YEAR COURSES
Unless they have exempting credits, each Dean College student begins their first year at school enrolled in both an English course and a mathematics course. These foundational courses build students' abilities to think critically and communicate their thoughts effectively. Through the entry-level composition course, students learn to organize their thoughts and write upper-level arguments, skills they need throughout their entire college careers.
COLLEGE CORE
Dean strives to give each student the most meaningful, holistic education possible. Through the College Core, it ensures that every student graduates with a well-rounded perspective rooted in multiple disciplines. In addition to their majors' course requirements, students are expected to show an understanding of topics in composition, literature, biology, quantitative reasoning, and communication. Additionally, in order to engage in Dean's values of intellectual discovery, students are encouraged to take exploratory electives in the humanities, sciences, mathematics, arts, and social sciences. With such a broad understanding of these disciplines, Dean students learn to think through problems with a keen sense of inquiry and inquisitiveness.
SPECIAL STUDY OPTIONS
Programs available at this institution.
Double major
Honors Program
Independent study
Internships
Study abroad
Vibrant Communities
"I love spending time at Dean during the weekends with my friends. We stay in and watch movies together in our common room. Sometimes we'll cook our own dinner together, and sometimes we'll go out and about to Boston or Patriots Place. One of my favorite things to do is go to WaterFire in Providence, RI. I love the Student Activities Committee events too. We host off-campus trips, dances, hypnotists, comedians, movie nights, and so much more!" – Jackie, Student
FRANKLIN, MASSACHUSETTS
Dean College is situated perfectly near downtown Franklin, MA. Having stood as an integral part of the town's culture since 1865, Dean allows its students easy access to everything a college student needs to stay busy and entertained.
Only thirty miles from Boston, MA, and Providence, RI, the College is very close to a variety of activities around town, such as Wrentham Village Premium Outlets, Gillette Stadium, and Patriot Place, an enormous plaza full of endless venues for dining and shopping.
COMMUNITY SERVICE AND INVOLVEMENT
Giving back to the local community is an important part of being a Dean College Bulldog. Community engagement is just one way that Dean students can interact with faculty and staff outside of the classroom, all while enacting meaningful change to the community around them. By participating in service opportunities, students truly realize their ability to impact positively the lives of others.
The Office of Orientation & Community Service sponsors projects both on- and off-campus on a monthly basis, ensuring that there's always a way to serve someone in need. Such projects range from stocking shelves at the Franklin Food Pantry to volunteering at events throughout Franklin.
Dean College sponsors chapters of Best Buddies, Rotaract, and Dean Community Outreach (DCO), the College's student-run service group. By participating in these groups, students form lasting friendships with others who share their passion for service.
ATHLETICS
The Dean College bulldogs host intramural sports and house 16 athletic teams, having completed its exploratory membership in the NCAA Division III in 2017. 
Varsity sports for men: baseball, basketball, cross country, golf, football, lacrosse, soccer, and volleyball
Varsity sports for women: basketball, cross country, field hockey, golf, lacrosse, soccer, softball, and volleyball.
RESIDENTIAL LIFE
Housing at Dean is all about variety. With thirteen student housing options, students can choose to live in co-ed residence halls, all-male or all-female residence halls, condo houses, and suite-style housing. All students are guaranteed housing throughout their entire time at Dean. And, while all freshmen are automatically placed into residence facilities, sophomores, juniors, and seniors have the option to live on campus within their selection of housing. It is because of Dean's extraordinarily comfortable living spaces that 90% of students choose to live on campus.
Percent of students living on campus.
First-time, first-year (freshman) students: 90%
Undergraduates: 90%
Campus housing options.
Coed dorms
Apartments for single students
Special housing for disabled students
Special housing for international students
Theme housing
Wellness housing
Successful Outcomes
"The professors and environment at Dean inspired me to focus on my dreams and passions. Within one year of graduating, I doubled the amount of experience on my résumé and secured a job in my field of study." – Patrick, Student
Whether they leave with an associate degree or a bachelor's degree, Dean students leave campus with something much more valuable than a diploma. They leave with an extensive repertoire of important career skills and abilities. They leave with work experience, hands-on knowledge, and an educational pedigree that is highly attractive to employers.
"Dean College prepared me for my position as a development fellow at the American Conservatory Theatre (A.C.T.) in San Francisco. When I interviewed for this position, A.C.T. was extremely impressed with the classes that I took as an arts and entertainment management major. Thank you so much to Dean College for giving me the education and experience that provided me the opportunity to work for an amazing company like A.C.T and giving me the confidence to pursue my career." – Rachel, Student
INTERNSHIPS
Dean College's Office of Career Planning & Internships direct students closer toward their goals by offering many valuable services and resources that altogether clarify the career-building process. Dean students and alumni alike have access to hundreds of jobs and internship opportunities through DEAN CareerLink, the College's exclusive online career management database.
100% of Dean students are guaranteed access to internships that bulk their résumés and provide them with employable skills. Every student completes an internship at some point throughout the academic career, working with such companies as The Boston Ballet, New England Patriots, Ralph Lauren, and UMass Medical Center.
Through Dean's one-of-a-kind Center for Business, Entertainment, and Sports Management (The Center), students are given exclusive internship opportunities and job-shadowing days with multi-billion dollar companies such as Kraft Sports & Entertainment, The Pawtucket Red Sox, and The Providence Bruins.
"Dean has prepared me for my future career by giving me the necessary skills to be successful. Dean has helped me hone in on my strengths and to better develop my weaknesses in order for me to secure a job after I graduate. Through guidance of the staff and faculty at Dean, I completed an internship with the Disney College Program and, because of that, I now have a job working for Disney." – Greggorie, Student
ALUMNI
Not only does the College have the privilege of representing such a successful history of alumni, but every student also benefits from the connections they have through Dean's extensive alumni network. With such an impressive list of graduate schools and places of employment that have welcomed Dean alumni, students are just a quick contact away from professional connections in any line of work.
"The dance program at Dean College gave me the technique and performance training that I needed to land my job as a Dancer for Norwegian Cruise Lines. Because of my degree in dance, I feel confident as a performer, whether it's at an audition, rehearsals, or performing at sea." – Sammy, Student
96% of Dean's Bachelor's degree students are employed or enrolled in graduate school. Today, alumni represent the college in such businesses as:
New England Patriots Cheerleading Squad

Universal Creative

ESPN-TV

Fusionworks Dance Company

Boston Children's Theatre

NBC-10

Beth Israel Deaconess Hospital

TJX Corp

Tampa Bay Lightning

Universal Dance Association

Town of Milton

Liberty Mutual Insurance
Admission & Aid
Dean College is more than a great educational experience. It is an investment in one's personal and academic development towards their future success.
Admission
ADMISSIONS FACTORS
Very Important
Academic GPA
Important
Rigor of secondary school record | Application Essay
Extracurricular activities | Character/personal qualities
Considered
Class rank | Standardized test scores | Recommendation(s)
Interview | Talent/ability | Alumni/ae relation
Volunteer work | Work experience | Level of applicant's interest
TEST SCORES
Optional
FRESHMAN PROFILE
SAT Evidence-Based Reading and Writing
25th Percentile: 370 | 75th Percentile: 490
SAT Math
25th Percentile: 370 | 75th Percentile: 490
ACT Composite
25th Percentile: 16 | 75th Percentile: 21
Tuition & Cost
Tuition: $41,118
Fees: $200
Room: $11,146
Board: $6,502
Aid
Dean College works hard to get students the best college experience while still being affordable for students and families. In the last year, Dean provided over $22 million in merit and need-based financial aid.