Daemen University
Amherst, New York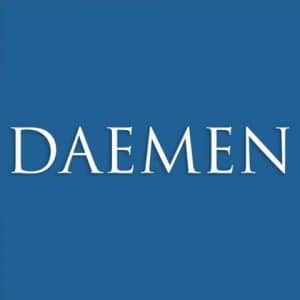 SHOW MORE
Daemen is a student-centered University with dedicated, highly qualified faculty who value personalized teaching and intellectual excellence. The university prepares students for successful careers by offering rigorous academic programs that develop the liberal arts-based skills necessary for lifelong learning and intellectual growth.
Daemen is a private, non-sectarian, co-educational comprehensive university. It was founded in 1947 as Rosary Hill College by the Sisters of St. Francis of Penance and Christian Charity. In 1976, the University became independent and non-sectarian.
Get to know Daemen University
1,723
Degree-Seeking Undergraduates
Full-time to Part-time Ratio
-
0%
1%
2%
3%
4%
5%
6%
7%
8%
9%
10%
11%
12%
13%
14%
15%
16%
17%
18%
19%
20%
21%
22%
23%
24%
25%
26%
27%
28%
29%
30%
31%
32%
33%
34%
35%
36%
37%
38%
39%
40%
41%
42%
43%
44%
45%
46%
47%
48%
49%
50%
51%
52%
53%
54%
55%
56%
57%
58%
59%
60%
61%
62%
63%
64%
65%
66%
67%
68%
69%
70%
71%
72%
73%
74%
75%
76%
77%
78%
79%
80%
81%
82%
83%
84%
85%
86%
87%
88%
89%
90%
91%
92%
93%
94%
95%
96%
97%
98%
99%
100%
Retention rate
12:1
Student/teacher ratio
$32,090
Full-time tuition cost
-
0%
1%
2%
3%
4%
5%
6%
7%
8%
9%
10%
11%
12%
13%
14%
15%
16%
17%
18%
19%
20%
21%
22%
23%
24%
25%
26%
27%
28%
29%
30%
31%
32%
33%
34%
35%
36%
37%
38%
39%
40%
41%
42%
43%
44%
45%
46%
47%
48%
49%
50%
51%
52%
53%
54%
55%
56%
57%
58%
59%
60%
61%
62%
63%
64%
65%
66%
67%
68%
69%
70%
71%
72%
73%
74%
75%
76%
77%
78%
79%
80%
81%
82%
83%
84%
85%
86%
87%
88%
89%
90%
91%
92%
93%
94%
95%
96%
97%
98%
99%
100%
6-year graduation rate
Rolling
Application deadline
-
0%
1%
2%
3%
4%
5%
6%
7%
8%
9%
10%
11%
12%
13%
14%
15%
16%
17%
18%
19%
20%
21%
22%
23%
24%
25%
26%
27%
28%
29%
30%
31%
32%
33%
34%
35%
36%
37%
38%
39%
40%
41%
42%
43%
44%
45%
46%
47%
48%
49%
50%
51%
52%
53%
54%
55%
56%
57%
58%
59%
60%
61%
62%
63%
64%
65%
66%
67%
68%
69%
70%
71%
72%
73%
74%
75%
76%
77%
78%
79%
80%
81%
82%
83%
84%
85%
86%
87%
88%
89%
90%
91%
92%
93%
94%
95%
96%
97%
98%
99%
100%
Acceptance rate
-
0%
1%
2%
3%
4%
5%
6%
7%
8%
9%
10%
11%
12%
13%
14%
15%
16%
17%
18%
19%
20%
21%
22%
23%
24%
25%
26%
27%
28%
29%
30%
31%
32%
33%
34%
35%
36%
37%
38%
39%
40%
41%
42%
43%
44%
45%
46%
47%
48%
49%
50%
51%
52%
53%
54%
55%
56%
57%
58%
59%
60%
61%
62%
63%
64%
65%
66%
67%
68%
69%
70%
71%
72%
73%
74%
75%
76%
77%
78%
79%
80%
81%
82%
83%
84%
85%
86%
87%
88%
89%
90%
91%
92%
93%
94%
95%
96%
97%
98%
99%
100%
Out-of-state students
-
0%
1%
2%
3%
4%
5%
6%
7%
8%
9%
10%
11%
12%
13%
14%
15%
16%
17%
18%
19%
20%
21%
22%
23%
24%
25%
26%
27%
28%
29%
30%
31%
32%
33%
34%
35%
36%
37%
38%
39%
40%
41%
42%
43%
44%
45%
46%
47%
48%
49%
50%
51%
52%
53%
54%
55%
56%
57%
58%
59%
60%
61%
62%
63%
64%
65%
66%
67%
68%
69%
70%
71%
72%
73%
74%
75%
76%
77%
78%
79%
80%
81%
82%
83%
84%
85%
86%
87%
88%
89%
90%
91%
92%
93%
94%
95%
96%
97%
98%
99%
100%
Full-time faculty w/ terminal degree
College Highlights
Engaged Students
Great Teaching
Vibrant Communities
Succesful Outcomes
Admission & Aid
Engaged Students
"Reaching the achievements on my list has proved to me that Daemen makes things happen. No goal, no dream, is too far out of reach. There are endless amounts of opportunities at your feet; all you have to do is pick them up." – Emily Buzzard, Social Work BASW/MSW
Daemen University fosters an academic atmosphere that leads to open inquiry and debate. Its distinctive Core Curriculum and high-quality majors enable students to push themselves further as they engage in high-level learning.
Academics at Daemen challenge students to test their knowledge, raise their expectations, and think critically and creatively. Daemen's core competencies, honors program, academic exchanges, global programs, and undergraduate research are just a few examples of what makes the university challenging and distinctive.
LEADERSHIP
Daemen University's LEADS Center serves as a clearinghouse for students who aspire to realize and develop their leadership skills. The LEADS program affords Daemen students the knowledge, skills, and experiences necessary to bring purpose, meaning, and integrity into their lives and the lives of others. It emphasizes lifelong learning through interdisciplinary programs that provide and encourage the development of the self, ultimately fostering inclusive, collaborative relationships. LEADS sponsors events and offers various sessions throughout the academic year.
SERVICE-LEARNING
Daemen believes in "learning through service," an ideology that virtually all undergraduate students embrace through various service-learning activities. Students from every major and class level participate in both short- and long-term projects that benefit communities at the local, national, and even global level. They make a huge impact through collaboration with environmental organizations, refugee groups, environmental agencies, nursing homes, hospitals and clinics, tutoring and mentoring programs in city schools, and more.
ACADEMIC FESTIVAL
Daemen University holds an annual Academic Festival in celebration of students' inspiring academic accomplishments. At this day-long event, many students showcase exciting findings from their research, whether it be from their own independent projects or from their senior-year capstone project.
STUDY ABROAD
In today's global economy, it makes sense to learn all one can about different cultures, political systems, and histories. International study is strongly encouraged, whether that be through a semester abroad, summer program, or the university's accelerated January term trips. Daemen's Global Programs office coordinates distinctive global opportunities in Europe, Asia, Latin America/Caribbean, and Africa, all of which are designed to facilitate students' professional aspirations.
Daemen University students are encouraged to take advantage of these unique opportunities. Through established partnerships and study abroad programs, students study while living with host families, discovering the intricacies of other cultures, and developing essential global skills and awareness.
CLASS SIZE
The number of sections of each class size.
2-9: 176 | 10-19: 177 | 20-29: 116
30-39: 35 | 40-49: 3 | 50-99: 0 | 100+: 0
ENROLLMENT BY ETHNICITY
Non-U.S. Citizen: 1%
Hispanic/Latinx: 6%
Black or African American, non-Hispanic: 10%
White, non-Hispanic: 75%
Native/Indigenous American or Alaska Native, non-Hispanic: 0%
Asian, non-Hispanic: 4%
Native Hawaiian or other Pacific Islander, non-Hispanic: 0%
Two or more races, non-Hispanic: 2%
Race and/or ethnicity unknown: 2%
Great Teaching
Daemen provides students with small classes and a caring and committed faculty, allowing for a personalized educational experience. Daemen students embrace an academically challenging atmosphere that truly encourages them to develop a strong repertoire of knowledge and skills. Assisted by a supportive faculty, Daemen students are encouraged to pursue goals beyond their initial expectations, to respond to academic challenges, and to develop habits of mind that enrich their lives and community.
"The staff and faculty know students on a first-name basis and create a personal relationship with them. Having small class sizes allows students to get one-on-one attention." – Matthew Fischer, Accounting/Professional Accountancy BS/MS
STUDENT CENTERED
Daemen's innovative Professional Pathway Program enhances the liberal arts degree with academic and experiential learning opportunities that are fully integrated into the individual curriculum with no additional time or cost. Through the Pathways, students focus on Core and free electives in an interdisciplinary series of courses that are all designed to prepare them for their future careers. They learn to apply their critical thinking, writing, and communication skills to real-world experiences.
CORE CURRICULUM
The core curriculum at Daemen University has an innovative approach to learning that enables students to develop seven essential skills and competencies that complement their majors. Upon graduation, students are expected to have mastered critical thinking and creative problem solving, information literacy, communication skills, affective awareness, moral and ethical discernment, contextual competency, and civic responsibility. 
LEARNING COMMUNITIES
Daemen introduces students to the university experience through freshman learning communities within the core curriculum. This format allows students to move through their first year of the core in smaller groups made up of students from different backgrounds with differing majors and extracurricular interests. In a learning community, students focus on a common topic, issue, or subject from the perspective of two or more disciplines, making for a broader, richer learning experience.
RESEARCH THINK TANK
The Student/Faculty Interdisciplinary Think Tank offers students the opportunity to work with faculty members on significant research projects. Students receive research scholarships and get acknowledged for their work through publications, showings, presentations, or other forms of public recognition. Many students who participate in research go on to present at national conferences, gaining valuable presentation skills and networking opportunities that provide preparation for graduate school and careers.
ACADEMIC SUPPORT
Daemen's Academic Advisement office offers students comprehensive support to meet their diverse academic needs. Each student is advised/mentored by a full-time faculty member or professional. Also offered is a peer mentoring program as well as an early alert system as a way to reach out to those whose class performance suggests that something in their lives is interfering with their academic performance.
Learning center services are available all throughout the academic year. All students at Daemen are able to get support from academic coaches, supplemental instruction, peer-led team learning, or disability services. Workshops, open to all, are offered each semester to provide tips on note taking, test preparation, test taking strategies, time management, and study skills.
HONORS PROGRAM
The university's Honors Program challenges students' minds and cultivates their potential to contribute both to the community and to the world at large. Students who have demonstrated excellence in learning can benefit from honors courses, which examine complex issues from multiple perspectives, use primary sources rather than textbooks, and present special opportunities for research and a variety of experience-based learning opportunities. Honors students oversee their own student organization, with activities including films, speakers, field trips, and community service projects.
THREE DEGREES IN FIVE YEARS
Health promotion, mathematics, modern language, political science, and social work majors have the opportunity to earn three degrees—two undergraduate and one graduate—in just five years. Depending on their sequence, students can earn a Master of Public Health (MPH) or Master of Social Work (MSW).
SPECIAL STUDY OPTIONS
Programs available at this institution.
Accelerated program
Cross-registration
Distance learning
Double major
Dual enrollment
Exchange student program (domestic)
Washington semester through the Washington Internship Institute
Honors Program
Independent study
Internships
Liberal arts/career combination
Student-designed major
Study abroad
Teacher certification program
Dual degree (BS/MS):
Professional Accountancy

Business Administration/International Business

Vibrant Communities
Daemen's suburban campus is located in Amherst, New York, which was rated by Money Magazine as one of the safest cities in the US. Daemen is just minutes away from the City of Buffalo, which is renowned for exceptional theatre, music, visual arts, restaurants, and major league sports. The city is in very close proximity to scenic Niagara Falls.
DISCOVER YOURSELF
Daemen knows there is more to being a student than just sitting in a classroom or studying at the library. Daemen believes that now is the time for students to discover exactly who they are as they become actively engaged in the campus community. Cultivating their hidden talents, taking new risks, and taking on new challenges for growth are all part of the Daemen experience. 
STUDENT HOUSING
Housing on the Daemen campus is provided in two distinct residential environments. Canavan Hall is a five-story, suite-style residence hall that typically houses first-year and transfer students. Campus Village, a complex of seven two-story, apartment-style buildings, provides housing for upper-division-status students. Trained residence life staff members are available to assist students with their social, academic, and personal needs. Resident students work with staff to plan and conduct activities designed to enhance cooperation and develop a sense of community in the residence halls.
STUDENT ACTIVITIES
Student activities provide for the development of the whole person outside of the classroom, making it easy to participate in recognized organizations, form new ones, and plan events. All students are encouraged to join in extracurricular activities, and with over 65 student organizations, the possibilities for involvement at Daemen are limitless. Whether one's interests are in art or skiing, there is bound to be something that grabs their interest and introduces them to students who share similar passions.
Daemen University offers a variety of varsity, intramural, and club sport opportunities. Student-athletes work hard to achieve success both on the field and in the classroom.
SCHOOL LOCATION
Daemen is located in a safe and attractive suburban setting with easy access to shops and restaurants. It happens to be near one of the most vibrant regions, spanning Buffalo-Niagara, the Great Lakes, and cross-border corridor with Ontario, Canada, which is less than a two-hour drive from cosmopolitan Toronto.
ATHLETICS
Daemen Athletics is an NCAA Division II member of the East Coast Conference. Wildcat Athletics sponsors 17 teams, including: men's and women's basketball, cross country, soccer, tennis, track & field (indoor & outdoor), volleyball, women's bowling, cheerleading, and triathlon. 
"My time in the Daemen Athletic Department has helped me grow in all aspects of my life. The support we receive academically, athletically, and personally is part of why all of the athletes are so successful both on and off the field. The whole department wants everyone to succeed and will provide the tools necessary to do so." – Jamie Boyar '20 (women's soccer)
As Western New York's Division II athletics program, Daemen Athletics is committed to building championship-caliber teams and providing recreation and intramural programs for all students. Scholarships are available.
RESIDENCE LIFE
Percent of students living on campus.
First-time, first-year (freshman) students: 57%
Undergraduates: 32%
Campus housing options.
Coed dorms
Women's dorms
Apartments for single students
Coed apartment-style residence halls
Handicap-accessible apartments
Honors housing
Succesful Outcomes
Daemen students are well prepared for professional success. The vast majority obtain a position of choice or admission to graduate study in less than a year after graduation. Equally important, Daemen's skills- and competencies-based approach prepares graduates for the careers that await them.
"Daemen mentors, nurtures, and allows each student to develop into the successful person they are meant to be and to contribute and give back to society in their own unique way." – Jacki Rizzo, supervisory customs and border protection officer for the U.S. Department of Homeland Security.
CAREER SERVICES
Career Services works with students to create Individual Career Action Plans (iCAP), helping them find internships to gain real-world experience in their areas of interest. Employers who are in contact with Career Services include those in business, the sports industry, the arts, government, health-related entities, nonprofits, educational institutions, and cultural organizations. The opportunities are local, national, or international, including such outstanding programs as the Washington Internship Institute.
PREPARE TO SUCCEED
Daemen prepares graduates to be informed citizens who can play productive roles in local and global communities as both effective participants and leaders. They make reasoned, ethical choices and consider the connection between their values and behavior. They can effectively access, evaluate, and apply relevant and valid information using a variety of information resources, and they have the writing and speaking skills necessary for effective communication. It's because of their firm foundation that Daemen graduates are ready for anything.
A SAMPLE OF DISTINGUISHED ALUMNI
CHADWICK HOPSON '10: Business Administration Graduate
Chadwick Hopson is an actor, writer, producer, and director. He is also a partner in The Knights Young, a production company in Los Angeles he co-founded in 2012.

The partners create, write, direct, and act in feature and short films.

One of their films, "How We Met," in which Hopson appears, was recently released on Amazon and won Best Film at the independent film festival, Dances with Films, in Hollywood. It garnered similar honors at the Roxbury International Film Festival in Boston.

Hopson's first major film role came after he auditioned for a role in the film "The Last Descent." The critically acclaimed film was released in 2016, showing at about 60 theaters across the country. Hopson received his Best Leading Actor Award for the role in 2017.
MARY ANN EPOSITO, '64: Creator of 11 Cookbooks and a Cooking Show on PBS
Ciao Italia! is the registered trademark of one of the University's most visible daughters, Mary Ann Saporito Esposito. Having graduated from Rosary Hill College in 1964, she had a strong desire to become a teacher with her degree in history and secondary education.

Forty years later, Mary Ann is still teaching, but in a venue far removed from her original version.

Ciao Italia! is seen on about 270 PBS stations across the U.S. and beyond. On June 2, 2013 a knighthood was bestowed upon Mary Ann Esposito by the President of the Republic of Italy under the title Cavaliere dell'Ordine della Stella d'Italia (Knight of the Order of the Star of Italy).

Despite her visibility—and despite her strenuous work and travel schedules that include at least two trips to Italy a year—Mary Ann hasn't her home in Depew, where she was the oldest of seven children. She also has strong memories of practice-teaching history in Buffalo's Seneca Vocational High School and, of course, her Rosary Hill experience.
THOMAS P. KOESTLER '75: Medical Research
Dr. Thomas P. Koestler's healthcare career has carried him to an executive position at Schering-Plough, one of the country's major pharmaceutical research institutes. His career accomplishments include 62 product approvals for drugs treating medical conditions from arthritis and Alzheimer's disease to hypertension, glaucoma, malaria, and transplant rejection. Dr. Koestler has authored or co-authored 22 scientific articles and abstracts; acquired clinical research experience in several divergent fields including rheumatology, oncology, and pulmonary cough/cold; and produced one patent.

At the Schering-Plough Research Institute, Dr. Koestler is executive vice president for global affairs and global project management, the responsibilities of which include strengthening links between global pharmaceutical business operations and the research institute as well as serving as an interface between the company and the U.S. Food and Drug Administration (FDA) and its counterpart in other countries such as Japan, and the European Medicine Evaluation Agency. Dr. Koestler joined the company in 2003.

Dr. Koestler is a self-proclaimed "true-Buffalonian," having grown up in Buffalo's Parkside/Hertel/Starin neighborhoods. He credits Daemen as having cemented his desire to pursue a career in health care.
MARYELLEN ELIA '70
MaryEllen Elia is the New York State Commissioner of Education as well as president of the University of the State of New York, where she oversees more than 700 school districts.

Elia is New York's first female Education Commissioner. As an educator, Elia has approximately 50 years of experience.

Elia was honored for her work nationally and was named Florida's Superintendent of the Year. She was presented the AASA Women in School Leadership Award from the School Superintendents Association. She was also a National Superintendent of the Year award finalist.

*Information credited to nysed.gov.
ANNIE STOLL '08: Art Director | Sony Music Entertainment/Arcade Creative | New York City, N.Y.
Stoll was the youngest graphic designer in more than 20 years to be nominated for a Grammy, which came for work she did for the group Geneseo.

Stoll received a 2017 Grand Clio for packaging design for the music on vinyl released with Amazon's fictional television series "Man in the High Castle." Last year, she was also a winner of a Stellar Award, which honors artists in the gospel music industry, for her design on a Gospel Package for singer Travis Greene.

Music fans may recognize Stoll's design talents on a wide range of CD and music packaging she has worked on. She contributed to the designs for such SONY-affiliated groups and artists as Pentatonix, David Gilmour, Superfruit, Lo Moon, Barbra Streisand, Adele, and Pearl Jam, to name just a few.

Fans of "Weird Al" Yankovic can see some more of Stoll's creative talents on the singer-satirist's recently released box set, "Squeeze Box."
Admission & Aid
Admission
ADMISSIONS FACTORS
Very Important
Rigor of secondary school record | Academic GPA
Standardized test scores | Application Essay
Important
Recommendation(s)
Considered
Class rank | Interview | Talent/ability | Character/personal qualities
Volunteer work | Work experience | Level of applicant's interest
FRESHMAN PROFILE
SAT Composite
25th Percentile: 1130 | 75th Percentile: 1260
SAT Evidence-Based Reading and Writing
25th Percentile: 560 | 75th Percentile: 630
SAT Math
25th Percentile: 550 | 75th Percentile: 658
ACT Composite
25th Percentile: 23 | 75th Percentile: 30
Tuition & Cost
Tuition: $32,090
Fees: $670
Room & Board: $13,210
Aid
Daemen doesn't want financial issues to keep any admitted student from attending. That's why it strives to create individualized financial aid packages designed to meet each student's needs and enable them to get the most out of their college education.
SCHOLARSHIPS
Generous merit scholarships based on academic and leadership achievement make Daemen affordable. 91% of full-time undergraduate students receive Daemen Merit Institutional Scholarships, which is determined by a student's academic and leadership achievement.
Prospective Daemen students are also able to compete for one of ten prestigious Trustee Scholarships during the university's annual Scholars Day. 
STUDENT EMPLOYMENT
In addition to traditional aid in the form of scholarships, grants, and loans, there are on-campus work opportunities for qualified students.
Work-study jobs include staffing the front desk in a residence hall, working in the president's and vice presidents' offices, and even serving coffee at 98 West cafe.
HELP ALONG THE WAY
Learning to navigate the financial aid system can be a daunting task. That's why Daemen has trained professionals on hand to assist anyone who needs help every step of the way. The admissions staff and financial aid officers are available to assist prospective students with the application process and ensure that they understand the necessary paperwork and deadlines required in order to receive the best financial aid package available.
Contact Daemen University
Campus Location
4380 Main Street
Amherst, NY 14226
(800) 462-7652