Concordia University Chicago
River Forest, Illinois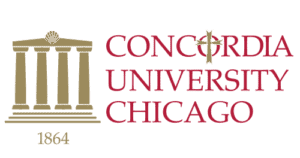 Founded in 1864 as a college for teachers, today Concordia University Chicago is a comprehensive liberal arts-based Christian university affiliated with The Lutheran Church—Missouri Synod. Through its College of Arts and Sciences, College of Business, College of Education, College of Graduate Studies, and College of Innovation and Professional Programs, CUC offers more than 140 areas of undergraduate and graduate study in small classes taught by professors who are passionate about teaching and student success. Students choose Concordia University Chicago to open up their world and be inspired throughout their collegiate career and beyond.
CUC is accredited by the Higher Learning Commission (HLC), the Council for the Accreditation of Educator Preparation (CAEP), and the National Association of Schools of Music (NASM).
Get to know Concordia University Chicago
1,368
Degree-Seeking Undergraduates
Full-time to Part-time Ratio
13:1
Student/teacher ratio
$33,944
Full-time tuition cost
Rolling
Application deadline
-
0%
1%
2%
3%
4%
5%
6%
7%
8%
9%
10%
11%
12%
13%
14%
15%
16%
17%
18%
19%
20%
21%
22%
23%
24%
25%
26%
27%
28%
29%
30%
31%
32%
33%
34%
35%
36%
37%
38%
39%
40%
41%
42%
43%
44%
45%
46%
47%
48%
49%
50%
51%
52%
53%
54%
55%
56%
57%
58%
59%
60%
61%
62%
63%
64%
65%
66%
67%
68%
69%
70%
71%
72%
73%
74%
75%
76%
77%
78%
79%
80%
81%
82%
83%
84%
85%
86%
87%
88%
89%
90%
91%
92%
93%
94%
95%
96%
97%
98%
99%
100%
Acceptance rate
-
0%
1%
2%
3%
4%
5%
6%
7%
8%
9%
10%
11%
12%
13%
14%
15%
16%
17%
18%
19%
20%
21%
22%
23%
24%
25%
26%
27%
28%
29%
30%
31%
32%
33%
34%
35%
36%
37%
38%
39%
40%
41%
42%
43%
44%
45%
46%
47%
48%
49%
50%
51%
52%
53%
54%
55%
56%
57%
58%
59%
60%
61%
62%
63%
64%
65%
66%
67%
68%
69%
70%
71%
72%
73%
74%
75%
76%
77%
78%
79%
80%
81%
82%
83%
84%
85%
86%
87%
88%
89%
90%
91%
92%
93%
94%
95%
96%
97%
98%
99%
100%
Out-of-state students
-
0%
1%
2%
3%
4%
5%
6%
7%
8%
9%
10%
11%
12%
13%
14%
15%
16%
17%
18%
19%
20%
21%
22%
23%
24%
25%
26%
27%
28%
29%
30%
31%
32%
33%
34%
35%
36%
37%
38%
39%
40%
41%
42%
43%
44%
45%
46%
47%
48%
49%
50%
51%
52%
53%
54%
55%
56%
57%
58%
59%
60%
61%
62%
63%
64%
65%
66%
67%
68%
69%
70%
71%
72%
73%
74%
75%
76%
77%
78%
79%
80%
81%
82%
83%
84%
85%
86%
87%
88%
89%
90%
91%
92%
93%
94%
95%
96%
97%
98%
99%
100%
Full-time faculty w/ terminal degree
Benefits
Student Activities
Student Activities
Campus Ministries
Choral groups
Concert band
Dance

Drama/theatre
International Student Organization
Literary magazine
Music ensembles
Musical theatre
Opera
Pep band
Radio station
Student government
Student newspaper
Symphony orchestra
Television station
SHOW MORE
High-Impact Practices
High-Impact Practices
First-Year Seminars and Experiences
Common Intellectual Experiences
Writing-Intensive Courses
Collaborative Assignments and Projects

Diversity/Global Learning
Service-Learning, Community-Based Learning
Internships/Coops/Practica
Capstone Courses and Projects/Senior Experience
SHOW MORE
SHOW MORE
College Highlights
Engaged Students
Great Teaching
Vibrant Communities
Successful Outcomes
Admission & Aid
Engaged Students
PROFESSORS WHO MENTOR AND GUIDE
Concordia–Chicago students find their path to career success. Professors provide personalized guidance and support as they help students identify career interests and master the knowledge and skills required to succeed in their chosen field. Through the First-Year Experience at CUC, incoming freshmen begin to develop personal connections with professors and other staff right from the start of their first semester.
"My faculty advisor connected me with internship opportunities available through the Associated Colleges of Illinois, and I was able to do a paid internship at the Nature Conservancy in downtown Chicago. Through the fieldwork, I gained experience hosting volunteer work at local nature areas like the Montrose Beach Dunes, while at the same time working side-by-side with a biologist and learning as I went along." – Ethan Driffill '18, biology major and sustainability minor, laboratory technician at Predictive Biotech, Salt Lake City, Utah
VARIED EXPERIENTIAL LEARNING ENVIRONMENTS
Students expand their opportunities through diverse experiences. They learn within a variety of dynamic, academic disciplines grounded in Christian faith. They learn by doing as they engage in service activities, internships, applied research, leadership, and off-campus opportunities throughout the world. And they learn in a community with students from various backgrounds and cultures from across the globe. Such experiences widen students' perspectives, versatility, and future prospects.
OPPORTUNITIES TO SERVE AND GROW
Concordia–Chicago students get an education for the whole person, with far-reaching impact. Rich in the Lutheran tradition of education, CUC provides an impactful experience that includes faith enrichment and guidance toward ethical lives of integrity. The spirit of community inspires students to meet the needs of the world in which they live, serve, and work.
CLASS SIZE
The number of sections of each class size.
2-9: 201 | 10-19: 193 | 20-29: 102
30-39: 14 | 40-49: 0 | 50-99: 0 | 100+: 0
ENROLLMENT BY ETHNICITY
Non-U.S. Citizen: 1%
Hispanic/Latinx: 34%
Black or African American, non-Hispanic: 13%
White, non-Hispanic: 44%
Native/Indigenous American or Alaska Native, non-Hispanic: 0%
Asian, non-Hispanic: 3%
Native Hawaiian or other Pacific Islander, non-Hispanic: 0%
Two or more races, non-Hispanic: 4%
Race and/or ethnicity unknown: 1%
Great Teaching
RIGOROUS ACADEMIC PROGRAMS
Concordia University Chicago specializes in combining 21st-century knowledge and skills development with opportunities for a values-based education focused on each individual. It's why CUC students thrive not only during their four years of college, but also far beyond for the entirety of their successful careers, vocations, and purposeful lives. Offering more than 70 areas of undergraduate study in the arts & sciences, business, and education, Concordia–Chicago effectively combines the benefits of experiential learning, personalized mentoring, and ethical leadership development.
SMALL CLASS SIZES
CUC faculty and staff are devoted to giving students individualized attention, creating a genuine and caring atmosphere where strong student-faculty relationships facilitate each student's learning and leadership development. With approximately 130 full-time faculty members, CUC provides the expertise and education that today's demanding careers require. 
"I love that classes are small at CUC, which allows professors to help students one-on-one. Professors make sure to include everyone, and we're encouraged to make decisions that are for the common good rather than just for ourselves. I also like CUC's suburban location. There are so many opportunities—including internships—in my chosen field in the Chicago area." – Cindy Guadarrama, psychology major, from Chicago
WORLD-CLASS OPPORTUNITIES IN CHICAGO
Inspired learning, whether in or out of the classroom, is a key component in connecting to students. Access to the amazing resources and culture of the cosmopolitan city of Chicago enables students to open up their world. Students have wide-ranging experiences as they learn alongside peers from various backgrounds and cultures from across the globe.
SPECIAL STUDY OPTIONS
Programs available at this institution.
Accelerated program
Cross-registration
Distance learning
Double major
Dual enrollment
Honors Program
Independent study
Internships
Student-designed major
Study abroad
Teacher certification program
Vibrant Communities
A LOCATION THAT'S THE BEST OF BOTH WORLDS
Concordia-Chicago's 40-acre suburban campus in upscale River Forest is like a small town with a big backyard, with easy access to the diverse resources of downtown Chicago and nearby suburbs. CUC is big enough to offer exceptionally diverse opportunities yet small enough to provide genuine access to those opportunities. Students also consider downtown Oak Park-River Forest an extension of campus. Within a few blocks, students have a variety of options to shop, see movies, sample food from around the world, or take part in cultural performances of art, music, and theatre.
"For me, CUC's location in suburban River Forest, Illinois, could not have been any better. It was far enough from the city to feel like home to me yet close enough to visit downtown Chicago any day. I loved the big city feel, even though it was quite foreign to me, and I liked being able to get out and attend concerts and other events." – Caleb Akers '17, president's honor scholar, director of Christian education major, youth and music director at St. Matthew Lutheran Church, Sonora, California
FAITH THAT ENGAGES
Concordia University Chicago's faith community reflects the Lutheran tradition with a welcoming of other Christian denominations as well. Within a Christian framework, students seek greater meaning in their spiritual and work lives—discovering ways to serve the greater good and mature in their faith. Growing in faith, students have opportunities to participate in a variety of service activities as well as daily chapel services, spiritual life campus ministries, and mission trips.
INSPIRING LEADERSHIP
CUC encourages all students to participate in extracurricular activities in order to develop leadership skills, form lifelong friendships, make a difference, and just have fun. With 11 musical groups, more than 45 student clubs and organizations, and 200 programs sponsored yearly through Residential Life, there is always something to do on campus.
Intercollegiate athletics provide students with opportunities to enhance their educational experience. With a commitment to overall well-being, sportsmanship, and best effort, the Athletics Department at CUC and its student-athletes bring pride and enthusiasm to the Concordia–Chicago community.
UNIQUE TRADITIONS
Student life at CUC is never dull with activities like these:
Fill (the Chapel), Grill, & Chill

Homecoming

Amazing Race: Chicago

Campus Christmas tree lighting

Lessons and Carols at Christmas

Spring Formal

Midnight breakfast during finals week
ATHLETICS
The Concordia-Chicago Cougars compete in NCAA Division III intercollegiate sports; Concordia University Chicago is a member of the Northern Athletics Collegiate Conference (NACC). CUC's mascot is Charlie T. Cougar, and the school colors are maroon and gold.
Men's and women's teams compete in 17 sports including baseball (men), basketball, cross country, football (men), lacrosse, softball (women), soccer, tennis, indoor and outdoor track and field, volleyball, and dance/cheer. Additionally, CUC offers countless intramural opportunities for students to enjoy.
RESIDENCE LIFE
Percent of students living on campus.
First-time, first-year (freshman) students: 57%
Undergraduates: 34%
Campus housing locations.
Coed dorms
Special housing for international students
Successful Outcomes
"As a student, I gained hands-on experience inside and outside of the classroom through student-led group projects like Relay for Life and my marketing internship with the Animal Care League in Oak Park. I was given a good foundation at CUC to be successful in joining the workforce." – Jacquie Boatman '10, marketing major and communication minor, communications coordinator for Kane County Cougars Baseball
SUPPORT SERVICES TO HELP STUDENTS SUCCEED
Concordia connects students to professors and academic support staff who are accessible and interested in student success throughout college and beyond. All around campus, students find mentors genuinely invested in their success. CUC students have access to the Office of Undergraduate Academic Advising, the Academic Center for Excellence, the Writing Center, the Office of Student Leadership and Involvement, the Schmieding Counseling Center, the Office of Multicultural Student Engagement, and more.
INTERNSHIPS AND CAREER SERVICES
CUC's Career Services staff serve students right at the beginning of their first year on campus, connecting them to major exploration exercises, career self-assessments, workshops, internship planning assistance, preparation for job interviews, support with résumé writing, and career planning. Students can even access the center's comprehensive online services 24/7.
The Chicago area is home to more than 30 Fortune 500 company headquarters that can connect students' education to real-world opportunities. Internships for unique hands-on learning are the highlights of many programs in business, education, healthcare, and much more. Recent internship sites include Allstate Insurance, CBS-2 News Chicago, the Chicago Fire (soccer), the Chicago Symphony Orchestra, Loyola University Medical Center, and Chicago's world-renowned Shedd Aquarium—just to name a few.
ALUMNI SUCCESS
Concordia University Chicago prepares students for success in their vocations, careers, and lives. That's why, at CUC, learning, faith, and leadership are interwoven. With that focus, CUC alumni make a difference locally, nationally, and globally.
Among the long list of education graduates are 19 CUC alumni in the teaching profession who have been recognized by the Golden Apple Foundation for outstanding teaching.
Approximately 90 percent of CUC's undergraduate students are employed or enrolled in graduate programs in their fields within six months of graduation. Employers of recent graduates include Advocate Fitness, Chase Bank, Chicago Public Schools, Hewlett-Packard, Lutheran World Relief, Lyric Opera of Chicago, The McCrone Group, Metropolitan Family Services, NFL Media, Northwestern Mutual, Schaumburg Boomers (baseball), Sogeti, State Farm, and Teach for America.
CUC alumni have been successful in gaining entrance to graduate schools around the nation, including The Chicago School of Professional Psychology, Columbia University School of Social Work, Concordia Seminaries, Loyola University Chicago, Michigan State University College of Law, and University of Illinois at Chicago Medical School, among many others.
Admission & Aid
Admission
ADMISSIONS FACTORS
Very important
Rigor of secondary school record | Academic GPA
Considered
Application Essay | Recommendation(s) | Interview
Extracurricular activities | Talent/ability | First Generation
Alumni/ae relation | Geographical residence | State residency
Religious affiliation/commitment | Volunteer work | Character/personal qualities
Work experience | Level of applicant's interest
TEST SCORES
Optional
FRESHMAN PROFILE
SAT Evidence-Based Reading and Writing
25th Percentile: 490 | 75th Percentile: 590
SAT Math
25th Percentile: 500 | 75th Percentile: 580
ACT Composite
25th Percentile: 17 | 75th Percentile: 25
ACT Math
25th Percentile: 17 | 75th Percentile: 25
ACT English
25th Percentile: 20 | 75th Percentile: 25
UNDERGRADUATE ADMISSION
Undergraduate admission applications for Concordia University Chicago are accepted on a rolling basis, with students receiving an admission decision within two weeks of receipt of all required documents. There is no application fee.
Each admission file is evaluated individually on a case-by-case basis. In general, CUC requires the following admission documentation for incoming freshmen:
Application for admission (CUC application or Common Application)

Official ACT or SAT test scores (minimum 20 ACT composite or 1020 SAT combined verbal and mathematics)

Official high school transcript (minimum 2.0 high school GPA)
Tuition & Cost
Tuition: $33,944
Fees: $1,020
Room: $6,550
Board: $4,212
Aid
CUC offers a high-quality education that is affordable, and the University offers generous financial assistance from the time students are admitted to the time they celebrate their graduation.
At Concordia–Chicago, 100 percent of full-time traditional undergraduate students receive financial aid, and every admitted freshman receives a merit scholarship provided by the University. Additional awards, including music scholarships, alumni grants, and church professional grants, are available. Up to five full-tuition scholarships are awarded each year to academically outstanding freshmen.
What Others are Saying
"At CUC, we are inspired to go above and beyond. After graduation, I want to be a teacher and a mentor for younger first-generation students. I want to be a role model for them because they might not feel like they can ask for help."
— Francisco Peralta, secondary education-English major and Spanish minor, Golden Apple Scholar, from Chicago
Contact Concordia University Chicago