Colorado Christian University
College of Undergraduate Studies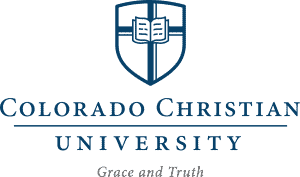 Colorado Christian University is the premier interdenominational Christian college in Colorado and the Rocky Mountain region. The mission of CCU is Christ-centered higher education transforming students to impact the world with grace and truth.
SHOW MORE
CCU's core curriculum is consistently ranked in the top two percent of colleges and universities across the country by the American Council of Trustees and Alumni. With over 100 majors, minors, and emphases to choose from, students integrate dynamic learning with rock-solid faith, grounded in a Biblical worldview. Courses and programs offer experiential learning opportunities, led by professors who are both teachers and mentors.
Located on the edge of the Rocky Mountains, just 10 miles west of downtown Denver, there's always something new to experience at CCU. All students live in apartment style residence halls and enjoy three-day weekends year round. Bi-weekly chapel and a wide range of service opportunities encourage spiritual formation on campus, and with nearly 30 clubs and organizations on campus, there's something for everyone. At CCU, students meet life-long friends, study, laugh, learn, are challenged, and grow together in Christ.
"What I adore about teaching at CCU is the ability to journey with students through ideas that matter so much to me. Whether teaching history, church history, philosophy, theology – these are all things that have transformed my life. Rather than leading from a distance, teaching at CCU is sharing my journey. I know my students, I know their stories, and as we share stories with one another, we partake together in relationship and discipleship. Discipleship matters to me as part of teaching and CCU really fosters an environment that allows me to disciple as I teach. As I teach, students often ask for mentors and we are able to partake together in discipleship. I'm grateful for the unique size of CCU that enables this." — Dr. Megan DeVore, Associate Professor of Church History and Early Christian Studies
Get to know Colorado Christian University
6,661
Degree-Seeking Undergraduates
Full-time to Part-time Ratio
-
0%
1%
2%
3%
4%
5%
6%
7%
8%
9%
10%
11%
12%
13%
14%
15%
16%
17%
18%
19%
20%
21%
22%
23%
24%
25%
26%
27%
28%
29%
30%
31%
32%
33%
34%
35%
36%
37%
38%
39%
40%
41%
42%
43%
44%
45%
46%
47%
48%
49%
50%
51%
52%
53%
54%
55%
56%
57%
58%
59%
60%
61%
62%
63%
64%
65%
66%
67%
68%
69%
70%
71%
72%
73%
74%
75%
76%
77%
78%
79%
80%
81%
82%
83%
84%
85%
86%
87%
88%
89%
90%
91%
92%
93%
94%
95%
96%
97%
98%
99%
100%
Retention rate
15:1
Student/teacher ratio
$34,250
Full-time tuition cost
-
0%
1%
2%
3%
4%
5%
6%
7%
8%
9%
10%
11%
12%
13%
14%
15%
16%
17%
18%
19%
20%
21%
22%
23%
24%
25%
26%
27%
28%
29%
30%
31%
32%
33%
34%
35%
36%
37%
38%
39%
40%
41%
42%
43%
44%
45%
46%
47%
48%
49%
50%
51%
52%
53%
54%
55%
56%
57%
58%
59%
60%
61%
62%
63%
64%
65%
66%
67%
68%
69%
70%
71%
72%
73%
74%
75%
76%
77%
78%
79%
80%
81%
82%
83%
84%
85%
86%
87%
88%
89%
90%
91%
92%
93%
94%
95%
96%
97%
98%
99%
100%
6-year graduation rate
Rolling
Application deadline
-
0%
1%
2%
3%
4%
5%
6%
7%
8%
9%
10%
11%
12%
13%
14%
15%
16%
17%
18%
19%
20%
21%
22%
23%
24%
25%
26%
27%
28%
29%
30%
31%
32%
33%
34%
35%
36%
37%
38%
39%
40%
41%
42%
43%
44%
45%
46%
47%
48%
49%
50%
51%
52%
53%
54%
55%
56%
57%
58%
59%
60%
61%
62%
63%
64%
65%
66%
67%
68%
69%
70%
71%
72%
73%
74%
75%
76%
77%
78%
79%
80%
81%
82%
83%
84%
85%
86%
87%
88%
89%
90%
91%
92%
93%
94%
95%
96%
97%
98%
99%
100%
Acceptance rate
-
0%
1%
2%
3%
4%
5%
6%
7%
8%
9%
10%
11%
12%
13%
14%
15%
16%
17%
18%
19%
20%
21%
22%
23%
24%
25%
26%
27%
28%
29%
30%
31%
32%
33%
34%
35%
36%
37%
38%
39%
40%
41%
42%
43%
44%
45%
46%
47%
48%
49%
50%
51%
52%
53%
54%
55%
56%
57%
58%
59%
60%
61%
62%
63%
64%
65%
66%
67%
68%
69%
70%
71%
72%
73%
74%
75%
76%
77%
78%
79%
80%
81%
82%
83%
84%
85%
86%
87%
88%
89%
90%
91%
92%
93%
94%
95%
96%
97%
98%
99%
100%
Out-of-state students
College Highlights
Engaged Students
Great Teaching
Vibrant Communities
Successful Outcomes
Admission & Aid
Engaged Students
COMMON FAITH EXPERIENCES
Spiritual formation is the core of Colorado Christian University. Chapel services are held twice each week and serve to orient hearts and minds around the Lord. Students are placed in discipleship groups freshman year, meeting weekly for encouragement, accountability, and support. Men's and women's campus ministries coordinate focused programming to encourage and provide intentional community. Life is lived together, and students are united by a common commitment to Christ.
"I chose CCU because the school offered abundant opportunities for me academically and athletically. I was very excited to be able to incorporate my faith into my education. I heard about CCU through the men's soccer program, which I joined in the fall of 2017. Living in Colorado was very appealing as well. I have seen a great deal of growth in myself while at CCU. I have learned a lot about God, people, music, and life, and I've been really challenged and uplifted by all of the faculty and staff that I've interacted with." — Keenan Garnett, Music Major, Class of 2021, from Hesperia, California
DIVERSITY/GLOBAL LEARNING
Colorado Christian University encourages students to experience other cultures and expand their academic experience by participating in study abroad programs and other off-campus opportunities. The university's study abroad and Best Semester programs provide students with more than a dozen Christian-based academic opportunities in countries such as Australia, China, England, and Uganda. There are also opportunities to participate in off-campus study programs within the U.S., including the American Studies Program in Washington, D.C.; the Film Studies Center in Los Angeles, CA; and the Contemporary Music Center in Nashville, TN.
"What I love the most about CCU is the student body. This the most academically and spiritually engaged student body I have ever experienced and students eagerly seek out mentorship by professors. I meet with students regularly for lunch or coffee and have been so blessed by these relationships." — Professor Heather Day, Associate Professor of Communication
SERVICE LEARNING
At Colorado Christian University, educational experiences reach beyond the classroom and into the community. All traditional undergraduate students are required to complete 180 hours of service (ministry hours) upon graduation. CCU believes service is an opportunity to shape students into well-rounded, holistic individuals, equipped for Christian leadership, trained with the skills needed for a meaningful career, and ready to actively engage in the world.
"I chose CCU because it inspires spiritual growth in and outside of the classroom. It cultivates a community that will outlast your years here. I wanted a university that would not only foster my faith, but challenge me spiritually and academically and CCU fit exactly that! CCU has allowed me to grow in incredible ways academically, spiritually, and athletically. I have had the opportunity to find a community of believers to push me to new heights and encourage me like I never have been before. I also have had the privilege to run track and I don't know where I would be without my team or coaches." — Rachel Lucas, Communication Major, Class of 2022, from Lakewood, Colorado
ENROLLMENT BY ETHNICITY
Non-U.S. Citizen: 0%
Hispanic/Latinx: 15%
Black or African American, non-Hispanic: 11%
White, non-Hispanic: 65%
Native/Indigenous American or Alaska Native, non-Hispanic: 1%
Asian, non-Hispanic: 3%
Native Hawaiian or other Pacific Islander, non-Hispanic: 0%
Two or more races, non-Hispanic: 3%
Race and/or ethnicity unknown: 3%
Great Teaching
FIRST-YEAR SEMINARS AND EXPERIENCES
The First-Year Integration (FYI) program is a required course for all first-time freshmen. CCU's unique approach to the First-Year Integration program encourages students to explore their spiritual gifts, individual strengths, and their own personal mission statements. FYI classes enable students to develop lifelong, personal connections and mentorships with their instructors.
"I chose CCU because I value the integration of faith and learning and I want to be able to further my math skills in order to advance God's kingdom. I think that the engineering program is a great opportunity to do this and learn how to help people through the tool of math and engineering. I have loved my CCU experience! I was a D-group leader my sophomore year and I am currently an RA of upperclassmen girls. The community has always been a special part of CCU and I have loved being able to see how much growth happens in college and being able to encourage that in different leadership positions on campus. I hope to get real-world engineering experience after college and be able to apply my knowledge to real life problems. Last summer I worked as a space intern at Lockheed Martin and I hope to continue that experience and then eventually be able to teach secondary education math classes." — Kira Pahlau – Engineering Major – Class of 2021 – from Centennial, Colorado
LIFE DIRECTIONS CENTER
In addition to FYI, students at CCU benefit from a unique academic advising model through CCU's Life Directions Center (LDC). Through the LDC, students are assigned advisors who meet with them through their entire CCU experience. One of the key roles of an LDC Advisor is to assist students through the process of making well-informed, Christ-centered decisions for their majors and future careers. LDC Advisors help students explore their individual abilities and purpose. CCU believes that students have unique, God-given purposes that take time and patience to develop. At other colleges and universities, changing majors also means changing advisors, but at CCU, advisor relationships stay intact as students process program changes.
"One of the most important things we do is to help show them that a true and deep faith is one you've thought about and investigated and questioned. It is good to know more and not just accept blindly. It's good to work through what you believe and why you believe it. This ties into our strategic priorities as a university. We teach students to trust the Bible and to honor Christ, but also to think critically. We ask them, "Why do you believe that?" and "How do you integrate what you've accepted with what you know?" We help students integrate faith and learning, deepen their relationship with Christ and understanding of their faith, and integrate this into everything they do." — Dr. Mark Parker, Dean and Professor of Biology
ANNUAL SYMPOSIUM
Each year, CCU students break from their traditional class schedules for a two-day symposium on topics that impact CCU's core values: faith, family, and freedom. During the event, nationally known experts challenge the CCU community to help restore values in topics ranging from civil liberties, compassion for the poor, the free-market system, apologetics, and religious freedom.
"My background in film and television helps me bring practical application into the classroom. I try to always incorporate my classes into what I'm doing in the field. When I'm scoring the music for a symphony, I involve students in my scoring and arranging class. My music production and engineering students worked with me on a film last year where I wrote the music and then had them mix it with me. I incorporate my professional career into the classroom so that students are getting real world credits and gaining confidence that they can actually get a job in the industry." — Charles Denler, Director and Assistant Professor of Composition and Music Production and Engineering
SPECIAL STUDY OPTIONS
Double major
Dual enrollment
Honors Program
Independent study
Internships
Liberal arts/career combination
Student-designed major
Study abroad
Teacher certification program
Vibrant Communities
CLUBS AND ORGANIZATIONS
At CCU, there are tons of ways to get involved! There is a club for just about everything, from swing dancing to multicultural diversity to student senate. CCU's campus activities board plans traditional campus events, dances, concerts, cooking classes, and more. Intramurals are student run and available to all students of all skill levels. CCU's Best of Colorado program also offers recreational trips to help students explore Colorado's great outdoors. Excursions include white water rafting, urban cycling, horseback riding, camping, and more. These trips offer all students the chance to experience faith through adventure, fellowship, and unique outdoor experiences.
"My time at CCU has been such a blessing as I have met the most incredible people who love me so well, and share the light of the Lord in remarkable ways. The transition from high school to college was hard at first, but definitely the challenge I needed in order to grow. Through participation in campus organizations I have been able to use my creative ability, become more confident, and been more involved with the CCU community." — Cameron Koutney – Psychology Major – Class of 2021 – from Dallas, Texas
STUDENT DISCIPLESHIP
Discipleship groups (D-Groups) at CCU offer freshmen the chance to get to know other students on a deep spiritual level. D-Groups offer consistent communities for encouragement, accountability, and support. They are also safe places to ask questions in small group settings, share prayer requests, and become actively engaged in their peers' spiritual lives. Ultimately, each group's focus is to grow closer to Jesus while also growing closer to one another in authentic relationships.
SPIRITUAL FORMATION
CCU uses the term 'spiritual formation' to refer to everything students and staff do both in and out of the classroom. The student body reflects the heart of Christ's message and explores controversial questions. Ultimately, their goal is to live right in character, community, and calling. Through discipleship, mentorship, and weekly worship, CCU helps students develop confident, authentic faiths that shape every part of their lives.
MISSIONS AND MINISTRY
CCU students show their faith by their deeds. In the last 15 years, the CCU2theWorld missions program has sent over 200 short-term mission teams to more than 50 countries and 12 U.S. states. Through this program, students serve in relational evangelism, work projects, teaching, sports outreach, and more. Each trip has its own mission, and each team has its own character. CCU's overseas mission trips are all student-led and staff-advised, allowing students the opportunity to start making significant differences in the world even while they are still in college.
"I chose CCU because of the incredible spiritual community, strong academics, and vibrant campus life. The dedication of the faculty to invest in students and the school's genuine interest in worship and discipleship is what drew me here. I knew several CCU alumni who had a great experience and my high school, Faith Christian Academy, has a partnership with the University.I am a part of the Augustine Honors Program, which has been an amazing and impactful experience. Living on campus is a blast and the personal relationships I have made with students and faculty have been foundational. Playing intramurals is one of my favorite pastimes and being a D-group leader with campus ministries has been fantastic.The best part of life at CCU is that in addition to providing a great education, the school invests in you as a person. Not everything in college is easy, but those around me have always made it clear that I belong and have given me grace and support in the tough seasons." — Marsella Evans – English Major – Class of 2022 – from Westminster, Colorado
SCHOOL LOCATION
Colorado Christian University is located in Lakewood, Colorado—a suburb that sits on the edge of the Rocky Mountains, just 10 miles west of downtown Denver. Because of our unique location, CCU offers the best of both worlds and an exciting Colorado lifestyle.
ATHLETICS
Colorado Christian University is an NCAA Division II college in the Rocky Mountain Athletic Conference (RMAC), one of the largest and most competitive conferences in the nation.
RESIDENCE LIFE
First-time, first-year (freshman) students: 100% living on campus
Undergraduates: 68% living on campus
CAMPUS HOUSING
Men's dorms
Women's dorms
Apartments for married students
Apartments for single students
Special housing for disabled students
Theme housing
Successful Outcomes
"Attending CCU required me to take my faith seriously in all aspects. I learned that regardless of our job title, we are called to full-time ministry, whether that be in a church, executive office, or a laboratory." — Cole Mellott – Accounting and Business Administration – Class of 2018
EMPLOYMENT MANAGEMENT SERVICES
The Employment Management Services (EMS) program at CCU partners with hundreds of highly selective employers to place exceptional CCU students in paid positions both during college and upon graduation. Through EMS, students develop competitive resumes, practice interview skills, and meet with potential employers. EMS enables students to gain general work experience in areas of interest so that they may deepen their degree programs and obtain employment immediately after graduation.
"From studying the works of Locke and Montesquieu to authoring studies on interpersonal communication, my time at CCU gave me the tools I needed to succeed at law school and beyond." — Tony Black – Politics – Class of 2014

"One of the most valuable lessons of my education from CCU was an understanding of the foundational bedrock and high view of Scripture. It's impossible to overstate how significant this has been for me, as a Christian, and as a pastor. I am forever grateful for that." — David Anderson – Communication – Class of 2002
LIFELONG VALUES
Colorado Christian University prepares graduates who think critically and creatively, lead with high ethical and professional standards, embody the character and compassion of Jesus Christ, and thereby are prepared to impact the world. When our graduates leave the CCU community, that's just the beginning of the next step of their journey. CCU students have been accepted to many prestigious graduate schools across the United States and around the world — places like Columbia University, the University of Denver, Duke University, the University of Edinburgh, Johns Hopkins University, Northwestern University, the University of Notre Dame, Oxford Brookes University, Princeton University, University of Wales, Yale University, and more. CCU graduates are lifelong learners who are able to think for themselves with wisdom, skill, and the ability to thoughtfully interact with the world. They are leaders in the arts, business, the church, education, government, health care, and social services.
"My time at CCU ignited a passion for promoting human flourishing and engaging with the dynamic imago Dei reflected by cultures around the world. The interdisciplinary nature of my academic programs prepared me to work within diverse historic, cultural, and politico-economic realities." — Gillian Wilkinson – Global Studies – Class of 2014
Admission & Aid
Admissions
Applicants to CCU's College of Undergraduate Studies are evaluated on the basis of previous academic achievement (including grade point average and standardized test scores), personal and professional goals, integrity, and Christian character. Applicants must be committed followers of Jesus Christ and exemplify a vital Christian pursuit and a strong desire to participate in a Christ-centered, biblically-based community of scholarship and holy living. Students who are admitted to the College of Undergraduate Studies must also agree to sign the Student Lifestyle Covenant and abide by all University policies in the Student Handbook.
Application closing date (fall): August 15th
Priority date: December 6th
PREFERRED ADMISSION
High school seniors who identify CCU as one of their top college choices should consider the Preferred Admission Program. Preferred Admission is granted to students who are admitted and have submitted a tuition deposit to the University by the first week of December each year. Students who submit their deposit before the deadline automatically qualify for a $1,000 per year scholarship and a $2,000 per year scholarship if you live in Colorado. The general priority application deadline for admission, financial aid, and scholarship consideration is April 1 for the fall semester. Students interested in receiving federal and/or institutional financial aid must submit the Free Application for Federal Student Aid (FAFSA). At CCU, 99% of admitted students qualified for some form of financial aid assistance.
"I chose CCU because it was clear from the beginning that God was working on this campus. From the friends I stayed with during my senior year of high school, to meeting the faculty in the school of science and engineering, I felt at home immediately. I have absolutely loved my experience. My last year has been the best year of my life. It's transformed me academically, spiritually, and personally, and it's taught me how to be a worshipper in every aspect of my life." — Gavin Seffens – Pre-Med Major – Class of 2022 – from Colorado Springs, Colorado
ADMISSIONS FACTORS
Very Important
Academic GPA | Application Essay | Recommendation(s)
Character/personal qualities | Religious affiliation/commitment
Important
Level of applicant's interest
Considered
Rigor of secondary school record | Class rank
Interview | First generation | Alumni/ae relation
Tuition & Cost
Tuition: $34,250
Fees: $500
Room: $6,122
Board: $5,518
What Others are Saying
"God called me to CCU. I had already committed to a different school and didn't feel at peace about that choice. I leaned on the Lord and it became abundantly clear CCU was where I was meant to be! My experience at CCU has been amazing. I have met incredible people, formed close relationships with my professors, and gained independence. CCU has influenced my spiritual growth in more areas of my life than I thought possible."
— Lindsay Prose - Accounting Major - Class of 2022 - from Colorado Springs, Colorado
Contact Colorado Christian University