College of Mount Saint Vincent
Riverdale, New York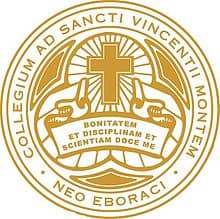 The College of Mount Saint Vincent seeks to engage the development of the whole person. Every field of study emphasizes analytical skills; critical thinking; clear communication; and moral and religious thought—essentials for success in every profession. The Mount offers over 70 nationally recognized degree programs and course offerings, including majors and minors in the sciences and mathematics, humanities and the arts, social sciences, accounting, business, communication, education, and nursing, among others. The College has more than 1,800 undergraduate and graduate students who come from 28 states and 9 countries. Faculty have excellent academic credentials and share a passion for teaching and engaging their students. And because they teach small classes, they are able to give their students personalized attention and hands-on learning experiences.
SHOW MORE
With over 40 on-campus clubs, 15 intercollegiate athletic teams, cultural and social events, and countless service and leadership opportunities, students are always exploring their passions outside the classroom. They happily take advantage of their home in New York City, an invaluable resource home to prestigious institutions and world-class businesses. The Mount hosts an incredible campus atmosphere, which includes rolling hills that overlook the Hudson River, historic sites, classic architecture, and modern buildings.

The College challenges students to master their full potential as creative, disciplined thinkers and problem solvers. Students explore unfamiliar ideas, develop new passions, and become a part of an academic community supportive enough to make success a reality. A Mount education prepares students for a life well lived.
Get to know College of Mount Saint Vincent
2,257
Degree-Seeking Undergraduates
Full-time to Part-time Ratio
-
0%
1%
2%
3%
4%
5%
6%
7%
8%
9%
10%
11%
12%
13%
14%
15%
16%
17%
18%
19%
20%
21%
22%
23%
24%
25%
26%
27%
28%
29%
30%
31%
32%
33%
34%
35%
36%
37%
38%
39%
40%
41%
42%
43%
44%
45%
46%
47%
48%
49%
50%
51%
52%
53%
54%
55%
56%
57%
58%
59%
60%
61%
62%
63%
64%
65%
66%
67%
68%
69%
70%
71%
72%
73%
74%
75%
76%
77%
78%
79%
80%
81%
82%
83%
84%
85%
86%
87%
88%
89%
90%
91%
92%
93%
94%
95%
96%
97%
98%
99%
100%
Retention rate
14:1
Student/teacher ratio
$39,500
Full-time tuition cost
-
0%
1%
2%
3%
4%
5%
6%
7%
8%
9%
10%
11%
12%
13%
14%
15%
16%
17%
18%
19%
20%
21%
22%
23%
24%
25%
26%
27%
28%
29%
30%
31%
32%
33%
34%
35%
36%
37%
38%
39%
40%
41%
42%
43%
44%
45%
46%
47%
48%
49%
50%
51%
52%
53%
54%
55%
56%
57%
58%
59%
60%
61%
62%
63%
64%
65%
66%
67%
68%
69%
70%
71%
72%
73%
74%
75%
76%
77%
78%
79%
80%
81%
82%
83%
84%
85%
86%
87%
88%
89%
90%
91%
92%
93%
94%
95%
96%
97%
98%
99%
100%
6-year graduation rate
-
0%
1%
2%
3%
4%
5%
6%
7%
8%
9%
10%
11%
12%
13%
14%
15%
16%
17%
18%
19%
20%
21%
22%
23%
24%
25%
26%
27%
28%
29%
30%
31%
32%
33%
34%
35%
36%
37%
38%
39%
40%
41%
42%
43%
44%
45%
46%
47%
48%
49%
50%
51%
52%
53%
54%
55%
56%
57%
58%
59%
60%
61%
62%
63%
64%
65%
66%
67%
68%
69%
70%
71%
72%
73%
74%
75%
76%
77%
78%
79%
80%
81%
82%
83%
84%
85%
86%
87%
88%
89%
90%
91%
92%
93%
94%
95%
96%
97%
98%
99%
100%
Acceptance rate
-
0%
1%
2%
3%
4%
5%
6%
7%
8%
9%
10%
11%
12%
13%
14%
15%
16%
17%
18%
19%
20%
21%
22%
23%
24%
25%
26%
27%
28%
29%
30%
31%
32%
33%
34%
35%
36%
37%
38%
39%
40%
41%
42%
43%
44%
45%
46%
47%
48%
49%
50%
51%
52%
53%
54%
55%
56%
57%
58%
59%
60%
61%
62%
63%
64%
65%
66%
67%
68%
69%
70%
71%
72%
73%
74%
75%
76%
77%
78%
79%
80%
81%
82%
83%
84%
85%
86%
87%
88%
89%
90%
91%
92%
93%
94%
95%
96%
97%
98%
99%
100%
Out-of-state students
College Highlights
Engaged Students
Great Teaching
Vibrant Communities
Successful Outcomes
Admission & Aid
Engaged Students
"The Mount offers a lot of opportunities for students to unleash their energies and skills. I like to think that Mount students don't wait for things to happen—they make things happen." – Teresita Ramirez, Associate Professor of Business and Economics
SETON SERVICE AND LEADERSHIP PROGRAM
The Seton Service and Leadership Program welcomes Mount students to join a like-minded community of peers who serve together while fostering important leadership skills. Students of all backgrounds find commonality in service as they engage in frequent spiritual and faith-based reflection. It's in helping others that they begin to understand themselves and answer life's biggest questions.
OXLEY CAREER EDUCATION PROGRAM
The Oxley Career Education Program begins on a student's first day at the Mount and continues through graduation. In addition to a faculty advisor, students are also assigned professional advisors to help navigate different future-building opportunities, including top internships, study abroad programs, and national conferences and fellowships.
CENTER FOR UNDERGRADUATE RESEARCH
Through the Center for Undergraduate Research, students produce original work to present at both national and international conferences. Research experiences allow participants to develop a range of skills, encouraging them to develop an expertise in an area of study as they prepare for future employment.
STUDY ABROAD
The Mount provides students the opportunity to study abroad in more than 40 different locations around the world. International study is a sure-fire way to broaden both cultural and intellectual horizons while deepening one's perspective on their home and the world. Through a variety of semester-long and short-term programs, Mount students enrich their academic studies, expand their perspectives, gain valuable work skills, and build intercultural competence.
ENROLLMENT BY ETHNICITY
Non-U.S. Citizen: 1%
Hispanic/Latinx: 34%
Black or African American, non-Hispanic: 16%
White, non-Hispanic: 26%
Native/Indigenous American or Alaska Native, non-Hispanic: 0%
Asian, non-Hispanic: 6%
Native Hawaiian or other Pacific Islander, non-Hispanic: 0%
Two or more races, non-Hispanic: 3%
Race and/or ethnicity unknown: 15%
Great Teaching
FIRST-YEAR EXPERIENCE
Paired with a faculty advisor, freshmen enjoy an introduction to college life through the Mount's First-Year Experience (FYE), which comfortably exposes first-year students to college life, academic expectations, and their available support systems. Students are encouraged to immerse themselves in clubs and organizations, develop positive work habits, integrate career education, coordinate service projects, and develop strong relationships.

MOUNT MENTORS
The College connects accomplished industry leaders with academically outstanding students through the Mount Mentors program. Providing students the opportunity to refine their professional skills and valuable networking resources, this program helps develop lasting relationships while emphasizing the transferability of skills outside the classroom.
"Aside from all the opportunities this school offers, the faculty and staff take a personal interest in each student, and that gives us the confidence that we can do anything." –  Anthony Langone, Class of 2013
FISHLINGER CENTER FOR PUBLIC POLICY RESEARCH
The Fishlinger Center for Public Policy Research allows students, faculty, and other members of the academic community to conduct comprehensive studies and analyze public opinion on key policy concerns. Through independent and objective research, scholars in the Fishlinger Center illustrates enhance the relationship between the work of the College and the common good.
Vibrant Communities
Numerous programs and activities promote student learning, encourage a sense of community, and provide opportunities for personal development at the College of Mount Saint Vincent.
FEATURED EVENTS AND SPEAKERS
The College often hosts lectures, conferences, and other cultural events that integrate city culture into life on campus. Manhattan attracts internationally acclaimed writers, business leaders, politicians, artists, and musicians, many of whom visit the Mount. In recent years, a range of influential industry leaders have spoken on campus, including Frank Bruni, Author and Op-Ed Columnist for The New York Times; Gabriela Isler, former Miss Universe; Bill Clinton, the 42nd President of the United States; and Benigno Aquino, former President of the Philippines.
The College's ParaMount Perspectives speaker series invites various artists, business executives, doctors, scientific researchers, and other prominent leaders bring their experience directly into the Mount's classrooms, allowing students to expand their industry knowledge and career insights.
Each semester, various academic departments also host panels and roundtable discussions. Recent presentations include a screening of Mount sociology professors' award-winning documentary, Don't Think I've Forgotten: Cambodia's Lost Rock and Roll; "Forgive But Never Forget: Justice, Reconciliation, and the Holocaust," a presentation featuring two Holocaust survivors; and a forum commemorating the 30th Anniversary of the EDSA People Power Revolution.
The College also hosts the annual Margaret F. Grace Lecture, a panel presentation that explores social justice, themes inherent to the spirit and tradition of Vincent de Paul and Elizabeth Ann Seton.
STUDENT ACTIVITIES
Mount students immerse themselves in a diverse and supportive community that changes the way they think and helps them realize what matters most. The Office of Student Activities, Leadership, and Commuter Life plans numerous extracurricular events, trips, and activities. What's more, their programming gets discounted rates for tickets to Broadway shows, games, and concerts. Student Activities offers more than 40 different clubs and organizations, covering such interests as community service, journalism, acting, creative writing, dance, art, cultural awareness, sports management, athletics, film and TV production, history, business, finance, and environmentalism, among many others.
In addition to the Mount's various clubs and organizations, students are encouraged the join the Student Government Association (SGA). SGA is a body of full-time undergraduate and graduate students who work together and become involved in the governance of the College.
The Office of Student Activities, Leadership, and Commuter Life also hosts annual concerts during Springfest—an outdoor festival held on campus at the end of the Spring semester with games, rides, and a BBQ. The Mount has welcomed performances from Gym Class Heroes, Trey Songz, Waka Flocka, and DJ 3LAU.
"That's the thing about the Mount—whether you want to join a varsity team or a club, everyone here has an opportunity to be part of something." –  Sarah Colletti, Class of 2013
OUTSIDE THE CLASSROOM
Mount students expand their perspectives through the richness of New York City with the support of a close-knit academic community.
Students are just minutes away from the best the City has to offer. From its academic, cultural, and professional institutions to its history and the dynamics of its diverse population, New York offers countless and unparalleled ways to enrich an education.
The College's curriculum utilizes the city's resources, allowing students to gain practical experience and apply theory in professional settings. For example, accounting, business, and economics students visit the floor of the New York Stock Exchange; visual arts students complete outdoor photography tours throughout Manhattan and Brooklyn; and biology students conduct ecological studies in the Hudson River and Van Cortlandt Park in the Bronx. Professors also encourage and host trips to galleries, scholarly collections, and museums, including the Metropolitan Museum of Art, the American Museum of Natural History, and the Whitney Museum of American Art.
SERVICE
Service is not just an extracurricular activity at the College of Mount Saint Vincent; it's an essential component of the College's mission as well as the charism of its founders, the Sisters of Charity of New York. Opportunities to serve can be found across the campus and throughout the curriculum.
Mount students' commitment to service is impressive—they volunteer over 10,000 hours annually. The Mount partners with local service agencies and supports some of the most disadvantaged populations across New York City. Groups of students also travel across the United States, as well as internationally, to give back to those in need through Mission and Ministry trips.
Many Mount clubs also support an array of community service initiatives, including A Moment of Magic Foundation and Be You Stay True. A Moment of Magic Foundation is a student-led, 501(c)(3) nonprofit that invites volunteers to dress as popular characters and visit children in need—in hospitals, schools, camps, and social services agencies—throughout New York and beyond. The Be You Stay True hosts a free annual basketball camp each summer as well as numerous skills competitions throughout the year in partnership with the Jr. NBA.
SCHOOL LOCATION
Mount Saint Vincent is located on a scenic 70-acre campus along the Hudson River in the Riverdale neighborhood of New York City. With access to local and express MTA buses, the Metro-North Hudson Line, and the 1 train at Van Cortlandt Park-242 Street, the Mount is just minutes away from the Empire State Building, the Statue of Liberty, Times Square, the Metropolitan Museum of Art, Yankee Stadium, Madison Square Garden, Wall Street, the United Nations, and much more.
ATHLETICS
The Department of Athletics and Recreation is committed to reflecting the values of excellence and achievement to which the College aspires.
The Mount is a Skyline Conference participant and an NCAA Division III affiliate that offers 15 varsity sports as well as a variety of intramural and club sports that are open to all members of the student body. On-campus athletic facilities include an NCAA regulation field, performance gym, auxiliary gym, dance studios, and a state-of-the-art fitness center located in the Peter Jay Sharp Athletic and Recreation Center.
Men's: Baseball, Basketball, Cross Country, Golf, Lacrosse, Soccer, Volleyball, Wrestling
Women's: Basketball, Cross Country, Golf, Lacrosse, Soccer, Softball, Volleyball
Intramural and Club Sports: Basketball, Boxing, Dodgeball, Flag Football, Indoor Soccer, Ultimate Frisbee, Volleyball, Women's Wrestling
Mascot: Vinny the Dolphin
Colors: White and Gold
Successful Outcomes
"I am proud of having accomplished so much. I could not have done it without the help and support of my professors at the Mount." – Kevin Garlan, Class of 2010
OPPORTUNITY FOR ALL
Mount Pathways give promising students the opportunity to maximize their potential through different programs. The Arthur O. Eve Higher Education Opportunity Program (HEOP) allows eligible New York State residents the chance to pursue higher education, despite academic vulnerabilities and limited financial resources, and the TRIO Student Support Services program assists first-generation college students, those from low-income households, and/or students with disabilities in the transition to an academic setting.
The Mount Access Program (MAP) is designed for students who demonstrate the capacity and motivation to succeed in college but whose test scores and high school records are below normal admission requirements. MAP facilitates a student's shift to college-level study, providing an established support network. Numerous additional resources enable students of all backgrounds to succeed, including the Academic Resource Center, which provides students with tutoring, study groups, and educational workshops.
PROGRAMS OF DISTINCTION
The Mount is constantly hosting programs that make the college experience distinct and worthwhile.
The Mount's Honors Program allows students interested in enriching their academic experience the opportunity to excel through a unique approach to the core curriculum. Interdisciplinary classes are designed for students to develop advanced academic skills, and professors encourage contemplation of moral and ethical approaches to knowledge. The Seton Service and Leadership Program encourages students to serve together and participate in frequent spiritual and faith-based reflections. It even offers scholarships to students with high academic profiles and outstanding community service and leadership skills. It's no wonder why so many Mount students graduate with confidence and competence!
INTERNSHIPS
Thousands of internship possibilities await, and the Mount's location in New York City ensures that students have ready access to internships at top businesses, entertainment companies, healthcare facilities, government agencies, and more. What's more, students can even complete an internship for academic credit any time after their freshman year.
Recent internships sites include: American Express; Bronx District Attorney's Office; Brooklyn Cyclones; Cosmopolitan magazine; ESPN; Goldman Sachs; Lord and Taylor; New-York Historical Society; New York Mets; New York Stock Exchange; Office of the New York State Attorney General; Pfizer; Rachael Ray Show; Rolling Stone magazine; and the United Nations.
Nursing students complete clinical placements, externships, and preceptorships at many of New York's most renowned hospitals, including Memorial Sloan Kettering Cancer Center, NYU Langone Medical Center, New York-Presbyterian University Hospitals of Columbia and Cornell, and Montefiore Medical Center.
JOB PLACEMENTS
More than 18,000 students have graduated from the College of Mount Saint Vincent, many going on to study at the finest graduate and professional schools in the nation and becoming leaders in education, business, social justice, government, and the global community.
Recent job placements include: Adidas, Aeropostale, BNY Mellon, Harlem Children's Zone, Laboratory Corporation of America, Microsoft, Montefiore Hospital, Mount Sinai Hospital, the National Park Service, Neuhaus Chocolates, the New York City Department of Education, the New York Police Department, St. Francis Hospital, the United Nations, and the Wildlife Conservation Society.
NOTABLE ALUMNAE/I
Corazon Cojuangco-Aquino, 11th president (and first female president) of the Philippines

Rosemary T. Berkery, Vice Chairman, UBS Wealth Management Americas, former Executive Vice President and General Counsel at Merrill Lynch & Co., Inc., and former General Counsel of BAC Canada Finance Company and Merrill Lynch International & Co.

Noreen Culhane, former Executive Vice President, NYSE Euronext Inc.

Virginia LiVolsi, Director of Strategic Initiatives and Quality Improvement, Anatomic Pathology and as Professor of Pathology and Laboratory Medicine at the Perelman School of Medicine at the University of Pennsylvania

Julianne Imperato-McGinley, Chief of the Division of Endocrinology, Diabetes, and Metabolism and Associate Dean for Translational Research and Education at the Weill Cornell Medical College of Cornell University and principal Investigator of the Clinical and Translational Science Center

Bernard McGuirk, co-host of

Bernie and Sid in the Morning

and former executive producer of

Imus in the Morning

Aline Griffith, Countess of Romanones, author of

The Spy Wore Red

Miriam Naveira, first and only female Chief Justice on Supreme Court of Puerto Rico

Endy Rodriguez, Emmy Award-winning Vice President of News at WNJU Telemundo 47

Maria Vullo, Superintendent of the New York State Department of Financial Services

Ethelinda V. Soliven, Filipino journalist and former lifestyle editor of the

Manila Bulletin

Daniel Baker, known professionally as Desus Nice, former co-host of Viceland's Desus & Mero talk show
Admission & Aid
Admission
TEST SCORES
Optional
FRESHMAN PROFILE
SAT Evidence-Based Reading and Writing
25th Percentile: 460 | 75th Percentile: 550
SAT Math
25th Percentile: 450 | 75th Percentile: 540
ACT Composite
25th Percentile: 17 | 75th Percentile: 22
ACT Math
25th Percentile: 15 | 75th Percentile: 23
ACT English
25th Percentile: 15 | 75th Percentile: 21
Tuition & Cost
Tuition: $39,500
Fees: $1,480
Room & Board: $12,000
Aid
Merit scholarships, need-based scholarships, and financial aid programs make the College of Mount Saint Vincent a realistic option for qualified students.
All students should apply for financial aid and applicable scholarships, including:
Mount Saint Vincent scholarships and need-based financial aid

Federal Aid in the form of grants, loans, and work-study

New York State Aid in the form of grants, loans, and HEOP for eligible students
The College offers a variety of scholarships and awards. Students must be full time and maintain the GPA stipulated by the particular award for yearly renewal, and those who fail to meet the academic requirements for scholarship renewal will have their eligibility for financial aid considered on an individual basis. Scholarships include: the Corazon C. Aquino Scholarship, the Dean's Merit Scholarship, the Fonthill Writing Award, the International Student Merit Scholarship, the Mary Ambrose Dunphy, S.C. Scholarship, the Seton Service and Leadership Scholarship, the Phi Theta Kappa Scholarship, and the Transfer Merit Scholarship, among many other endowed scholarships.
What Others are Saying
"The Mount is one of a kind. This is really an amazing place…there are so many dimensions of education here."
— Nephthalie Charleston, Class of 2016
Contact College of Mount Saint Vincent