Belmont University
Nashville, Tennessee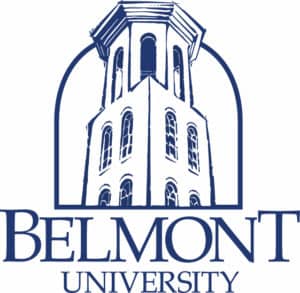 From here to anywhere
Belmont University encourages its students to succeed both inside and outside the classroom. With a liberal arts and sciences focus and a mission based upon Christian ideals, Belmont develops well-rounded individuals who make significant contributions both domestically and abroad. Students can choose from over 95 diverse and challenging majors that encompass not only the arts and sciences, but pre-professional areas as well. On Belmont's beautiful campus, students enjoy the comforts of quaint surroundings and the action and excitement of a vibrant city.
Belmont University is a four-year, co-educational, student-centered Christian community providing an academically challenging education that empowers men and women of diverse backgrounds to engage and transform the world with disciplined intelligence, compassion, courage, and faith. Founded in 1890, Belmont University is accredited by the Commission on Colleges of the Southern Association of Colleges and Schools to award baccalaureate, master's, and doctoral degrees.
Find out more here.
Get to know Belmont University
6,631
Degree-Seeking Undergraduates
Full-time to Part-time Ratio
-
0%
1%
2%
3%
4%
5%
6%
7%
8%
9%
10%
11%
12%
13%
14%
15%
16%
17%
18%
19%
20%
21%
22%
23%
24%
25%
26%
27%
28%
29%
30%
31%
32%
33%
34%
35%
36%
37%
38%
39%
40%
41%
42%
43%
44%
45%
46%
47%
48%
49%
50%
51%
52%
53%
54%
55%
56%
57%
58%
59%
60%
61%
62%
63%
64%
65%
66%
67%
68%
69%
70%
71%
72%
73%
74%
75%
76%
77%
78%
79%
80%
81%
82%
83%
84%
85%
86%
87%
88%
89%
90%
91%
92%
93%
94%
95%
96%
97%
98%
99%
100%
Retention rate
14:1
Student/teacher ratio
$35,310
Full-time tuition cost
-
0%
1%
2%
3%
4%
5%
6%
7%
8%
9%
10%
11%
12%
13%
14%
15%
16%
17%
18%
19%
20%
21%
22%
23%
24%
25%
26%
27%
28%
29%
30%
31%
32%
33%
34%
35%
36%
37%
38%
39%
40%
41%
42%
43%
44%
45%
46%
47%
48%
49%
50%
51%
52%
53%
54%
55%
56%
57%
58%
59%
60%
61%
62%
63%
64%
65%
66%
67%
68%
69%
70%
71%
72%
73%
74%
75%
76%
77%
78%
79%
80%
81%
82%
83%
84%
85%
86%
87%
88%
89%
90%
91%
92%
93%
94%
95%
96%
97%
98%
99%
100%
6-year graduation rate
Aug. 1
Application deadline
-
0%
1%
2%
3%
4%
5%
6%
7%
8%
9%
10%
11%
12%
13%
14%
15%
16%
17%
18%
19%
20%
21%
22%
23%
24%
25%
26%
27%
28%
29%
30%
31%
32%
33%
34%
35%
36%
37%
38%
39%
40%
41%
42%
43%
44%
45%
46%
47%
48%
49%
50%
51%
52%
53%
54%
55%
56%
57%
58%
59%
60%
61%
62%
63%
64%
65%
66%
67%
68%
69%
70%
71%
72%
73%
74%
75%
76%
77%
78%
79%
80%
81%
82%
83%
84%
85%
86%
87%
88%
89%
90%
91%
92%
93%
94%
95%
96%
97%
98%
99%
100%
Acceptance rate
-
0%
1%
2%
3%
4%
5%
6%
7%
8%
9%
10%
11%
12%
13%
14%
15%
16%
17%
18%
19%
20%
21%
22%
23%
24%
25%
26%
27%
28%
29%
30%
31%
32%
33%
34%
35%
36%
37%
38%
39%
40%
41%
42%
43%
44%
45%
46%
47%
48%
49%
50%
51%
52%
53%
54%
55%
56%
57%
58%
59%
60%
61%
62%
63%
64%
65%
66%
67%
68%
69%
70%
71%
72%
73%
74%
75%
76%
77%
78%
79%
80%
81%
82%
83%
84%
85%
86%
87%
88%
89%
90%
91%
92%
93%
94%
95%
96%
97%
98%
99%
100%
Out-of-state students
-
0%
1%
2%
3%
4%
5%
6%
7%
8%
9%
10%
11%
12%
13%
14%
15%
16%
17%
18%
19%
20%
21%
22%
23%
24%
25%
26%
27%
28%
29%
30%
31%
32%
33%
34%
35%
36%
37%
38%
39%
40%
41%
42%
43%
44%
45%
46%
47%
48%
49%
50%
51%
52%
53%
54%
55%
56%
57%
58%
59%
60%
61%
62%
63%
64%
65%
66%
67%
68%
69%
70%
71%
72%
73%
74%
75%
76%
77%
78%
79%
80%
81%
82%
83%
84%
85%
86%
87%
88%
89%
90%
91%
92%
93%
94%
95%
96%
97%
98%
99%
100%
Full-time faculty w/ terminal degree
College Highlights
Engaged Students
Great Teaching
Vibrant Communities
Successful Outcomes
Admission & Aid
Engaged Students
"I love being a student in the College of Sciences & Mathematics because it is such an intentional community. Our professors know us by name and they really care about us and are always there whenever we have questions or concerns." – Samantha Chu, Biology Major
Students at Belmont are among the very best and brightest. They are encouraged to concentrate on their studies while still getting involved in a variety of campus and community activities.
THE BELL CORE
The Belmont Experience Learning Life (BELL) Core connects students to different disciplines, including the humanities, social sciences, sciences, arts, quantitative reasoning, religion, and wellness. Students learn how to recognize the connections among disciplines as they develop an integrated, contextualized understanding of the world around them.
Find out more about The BELL Core here.
DOMESTIC AND INTERNATIONAL STUDY AWAY
The Office of Study Abroad connects undergraduate students from all majors with international study opportunities on six of the seven continents. Students can earn Belmont academic credits on year-long, semester, and short-term programs. Popular destinations include the United Kingdom, Ireland, Spain, Cambodia, Guatemala, South Africa, Australia, China, France, Japan, and Italy.
Find out more about study abroad here.
The Belmont USA program allows students to pair their undergraduate academic courses with an internship or immersion experience in a variety of locales across the United States, including New York, Los Angeles, Washington D.C., Oregon, Hollywood, and Hawaii.
Find out more about Belmont USA here.
ENROLLMENT BY ETHNICITY
Non-U.S. Citizen: 1%
Hispanic/Latinx: 7%
Black or African American, non-Hispanic: 5%
White, non-Hispanic: 79%
Native/Indigenous American or Alaska Native, non-Hispanic: 0%
Asian, non-Hispanic: 2%
Native Hawaiian or other Pacific Islander, non-Hispanic: 0%
Two or more races, non-Hispanic: 4%
Race and/or ethnicity unknown: 1%
Great Teaching
"The professors, faculty and staff here at Belmont truly care about what they are doing and are more than willing to help you succeed as a student. I've loved getting to know my professors and classmates on a personal level in our smaller class sizes. And it has been a great experience to work with them to find opportunities to help me in my career path." – Brayton Johns, Political Science Major
Belmont professors care for and mentor their students. They not only know students by name, but they also want to know who they are, what they think, and where they are headed.
AMAZING PROGRAMS
Belmont's liberal arts base offers intensive studies in all the liberal arts and humanities in addition to highly regarded professional and pre-professional programs in accounting, nursing, pre-law, and more. Belmont may be well known for its music résumé; it was named one of the best music business programs in the country by Rolling Stone and Time. But Belmont is also leading the way with pioneering interdisciplinary majors like music therapy, public health, global leadership studies, and experiential design.
See Belmont's list of undergraduate majors here.

FIRST-YEAR SEMINAR
As an introduction and transition to college life, all first-time college students are required to take GND 1015: First-Year Seminar. The theme of this course is "ways of knowing," which focuses the curriculum on the nature of knowledge, how it differs from mere belief, and the various ways in which human beings construct and evaluate knowledge claims. Individual faculty members choose sub-themes for their own sections, including such topics as Japanese culture, dreams, finding common ground, and voodoo. No matter the sub-theme, students are challenged and fascinated as they develop reading and critical thinking skills.
BELMONT LEARNING CENTERS
The Belmont Learning Centers (Math/Science Learning Center, the Language Learning Center, the Writing Center, and a Speech Practice Room) offer free tutoring and group study in math, writing, languages, and public speaking to all Belmont students. A one-on-one tutoring approach is used to connect each student with his or her personal learning goals and techniques. The Belmont Learning Centers tutoring staff are diverse in their skill set, allowing students to find a delivery method that suits their speed and readiness. Group study is also encouraged so that students may help one another succeed in a direct peer-to-peer environment. Other services offered by The Belmont Learning Centers include study skills refreshers, textbook breakdowns, learning and note-taking guides, and easy scheduling.
GPS (GROWTH & PURPOSE FOR STUDENTS)
All students have access to the GPS (Growth & Purpose for Students) program, which offers academic coaching, preparation, planning, and support. GPS staff coach students through discerning his or her unique path and career goals as well as identifying the best opportunities and resources available through an educational journey at Belmont.
SPECIAL STUDY OPTIONS
Programs available at this institution.
Accelerated program
Cooperative education program
Cross-registration
Distance learning
Double major
Dual enrollment
English as a Second Language (ESL)
Honors Program
Independent study
Internships
Liberal arts/career combination
Student-designed major
Study abroad
Teacher certification program

Vibrant Communities
"I love Belmont because of the unique and vibrant culture I've been apart of for the last four years, between friends, sorority sisters, colleagues, and professors, Belmont's given me the absolute best time….Also being able to go to school in a large metropolitan city gave me the opportunity to explore work life and social life while going to Belmont. Nashville is far more than just a college town." – Haley McDaniel, Nursing Major
COMMUNITY SERVICE
Students at Belmont meet needs in the community through a variety of service-learning activities, logging over 200,000 community service hours annually. English and education majors gain valuable teaching experience by tutoring students at local schools. Spanish majors team up with community role models in the Belmont-YMCA Hispanic Achievers program, a program designed to empower Hispanic youth through activities and mentoring specific to their career goals. Accounting students help neighborhood residents of all ages improve their computer skills. All these projects help Belmont students connect to and serve the community.
CAMPUS LIFE
Dive into campus life with any of the 150+ clubs and organizations. The popular intramurals program includes everything from flag football and basketball to wiffleball and dodgeball. With more than half of all Belmont undergraduates living on campus, there's always something going on, including socials, movie nights, concerts, and the annual Fall Follies production. And in terms of student activities, there's a club or group for nearly every interest—academic, athletic, social, spiritual, and more. Belmont's Greek Life includes six nationally recognized sororities and three nationally recognized fraternities representing NPC, IFC, and NPHC.

Find out more about campus life here.
RESIDENCE LIFE
Percent of students living on campus.
First-time, first-year (freshman) students: 100%
Undergraduates: 54%
Campus housing options.
Coed dorms
Men's dorms
Women's dorms
Apartments for single students
Special housing for international students
SCHOOL LOCATION
Consistently noted for its beauty, Belmont's campus sits in the middle of Nashville, Tennessee, the rare place that combines small-town charm with big-city possibilities. Nashville, America's newest "It City," is unquestionably one of the University's best assets, providing the backdrop for an amazing college experience while setting the stage for limitless career potential. Nashville has a host of unique attractions, including the Country Music Hall of Fame® and Museum, The Frist Art Museum, the Grand Ole Opry, Cheekwood, Parthenon, Ryman Auditorium, and more. Also within walking distance to Belmont's campus are the trendy neighborhoods of 12 South and Hillsboro Village.
Find out more about Nashville here.
ATHLETICS
NCAA Division I, Ohio Valley Conference
17 varsity sports
8 men's: baseball, basketball, cross-country, golf, indoor and outdoor track, soccer, tennis
9 women's: basketball, cross-country, golf, indoor and outdoor track, softball, soccer, tennis, volleyball
Many intramural sports
Mascot: Bruins
Colors: Blue and Red
Belmont boasts 17 intercollegiate sports teams. The Belmont Bruins men's basketball team won the Ohio Valley Conference regular season championship in 2013, 2014, and 2015 and made its eighth appearance in the NCAA National Tournament in 2019. The Belmont Bruins women's basketball team has made four consecutive appearances in the NCAA National Tournament during the years 2016-2019. Baseball, both cross-country teams, and the volleyball team have earned recent conference titles. Belmont student-athletes excel in the classroom, too, as Belmont has won the conference's All-Academic Trophy multiple times. The award is given annually to the conference school with the greatest percentage of student-athletes who earn a GPA of 3.0 or higher.
Find out more about athletics here.
Successful Outcomes
"One of the reasons I love Belmont, is everyone around me is pursuing something that they love and are passionate about, and that is so important to me as a music major." – David Dennis, Commercial Music Major
FIRST DESTINATION RATE
Belmont has a 94 percent First Destination Rate, which is the percentage of alumni who secure professional, full-time employment, enroll in graduate school, or enlist in military service within six months of graduation (for whom data could be obtained).
Find out more about student outcomes here.
PRIME LOCATION FOR INTERNSHIPS
Belmont students are just miles from downtown, which means that they benefit greatly from being part of a larger community. Located in Tennessee's state capital, Belmont benefits from Nashville's thriving business community, which provides abundant internship opportunities in a variety of fields, including entertainment, healthcare, and business, among many others. Seventy-four percent of all Belmont graduates hold at least one internship during their time as a student.
CAREER AND PROFESSIONAL DEVELOPMENT
Belmont's Office of Career and Professional Development hosts the Career Exploration Series, a program designed to help students explore how their chosen major can give them opportunities in broad and growing fields. As part of this series, students participate in career fairs as well as workshops on résumé and interviewing skills, global opportunities, and career choices. The university's Belmont and Beyond program helps students transition into post-college life, organizing sessions with Belmont alumni and giving advice on networking.
Find out more here.
SERVICE-LEARNING
Belmont University seeks to be a meaningful community institution and thus highly encourages students to serve the community. This participation ensures students will learn the needs, challenges, and opportunities that come with work settings with people from diverse backgrounds. Each year before the first day of the fall semester, all freshmen and transfer students participate in SERVE Nashville, an event in which students spend part of the day volunteering among various sites in the community.
Additionally, each fall sets the campus up for meaningful engagement through the Community Connections, which connects community organizations with Belmont students who are interested in volunteering in their community. And in the spring, Belmont hosts a Family Literacy Day, an event that celebrates the joys of reading through Reading Circles for children and other activities.
BELMONT ALUMNI AND MUSIC
Many Belmont alumni have successfully broken into the music industry. Country singers Josh Turner, Brad Paisley, Trisha Yearwood, and the famous duo Florida Georgia Line all attended Belmont. Rock/alternative bands that hail from Belmont include Judah & The Lion, Moon Taxi, and COIN.
Admission & Aid
Admissions
ADMISSIONS FACTORS
Very Important
Rigor of secondary school record | Academic GPA | Standardized test scores
Important
Application Essay | Recommendation(s)
Considered
Class rank | Extracurricular activities | Talent/ability | Character/personal qualities | First generation
Alumni/ae relation | Religious affiliation/commitment | Racial/ethnic status | Volunteer work | Work experience
TEST SCORES
Recommended but not required
FRESHMAN PROFILE
SAT Evidence-Based Reading and Writing
25th Percentile: 580 | 75th Percentile: 660
SAT Math
25th Percentile: 540 | 75th Percentile: 640
ACT Composite
25th Percentile: 23 | 75th Percentile: 30
ACT Math
25th Percentile: 21 | 75th Percentile: 27
ACT English
25th Percentile: 24 | 75th Percentile: 33
APPLICATION DEADLINES
Application closing date (fall): Aug. 1
Priority date: Dec. 1
Tuition
Tuition: $35,310
Fees: $1,720
Room & Board: $12,890
Aid
SCHOLARSHIPS
General Academic Merit Scholarships
Admitted freshmen with academic credentials that meet or exceed the University's freshman class profile (ACT composite score of 27 or SAT score of 1219, with a cumulative high school grade point average of 3.7 on a four-point scale) are considered competitive candidates for this award.
NAMED SCHOLARSHIPS
Candidates for the University's highest academic merit scholarships, such as the Archer Presidential, Hearst, or Faculty Scholar awards, must complete their application file to Belmont by December 1. In addition, those selected for consideration in the named scholarship process will have already qualified for the highest level of general academic merit scholarship (currently $10,000). These named awards recognize approximately the top two percent of all freshman applicants (over 8,000 for fall 2019), with an average cumulative high school grade point average of 4.40 (on a 4.0 scale) and an ACT composite score of 34 or SAT composite of 1560. Consideration is also given to class rank (if provided) as well as individual accomplishment and demonstrated leadership as evidenced by the résumé of activities. A named scholarship generally replaces a general academic merit scholarship previously awarded.

Archer Presidential Scholarship

Belmont's most competitive scholarship, awarded to five incoming freshmen, covering full tuition, room, board, books, and fees. Finalists are invited to personally interview for this award. Please note: candidates for the Archer Presidential scholarship must have a minimum composite score of 30 on the ACT or 1390.

William Randolph Hearst Endowed Scholarship

One scholarship covering full tuition, room, board, books, and fees for a freshman student from a diverse background. Traditionally, five finalists are invited to personally interview for this award.

Faculty Scholar
Awarded to approximately 175 freshmen with outstanding academic, extracurricular, and leadership records. Worth $15,000 per year.  

DEPARTMENTAL SCHOLARSHIPS
Thomas J. Madden Ministerial Scholarship
One full-tuition scholarship for a male Christian freshman majoring in religion who plans to enter full-time ministry.
Servant Leader Scholarship

One full-tuition scholarship for a female Christian freshman majoring in religion who plans to enter a church-related career.
Glover Accounting Scholarship

Merit-based scholarship for freshman students in the Jack C. Massey College of Business who major in accounting and meet the general academic merit scholarship criteria. This award can be combined with a general academic merit scholarship.
Glover Business Scholarship

Merit-based scholarship for freshman students in the Jack C. Massey College of Business majoring in any non-accounting business degree and meet the general academic merit scholarship criteria. This award can be combined with a general academic merit scholarship.


OTHER
Ingram Diversity Leadership Scholarship

Four full-tuition scholarships for incoming freshmen with diverse backgrounds from the Nashville area who present outstanding academic and leadership records. Traditionally, eight finalists are invited to personally interview for this award.
National Merit Finalists
Students named as a National Merit Finalist are automatically named a Belmont Faculty Scholar, with a Belmont merit-based scholarship totaling no less than $15,000.
Leadership Scholarship

Twenty-five $3,000 awards to incoming freshmen who demonstrate outstanding leadership abilities as evidenced through the résumé of activities and did not qualify for an academic scholarship.
E.S. Rose Park Scholarship
Half- and full-tuition scholarships for a limited number of deserving incoming freshmen with demonstrated need who live in proximity to E.S. Rose Park in Nashville.
Community Scholarship
Half-tuition scholarship awarded for an incoming freshman with demonstrated need and above-average academic credentials who live in proximity to the Belmont University campus. Awarded on a biennial basis in even-numbered years.
Turner Scholarship
$7,500 awards for freshmen students from rural high schools with outstanding academic records and demonstrated need.
Athletic scholarships
Performance-based scholarships based upon athletic ability and level of need of position. Contact the coach of the sport for more information. http://www.belmontbruins.com/
Music scholarships
Performance-based scholarships for music majors based upon audition, level of music involvement, and academic record. http://www.belmont.edu/music
Art Scholarships
Performance-based scholarships for art majors based upon portfolio, personal interview, and academic record. http://www.belmont.edu/art
Contact Belmont University
Campus Location
1900 Belmont Blvd
Nashville, TN 37212
(615) 460-6000