Belhaven University
Jackson, Mississippi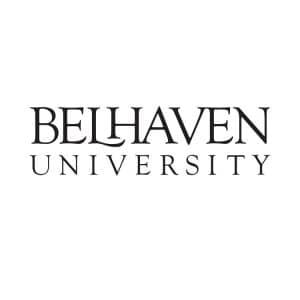 Belhaven University: a place where top-rated faculty and a nurturing environment converge to bring students to their best, then propel them beyond what is believed to be achievable. Belhaven leads its students to capture career and personal success and encourages the development of spiritual maturity that will withstand the trials of life. With nationally recognized academics, a Christ-centered worldview, and the faith-affirming support to become more, Belhaven's charming and warm-weather campus is home to fabulous events and intensely fun activities. Belhaven University… where "Our Standard is Christ."
Get to know Belhaven University
2,025
Degree-Seeking Undergraduates
Full-time to Part-time Ratio
-
0%
1%
2%
3%
4%
5%
6%
7%
8%
9%
10%
11%
12%
13%
14%
15%
16%
17%
18%
19%
20%
21%
22%
23%
24%
25%
26%
27%
28%
29%
30%
31%
32%
33%
34%
35%
36%
37%
38%
39%
40%
41%
42%
43%
44%
45%
46%
47%
48%
49%
50%
51%
52%
53%
54%
55%
56%
57%
58%
59%
60%
61%
62%
63%
64%
65%
66%
67%
68%
69%
70%
71%
72%
73%
74%
75%
76%
77%
78%
79%
80%
81%
82%
83%
84%
85%
86%
87%
88%
89%
90%
91%
92%
93%
94%
95%
96%
97%
98%
99%
100%
Retention rate
8:1
Student/teacher ratio
$26,650
Full-time tuition cost
-
0%
1%
2%
3%
4%
5%
6%
7%
8%
9%
10%
11%
12%
13%
14%
15%
16%
17%
18%
19%
20%
21%
22%
23%
24%
25%
26%
27%
28%
29%
30%
31%
32%
33%
34%
35%
36%
37%
38%
39%
40%
41%
42%
43%
44%
45%
46%
47%
48%
49%
50%
51%
52%
53%
54%
55%
56%
57%
58%
59%
60%
61%
62%
63%
64%
65%
66%
67%
68%
69%
70%
71%
72%
73%
74%
75%
76%
77%
78%
79%
80%
81%
82%
83%
84%
85%
86%
87%
88%
89%
90%
91%
92%
93%
94%
95%
96%
97%
98%
99%
100%
6-year graduation rate
-
0%
1%
2%
3%
4%
5%
6%
7%
8%
9%
10%
11%
12%
13%
14%
15%
16%
17%
18%
19%
20%
21%
22%
23%
24%
25%
26%
27%
28%
29%
30%
31%
32%
33%
34%
35%
36%
37%
38%
39%
40%
41%
42%
43%
44%
45%
46%
47%
48%
49%
50%
51%
52%
53%
54%
55%
56%
57%
58%
59%
60%
61%
62%
63%
64%
65%
66%
67%
68%
69%
70%
71%
72%
73%
74%
75%
76%
77%
78%
79%
80%
81%
82%
83%
84%
85%
86%
87%
88%
89%
90%
91%
92%
93%
94%
95%
96%
97%
98%
99%
100%
Acceptance rate
-
0%
1%
2%
3%
4%
5%
6%
7%
8%
9%
10%
11%
12%
13%
14%
15%
16%
17%
18%
19%
20%
21%
22%
23%
24%
25%
26%
27%
28%
29%
30%
31%
32%
33%
34%
35%
36%
37%
38%
39%
40%
41%
42%
43%
44%
45%
46%
47%
48%
49%
50%
51%
52%
53%
54%
55%
56%
57%
58%
59%
60%
61%
62%
63%
64%
65%
66%
67%
68%
69%
70%
71%
72%
73%
74%
75%
76%
77%
78%
79%
80%
81%
82%
83%
84%
85%
86%
87%
88%
89%
90%
91%
92%
93%
94%
95%
96%
97%
98%
99%
100%
Out-of-state students
College Highlights
Engaged Students
Great Teaching
Vibrant Community
Successful Outcomes
Admission & Aid
Engaged Students
STUDY ABROAD
Belhaven offers short-term and long-term opportunities for students to study abroad through the Council for Christian Colleges and Universities (CCCU) organization. Students may participate in programs in places such as China, India, Oxford, Uganda, Australia, Latin America, Middle East, as well as some in the United States.
SERVICE
With Belhaven's motto being "To Serve, Not to Be Served," there are many ways to get involved with mission opportunities locally, nationally, and internationally. From the annual Martin Luther King Clean-Up day to ministering students in places like Africa or Haiti, the common bond is service.
ENROLLMENT BY ETHNICITY
Non-U.S. Citizen: 1%
Hispanic/Latinx: 4%
Black or African American, non-Hispanic: 38%
White, non-Hispanic: 38%
Native/Indigenous American or Alaska Native, non-Hispanic: 1%
Asian, non-Hispanic: 9%
Native Hawaiian or other Pacific Islander, non-Hispanic: 0%
Two or more races, non-Hispanic: 2%
Race and/or ethnicity unknown: 7%
Great Teaching
A SOLID EDUCATION
At Belhaven, academic excellence is met with passion. Belhaven offers an unending pursuit of academic excellence, plus personal mentoring in every degree offered. Belhaven provides a solid foundation in the comprehensive liberal arts that helps students develop into well-educated individuals. Belhaven students experience one-of-a-kind academic programs, including the WorldView Curriculum, which chronologically intertwines the critical core disciplines of literature, history, art, religion, and music in a comprehensive rigorous format.
With its commitment to the sciences, Belhaven has graduated many students that have pursued the healthcare profession. Close to 90% of its biology and sports medicine students are accepted each year to healthcare related universities, such as medical, dental, nursing, physical therapy, and occupational therapy to name a few.
Belhaven is steeped in arts heritage, having contributed to the intellectual, cultural, and spiritual growth of the city and state since 1883. Belhaven is 1 of 30 institutions in the nation that is accredited in Music, Dance, Theatre, and Visual Arts. Belhaven is the only Christian university that has obtained this accreditation and also offers a Bachelor of Fine Arts in creative writing.
Vibrant Community
STUDENT LIFE AND THE CAMPUS COMMUNITY
Belhaven is a unique place where lifelong friendships are formed and flourished. The opportunities for meeting and getting to know fellow students are abundant, from clubs to organizations to activities. Not only do students connect with one another, but they also get to know the faculty. The university boasts a low 12:1 student-to-faculty ratio, affording students an individualized learning experience. Many of the professors live in the historic Belhaven neighborhood and invite their students into their homes for fellowship and sometimes even for a good meal.
The university is right in the heart of a beautiful historic community, in a vibrant city filled with its own world-class events and attractions.  The metro Jackson area is home to the International Ballet Competition, the Mississippi Braves baseball team, first-rate museums, art galleries, and fun-filled music festivals.  In fact, the Mississippi Symphony Orchestra, the Mississippi Opera, Ballet Magnificat! And the world-renowned Singing Christmas Tree all originated at Belhaven University.
ATHLETICS
NAIA Conference
13 Sports (Baseball Men/Women, Men/Women Basketball, Men/Women Cross Country, Football, Golf Men/Women, Soccer, Men/Women Tennis, Volleyball, Softball.)
Mascot: Blazers
Colors: Green/Gold
Successful Outcomes
INTERNSHIPS
Internships are available throughout many of the academic programs that Belhaven offers to its students. Ranging from Social Work to Sports Medicine: Exercise Science, there are many opportunities for students to get real-world experiences which prepares them for future careers.
ALUMNI ACHIEVEMENTS
Belhaven University graduates are successful in their endeavors, both inside the classroom and beyond. Some notable graduates can be mentioned:
Chaplain (LTC) James R. Carter (`83)
Chaplain Carter is serving as a senior command chaplain in Baghdad, Iraq.
Elizabeth Spencer
Elizabeth graduated Belhaven in 1942 and went on to write many novels, short stories, non-fiction, fiction, and drama. She has experienced a lifetime of achievement for her many literary contributions and was recently awarded the PEN/Malamud Award for Short Fiction and Governor's Award for Achievement in Literature from the Mississippi Arts Commission.
Joel Bomgar, Nathan McNeill, and Patrick Norman
Bomgar, a PC Remote Access Software Company, founded by Joel Bomgar ('03), Nathan McNeill ('03), and Patrick Norman ('01) has revolutionized remote software and has turned in 4 straight years of 150 percent annual revenue growth.
Andrew Camenisch ('98)
Andrew is known for his work as lead sculptor and modeler for Lord of the Rings trilogy,I, Robot, and recently The Adventures of Tin Tin, to name a few.
Admission & Aid
Admission
TEST SCORES
Optional
FRESHMAN PROFILE
SAT Evidence-Based Reading and Writing
25th Percentile: 510 | 75th Percentile: 595
SAT Math
25th Percentile: 485 | 75th Percentile: 540
ACT Composite
25th Percentile: 19 | 75th Percentile: 23
ACT Math
25th Percentile: 19 | 75th Percentile: 21
ACT English
25th Percentile: 18 | 75th Percentile: 25
Tuition & Cost
Tuition: $26,650
Fees: $375
Room & Board: $8,800
Aid
Belhaven's financial aid program provides assistance to students in the form of scholarships, grants, work-study, and loans.

Students are encouraged to complete the Free Application for Federal Student Aid (FAFSA).

Belhaven's federal school code is 002397.

Scholarships are available to qualified full-time undergraduate students based on academic achievements, talents, and leadership.

Aid may also be based on special talent areas such as art, music, theatre, dance, creative writing, and graphic design.

Athletic scholarships are available in the areas of baseball, softball, basketball, golf, football, volleyball, soccer, cheer-leading and cross-country.
Contact Belhaven University